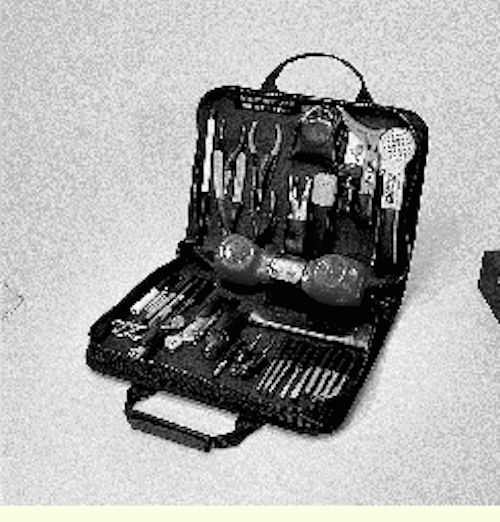 Barbara E. Thompson
For unshielded twisted-pair applications, an installer`s toolkit--be it a suitcase, briefcase or a toolbelt--is an individual preference, although this choice will also be dictated by the particular job--installation, maintenance or troubleshooting. When traveling to a job that requires different types of tools, you might want a larger suitcase toolkit. Once on the job, you might use a toolbelt with the appropriate tools as you progress through the installation. Some installers prefer to buy an empty case and build their own toolkit, and other installers are even more innovative.
Steve Baker, project manager at Lanmark Communications Inc. (Auburn, MA) says he uses a Rubbermaid toolkit he bought at a discount store. "The instant I saw it, I knew it was for me. It`s a stool/toolbox. It has a tray inside the cover and underneath is a deep box where you can store your tools. It`s ideal when you`re going around to the user end--the remote end of a communications link. You just put in all your faceplates and connectors and carry your screwdrivers and punch tools to each location. And," he explains, "you`ve got a comfortable seat while you`re doing your terminations."
For most technicians, however, a case-type toolkit is the norm. "As we target different levels of technicians, they all need different tools," explains Russ Oliver, vice president at Comlink Inc. (Marlborough, MA). "We don`t use any particular brand; we build our own. We buy an empty case and fill it up with different brands of tools."
Suitcase toolkits are typically made of heavy-duty molded plastic, weigh from 6.5 pounds empty to 30 lbs when filled with tools, and measure no more than 18 inches wide. Some manufacturers offer a deeper storage box divided into sections. You can then store tools for different applications in each section.
"We try to cover the four functions--cutting, stripping, connecting or crimping, and in some cases, testing," says David Long, data communications marketing manager at Ideal Industries (Sycamore, IL). "In a UTP kit, we have everything but the tester, and we provide space for the user to put his own tester in."
The briefcase or attache toolkit, made of soft material such as vinyl, is smaller and weighs less than the suitcase. This type of toolkit has divided pockets and zippered or Velcro sections to keep your tools organized.
"We use an installer`s kit that comes with a tester, 110 punchdown tool, 66 tool, probe pick, a modular plug crimping tool and cable cutters," says Billy Harron, project manager at Point-to-Point Network Services (Methuen, MA). "There`s also a splicer`s pouch, which has an eye-knife and a pair of scissors in a little pouch that goes onto your belt," he adds.
Toolbelts, or pouches, are useful also to keep your hands free. Baker says he uses what he calls a "ditty bag" to carry tape and tie-wrap on the job.
What tools do you need for a copper installation? Neil Bulger, local area network product manager at Jensen Tools Inc. (Phoenix, AZ) says that his company`s kits range from "a very simple toolkit--a crimper, a stripper and a cable cutter, for example--to a full toolkit with screwdrivers, wrenches and pliers." He explains, "If installers are just pulling wire and putting on connectors, they don`t need a whole lot, but if they`re also assembling racks and putting in patch panels and hubs, they require more in their toolkit."
Baker says that each job is different and requires different tools. "You always need side cutters, a pair of shears and a cabling knife in a sheath on your belt. Different types of screwdrivers are a must and, depending on the type of copper installation, you may also need channel locks."
At Comlink they have a list of tools needed for job classifications. "We provide the technician with different crimp tools--needle-nosed pliers, several types of screwdrivers, nut drivers, among others," says Oliver. "We load them up with the tools they`re going to use 80% of the time. Then, as needed, we supply tools they`ll use 20% of the time. As a cost-savings measure, we also own a pool of tools that are used maybe once a year, and these are dispatched to the particular site as required."
Tools and toolkits are a large investment for the installer, and Baker says that he prefers to buy a toolbox and fill it with the tools he needs. q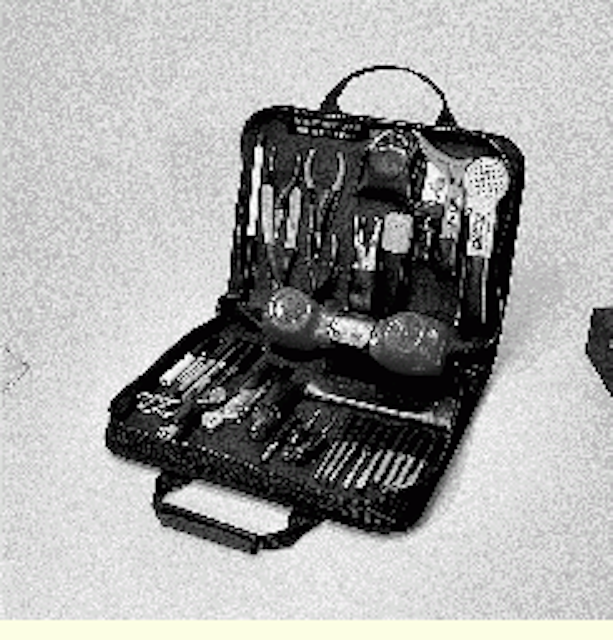 Click here to enlarge image
Screwdrivers, wrenches and nut drivers are included in this voice and data communications kit. Optional equipment, such as punchdown tools or a tone tester, can be added.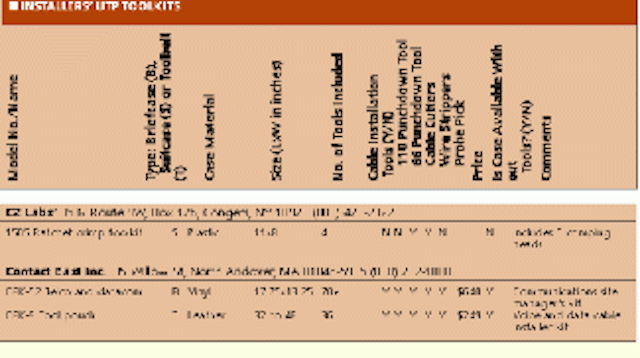 Click here to enlarge image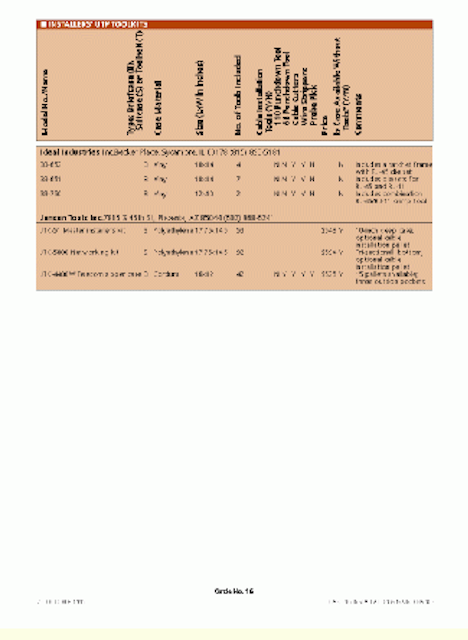 Click here to enlarge image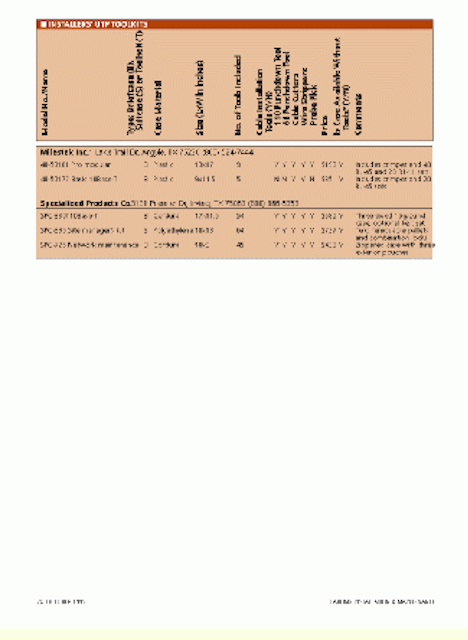 Click here to enlarge image