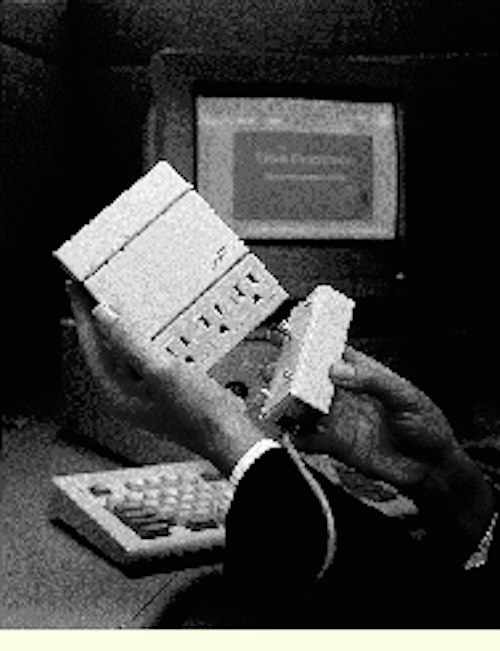 RICHARD LIVINGSTONE
Modern networks are changing the way we protect facilities from the effects of power surges. And the change is prompting new approaches to the problem of how to reduce the damaging effects of power surges along the line. It is also prompting the creation of surge-protection devices that divert unwanted energy to the ground and accommodate the lower voltages and higher transmission speeds used in data communications.
The answer for some installers beset with power-conditioning problems is fiber-optic cable. According to Elisha Kusen, assistant engineer at Deltacom Inc. (Huntsville, AL), "Now you no longer need suppression." More and more installers, she says, are turning to fiber, which conducts light rather than electricity, eliminating the need for surge suppression.
Don Covington, president of Lightning Diverter Systems Inc. (Star, NC), also sees more fiber-optic solutions. "If you get historical data for your building and you know how the distribution system is laid out," he says, "you can determine where the stress points are and then isolate links with fiber optics."
Conceptual approach
Others take an overall or conceptual approach to surge suppression. This approach is based on ensuring the integrity of the whole system rather than being a piecemeal attack on weak links. It is the antithesis of how many electrical systems grow, leaving behind inadequate grounding and numerous ground rods.
"Today," says Randall K. Goeppner, vice president at Lightning Electric Inc. (Lake Worth, FL), "you have to know what you`re dealing with." He points out that with increased speed of data transmission and lower voltage of logic circuits, the picture has changed. "Now, you have to start from scratch and take everything into consideration," he says. "You have to understand the grounding system and the complete power system at the facility before you can link in any new addition and before you put in a new cable.
"We do a power-quality survey, where we look at what the loads are, the number of computers, what is happening to the existing system and what is being reflected back into it. We also look at what is happening with the grounding and how buildings interconnect. Then we print out the results and recommend what will give proper surge protection to the facility."
Pulling cable is the easy part, says Goeppner. The difficult part is ensuring that the whole system is protected. That involves shunting energy to the ground system at the service entrance and then putting in faster devices downstream that do not have to dissipate as much energy. Then you put in a fast-reacting device near the equipment you are trying to protect and check that the shunted energy has not resulted in a wide voltage difference across the system. Goeppner names this approach "blanket cascading," but basically it is making sure that electrical energy from inside or outside the building is blocked or fed off in such a way that voltage differences throughout the network are equalized, achieving a "balanced ground potential." The objective is the same when the interconnecting metallic parts of data-line surge protectors are used to bond data lines to ground, thereby maintaining a common electrical potential.
Power protection
Installers are also recognizing that effective power protection must include all three power lines--telephone, data and alternating current power. "Everyone thinks that you have to have protection on the power side," says Stephen Wright, technical director and owner of Presage Telecommunications (Woburn, MA), "but a lot of surges come in on the central-office side. If you have a modem line, everything in that network is tied in to the telephone line. A surge protector at the AC power is common, but telephone and data network protection are often neglected."
Manufacturers have begun to address these problems. For example, Brad Hendricks, product manager at Panamax (San Rafael, CA), says, "Many advanced surge-protection manufacturers are bonding the grounds of the AC, telecommunications and data lines into one unit. So when a surge comes in, all the grounds are at the same reference--all grounds go up at the same time and go down together as the surge dissipates."
Mike Overholt, product manager at Best Power Technology Inc. (Neceda, WI), agrees. "Any surge suppressor should have a connection to ground. Many people are buying a base module that has AC protection with the ability to snap on other modules for data and telephone leased lines. It`s easier to install and saves the cost of running several cables."
Other companies are also moving to provide more protection for low-voltage systems. The Wiremold Co. (West Hartford, CT), for example, has a modular surge-protection suppressor that provides AC while referencing a data-line protector through a common ground, eliminating the danger of a ground imbalance. And Cylix (Westlake Village, CA) makes a balanced array that allows elevation of the ground to prevent chip failures.
"Computer chips," says Cylix Sales Manager Cliff Matthews, "are fragile when it comes to energy. A 5-volt chip can have a tolerance as low as 0.5V. To protect chips, our product balances excess energies on transmit, receive and ground. These energies are then routed off the system via a chassis ground."
One of the most critical challenges in surge suppression is the faster transmission speeds of data communications lines. These speeds require a different kind of protection to accommodate the increased sensitivity of the data lines. Logic controls, for instance, continue to get smaller and faster. The faster they go, the lower the voltage and the less power required to operate them.
According to Goeppner, "Logic controls are getting so small that practically anything will send a false signal or disrupt the data." George Johnston, network analyst at Xerox Corp. (Rochester, NY), also notes that with high-speed transmission, the effects of external influences become much more critical. "The network is more susceptible to disruption," he says. "Surge suppressors themselves can distort signals, with the result that it becomes increasingly difficult to put something on high-speed data lines that won`t kill the signal."
Installers are already grappling with this problem, and several manufacturers have introduced surge protection devices that work at 100-megabit-per-second speeds. These speeds are in the future for most installers; the average speed of most networks today is 10 to 16 Mbits/sec. But the higher speeds are quickly approaching and causing concern. "I`m really leery about running copper between buildings," says Richard Lane, installation manager at Electronic Cable & Connector (Hendersonville, TN). "We`ve resorted to fiber, but that`s expensive. The problem is having products that will carry high speeds."
Companies such as Peradata Technology Corp. (Lake Grove, NY) are responding to this need with products for l00-Mbit/sec surge suppression. The future, according to Kevin Kanakos, Peradata`s sales and marketing manager, "lies in high-speed data" so the company is working on an integrated l00-Mbit/sec device that uses a new technology. He says that on a high-speed and more sensitive network, it is more difficult to provide the same amount of suppression; any device you put on the data line affects the data. The general trend has been to back off and not use as much surge suppression. "We wanted to have the same suppression capability as with our other products so we`ve taken a new approach that doesn`t reduce the device`s capability," Kanakos adds.
Changing status
If high-speed data transmission is likely to change surge protection devices, then so, too, is the changing status of the telephone line. "There used to be a clear distinction between telephone equipment and computers," says Fabrice Larmier, sales and marketing manager at Citel Inc. (Miami), "but this is quickly disappearing. Telephone equipment has become so sophisticated that it`s now really data communications equipment. It has become very expensive and very fragile and needs surge protection more than ever."
Matthews also sees a broadband telephone company market that is just now maturing because of new products running at data rates fast enough to take economic advantage of the band. "The band can be broken out," he explains, "in smaller channels to process voice, data, video conferencing and other forms of media in an economically feasible environment."
Lane sums up: "We`re seeing a lot of migration, with the telephone and data industries becoming more and more intertwined. The wiring has gotten similar; we use the same type of unshielded twisted-pair cable, and we can pull telephone cables right alongside data cable."
Have surge protection devices kept pace with the changes in power technology? Some feel that for installers there are more product options than ever. Others, like Presage Telecommunications` Wright, speak of a broad effort by electronic-product manufacturers to build protection into their products so they can stand up to electrical surges. Products are being made better, Wright contends. "Computers have safeguards. They are making PCs stronger, and providers of hubs are building their power supplies stronger. A lot of manufacturers make things that work under any power condition. It`s always good, of course, to have an earth ground, but manufacturers are making equipment that is resilient."
If there is one complaint about the products available for surge suppression, it is that manufacturers could do a better job of telling installers what they have available. Others express satisfaction with how manufacturers have assisted them in this field, however. Deltacom`s Kusen, for example, notes that Citel Inc. "responded to our needs" when low-voltage--24, 12 and 6V--modules were requested. And Goeppner cites the usefulness of his company`s Fluke 41 power meters, which let technicians take a good look at the load and get a clear picture of what is going on.
Interactive surge protector
High on everyone`s wish list are products for high-speed data transmission lines. Goeppner would like to see an interactive surge protector. Designed for a particular facility, this protector would be linked to the power system with sensors to detect what happening to the building`s load.
As for the future, there are reports that surge protection is being designed in at the start of building planning. Covington sees the redesigning of the power distribution system for a building as the ultimate solution for surge-suppression concerns. He says, "I think that is where we`ll ultimately go." Covington`s ideal power system would look like a wagon wheel where the center of the power distribution system is the hub and spokes to the outlets propagate the surge through the building so there is no difference in potential between the outlets.
Whatever the future holds, there is one thing everyone agrees on: Correcting surge suppression is like aiming at a moving target. "It`s always moving," Goeppner says. "You always try to keep up with it but you`re always behind, always trying to protect something new that someone has just developed." q
Richard Livingstone is a freelance writer based in Hampton, NH.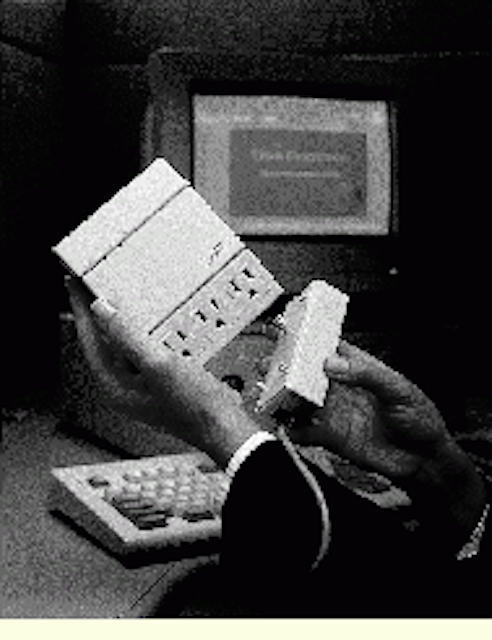 Click here to enlarge image
"Sectorguard" surge suppressors from Tyton Corp.--for workstations, local area networks, copiers, facsimiles and other electronic equipment--provide protection against damaging surges on power, data-communications and telephone lines. The 5x4-inch three-outlet model can be plugged into a standard wall receptacle. The Category 5 snap-on module is equipped with modular jacks for both the line (incoming-unprotected) and the local (equipment-protected) side and protects all eight wires of the connector.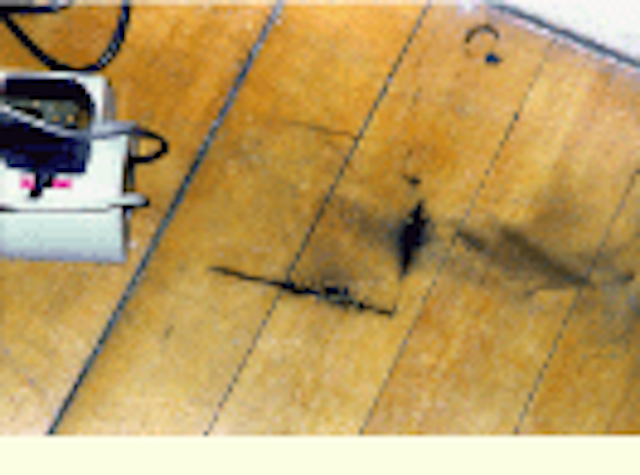 Click here to enlarge image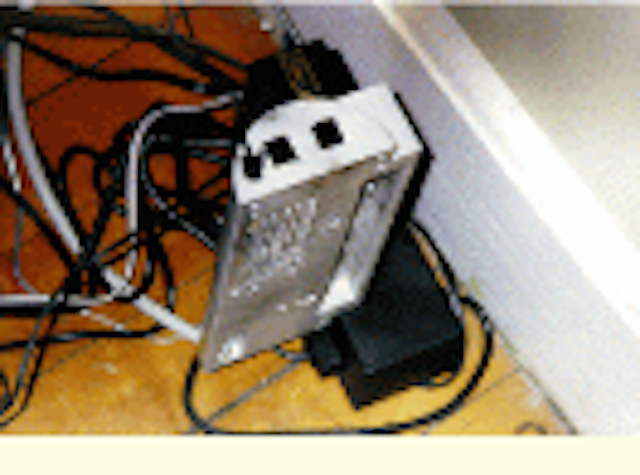 Click here to enlarge image
This "Surgearrest" protector from American Power Conversion Inc. (top) soaked up so much heat from a direct-lightning-hit surge that came over the telephone line that it sacrificed itself, as indicated by the traces of black heat marks. However, no damage occurred to the fax/modem or any of the computer equipment connected to it. The device includes a seven-outlet model with cord (shown with heat marks) and a three-outlet plug-in model (bottom). Both have a multistage design consisting of a fast-acting fuse and thermal fuse for overvoltages, as well as capacitor filters, metal-oxide varistors, red core indicators and modem/fax protection.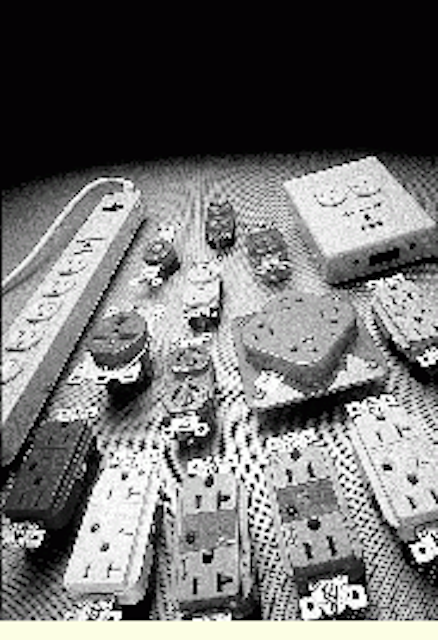 Click here to enlarge image
Surge-suppression receptacles from Hubbell Premise Wiring Inc. are capable of absorbing and dissipating transient surges to 13,000 amperes and peak energy surges to 210 joules.