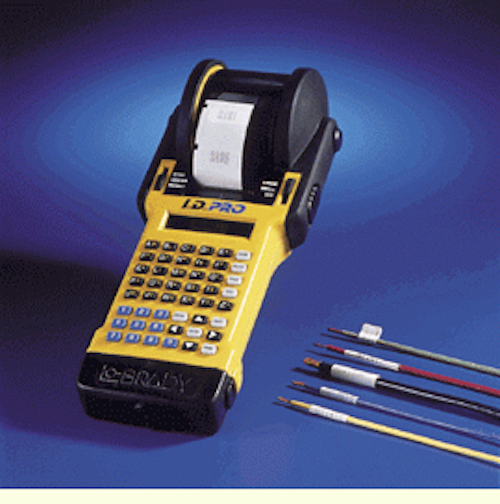 Arlyn S. Powell, Jr.
The supplies and equipment needed to label the telecommunications cabling plant are not glamorous high-technology products, but they are nonetheless essential to any installation. And with the advent of the Telecommunications Industry Association`s administrative standard, EIA/TIA-606, what was before good cabling practice has become an industry mandate.
Manufacturers of cable identification products often offer a range of goods--computer cable tags, electrical wire markers, lockout/tagout warnings where machinery is being worked on, equipment and wall labels, and metal plates for outdoor and hazardous environments. Cabling installers, on the other hand, are not looking for bells and whistles so much as for reasonable price, durability, ease of use and applicability to the real-world cabling environment. And manufacturer and installer alike agree that the future holds laser-printed labels--and perhaps bar codes--downloaded from computer-aided design programs.
"We start with a simple tag that identifies computer cables," says Bob Grove, marketing manager for Almetek Industries Inc. (Hackettstown, NJ), "but we also make wire markers and identification tags for hazardous environments--tags that are impervious to acids and burial underground. We have numerous products we warrant for the full life of any kind of installation, above or below ground."
Almetek makes paper labels, but it specializes in more durable media. Its development laboratory subjects labels to different chemicals and environmental conditions to see how they will age. Says Grove, "Our stock-in-trade is polyethylene and other plastics, as well as metal-embossed tags that are impervious to weather and all sorts of harsh conditions."
Although some Almetek products are available off the shelf, the company specializes in custom work. "A big portion of our customers come in with a special requirement," Grove adds.
Portable label printers announced
The Industrial Products Division of Brady USA Inc. (Milwaukee, WI) also makes a variety of labeling products. Recently announced, for instance, is the I.D. Pro wire-marker printer, a portable device that can be used at the job site. It runs on batteries, features a liquid-crystal display, accommodates three different label sizes and prints on paper, vinyl cloth and heatshrink plastic, as well as other materials.
The company addresses the durability issue by offering several different label adhesives, according to Brady market development manager Charles Check. "One is a removable adhesive that lets you make changes and remove the labels," he says. "Then there`s permanent adhesive, for those people who don`t want the label to come off even if they have to make a change." Check says the removable label is more popular; it is backed with a heavy-duty rubber-based adhesive that stays flexible over time.
Brady accommodates several lettering schemes as well. One system frequently used for wire marking involves preprinted alphanumeric tapes backed with adhesive, one tape for each letter and number. "If you wanted to label a wire `502,` " says Check, "you`d peel off a 5 and a 0 and a 2, and wrap them individually around the wire. But what most people are doing right now is either computer-generating labels or using portable printers that will do the job right at the site."
Both computer printers and portable label printers can use the same type of label, which may be made of paper with a clear plastic tail that is adhesive-backed. The tail both protects the lettering underneath it and sticks to itself to hold the label on the cable. A wraparound label rather than one hanging from the cable is less immediately visible, but it offers the advantage of being attachable before the cable is pulled. Properly applied, this type of label offers such a low profile that it is rarely abraded or damaged during pulling.
Equipment labels designed for flat surfaces may have a similar plastic laminate stuck to the printer sheet below the label. The laminate can then be detached after the label is printed and placed over it on the equipment.
Benchtop and handheld printers
Brady offers two printers that can be used at the job site. One, a benchtop model, is for the big jobs. Labeling information can be downloaded from a personal computer and printed in different styles and sizes. A smaller, handheld model is more limited in its capabilities; it uses only two sizes, but it generates more than 100 label formats. Both devices operate on AC or battery power. A common scenario is to use the benchtop model in a central location to produce the labeling for a building or complex, and then depend on the handheld model to make corrected or additional labels at the work site.
It is for just such a scenario that the Tyton Corp. (Milwaukee, WI) has developed its computerized tag-printing system. Using Microsoft Windows on a personal computer, an installer can download labeling information from the architect or builder`s computer-aided design program. This information can then be sorted into the proper sequence for labeling, either by floor or by building.
"We want to provide installers with the right label for each application, according to EIA/ TIA-606," says Tyton product manager Todd Fries, "and then give them a software package so that the labeling information can be dropped in from a CAD program. Or, as many installers do now, the information can be typed directly into a spreadsheet and then saved by floor or by using whatever filing scheme you want. You can even use the same scheme for other jobs, if you want to do some editing."
This kind of procedure is particularly useful for labeling such items as punchdown blocks. The software can drive the printing of the cardboard strips that slide into the blocks in the proper wiring order depending on pin configuration. It can even add the standard color-coding.
Trends predicted
Manufacturers agree that there are some changes coming concerning labeling. A consensus of those interviewed suggests that EIA/TIA-606 is not getting installers to label; they were already doing that. However, what is being labeled and how it is being labeled are changing. Color-coding, for example, is beginning to attract attention among contractors. Also, a few are starting to think about bar coding, which is already used for inventorying equipment and mapping installations in the telephone and electrical industries. Another trend is that installers are moving away from using dot-matrix printers for labeling, because laser printers produce more legible lettering.
Installers try different approaches to wire marking
Tom Davis, a senior network facilities planner at the Oregon Department of Transportation (Salem, OR), likes to tinker. He mixes and matches off-the-shelf labeling components to save money while achieving more practical results in identifying cabling and equipment (see "Hardware for labeling your cables," page 42). "The commercial stuff just doesn`t address the real world," he says. "Whoever designs these items must read catalogs but it doesn`t seem like they`ve done any hands-on work."
Among the locations where Davis has found commercial labeling does not work well are hard-to-reach spots where it is easier to hang a tag on a string, or places where special instructions need to be posted and highlighted so that they will be read before approaching the equipment. He also believes that commercial labeling systems are too costly.
Another problem Davis often faces is permanently marked equipment. "If you have to change the label," he says, "you should be able to pull it out of a holder and replace it." For networking equipment, he recommends a label similar to a luggage tag that attaches to a screw holding the device to a rack. Such a tag is durable without being permanent, so that if the equipment is relocated, you can replace the label easily. "I never use a pen to write on the equipment," Davis adds. "It looks terrible and you can`t change it. I think appearance and legibility are absolutely essential."
Off-the-shelf products improved
Jeff Van Horn, vice president of operations at Compu-Link (Clearwater, FL), says that his company has seen major changes in the evolution of cable labeling systems during the past few years. He says that recently introduced commercial products have worked fine for Compu-Link and adds, "We always go with wraparound labels for cables. We`re more and more using the Brady system, so that we can computer-generate the labels before we go to the site."
Van Horn points out that machine-generated labels ensure cable identification, while hand-made labels can be easy to overlook and can be cut off during termination. With large projects, the labels are quickly and efficiently mass-produced by computer in the office; for smaller jobs, labels are produced on-site with field units. "It is imperative that every cable be labeled at both ends," Van Horn stresses.
Another area where labeling is important, according to Van Horn, is on patch panels and faceplates. Compu-Link uses the P-Touch labeling system from Brother (Bartlett, TN) to provide customized labels for customers who must keep track of connectivity in their telecommunications closets. "Labels can be made using several color schemes, multiple fonts and type sizes, and in vertical and horizontal orientations," Van Horn states. "It is important to label both faceplates and patch panels with a common scheme so that connectivity will be straightforward."
One trend that Van Horn notes is the tendency, over the last year or two, for customer requests for proposals to specify labeling. He says, "Now it`s often specified in the RFP that all labels will be machine-generated in accordance with the EIA/TIA-606 standard or to the customer`s own internal numbering scheme."
Mike Kerwin, a principal at Cablenet Systems Inc. (Woburn, MA), agrees with Van Horn that commercial computer-generated labeling systems are a big improvement over past hand-labeling. "The label makers are coming out with handheld field machines and simple templates to feed laser and dot-matrix printers," he states. "It`s good to require machine-generated labels, because legibility is enhanced."
Administrative standard flawed
Kerwin adds, however, that the EIA/TIA-606 standard is flawed because it doesn`t take a practical approach to labeling. By asking installers to label cable trays, conduits and poke-through pipes, he says, "you`re artificially focusing on the route, while the real issues occur at the cable ends. It doesn`t make much sense to me." Most of the infrastructure specified in the EIA/TIA-568 and -569 standards is designed to be permanent; a structured wiring system is meant to provide uniform wiring throughout a building. So why label everything between the workstation and the closet?, Kerwin asks.
He also complains that the labeling scheme proposed in the 606 standard is impractical. "I think it was done by people who don`t do this for a living," he says. For example, using hyphenated alphanumeric identifiers is inappropriate, because they don`t work in spreadsheets and databases." Alphanumeric identifiers with hyphens in them do not sort sequentially in computer databases, and, in fact, sorting parameters vary depending on the software used. This makes it difficult to sort labels into a practical sequence for installation. Straight numerical identifiers would sort correctly, and are also more closely akin to how people think, Kerwin believes.
"People are overreacting to the standard," he adds. "Most of it is advisory, not mandatory. There are only three requirements in 606--everything must be labeled, it must be labeled at the ends, and each label must be different."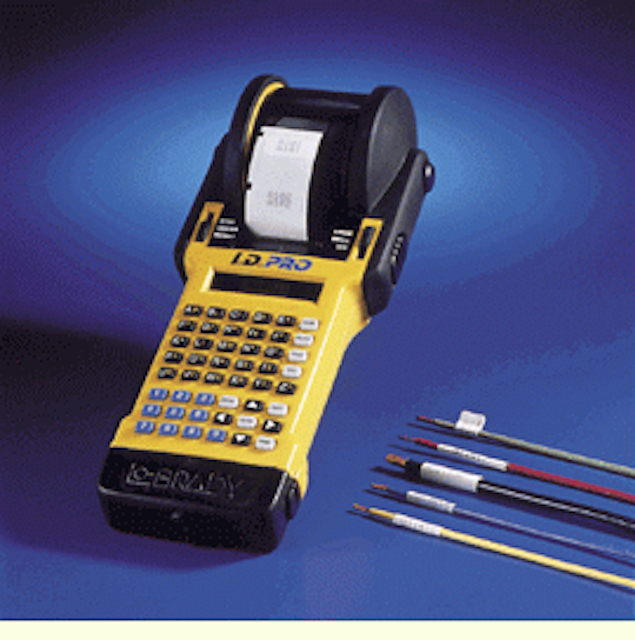 Click here to enlarge image
The Brady I.D. Pro wire-marker printer is portable and battery-powered. It prints several different types of labels on a variety of materials.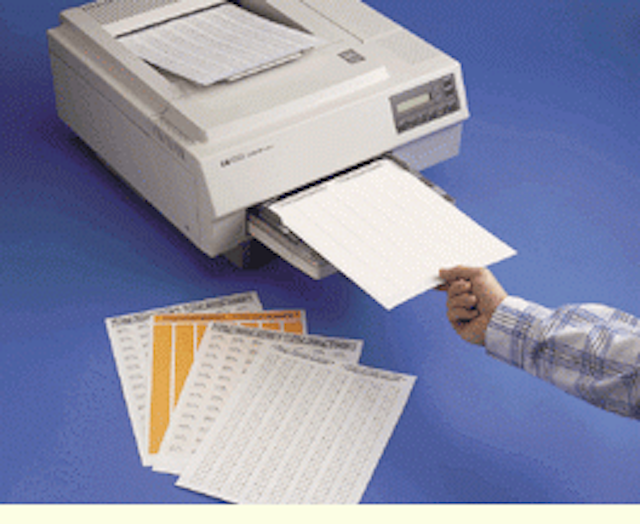 Click here to enlarge image
Tyton`s Laser Tags are generated using a laser printer. The labels are made up on a personal computer using Microsoft Windows software.