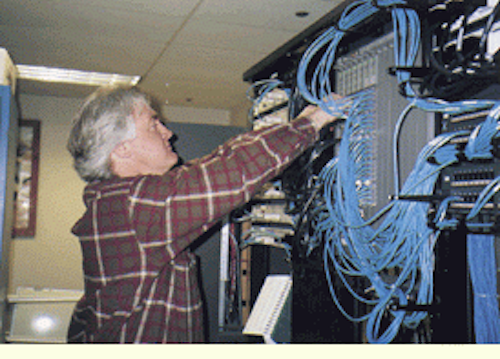 When MTS Services wired a new corporate headquarters, modular furniture added a distinct dimension to the job.
Arlyn S. Powell, Jr.
The Timberland Co., which sells outdoor shoes and clothing, has experienced phenomenal growth in the last few years, doubling the number of its retail outlets last year alone. When it was time to look for a new corporate headquarters to accommodate the company`s expansion, its management chose a site that mirrored the Timberland philosophy: It leased a spacious, two-story building in a wooded office park in rural Stratham, NH. To foster a sense of spaciousness, most employees work in an open-office environment--islands of partitioned cubicles populated with modular furniture.
The rustic setting and the large posters of hikers, campers and mountaineers that decorate the building are only part of what Timberland is about, however. The ceilings and walls conceal a state-of-the-art cable plant serving a token ring network that is the offspring of Timberland network manager Joe Ring. "We have token ring today," he adds, "but we`ll want to upgrade that someday, so we put in a structured cable plant that will also run Ethernet, fiber distributed data interface and asynchronous transfer mode. We have a clean installation, without cable fault problems; we don`t want to reinvest in cable over the life of our lease."
Installation a Category 5 issue
Ring, who came to Timberland from the IBM Services Co. of IBM (White Plains, NY), chose Category 5 cabling to meet the company`s goals, but he had enough personal experience with the installation problems that can arise with the unshielded twisted-pair cabling medium to insist on a warrantied cable plant. "Many people just don`t know how to install Category 5 cable," he says. "They act like it`s Category 3, and so they degrade its performance when they put it in. To combat that, I insisted on a warrantied and tested solution end-to-end, and the cable plant had to be installed by certified installers."
The request for proposals that Timberland sent out to installation contractors in the region described a standard high-performance cabling system--horizontal cabling from work areas home-run to intermediate distribution frames in telecommunications closets spread around the building, and those closets linked to a main distribution frame in the company`s computer room.
"There are 1000 drops," Ring says. "We allowed vendors to come in and look at the building, and I gave them an estimated minimum number of drops per floor. Then I asked them to come back with the best solution." This solution had to be implemented by installers trained in Category 5 techniques, and then each drop was to be tested to 100 megabits per second using one of the new local area network cable testers that perform to the Electronic Industries Association/Telecommunications Industry Association-568A standard. Test results were documented and kept on file.
The request-for-proposals requirement for a warrantied installation put in by a certified installer meant each bidder was going to be in partnership with a major structured cabling vendor that could offer connectivity from work area to main distribution frame patch panel. The successful bidder was MTS Services of Bedford, NH, which proposed an installation based on the products of Mod-Tap Inc. (Harvard, MA).
Ring is pleased with the results. "Our hub vendor has a sniffer on the network right now," he says, "and the man says it`s one of the cleanest systems he has ever seen." Of the 1000 drops that MTS put in, only three tested as defective, and of those three, two were damaged by later movement of the modular furniture after the cable was pulled.
Open-office wiring
Although the cabling system is of standard construction and the installation was straightforward, there is one thing that`s unusual about the Timberland job--the large number (approximately 600) of cubicles that had to be wired in an open-office environment. For the most part, horizontal cable was run from the telecommunications closets through a dropped ceiling and then down pillars that provided structural support. In approximately one-quarter of the installation, there were no structural pillars near a work-area island, and a power pole had to be installed instead.
Modular furniture and partitions were supplied by Steelcase Inc. (Grand Rapids, MI), and were first wired for power by the subcontracting electrician on-site. MTS then put in the Mod-Tap telecommunications cabling. The installation of telecommunications cabling in modular furniture has recently become a major industry concern, and some of the experiences encountered by MTS Services at the Timberland site reflect the various facets of this issue.
The Telecommunications Industry Association (Arlington, VA) has a working group that is studying the problems of cabling open-office partitions and modular furniture; this group is several drafts into a technical service bulletin that, when issued, will provide the first standard guidance in this area. According to L. Steven Brown, wiring infrastructure standards manager at Intel Corp. (Folsom, CA), writing in a recent BICSI News article (February 1995): "Even with the use of multiuser outlets and consolidation points, there are still limitations on raceways in the furniture, since most of the horizontal space is consumed by power cable. Other problems with these furniture partitions include paucity of outlets for telecommunications and the placement of the outlet openings, which are usually punched to be convenient for power; insufficient depth of the raceway, requiring the use of mounting boxes so the required bend radius is met and the raceway is not blocked by jacks; and the difficulty of removing installed cable from splines."
Given that no standard exists in this area, it is a tribute to the ability of end users, installers and vendors who work together in a practical way to get such sites as Timberland wired. The Timberland experience also provides a slice-of-life look at some of the coordination and engineering issues that make the forthcoming standard so obviously needed.
Problems with faceplates
Perhaps the most significant coordination and engineering issue on the Timberland job arose when some of the faceplates on the modular telecommunications outlets began to come off. According to Ring, Steelcase had modified the baseplate of its partition without announcing the change. "Steelcase came out with a brand-new furniture design," he adds. "When it arrived, Mod-Tap found that the structure of the extruded piece of steel to which the faceplate of the outlet attaches had been changed, and the faceplates were popping off in maybe 25% of the cases. Mod-Tap is a stand-up company, though. They came back through and changed every single faceplate at no charge--and they did a nice job."
George Brooks, the MTS Services project manager on the Timberland job, was in charge of the refitting. "It gets tight in that narrow raceway," he says, "and the cables have to be bent to fit into the wallplate in the back. Pressure created by the curve of the cable sometimes forces the module out. That was the problem."
He adds that the small and narrow raceways in the baseboard of the interlocking partitions of modular furniture raise other concerns as well. "We were running 16 to 24 telecommunications cables through there, and that was on top of power cable. It was getting tight."
MTS, with many years of experience installing modular furniture, has developed its own procedure for successfully pulling Category 5 cable bundles through these raceways. "We pull all the cables for an office block all the way through the cubicle bank," Brooks says. "Then we go back to the first office, the one nearest the power pole bringing the cables from the ceiling, and we tug out the cables for that space--and so on, down the line." He says this procedure is gentlest for handling delicate cables in confined spaces.
Co-location of power and telecommunications
Another consideration with the raceways is the co-location of telecommunications and power cables (see "Running Power and Data in a Multichannel Raceway," page 37). "We cable-tie our bundle above the electric cables and fasten the bundle between every panel," Brooks says. "That gives us some separation, but with that channel size, you really can`t have much separation." He and Ring attest they have discovered no cases of electromagnetic interference that could stem from pulling the two cable types through the same raceway. Ring points out that Timberland`s current application--token ring--only runs at 16 Mbits/sec, but he expects no EMI problems up to 100 Mbits/sec.
However, MTS Services ran across one radio-frequency interference problem during certification testing. As Brooks explains, "When we were testing with the LAN cable tester, and we`d talk into the walkie-talkie during the test, which takes 1 1/2 to 2 minutes per outlet, a near-end crosstalk failure would be recorded on the tester. If we didn`t use the radio during the test, and tested the same cable the same way, it was fine. We eventually figured out the radio was causing interference."
Brooks says that such raceway issues as the co-location of power and telecommunications cables could be alleviated by running power cables in a baseboard raceway and telecommunications cable in a raceway along the top of the partitions. "These raceways run through the top cap," he says. "There are knockouts at each end of the top cap of each partition, and molded rubber grommets can be fitted around the knockouts to keep burred metal from abrading the cable." A plastic wiremold strip conducts a work-area cable down a wall seam to an outlet right at the desktop. "It puts the wallplates close to the machines," he adds. "You`re not getting your cable kicked at floor level, and you`re not near a power outlet." It is also easier to do later moves, adds and changes with an upper-level raceway, because rewiring can take place without having to empty the furniture from offices.
Multiuser outlets and transition points
A major topic of discussion in the TIA working group has been the inclusion of multiuser telecommunications outlets or consolidation points to serve work groups in an open-office environment (see "Multi-pair cabling provides Category 5 performance in open-office environment," February 1995, page 17). These fixtures, which accommodate connections from a number of work stations, were not used at Timberland. Instead, Ring chose to home-run all work-area cabling to the telecommunications closet. This decision created the need for a transition between the cable exit from the power pole or structural pillar, and the entrance to the modular furniture block.
MTS Services President Tom Banks came up with a solution to the problem that depended on innovative use of materials on hand because there was no off-the-shelf hardware to address the situation. He found a flexible plastic tubing that was seamed so it could be slipped over the cable after installation. Cut to proper length, the tubing can be pushed several inches into the pillar and partition, sweeping the cable around sharp corners and protecting it from jagged edges and burred metal. Ring has noticed an additional advantage of the tubing: Its resemblance to electrical conduit causes passers-by to give it a wide berth, so it rarely gets stepped on or kicked.
A particularly important factor in planning the Timberland installation was coordinating the telecommunications design with the Steelcase electrician. This worker was responsible for installing power cable and snap-in electrical plugs in the partitions. Because some ground rules were set before the electrical work began, it was possible to ensure there would be enough room to place telecommunications outlets near the areas where computer and communications equipment would likely be placed, while at the same time separating power and telecommunications outlets to avoid possible interference.
Postplanning was as important as preplanning. Given the delicacy of Category 5 cabling, MTS Services has been retained by Timberland to make moves, adds and changes on an ongoing basis. To accommodate furniture moves within cubicles, Brooks says his installers have left a service loop for each work-area cable in the ceiling. Service loops are also included above the intermediate distribution frame in the telecommunications closet, in case racks need to be moved around, but MTS Services has learned through experience that the standard circular loops tied off with cable ties are not appropriate here.
S-shaped configuration holds slack
"We used to make a circular loop," says Brooks, "and then when we came back to make an add, we`d make another circle and put it on top of the first one. Pretty soon it was unmanageable." MTS now uses an S-shaped configuration to hold slack cable above the closet. The cable comes in at the ceiling, goes beyond the rack, doubles back, and then doubles back again before descending the wall. "You can follow the same path and add cable on top of the S the next time you come back," he adds. "It works better than loops."
Brooks claims that leaving slack in the ceiling for each work-area drop will permit slight rearrangement of office areas--perhaps moving walls one or two feet--without repulling and reterminating the cable. "However," he adds, "usually you have to pull out the cables and then come back when the office move is over to repull, reterminate and recertify."
Ring is even more conservative in his approach to moves, adds and changes. He explains, "My view is that if we physically move modular furniture, we`re going to lose those drops. You can`t just arbitrarily disconnect Category 5 cable from a modular outlet, pull it out of a piece of furniture and then reuse it. That cable is sensitive to being bent, stretched, kinked or twisted. It`s throwaway. If I were to reuse it, I`d be opening myself up to significant problems."
How does Timberland propose to save its cable in a world where facility planners routinely predict 40% to 50% "churn," or office movement, each year? "We won`t be moving cubicles," Ring says. "We`ll be adding them in expansion space as we grow, but we won`t be moving them." This is because the company has settled on an egalitarian space policy for its workers. Work areas will be not be reformatted because of the rank or the function of the employees occupying a space. "We standardized," Ring explains. "Every cubicle in the building is 6 by 9 feet. All the drywall offices are the same size, too. There are two offices bigger than the others, and they belong to the chief executive officer and the chief operating officer."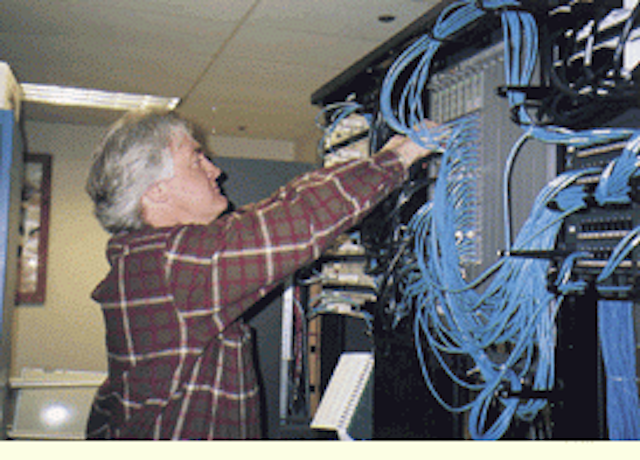 Click here to enlarge image
Network manager Joe Ring works at the patch panel of the main distribution frame in the Timberland computer room.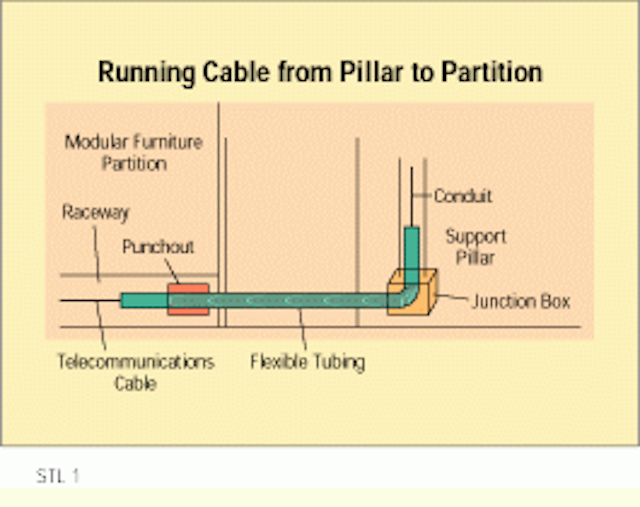 Click here to enlarge image
Accordion-folded plastic tubing provides a flexible transition from conduit in the support pillar to raceway in the modular furniture partition. The tubing can be cut to length, and is seamed so it can be snapped over the cable after installation.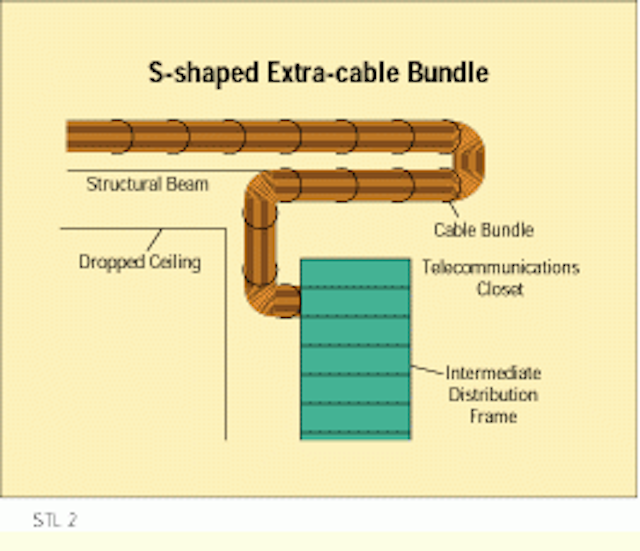 Click here to enlarge image
By running the cable bundle beyond the distribution frame and then bringing it back, you can keep cable slack tidy and manageable, a difficult task when service loops are piled on top of each other.
Running Power and Data in a Multichannel Raceway
Mark Makwinski, The Wiremold Co.
Co-location of power and data lines is an increasingly popular option among building owners and operators.
Here are some practical questions related to the issue of co-location of power and data lines in close proximity:
What standards define the proper specifications and procedures for installation of power and data in a single multichannel raceway?
Electronic Industries Association/Telecommunications Industry Association-569, the commercial building standard for telecommunications pathways and spaces, describes the appropriate application, installation and use of such perimeter systems as surface raceways. But with recent advances in raceway technology and the introduction of higher-performance cable, it is generally accepted that today`s applications have outgrown the 1990 standard.
A TIA task group has been formed to investigate the issue of power and data separation as it pertains to EIA/TIA-569. Test methods have been defined, and testing is underway to determine the practical impact of higher speed data lines on wiring installation. In addition, several manufacturers are doing their own testing on the higher speed local area network environments on the horizon--for example, 100-megabit-per-second fast Ethernet, 155-Mbit/sec asynchronous transfer mode and twisted-pair, physical media dependent.
Is there a danger that surges or other disturbances in a nearby power line could affect the integrity of communications data?
This has not been--and should not be--a problem in today`s LAN environment, as long as all hardware has been installed according to manufacturers` specifications and a comprehensive power and data protection strategy has been implemented. Further research will help define the standards that must be followed to ensure the integrity of emerging high-speed LANs making use of integrated wiring solutions.
What should installers remember when co-locating power and data lines in a single, multichannel raceway to ensure optimal performance?
Data lines operate at much higher frequencies and are less tolerant of mistakes in the connections than power lines. The right training and tools are essential when installing data lines.
When terminating pairs on Category 5 cable, maintain the original twisting on the pairs to the point of termination.
Don`t bend data cables sharply, and try not to pinch them against pathway corners.
Ground all metal raceways. Beyond the safety issue, grounding optimizes the shielding effectiveness of the raceway.
By integrating power, data and other low-voltage wiring in the same raceway, building owners and operators achieve greater accessibility, flexibility for future reconfigurations, and time and cost savings. These powerful advantages will continue to drive the demand for integrated wiring solutions. Those most likely to benefit from this demand are installers with the knowledge, skill and experience to effectively install and maintain power and more sensitive data communications lines.
Mark Makwinski is a chief project engineer with The Wiremold Co., West Hartford, CT.