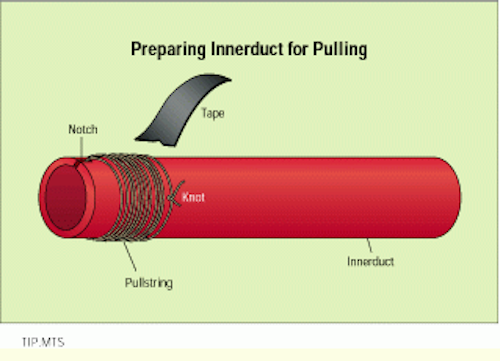 George Brooks and Tom Banks, MTS Services
Problem
Innerduct comes with a pullstring that is placed under tension when the innerduct is wound on the spool by the manufacturer, causing it to follow the inner curve of the innerduct on the spool. This tension only increases when the innerduct is unwound from the spool for pulling, because the pullstring, which has followed a shorter path on the spool, is significantly shorter than the innerduct once the latter is laid out flat. Consequently, the pullstring has a tendency to snap back into the innerduct when the installer loosens it prior to attaching the cable.
Solution
Cutting back the innerduct (but not the pullstring) while it is still on the spool eases the tension on the pullstring and makes it easier for the installer to handle. Once the innerduct is pulled, the other end should also be cut back to ensure that extra pullstring not under tension is available at both ends for attaching the cable or pulling winch.
Procedure
1) While it is still on the spool, cut off approximately the first 10 feet of innerduct from the end to be pulled, using an innerduct cutter. Make sure you do not cut the pullstring.
2) After you discard the excess, use a knife to notch the end of the innerduct that will be pulled, again being sure not to cut the pullstring. The notch should be approximately one inch deep.
3) Pull the pullstring into the notch to secure it, and then wrap it tightly around the innerduct until just enough string is left to tie off. Trim excess string beyond the knot. Cover the wrapped string with tape to protect it from breaking or abrading during the pull.
4) Pull the innerduct and cut it at the spool end, leaving approximately 10 feet of extra innerduct at that end. Then cut off the 10 feet of extra innerduct without cutting the pullstring. You now have extra pullstring at each end of the pull that is not under tension.
5) Unwrap the tape at the far end of the pull, and untie and unwind the pullstring. Attach the cable to one end of the pullstring, and attach the pulling winch, if used, to the other end.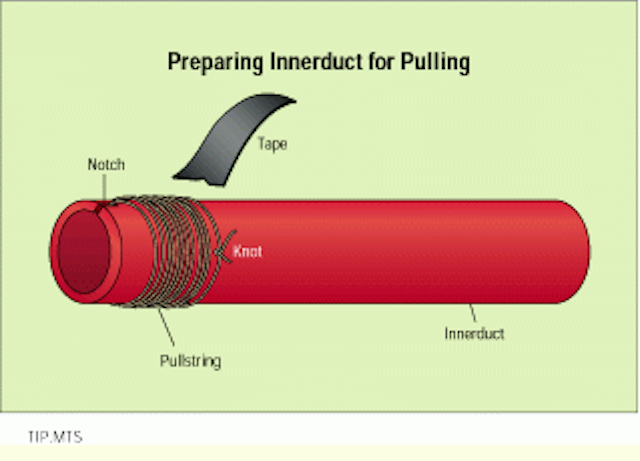 Click here to enlarge image
Notch the innerduct, pull the string into the notch, tightly wrap the string around the innerduct, and then tie it off. Trim excess string, and cover the wrapped string with tape to protect it during the pull.
George Brooks is a project manager and Tom Banks is president at MTS Services, Bedford, NH.