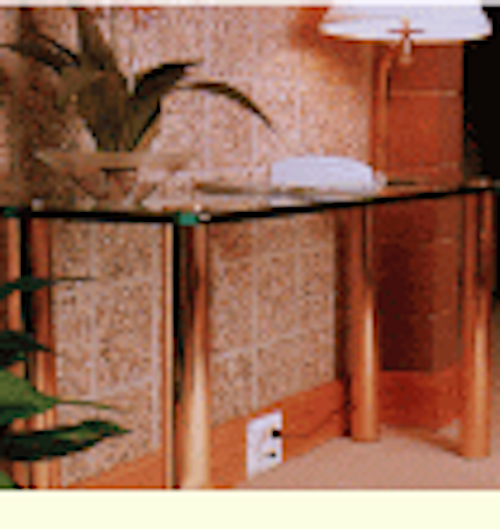 Amid Hashim
The Wiremold Co.
Changing, adding or moving power, voice and data equipment occurs an average of approximately three times per year. These changes are brought about by mergers, acquisitions, reorganizations and the need to modernize. In an office area occupied by 400 people, it is estimated that 200 moves of people and equipment will take place each year.
These rapid changes in a building environment demand a higher level of accessibility and flexibility from wiring configurations than was the case in even the recent past. Because of their inaccessibility, traditional pipe-and-box installation methods do not meet today`s requirements. Rewiring a pipe-and-box system, especially in the growing number of open office spaces where there are no interior walls, is just too complicated and expensive.
That is why building owners and operators are thinking more about what`s in front of the wall--namely, raceways and other wire management systems that enable contractors and specifiers to plan early in the design phase how all wire in a building will be channeled. By providing easy, integrated access and greater flexibility, wire management systems eliminate the need to tear into existing construction during installation or invest in expensive, labor-intensive retrofitting when making changes. And, often, these systems provide a means to solve wiring challenges such as open office configurations.
The advantages of new wire management approaches include functionality, cost-effectiveness, attractive design and the ability to choose from a wide variety of wire management solutions.
Functionality. Wiring a facility isn`t so simple anymore. In addition to power for machinery and other electrical equipment, building operators must deliver lines for phones, faxes, cable TV, video and computer networks, ideally with minimal disruption to the work environment.
Wire management systems ensure that the design, installation and maintenance of all facility wire is integrated. Instead of multiple systems to carry different kinds of wire, the newest multichannel raceways allow power, data, voice and other low-voltage wiring and cabling to run in a single raceway. Outlets and jacks are simple to move and add, and raceway covers easily snap on and off for wiring modifications.
Cost effectiveness. While reduced labor time to install and upgrade wire management systems might not seem an advantage to installers, in fact, it can be. Easier, faster installation means less headaches for crews, and quicker job turnover for greater profitability. Incorporating the reduced installation hours into bids will also make contractors who offer wire management solutions more competitive than those relying solely on conventional pipe-and-box construction.
Attractive design. New products are changing the image of perimeter systems from that of "ugly brown raceway" to aesthetic solutions that are as attractive--and aesthetically invisible--as they are functional. One example is a nonmetallic raceway that carries power, voice and data in one system and is available in low-profile baseboard and chair-rail applications. To complement and enhance a room`s interior, the product is available in paintable vinyl and a number of wood veneer finishes, including maple, cherry, oak and mahogany.
Freedom of choice. One size does not fit all. A wide variety of wire management systems are available to suit any type of business and workspace design. Perimeter raceways, for instance, can be configured with one, two or three compartments to deliver power and low-voltage wiring to points throughout a building. A variety of metallic and nonmetallic systems offer flexible, adaptable alternatives to pipe-and-box construction.
Underfloor systems are easily accessible solutions set in concrete and covered with flooring for users, such as large open office space buildings that require high-capacity but invisible wiring solutions.
Open office space systems use multichannel raceways that can route wires and provide point-of-use access on both sides of a partition. Vertical drop power poles, a component of open office space systems, provide ease of installation and optimum flexibility.
Overhead systems are right for frequently adjusted, rerouted electrical/communications installations such as lighting and voice/data distribution. These systems can bring cabling from point-of-entry to every point in a building.
As technology continues to advance and workplace changes become even more fast-paced, the demand for flexible, accessible wiring solutions will grow. "In front of the wall" wire management solutions can accommodate quick changes and a variety of building structures, including open offices that do not encompass traditional walls. Those most likely to benefit from this trend are installers with the knowledge and experience to bring the benefits of wire management solutions to their customers.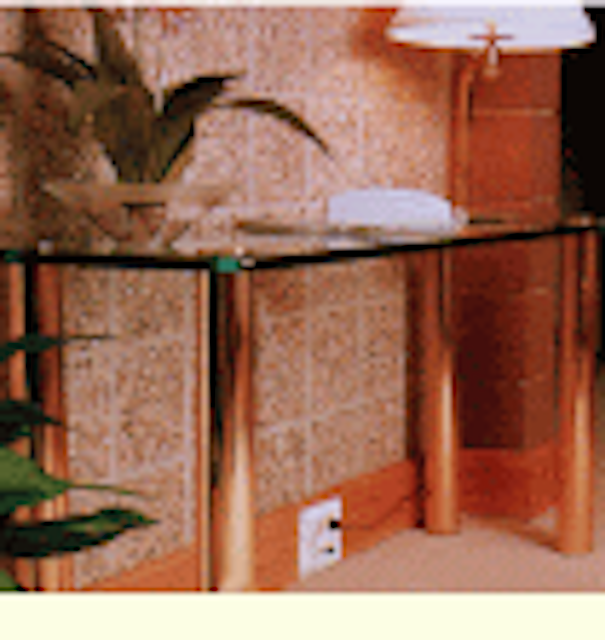 Click here to enlarge image
The Access 5000 wire management system from The Wiremold Co. combines the practical advantages of a multichannel raceway system with a designer look that blends in seamlessly with office decors.
Amid Hashim, senior communications engineer, The Wiremold Co., West Hartford, CT.