Siemon launches '5 Square' telecommunications outlet box
Featuring integrated cable management, new outlet box is designed to support high-performance copper and fiber cabling systems while providing 50% more space than traditional 4 square boxes.
Jul 26th, 2011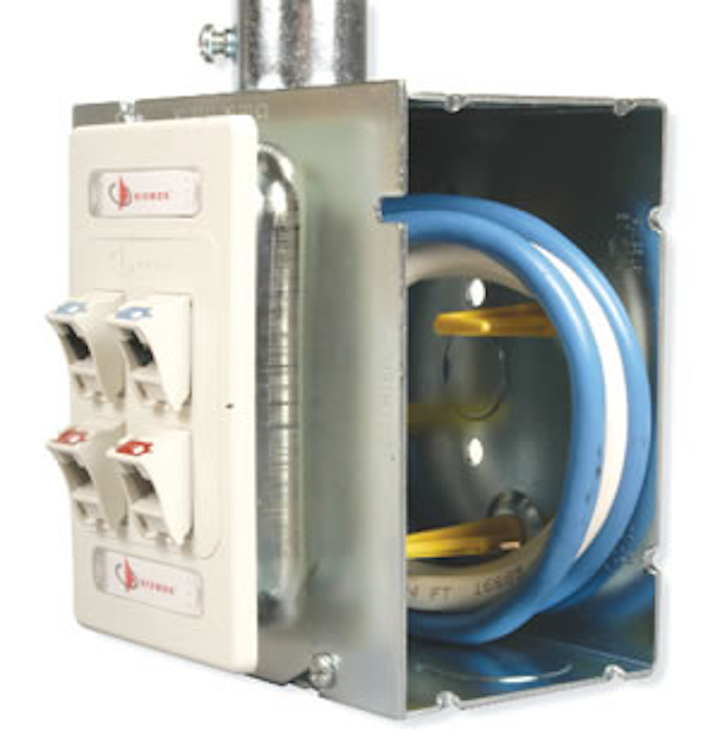 Siemon has announced the launch of its high-capacity 5 Square telecommunications outlet box. Providing 50% more useable space than traditional 4 square boxes and featuring an exclusive internal cable management system, the company says the 5 Square box was specifically designed to support today's high-performance copper and fiber optic cabling systems.
Delivering 64 cubic inches of space versus just 30-42 cubic inches for standard boxes, Siemon says the 5 Square box is designed to simplifiy installation and, combined with its integral cable management system, helps to maintain larger bend-radius requirements of high-performance systems such as category 6A and category 7A copper and 10/40/100Gb/s optical fiber while leaving room for future expansion.
Related story:Considerations to make before investing in Category 6A cabling
Siemon notes that this additional space afforded by the new box is particularly important for the proper management of larger diameter cables such as category 6A UTP, where adherence to strict bend radius requirements is particularly performance critical and essentially impossible to maintain in traditional boxes.
Early adopters of the 5 Square box praise its combination of space and cable management features for installation of high-performance cabling. "The 5 Square telecommunications box has been very effective in our installation of category 6A cable," commented Mario Morales of Cerritos College. "The installers like it, and it makes the installation more consistent among different installers. It has become our campus standard, and we are finding other uses for it, such as for A/V."
Siemon says the 5 Square boxes support a wide selection of flexible installation options, including standard and bracket-mount versions with multiple conduit knockout options. Available with single and double-gang extension rings in depths up to 1-1/4", the boxes are compatible with all US style Siemon and 3rd party single and double gang faceplates, as well as Siemon MX-SM Surface-Mount Boxes, Fiber Outlet Boxes and MuTOAs.
For more information on Siemon's 5 Square telecommunications outlet box, go to: http://bit.ly/Siemon5SquareBox