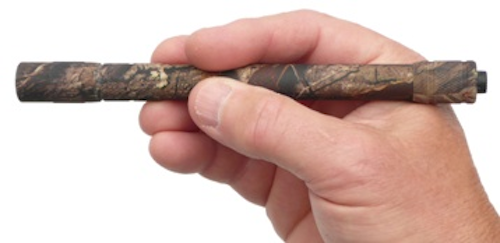 Maxxeon says its new WorkStar Pocket Floodlight produces more than 140 lumens of white light in a wide-angle floodlight-style beam, most effectively at a range of 6 inches to 10 feet. Powered by three AAA batteries, the light weighs little and clips into a pocket, the company says. It is available in finishes called Realtree AP Camo (shown below), Imitation Carbon Fiber and Black Type II Anodizing.
"The tough T6 aluminum body is virtually indestructible," the company says. "All threaded joints have rubber O-ring seals so it is water-resistant. The tailcap switch is rated to 100,000 cycles and is sealed to avoid contamination. The switch has the standard on/off operation, plus a handy momentary action position."
The first set of AAA batteries is included in this over-the-counter product that can be found at electrical- and industrial-supply stores as well as auto-parts outlets. Depending on the finish, the light sells for $35 to $45.