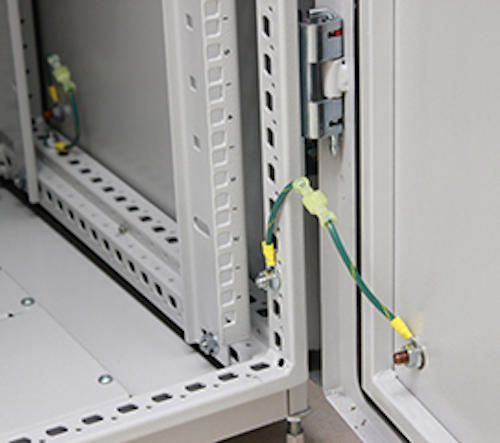 Sam Rodriguez, Chatsworth Products (CPI) senior product manager, was recently interviewed by Cabling Installation & Maintenance magazine about the importance and differences of grounding and bonding when deploying cabling systems in nontraditional and harsh environments.
The article titled, "Wherever Cabling Goes, Grounding and Bonding Requirements Follow," provides an in-depth look at the primary differences between deployment of cabling systems in typical data centers and in harsh or nontraditional environments. Readers gain visibility into industrial enclosures designed to provide protection of ICT equipment and emphasized the importance of grounding and bonding.
CI&M: What are some of the primary differences between cabling deployments in a data center versus other environments?
Rodriguez: ...In a data center that is under tight control, very few people have access to the cabinets. But, when a cabinet is in an industrial environments, on an open floor, the cabinet and its contents are accessible to many people and as a result, could be at greater risk. If an enclosure is mounted outside, there's the potential for even more people to come into contact with it in some way...Also, with respect to grounding, in a data center, the grounding network is a core part of the system...When a company places a cabinet on the factory floor and the IT department is responsible for it, it is just as important as the grounding system in a data center, and it must be planned for.
CI&M: Because of differences in physical characteristics, some enclosures are generally considered "IT" enclosures and others are considered "industrial" enclosures. Do these differences affect grounding and bonding?
Rodriguez: In some cases, the purchaser will have to specify that the enclosures gets a grounding kit...Also, the gauge you use will depend on the voltage that's being put into the enclosure...Also, once you're outside of a data center, you can be dealing with different mounting schemes. DIN rail mounting is popular in industrial applications. Those using rails must ensure the rails are bonded to the infrastructure. It's typical for enclosures to include a bus system; many times fixtures on wall studs are mounted directly to panels...The busbar also can be inside the enclosure, which is similar to the typical setup in an equipment room. These are all things to consider ahead of time, when you're selecting an enclosure.
CI&M: Anything else that's particularly worthwhile for specifiers and users of these systems to know?
Rodriguez: One thing that's important to think about—and enclosures manufacturers already should be addressing—is properly dealing with an enclosure that includes a very large panel and a gasket. When a gasket is present, it prevents metal-to-metal contact. You need to bond anything that has a high probability of being electrified, so in a unibody-construction enclosure, the entire box is bonded at once. With a modular enclosure, however, some of the seals can act as insulators.
To learn more about grounding and bonding considerations for industrial enclosures, read the full interview.

Posted by Brittany Mangan, Digital Content Specialist at 11/02/2018 09:36:57 PM