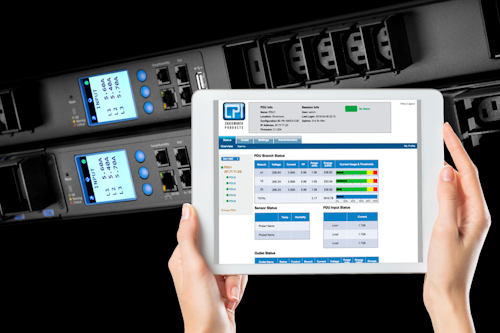 Power management within the white space—particularly inside the cabinet—is critical to ensure availability of all IT applications, as well as to minimize the overall energy footprint of the data center. Additionally, with efficient power management, you can boost operational efficiency by managing and monitoring power at the rack- and device-level.
To optimize power distribution, monitoring and control in your cabinet ecosystem, consider the following when selecting an intelligent PDU:
Branch circuit monitoring: To assure power availability, it is important to monitor all circuit breakers in the power chain. Within the data center white space, overcurrent protection is utilized on rack PDUs, as well as remote power panels or busway systems. Since there are several branch circuits on a PDU, it is critical that all branch circuits be monitored on the rack PDU. In general, monitoring as close to the device as possible provides better reporting to inform optimization.
Remote management (threshold alarms and data logging): Select a PDU with intelligent remote management capability for continual automated monitoring. Features such as the ability to set thresholds and get notifications or alerts when warning or critical thresholds are exceeded are crucial. Plus, data logging to keep records for analysis is important. Generally, there is a one-to-one association between a branch circuit on a floor PDU and the input of a rack PDU. Hence, monitoring of the rack PDU provides an additional benefit of monitoring branch circuit currents on those upstream power chain devices.
Outlet-level monitoring: Reducing energy footprint of the IT equipment is best served with monitoring of power consumption at the outlet level on the rack PDU. Information obtained can be used to identify servers that are over or underutilized. Outlet-level readings also provide information to determine what servers and applications would be best suited for virtualization, and where there is available space and capacity in racks.
Outlet-level switching: Another important aspect of power management is the ability to cycle power to hung IT equipment. This is served by PDUs that have the ability to cycle power to each individual outlet. These PDUs also allow the ability for use of outlets to be controlled by the rack PDU administrator. Outlets can be turned off unless specifically assigned to power equipment to carefully manage power and utilization.
IP consolidation: The cost of networking equipment in the data center can be significant. Dedicating a single network connection to each monitoring device reduces the perceived advantage of automatically collecting data, as the cost deploying IP networks are high. IP consolidation addresses this concern by providing ability to link many PDUs under a single IP address. The market offers PDUs with IP consolidation capabilities that range as low as eight and as high as 32 PDUs.
High ambient temperature rating: With high-density cabinets holding densities above 10 kW, it is important to select a rack PDU that features the highest possible ambient temperatures. Good PDUs in the market today feature temperature ratings of up to 149˚F (65˚C).
High outlet density: As the demand for IT resources continues to rise, more data centers are deploying 48U and taller server cabinets to support more equipment within defined square footage. High outlet density PDUs with (60) C13 outlets allow data center operators to optimize their investment in the taller cabinets, while still benefiting from all the features of an intelligent PDU.
Integration with Data Center Infrastructure Management (DCIM) software: The ability to trend and plot energy use can help visualize patterns, and identify root cause of out of bounds conditions. This illuminates the need to move a workload or a piece of equipment to another rack or to retire underutilized equipment.
Power management is a key element of the CPI cabinet ecosystem solution. To learn more about this topic and all other elements of a successful data center cabinet ecosystem, download the complimentary white paper.