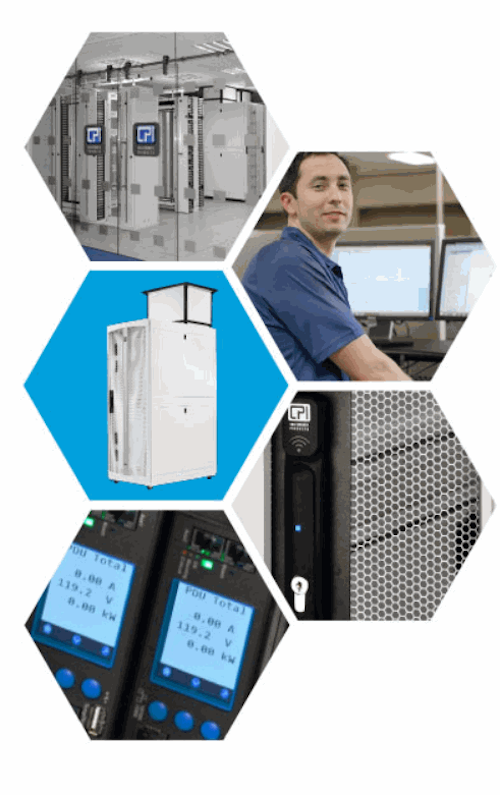 Today's increasing demand for power and speed, the adoption of Internet of Things (IoT), edge computing and disruptive technologies requires IT teams and professionals to find practical solutions that help them overcome key challenges that inhibit data center optimization.
Chatsworth Products (CPI) invites you to visit our experts in booth 313 while you're at Data Center World Global 2019 in Phoenix, Mar. 19-22 to discuss your toughest challenges and get a first-hand look at data center solutions and products that help you run an efficient, effective data center. Additionally, you'll see how CPI can help you protect, support and keep your sensitive ICT equipment cool—even in nontraditional environments—as you prepare for the impact of emerging technologies.
CPI Solutions and Products on Display
Protect Your Network at the Edge

RMR® Industrial Enclosures with Cooling Solutions
RMR® Industrial Enclosures
provide solutions engineered specifically for technology, automation and control equipment in harsh indoor and outdoor environments. CPI's NEMA-rated enclosures minimize environmental impact on sensitive equipment, and can be ordered with filter fans or cooling units to ensure continued operational efficiency.
CUBE-iT™ Wall-Mount Cabinet
The CUBE-iT™ Wall-Mount Cabinet provides a secure, easy-to-install, swing-out storage solution for ICT equipment. Its attractive design, security features and range of optional fan kits make it ideal for public areas or equipment rooms with limited floor space.
eConnect® Electronic Access Control (EAC)
eConnect® EAC integrates with eConnect Power Distribution Units (PDUs) to provide and easy-to-use, economical and robust networked electronic lock. It works seamlessly with power management and environmental monitoring products for a complete data center solution.
Enhance Network Availability
Pemsa® Rejiband® Wire Mesh Tray System
Pemsa® Rejiband® Wire Mesh Tray System is a complete pathway solution that can be supported from the wall, ceiling, floor or from the tops of CPI Rack and Cabinet Systems. It features a unique construction with a rounded safety edge along the top of each wire that protects installers and cables from getting cut. The wide range of accessories allow for quick installation and BLACK C8® finish delivers high corrosion resistance.
Motive® Cable Management
The award-winning Motive® Cable Manager is a highly intuitive and sophisticated cable manager that includes a set of tool-less accessories to provide unlimited adjustability and direct support for cable bundles, while maximizing use of interior space.
Maximize Your ROI and Improve Physical Security
eConnect Power Distribution Units
eConnect PDUs provide the ultimate solution for cabinet-level power distribution. It includes innovative capabilities like Secure Array™ IP Consolidation and Click Secure Technology to help maximize ROI.
Let "CPI Knock Your Socks Off" in Booth 313.
While you're at the event, be sure to let one of our experts "knock your socks off" by giving you a tour of the products on display in our booth. Remember to ask for your pair of customer-designed socks before you leave!
Not attending? You can still take advantage of these opportunities:
We hope to see you at the event!
Posted by Brittany Mangan, Digital Content Specialist at 2/28/2019