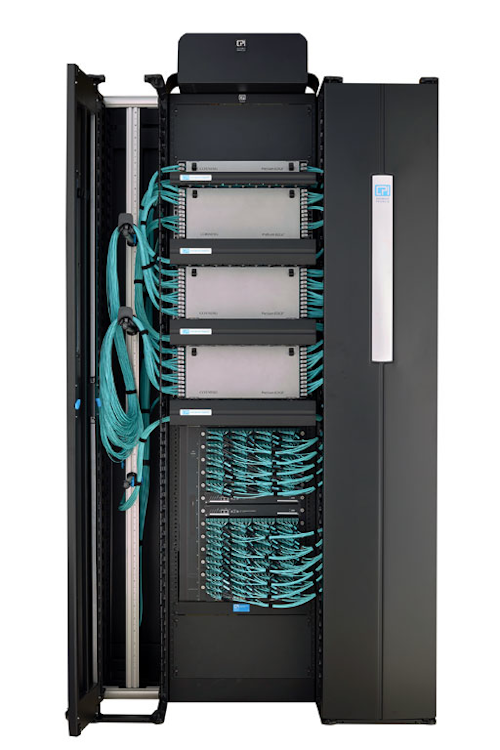 Regardless of the scope of your project or the size of your telecommunications room, Chatsworth Products (CPI) provides end-to-end network infrastructure products and solutions. CPI's product availability, ease of ordering and rapid delivery, will help you meet your goals and finish projects on time and within budget.
Consider the following products for your telecommunications room:
Equipment Support
Two-Post Racks are available in a variety of styles and configurations, and have a small footprint that saves floor space. Two-Post Racks feature:
Easy access to cables for moves, adds and changes
Unrestricted airflow for maximum ventilation
Bonded assembly with integrated ground studs
Rack Ground Jumper Kit for easy attachment to Telecommunications Grounding System
Four-Post Racks offer the strength and stability of a freestanding cabinet in a cost-effective open architecture and feature:
Front and rear support for heavier equipment like modular network switches, UPS and backup batteries
Quick assembly and has integrated bonding point for fast attachment to the bonding busbar
Ability to add a wide variety of CPI vertical cabling sections
CUBE-iT™ Wall-Mount Cabinet is perfect in limited, or publicly accessible spaces. It features:
Three-part, swing-out design for easy access to the front and rear of installed equipment and space savings
Single lock and key on front door provides access to the entire cabinet
Removable top and bottom rear panels with rectangular knockout perfect for retrofit deployments over existing equipment and cabling
Factory prepped bonding feature reduces installation time and cabinet ships fully assembled
Cable Management
Motive Cable Manager is a highly intuitive and sophisticated cable manager and features:
Unlimited adjustment anywhere within the cable manager, optimizing interior space
Highly configurable set of tool-less cable management accessories that optimize use of interior space
Careful engineering to mitigate poor cabling practices regarding cable slack, bend radii and organization
Cable Pathway
Adjustable Cable Runway creates a flexible point-to-point pathway for network cabling and features:
Unique, movable Cross-Members, which allow components to be installed at various points along the runway—simplifying the alignment of cabling above racks, cabinets and cable managers
A wide variety of tool-less accessories to create turns and transitions to avoid obstacles and promote quick and easy deployment
Bonded construction and ships assembled or unassembled
Power Delivery
Now at a lower cost, Metered Power Strips provide basic power distribution with real-time input current readings to assist with capacity and planning, and feature:
Ability to attach multiple pieces of equipment through a single power connection
Real-time input current reading shows power use to prevent plugging in of too much equipment
Optional surge-protection to protection equipment from power spikes when attached directly to utility power
Ordering is Easy
Use the CPI Online Catalog to order a single product or a complete solution. Select from more than 120,000 standard products, add them to a cart and simply email it to one of our many global distributor partners for immediate ordering.
Posted by Brittany Mangan, Digital Content Specialist at 3/8/2018