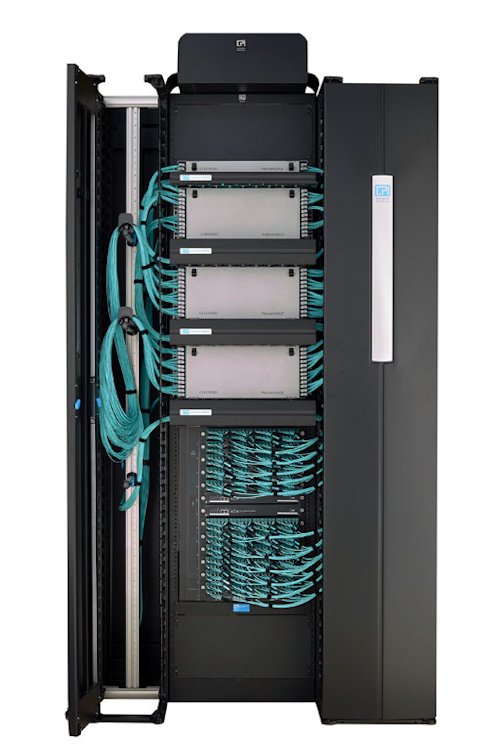 If you're responsible for ensuring availability and speed of the network to business users, you may be planning an upgrade in response to the growth of IP traffic. There are a number of advancements in cable management that will help you when planning any upgrades to your enterprise network.
New Structured Cabling Requirements
Although the fundamentals of good cable management have not changed, the structural support components have improved significantly. Best practices dictates you should support cable to prevent sharp bends, twists and stretching. When making a vertical or horizontal transition, use a smooth 90-degree bend radius that is four-times the diameter of copper conductors and a minimum of 1 inch (25 mm) for fiber conductors.
New structured cabling installations should consider a 25 Gbps or 40 Gbps fiber or Category 8 F/UTP or U/UTP backbone and 10 Gbps Category 6A UTP or Category 8 F/UTP or U/UTP horizontal connections. However, existing Category 5e and Category 6 UTP horizontal cabling can support 5 Gbps network connections and PoE under certain conditions.
The new requirement is the need to use smaller bundles and more spacing between bundles to allow airflow around cables with higher power Type 4 POE applications. The alternative is loose fill, but similarly, you would still need to be able to control the potential buildup of heat where cable concentrates in pathways.
Chatsworth Products (CPI) offers many advancements in cable management to address these concerns.
Advancements in Cable Management
Motive® Cable Management
Motive® Cable Manager, shown above, is an advanced and highly configurable cable manager that features an innovative, extrusion-based, integral track system to provide unlimited adjustment anywhere within the cable manager. Internal supports help space cable bundles to improve airflow around cables for higher power PoE applications and improve troubleshooting by neatly organizing each bundle.
Adjustable Cable Runway
Adjustable Cable Runway lets you easily and quickly align the transitions between vertical cable managers alongside equipment racks and overhead cable trays. It is now available with movable cross members, which lets you adjust the position of a cross member if it interferes with the transition of cables between the vertical manager and overhead pathway. You can place radius drops exactly where they need to be to path cable into the vertical manager. Additionally, easy-to-use tool-less pathway dividers allow you to maintain space between cable bundles within the pathway.
Tool-less Cross Member and Stringer Radius Drops
Tool-less Cross Member Radius Drops and Tool-less Stringer Radius Drops promote proper bend radius by supporting and guiding cables as they enter and exit the runway. They can be positioned at any location along the runway. Tool-less Cross Member Radius Drops can be positioned over or between cross members because it is supported by the stringer rather than the cross member. Tool-less Stringer Radius Drops feature simple, tool-less installation by slipping over Runway Stringer and clamping into position.
Tool-less Pathway Dividers
Tool-less Pathway Dividers to divide cable runway into multiple pathways, and organize them by media type or destination. The patent-pending hinged design allows the divider to open and wrap around the cross member, then snap closed using our Click-Secure Technology. Dividers are compatible with all styles of CPI Runway products.
There are a plethora of CPI cable management solutions to help you plan your future upgrades. They have evolved from a simple trough to hold cable bundles to a mechanical system that adjusts to optimize cable support. Learn more. Download a complimentary white paper.
Posted by Brittany Mangan, Digital Content Specialist at 7/31/2018