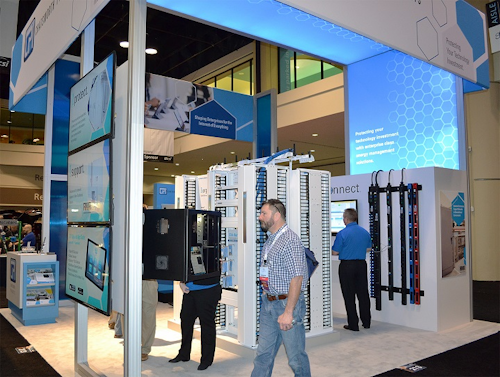 Join CPI at the 2019 BICSI Winter Conference & Exhibition in Orlando, Florida from Jan. 20 - 24 to get a first-hand look at our latest data center, enterprise networking and industrial enclosure solutions. This year, we're excited to give you a sneak peak of our Wire Mesh Tray System, which is UL® Classified and features a unique construction that protects cables from being cut and enhances safety while installing.
Conference Highlights
Presentation: Make the Most of Your Intelligent PDU Investment, Jan. 23, 10:30 a.m. - 11:30 a.m.
While you're at the event, make the most of your time by attending a presentation titled, "Make the Most of Your Intelligent PDU Investment" on Jan. 23 from 10:30 - 11:30 a.m. CPI Sales Engineer and Power Solutions Expert, Matt Burkle, will discuss how new data center demands are boosting the market for intelligent PDUs. You'll also gain insight on how to maximize ROI using all the valuable features and capabilities of intelligent PDUs.
Cabling Skills Challenge, Jan. 21 - 23
Witness CPI products in action! Competitors will participate in eight cabling skills events and race against their peers—and the clock—for a chance to win $5,000 and become the 2019 BICSI Installer of the Year. CPI products used in this year's challenge include:
CPI Products on Display in Booth 729
Wire Mesh Tray System - Get a sneak-peak at CPI's newest portfolio addition. This UL® Classified Wire Mesh Tray System features a unique construction with a rounded safety edge along the top of each wire, helping to enhance safety and protect cables.
RMR® Industrial Enclosures - RMR® Industrial Enclosures provide solutions engineered specifically for technology, automation and control equipment in harsh indoor and outdoor environments. CPI's NEMA-rated enclosures minimize environmental impact on sensitive equipment, ensuring continued operational efficiency.
Motive® Cable Management - The award-winning Motive® Cable Manager is a highly intuitive and sophisticated cable manager that includes a set of tool-less accessories to provide unlimited adjustability and direct support for cable bundles, while maximizing use of interior space.
eConnect® Power Distribution Units (PDUs) - eConnect® PDUs provide the ultimate solution for cabinet-level power distribution. It includes innovative capabilities like Secure Array™ IP Consolidation and Click Secure Technology to help maximize ROI.
Adjustable Cable Runway - Adjustable Cable Runway creates a highly flexible point-to-point pathway solution that features tool-less, moveable Cross Members to help expedite cable drops and installation.
F-Series TeraFrame® Gen 3 Cabinet System - The F-Series TeraFrame® Gen 3 Cabinet System is a highly configurable premium enclosure that provides exceptional thermal and cable management. It is idea for high-performance server and network applications.
Clik-Nut® Hardware Kit - Clik-Nut® Hardware Kit solves the fundamental issues with standard cage nuts. The patent-pending design eliminates the need for tools, resulting in easier and faster installation, while maintaining load-bearing strength. Clik-Nut reduces labor and installation time by at least 70%.
Enjoy the event and we hope to see you there! When you visit, don't forget to enter your name into the daily drawing for a $100 Visa Gift Card.
Not attending? You can request a copy of the expert presentation or even a free sample of our Clik-Nut Hardware Kit.
Posted by Brittany Mangan, Digital Content Specialist at 1/2/2019