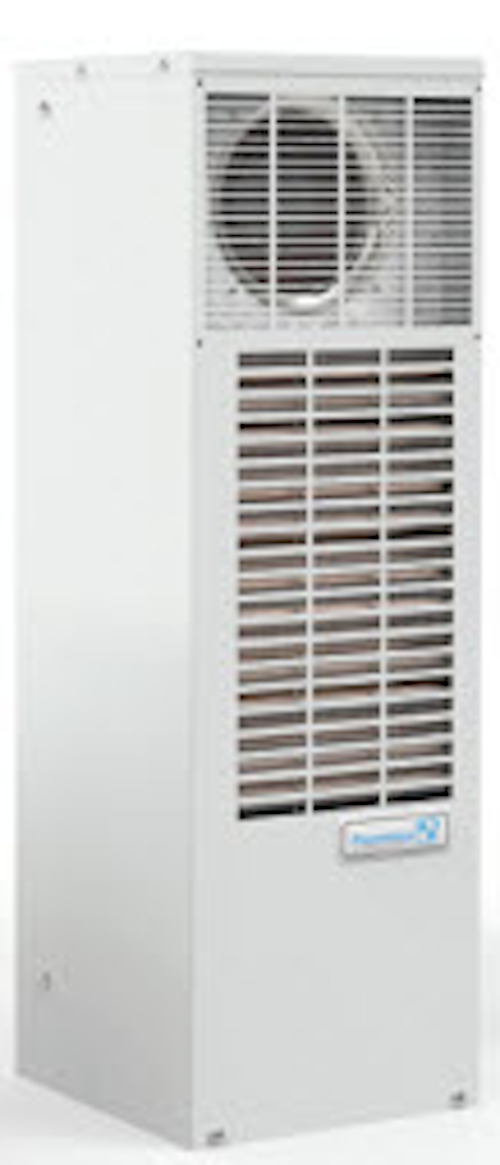 Industrial enclosures are certified to protect sensitive equipment against solid objects and noncorrosive liquids. As a result, the sealed design of industrial enclosures does not allow for needed ventilation to cool internal electronics, so a filter fan or cooling unit are typically required to exhaust or reject heat from the enclosures. Like the enclosure itself, the filter fan or cooling unit needs to be IP- or NEMA-rated to match (or exceed) the enclosure rating. But, just when should cooling units be used over a filter fan in an industrial enclosure, how do they work and how are they different from Computer Room Air Conditioners (CRACs)?
Do I need a Filter Fan or a Cooling Unit?
Filter fans with matching exhausts are a good choice where the amount of dust is minimal, and when equipment within the enclosure can operate at higher temperatures than the temperature of the ambient air. Cooling units—enclosure-mounted air conditioners—should be used to keep the enclosure completely sealed in areas with a lot of dust, or where internal temperatures must be tightly controlled.
How do Cooling Units work?
Cooling units mount through the door or side of the enclosure and provide closed-loop cooling. The cooling unit has independent internal and external air paths, so air does not enter or exit the enclosure. The cooling unit circulates within the enclosure, rejecting heat to the outside of the enclosure through an air conditioning circuit. See the figure to the left, provided by Pfannenberg USA.
What makes them different from Computer Room Air Conditioners (CRACs)?
Industrial cooling units typically have a fixed set point and circulate air continuously. The compressor will cycle off if the temperature within the enclosure is under the threshold, but fans run continuously at a constant rate. Industrial cooling units are sized for a specific heat load to match the sum of the heat produced by the equipment in the enclosure. If the enclosure supports mission critical equipment, a redundant cooling unit should be added, but the conditioners are typically cycled, not operated together at partial load.
To learn more about cooling electronics within an industrial enclosure, download the complimentary white paper.
Posted by Brittany Mangan, Digital Content Specialist at 2/27/2018