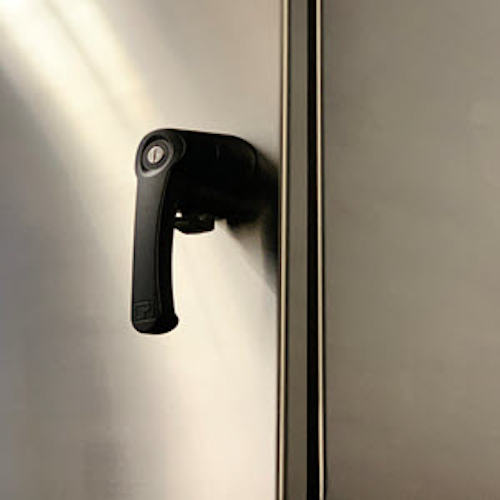 Stainless steel. New homebuyers clamor for it in their kitchens while architects dream of designing the next Chrysler Building with it. It's strong, flexible, corrosion-resistant and easily sterilized—exactly why so many in modern life swear by it, seek it out and use it time and time again.


Same goes for the team at Chatsworth Products (CPI), who knew it was just a matter of time before stainless steel had its day in the sun… or snow, sleet, rain, you name it. That's why we're introducing a brand new stainless steel, NEMA Type 4X brushed finish to the RMR® Industrial Enclosures product line that delivers the ideal solution for IT applications in coastal, seaboard and/or roadside application spaces where salt, air or saltwater exposure is possible.




It's not a moment too soon either, considering how fast the emerging 5G wireless technologies of the Internet of Things (IoT) and Industrial Internet of Things (IIoT) are driving the need to extend traditional IT networks from the comforts and confines of the data center out to "the edge" and every thing (and where) this new frontier encompasses.

In expanding our RMR Industrial Enclosures product line with stainless steel options for NEMA Type 4X requirements, we now not only offer customers the ability to have additional corrosion protection beyond that of a painted mild steel NEMA Type 4 enclosure, we open up a whole new world of physical space in which the high quality, craftsmanship and reputation of CPI enclosures can now occupy.

But that's not all. In addition to announcing stainless steel as a much sought-after finishing option, we're also pleased to announce that disconnect enclosures in all configurations are now also available. These new RMR Flange-Mount Disconnect Enclosures secure the door in the closed position when equipment within the enclosure is energized and only allow access to the cabinet when the disconnect handle is positioned to the power off position. The newly offered enclosures accept most standard disconnect handles (sold separately).

In just a few clicks, all these new RMR Industrial Enclosure offerings can be quickly and easily selected, configured and ordered via the CPI Product Designer, now enhanced with more filters and compatibility verification to simplify the selection process. Once the enclosure is designed, the Product Designer will automatically generate a bill of material (BOM), drawings and sales documents, all emailed to the user within minutes.

Sounds good, right? To learn more, visit the website or test drive the CPI Product Designer here.

Posted by Jeff Cihocki, Content Manager at 7/16/2019 12:01:59 PM