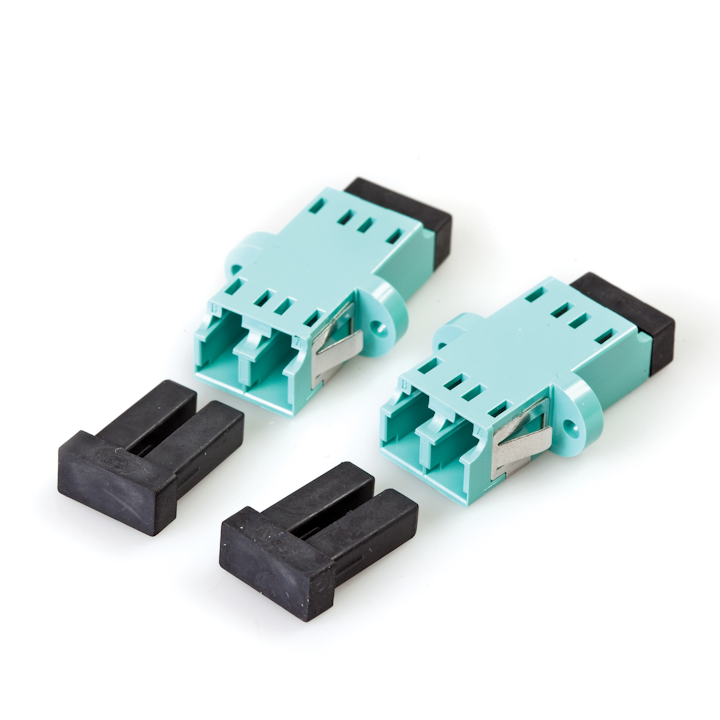 CommScope licenses duplex LC fiber-optic adapters to AFL
CommScope recently announced it has licensed its portfolio of patents for duplex LC fiber-optic adapters, which are designed to fit within an SC adapter footprint, to AFL. The portfolio license provides rights to the U.S. patents and foreign counterparts in the CommScope portfolio.
"CommScope has an industry standard license available to our duplex LC adapter portfolio and is offering preferred licenses for a limited number of companies that are first to license," said Marc Bolick, senior vice president, CommScope Technologies LLC. "AFL's agreement to take a license to CommScope's duplex LC adapter portfolio provides recognition of the value of our portfolio for companies that are making or selling duplex LC adapters."
Per a CommScope statement: "As the second license granted by CommScope to its duplex LC adapter patent portfolio, the license provides additional acknowledgement of the value of the duplex LC adapter patent portfolio by another leader in the market. CommScope's duplex LC fiber-optic adapters are unique in their ability to increase the density of fiber-optic connections. The benefit of these adapters is that the duplex adapter has the same footprint as a simplex SC fiber-optic adapter, and thus can double the density of fiber optic connections in the same or existing footprint as an SC adapter."
The company statement added, " As the leading small form factor connector used in optical transceivers, duplex LC adapters connect active equipment in central offices, buildings, data centers and cell sites."
NSI Industries merges with Platinum Tools
On March 14, NSI Industries, LLC, a provider of electrical and control products, announced a merger with Platinum Tools, a move that NSI says will have the effect of "expanding its product portfolio and market reach, while creating new value for a wide range of customers."
"The Platinum Tools product portfolio is entirely complementary to our NSI electrical solutions and will add immediate category depth," said G. R. Schrotenboer, chief executive officer, NSI Industries. "Platinum Tools shares our dedication to offer the best quality products designed for efficient and easy installation, while bringing economic value to contractors, electricians and installers."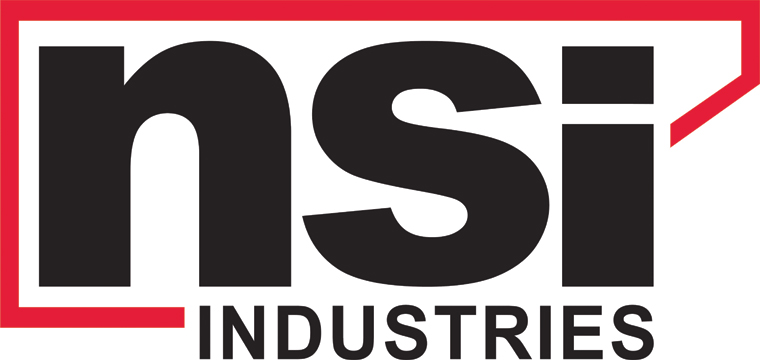 As stated on its website, "with innovative and respected products and brands including TORK mechanical and digital time switches, photocontrols and occupancy sensors and Polaris, the original pre-insulated connector, NSI has provided 40 years of innovative, profitable and quality solutions to its distributor partners." The company adds, "NSI's sustained level of success is attributable to a constant focus on its distributor partnerships and helping them find new ways to be successful."
Platinum Tools' product portfolio includes cable management solutions, structured wiring products, tester kits, cutters, crimpers and other products for electrical, industrial, security, audio/video, commercial, residential, datacom and telecom applications, which expands NSI's market reach.
"Our new combined strength, including our mutual commitments to delivering outstanding attention and service to our customers, creates substantial opportunities for us to offer a broad array of unique and industry-leading solutions to our customers," commented Lee Sachs, president, Platinum Tools. "We are excited about this partnership with NSI Industries and the value it will bring
Intel ships first 58-Gbit/sec FPGA transceivers for 400G Ethernet deployments
At the Optical Fiber Communications (OFC 2019) conference earlier this year, Intel's programmable solutions group showcased its 58-Gbit/sec transceiver technology integrated on the Intel Stratix 10 TX FPGA, billed by the manufacturer as "the world's first field programmable gate array (FPGA) with 58-Gbit/sec PAM4 transceiver technology, now shipping in volume production and enabling 400-Gbit Ethernet deployment."
Intel contends that the new technology doubles transceiver bandwidth performance when compared to traditional solutions, and is critical for applications where high bandwidth is paramount, including: networking, cloud and 5G applications, optical transport networks, enterprise networking, and cloud service providers.
By supporting dual-mode modulation, 58-Gbit/sec PAM4 and 30-Gbit/sec NRZ, new infrastructure can reach 58-Gbit/sec data rates while staying backward-compatible with existing network infrastructure, notes Intel. Further, the Stratix 10 TX FPGA with 58-Gbit/sec PAM4 transceiver technology provides system architects with higher transceiver bandwidth and hardened IP to address the insatiable demand for faster and higher-density connectivity.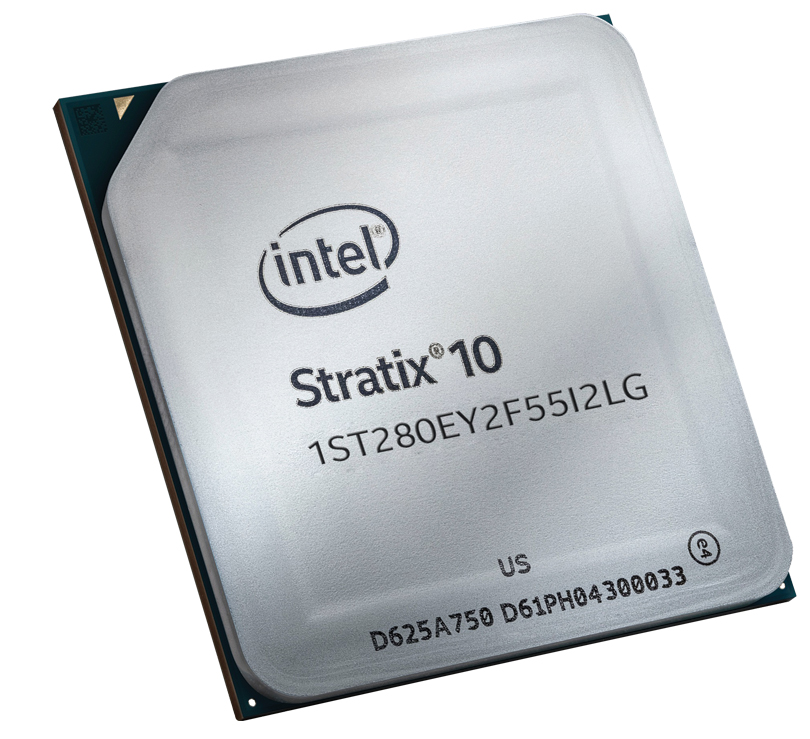 To facilitate the future of networking, network function virtualization (NFV) and optical transport solutions, Intel Stratix 10 TX FPGAs provide up to 144 transceiver lanes with serial data rates of 1 to 58 Gbits/sec. Intel says this combination delivers a higher aggregate bandwidth than any current FPGA, enabling architects to scale to 100-, 200-, and 400-Gbit/sec delivery speeds. A wide range of hardened intellectual property cores, including 100-Gbit MAC and FEC, deliver optimized performance, latency and power.
Moreover, the Intel Stratix 10 FPGA 58-Gbit/sec transceivers are interoperable with 400G Ethernet FPGAs, using only eight channels to support new high-bandwidth requirements for routers, switches, active optical cables and direct attach cables, interconnects, and test and measurement equipment.
"As we continue to deliver product innovations and capabilities that allow for higher data ingest and processing speeds critical for networking and data center applications, this is a powerful example of how Intel FPGAs bring real value to our customers," commented Dan McNamara, Intel senior vice president and general manager of its programmable solutions group.
Satellite 5G advocate C-Band Alliance appoints new gov't affairs head
The C-Band Alliance (CBA) recently announced the appointment of Peter Pitsch as head of advocacy and government affairs. The CBA is the entity that proposes to implement a safe and efficient clearing and repurposing of mid-band 'C-band' downlink spectrum to accelerate the deployment of 5G services in the U.S. The CBA was formed by Intelsat, SES, Eutelsat and Telesat, the band's incumbents and continental U.S. satellite services operators.
Pitsch previously served as associate general counsel for Intel Corporation, where he was responsible for global telecommunications policy, a position from which he retired in 2018. Since October 2017, Pitsch advocated in support of the CBA's market-based proposal on behalf of Intel. Pitsch has more than three decades of experience advocating for public policy issues in front of the Federal Communications Commission and U.S. Congress. Positions of note prior to his career at Intel included serving as Chief of the Office of Plans and Policy and Chief of Staff to the Chairman of the FCC during the Reagan Administration.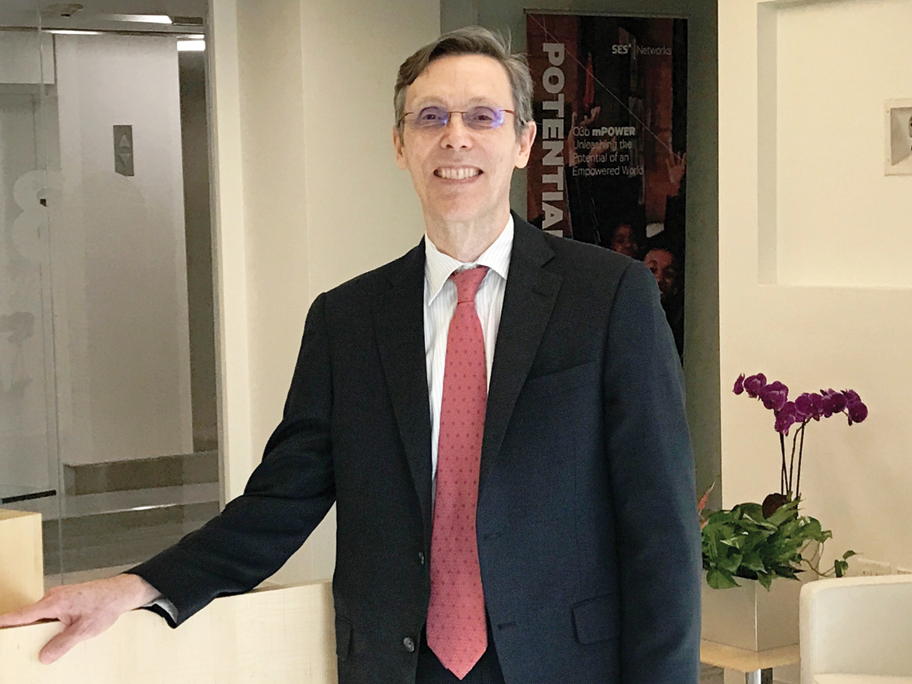 The CBA is advocating what it calls "a breakthrough, market-based proposal" to the FCC to allow satellite operators to clear frequencies to enable terrestrial mobile operators to access 200 MHz of C-band spectrum. The CBA approach and detailed transition plan would accelerate the deployment of next-generation 5G services in the U.S. while also protecting the wide array of established C-band satellite services and the U.S. consumers that rely on them, such as the U.S. television and radio broadcasters and programmers.
Bill Tolpegin, C-Band Alliance chief executive officer, said, "The appointment of Peter Pitsch, who is already well-versed in this complex proceeding at the FCC, allows the CBA to further amplify its advocacy efforts at the FCC and on Capitol Hill as we explain how our proposal best balances the needs of C-band incumbents with the need for speed when it comes to supplying spectrum for 5G in the United States.
"Given his long experience with telecom policy and intimate knowledge of our proposal and the Federal Communications Commission proceeding, we are confident Peter will be a valuable leader in our efforts to build consensus on our proposal." u
Former GSA exec Dennis Groh joins Granite's government solutions team
Granite Telecommunications, LLC, a $1.4 billion provider of communications services to multilocation businesses and government agencies, announced that Dennis "Denny" Groh has been appointed as the firm's executive director of customer excellence.
Groh, a former executive for the General Services Administration (GSA), joins Granite just as the GSA has awarded the company a spot on its Enterprise Infrastructure Solutions (EIS) contract and is about to begin contract solicitations and awards.
As an EIS prime contract holder, Granite is authorized to compete for contracts from individual agencies to provide them with voice services, virtual private network services, managed network and Ethernet services, among others. Granite already provides voice and data services to various federal, state and governmental agencies as well as private companies, providing a single point of contact for voice and data needs, creating efficiency and saving costs.
Groh's mission is to promote Granite's government business growth goals and objectives, including establishing new business alliances, cultivating strategies for establishing partnerships and leading new business expansion projects. He has more than 35 years of experience in public and private sector organizations. u
PoE lighting specialist Platformatics acquired
Family-owned LED lighting manufacturer H.E. Williams Inc. recently acquired Power over Ethernet lighting specialist Platformatics. Platformatics, which will operate as an independent division of H.E. Williams Inc., offers a PoE lighting system that comprises light fixtures, PoE nodes, sensors, wall switches, area controllers, Ethernet switches, and cloud-based applications. "The architecture, including PoE light nodes, is modular to ensure that any LED light that supports the Platformatics power interface works on the system," Platformatics explains. Adding to its value proposition is that the use of standard Ethernet switches enables the consolidation of power and control onto a single cable, thereby making it easier for IT system integrators to converge lighting with existing IT devices such as access points and video-surveillance cameras.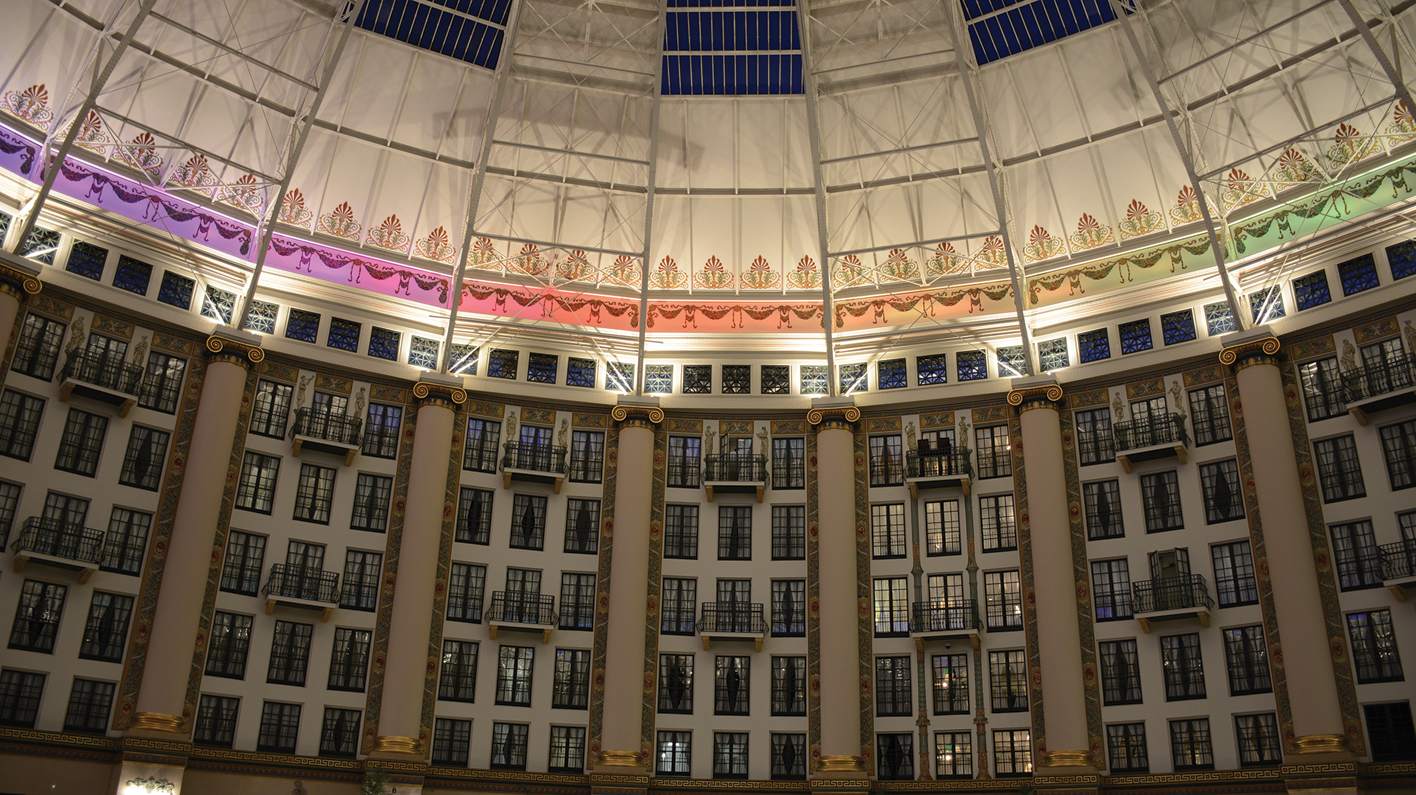 Williams is a third-generation family-owned and -operated lighting manufacturer based in Carthage, MO. The company's core business has been commercial lighting for more than 80 years, it explains. Williams designs and manufactures LED luminaires with dynamic features and connectivity solutions, the company adds.
Platformatics' PoE lighting system was deployed at West Baden Springs Hotel in French Lick, IN (pictured). That project was featured in the August 2017 issue of Cabling Installation & Maintenance and received a Cabling Innovators Award in 2017 as well.
Within the West Baden Springs Hotel project, Superior Essex PowerWise 1 Gigabit 4ppair PoE cabling was run from the server room down through the atrium directly to the lights. By using this cabling to transmit power and data to each light, the need for AC wiring systems at each fixture was eliminated. This approach simplified the installation process and reduced associated materials and labor costs.
Compared to traditional incandescent or fluorescent lighting, this PoE-enabled lighting system more easily facilitates moves, adds and changes, similarly to MACs in data networks.
Belden acquires Opterna
Belden recently acquired Opterna, which provides fiber-optic products and systems. When announcing the acquisition in May, Belden said it will manage Opterna alongside PPC Broadband, which provides coaxial, fiber-optic, and twisted-pair cable primarily for last-mile applications.
"Opterna's addition to PPC will support the Belden strategy of planned growth through the acquisition of cutting-edge, multi-national companies," Belden said.
"Opterna complements our product roadmap with a set of fiber connectivity solutions that we expect to enable further growth and share-capture in our broadband business."
The acquisition of Opterna adds more than 375 employees and 8 international locations to PPC Broadband's business. "With our products benefitting from the addition of new resources and increased support, we believe combining our strengths with PPC creates an unmatched experience for our shared customers around the world," Opterna said, via its blog, when the acquisition was announced. "We are excited to begin this period of transition."
Also among the structured cabling products Opterna offers are twisted-pair copper cable, jacks and plugs, patch cords, patch panels and faceplates.
Core-alignment fusion splicer
INNO Instrument Inc. now offers the View 8+, a core-alignment fusion splicer that the company says addresses challenges that network operators face to enhance their networks to keep up with unprecedented demand.
"View 8+ is a premium core-alignment splicer … offering maximum efficiency by reducing splice and heating time to a matter of seconds," the company said when introducing the splicer. "In conjunction with the new INNO mobile application, operators are now able to manage splicer and splice data in a more-efficient and comprehendible way, boosting efficiency and saving valuable time when rolling out fiber-to-the-home networks."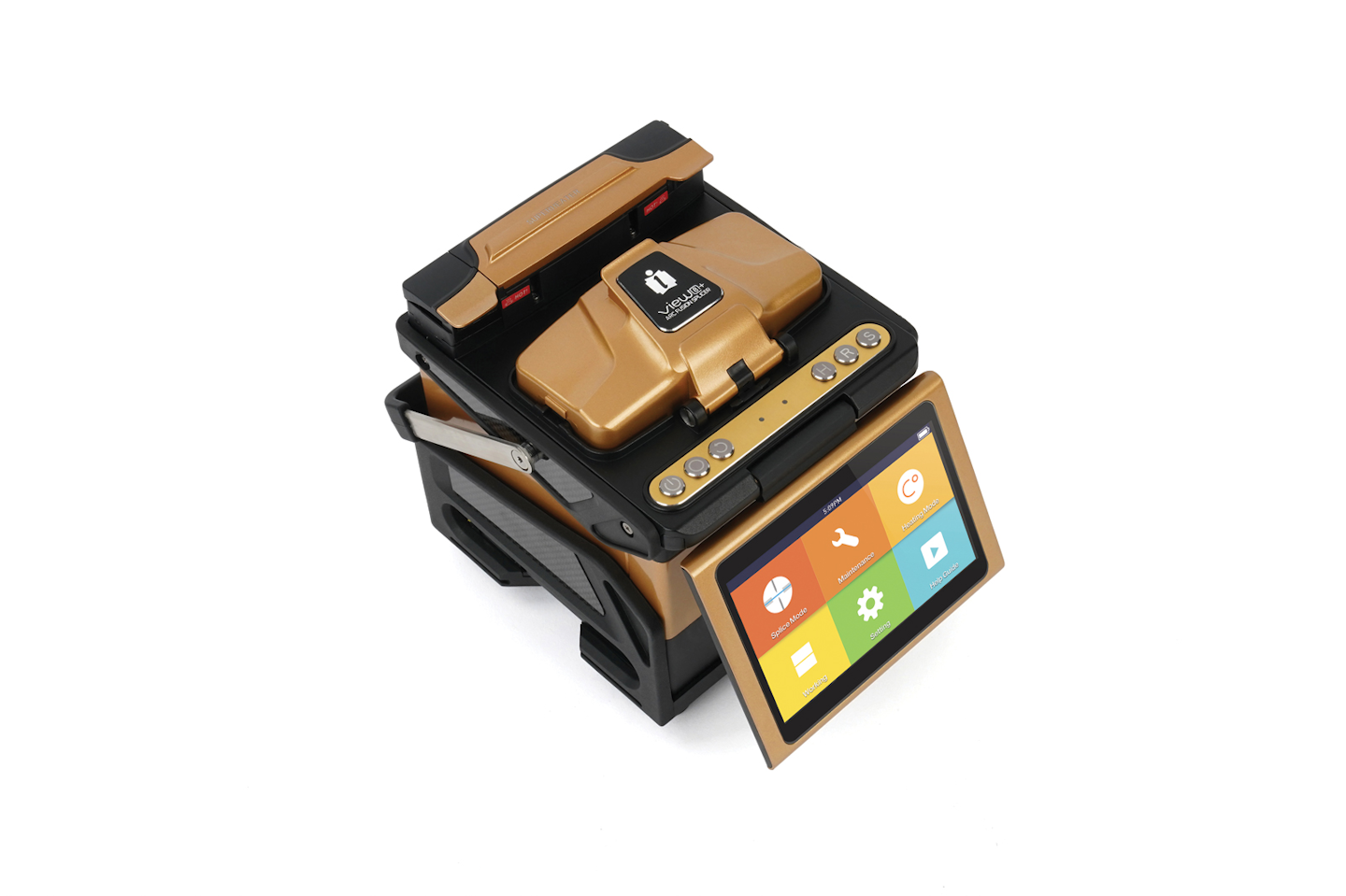 Gil Perez, director of sales for North America at INNO Instrument America, commented, "FTTH installations can be difficult and labor-intensive. To ensure they are efficient and reliable, fiber-optic cables need to be spliced and connected with precision and accuracy in a timely manner. The View 8+ is designed to increase the speed at which FTTH installations can become a reality across the world."
INNO Instrument explained the View 8+ was designed with ease and productivity in mind, saying the splicer's design is meant "to satisfy the most-demanding professionals who require the highest performances on the go. The combination of a user-friendly 5-inch HD LCD monitor and a mobile application which is accessible over WiFi networks, makes the View 8+ a valuable product for increasing productivity and save time during installation."
The mobile app is available for iOS and Android. It includes functions such as training videos, splicer management, data management, and report generation.
"With its dedicated WiFi application, the View 8+ enhances practicality, allowing professionals to check the work progress simply from their smartphone," INNO Instrument said. "All generated data can be recorded and stored in a PDF, making it easier and more efficient for installers to organize and manage their data. The app also includes a locking feature, which secures the connection between the application's device and the View 8+ to guarantee reliable working during installation."
Former Molex exec named Berk-Tek's new president
Will Jensen, who most recently served as vice president and general manager of RF and microwave solutions at Molex, became Berk-Tek's president on June 17. Jensen succeeded Paul Trunk, who retired as Berk-Tek's president after 22 years with the company.
Berk-Tek is a Nexans company. In Jensen's position as president of Berk-Tek, he also is vice president and general manager of Nexans LAN Division North America. Jensen reports to Steven Vermeulen, who is executive vice president of Nexans' telecom and data business group.
In his new role, Jensen is responsible for all sales and marketing, operations, research and development, human resources and finance functions for the Berk-Tek business unit. That business comprises sites in New Holland, PA and Fuquay-Varina, NC.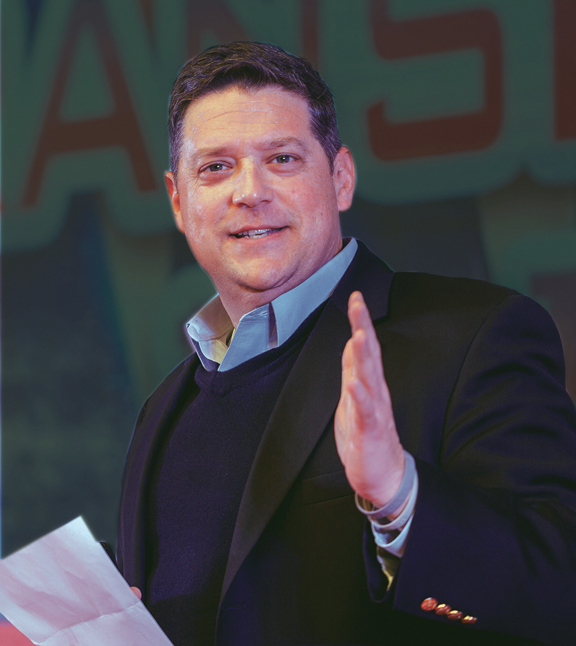 Vermeulen stated, "It is clear that Will brings the energy and experience to ensure the continued success of Berk-Tek. He understands the needs of our customers and has great vision for growing the LAN business in North America."
Jensen holds a BA from California State University and an MBA from Arizona State University. In addition to his most recent experience at Molex, he has held sales, marketing and general-management positions at companies including Corning, Amphenol and Tensolite.
BSRIA: Worldwide cabling market growth to continue
BSRIA recently published its overview of the global structured cabling market, as well as reports on the markets in 17 countries. The reports cover the 2018 calendar year and forecast the market out to 2023.
When announcing the report's availability, BSRIA commented, "Many countries experienced decent growth in the LAN market due to a favorable economic climate, the introduction of CPR [Construction Products Regulation] in Europe and increasing uptake of plenum cables in Canada."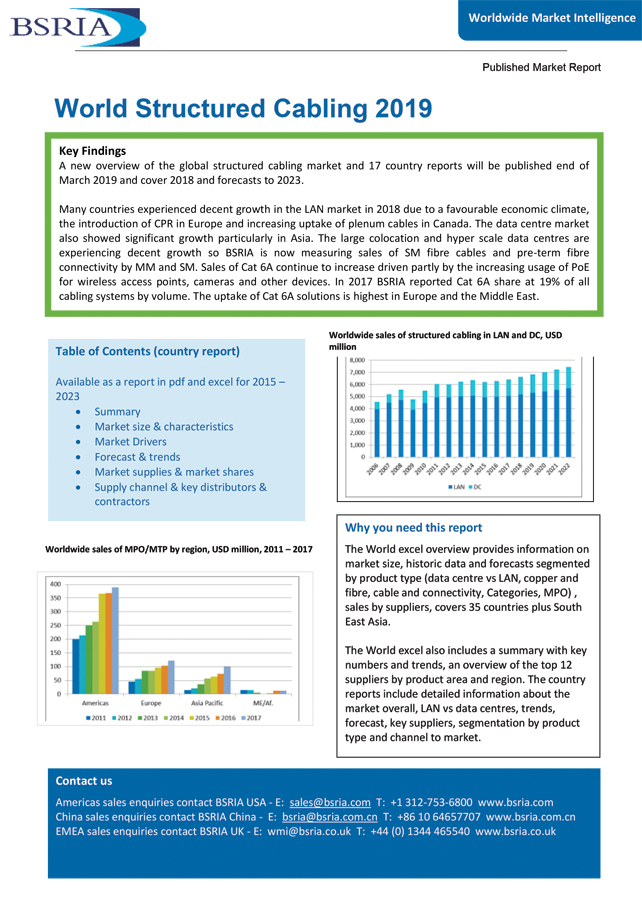 BSRIA added that the data center market "showed significant growth, particularly in Asia. The large colocation and hyperscale data centers are experiencing decent growth, so BSRIA is now measuring sales of singlemode fiber cables and preterm fiber connectivity by multimode and singlemode."
Category 6A continues to be the LAN's workhorse, according to BSRIA. Category 6A's 2018 sales increase was "driven partly by the increasing usage of PoE for wireless access points, cameras, and other devices," the researcher added. In 2017, BSRIA reported that Category 6A had a 19% share of all cabling systems, buy volume, globally. While BSRIA did not reveal Category 6A's total share for 2018 (you'll have to buy the report to get those details), the researcher did say, "The uptake of Category 6A solutions is highest in Europe and the Middle East."
EXFO introduces Optical Xplorer, the optical fiber multimeter
EXFO Inc. launched Optical Xplorer, which the company calls the first optical multimeter, on June 4. It is a singlemode fiber-optic cabling tester that EXFO says eases several pain points for telecommunications network operators, including rapid system deployment and the availability, or lack thereof, of highly skilled technicians.
"Optical Xplorer makes fiber testing simple for all frontline technicians, beginner or expert, radically speeding up the process while empowering them to do more on-site," EXFO said when introducing the product simultaneously at ANGA COM and Fiber Connect. "The device verifies optical links in seconds, and if faults are suspected, it finds and identifies them automatically." Optical Xplorer displays fiber length, loss, and optical return loss in less than 3 seconds, EXFO said, with a single-ended test process.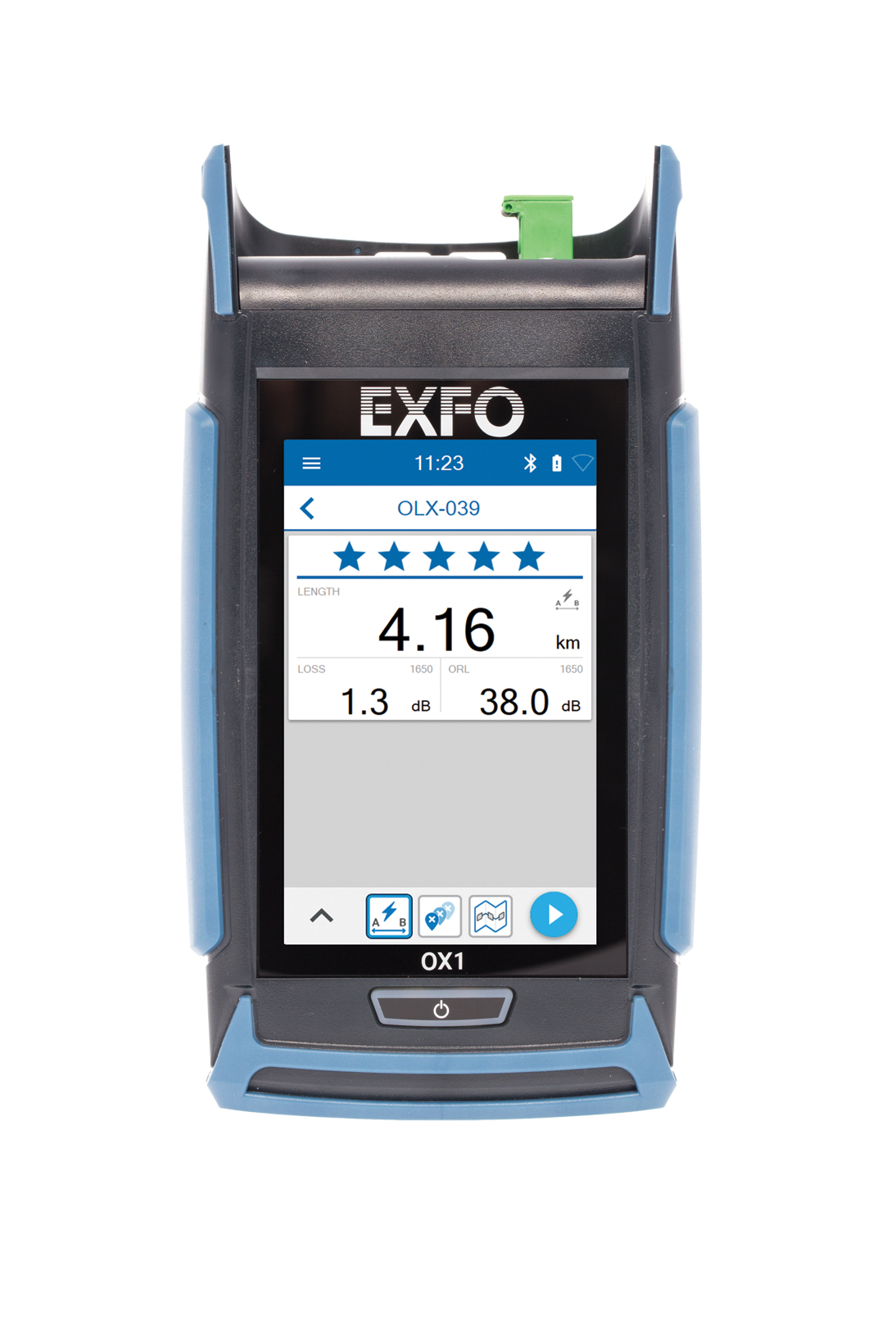 Stephen Bull, EXFO's vice president of research and development, commented, "Powered by multiple patent-pending technologies, Optical Xplorer marks a turning point in the world of fiber testing."
The company added, "Optical Xplorer is more than an improvement on existing test tools; it takes a completely new approach to fiber installation, turnup and repair. This highly intuitive job helper boosts frontline technician efficiency, ensures better network quality, and minimizes delays and costs associated with escalating problems to expert technicians." Plus, the test system allows operators to take control of QoS and provides confidence in the fiber infrastructure, the company stressed.
EXFO points to the following three specific technological innovations that Optical Xplorer offers.
Reduces total cost of ownership (TCO) through lifetime calibration and field-replaceable connectors—Hidden costs throughout a product's life make up a massive, yet sometimes overlooked, part of TCO, the company emphasized. Optical Xplorer's lifetime calibration and patented Click-Out optical connector cut downtime and logistics associated with factory-based updates, maintenance and repairs, EXFO added.
Saves time by exploring only faulty links—The Fault Xplorer feature self-launches during the optical link verification process, automatically exploring only those links suspected as faulty, eliminating doubts while saving testing time.
Validates link quality in seconds, assigning a 1- to 5-star rating—With the built-in EXFO Advisor feature, technicians get the benefit of sophisticated algorithms at the push of a button, assigning ratings to links based on industry best practices, EXFO explained.
Optical Xplorer is available in Basic and Pro versions. The Pro versions include the Link Mapper and Click-Out optical connector capabilities. Both Basic and Pro versions are available in installation and maintenance models. The installation model tests 1310 and 1550 nm; the maintenance models test at filtered 1650 nm.
Stephane Chabot, EXFO's vice president for test and measurement, observed, "Too often, frontline technicians are equipped with test tools that are a compromise between cost, complexity and functionality. With our customers' challenges in mind, we developed a revolutionary new fiber testing solution that's easy to use—tailor-made for frontline field technicians, no matter their level of expertise. Optical Xplorer will help operators and contractors accelerate ROI, improve first-time-right metrics and increase customer satisfaction by equipping their technicians with a purpose-built tool and leaner methods of procedure."
Describing the technical and business trends that gave rise to Optical Xplorer's development, EXFO explained, "Telecom operators are under significant pressure to deploy more high-quality fiber-optic networks faster and at a lower cost to meet skyrocketing demand for bandwidth and prepare for next-generation technologies like 5G. The complexity of testing methods of procedure, the necessity to outsource and the shortage in skilled frontline technicians make it difficult for both operators and contractors to attain a good return on investment while ensuring networks are deployed right the first time."
M12-X connector adapter for DSX CableAnalyzer
Fluke Networks recently introduced an M12-X adapter for the DSX CableAnalyzer family of network cabling certification tools. The M12-X is a standardized connector designed for harsh Ethernet environments; the connector type supports communication rates up to 10 Gbits/sec. "The new adapter allows the DSX series to connect to cabling systems employing the M12-X connector for the purposes of prestartup verification and troubleshooting," Fluke Networks said when introducing the adapter.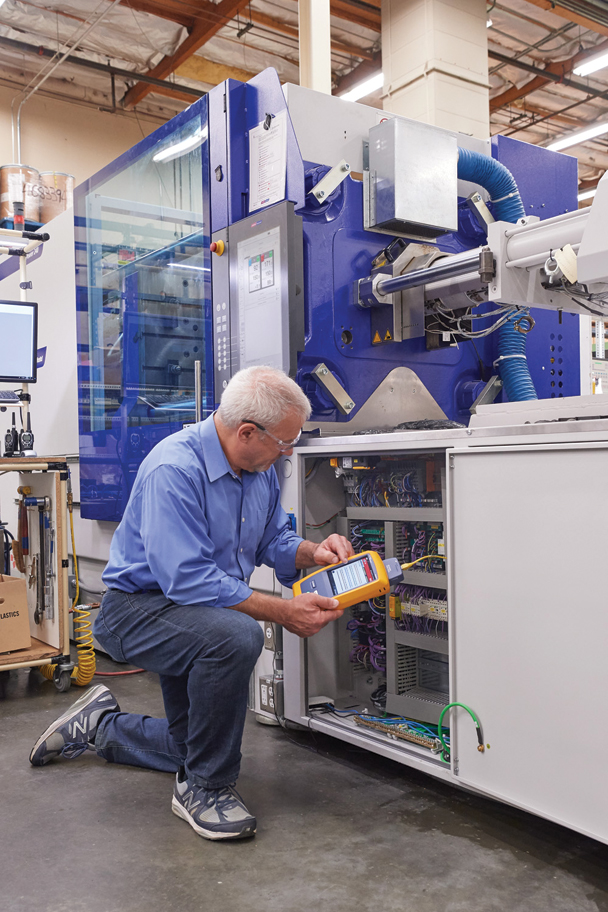 Michael Verbeek, senior manager of product management and engineering at Panduit, commented, "Panduit understands the need for prestartup testing of cabling systems. Even when customers and contractors use top-quality components, variations in the installation process can cause issues ranging from intermittent to total network failures, leading to unplanned downtime. Certifying the installed cabling to industry standards during deployment reduces startup time and prevents costly cabling-related downtime."
Walter Hock, vice president and general manager of Fluke Networks, added, "Research shows that more than half of all industrial Ethernet failures can be traced to cabling issues. Examples include failed connectors, cable or shield breaks, susceptibility to electromagnetic interference or moisture, and cables that don't meet specification or are simply too long.
"The DSX CableAnalyzer series can now ensure that installed cables are suitable for industrial Ethernet environments before machinery starts running or to troubleshoot these problems quickly in the case of failure."
The M12-X adapter is available now.