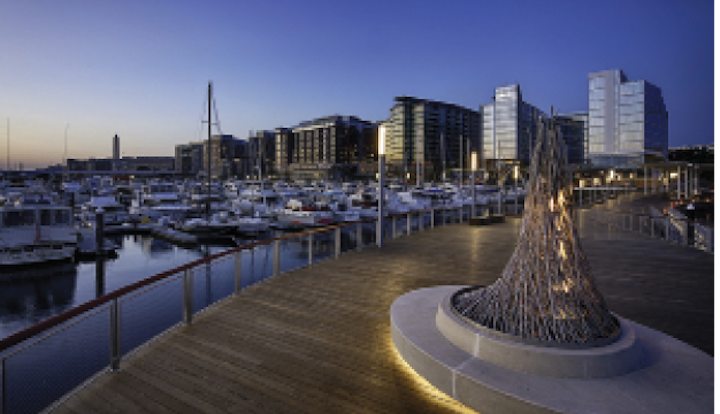 Vision Technologies designed, installed, and commissioned a unified WiFi and passive optical network (PON) system for The Wharf, a mile-long, 24-acre, $2.5-billion mixed-use development along the Potomac River in Washington D.C. The system provides state-of-the-art, pervasive 802.11ac wireless service to residents, workers, and guests traversing the outdoor, garage, and 6000-person indoor-concert-venue areas. The entire implementation, testing, and commissioning was accomplished on a fast-track 30-day schedule.
Passive optical LAN (POL) helped The Wharf to overcome some specific challenges. The size of the project allowed the outdoor WiFi and infrastructure to slip through the cracks during development. As a result, a massive deployment had to be designed and completed in a four- to six-week timeframe. The reduced infrastructure footprint of PON allowed the shared use of existing pathways. The distributed nature of PON allowed for active-port placement at the edge devices, saving valuable time and the expense of excessive telecommunications rooms and resulting in a successful on-time and under-budget deployment.
The POL-based solution installed at The Wharf was unique in that this one installation highlighted all the advantages of PON in all scenarios in a single installation. The size and diverse nature of the development illustrates how campuses, municipalities and local utilities could benefit from the full converged reach of PON.
The additional single-platform convergence public and private IT requirements for the development, such as building-management solution functions, audio-video controls, generator and power monitoring, and common voice and data services, further highlight the power and flexibility of a properly designed POL solution.
"The successful deployment of a PON in a large-scale development such as The Wharf, and converging all the IT requirements equivalent to that of a small city onto a single platform has bolstered the reputation of PON in the minds of the real estate developers, contractors, engineers and consultants that contributed to this project, and has brought PON to the forefront in the planning of future developments by all involved," Vision Technologies said. "This successful project, in which PON touched so many components in support of the Internet of Things, will continue to produce dividends for the POL industry for years to come."
After completing the PON and WiFi system buildout, Vision performed testing and commissioning of the entire system. Through add-on contracts, Vision continues to extend the network, allowing WiFi access for additional areas including 11 hotels, as well as monitoring and managing more than 300 devices including access points, optical network terminals, optical line terminals, firewalls, routers, and switches. Vision Technologies also continues to provide ongoing services, including a managed services center that provides trouble-ticketing, helpdesk, and system support.