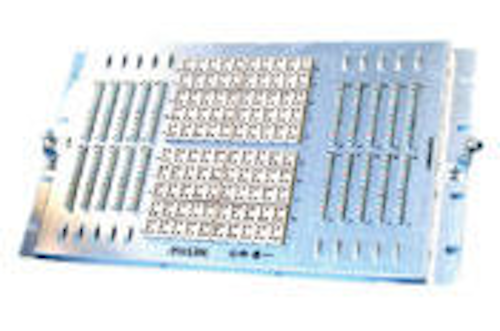 Compiled by Ryan Cliche
Exhibitors unveil cabling products at BICSI Spring Conference
The BICSI Spring Conference, May 6-9 at the Mandalay Bay Resort in Las Vegas, NV is an opportunity for you to see the latest products and services that you can use immediately in your daily activities within the telecommunications and cabling industry.
This first part of Cabling Installation & Maintenance's two-issue Product Showcase (see the May 2002 issue for the second part) is a representative sampling of what will be new and notable at this year's conference:
---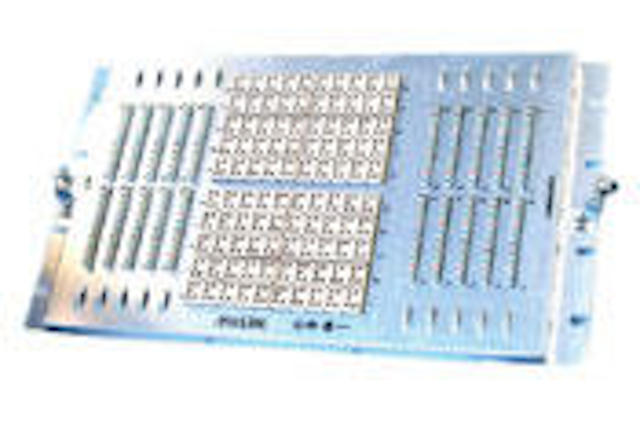 Click here to enlarge image
Building entrance blocks, surge protectors
ITW Linx's TeleLinx 5-pin block for voice is Underwriters Laboratories Inc. (UL-www.ul.com)-listed per 497 (primary) and 497A (secondary). It is used with the company's 5-pin modules to provide 100% solid-state protection, according to company claims. Meeting EIA/TIA-568 and 758 for Category 6, the DataLinx 5-pin block for Category 6 network protection is designed for use with the FPPCAT6-LAN 5-pin Category 6 module. Both blocks are available with optional covers for improved security and durability and can be mounted together to have a single ground plane.
ITW Linx's 110 Ultron single-pair, solid-state surge protectors are Underwriters Laboratories Inc.-listed per UL-497 (primary) and UL-497A (secondary) for the 110-UP2B version and UL-497A (secondary) for the 110-UP2P version. The 110-UP2P contains positive thermal coefficient devices (PTCs) and the 110-UP2B contains a 350-mA fuse. The high-speed data version, the 110-UP2H, is designed to meet the bandwidth requirements of LAN, Integrated Services Digital Network (ISDN), digital subscriber line (xDSL), and T-1/E-1 applications.
ITW LINX
www.itwlinx.com
BOOTH #99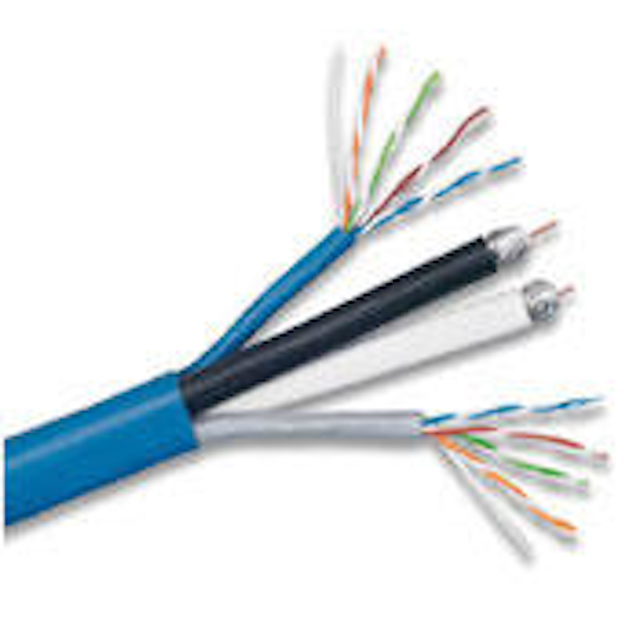 Click here to enlarge image
Bundled cable
The Siemon Company's HomeNet II bundled cable combines two Category 5e 4-pair unshielded twisted-pair (UTP) cables with two RG-6 quad-shield coaxial cables. This bundled design lets you meet the TIA-570A Grade 2 standard without the need to pull individual cables. It can be used in riser environments and is designed to support home applications, including voice, T1, 10-, 100-, and 1000Base-T, cable TV broadcast, LAN, video, satellite, cable Internet, and high-definition television (HDTV).
THE SIEMON COMPANY
www.siemon.com
BOOTH #141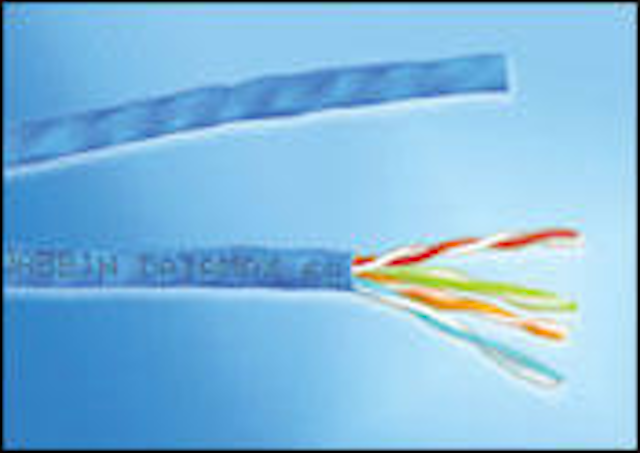 Click here to enlarge image
Category 6 patch cable
Providing 1- to 2-dB improvement in channel attenuation coupled with crosstalk noise reduction, Quabbin Wire & Cable's DataMax 6e patch cable produces positive attenuation-to-crosstalk ratio (ACR) channel performance at frequencies to 375 MHz, according to company claims. It is designed to operate with and extend the bandwidth (positive ACR) performance of available Category 6 premise systems. The cable's physical enhancements are designed to give the cable a smoother appearance and improved electrical stability.
QUABBIN WIRE & CABLE CO. INC.
www.quabbin.com
BOOTH #52
Dust-free enclosure, swing rack
Measuring 84x29x40 inches, X-Mark/CDT's dust-free National Electrical Manufacturers Association (NEMA)-12 enclosure is designed for areas with high levels of dust, dirt, and airborne particles. It provides an environment to mount 19-inch, 23-inch, or shelf-mount sensitive equipment up to 26.5 inches wide. Equipment mounting is EIA-310D- and NEMA-12-compliant. Manufactured from a 16-gauge cold-rolled, steel-welded construction, sealed doors, sides, top, and bottom prevent the entry of dust and dirt.
X-Mark/CDT's 19-inch freestanding swing rack can be built as either a left or right hinge and opens 90°. The locking frame can be released with a lift-and-turn latch mechanism. It can be positioned as close as 7 inches from the wall, and still pivot 43U of equipment up to 18.5 inches deep 90° to the right or left. This rack is manufactured from 12-gauge cold-rolled steel, and its durable caster lets you mount 500 pounds of equipment. Also, each rack includes assembly instructions and 80 mounting screws.
X-MARK/CDT
www.xmark-cdt.com
BOOTH #41

Click here to enlarge image
Marking, packaging system
Superior Essex's QuickCount marking system and Reel-in-a-Box packaging are designed to remove the guesswork for premises optical-fiber cable installers. With the QuickCount feature, the cable jacket is printed with the number of feet remaining on the reel, providing countdown footage. The packaging is designed to give improved protection to the cable.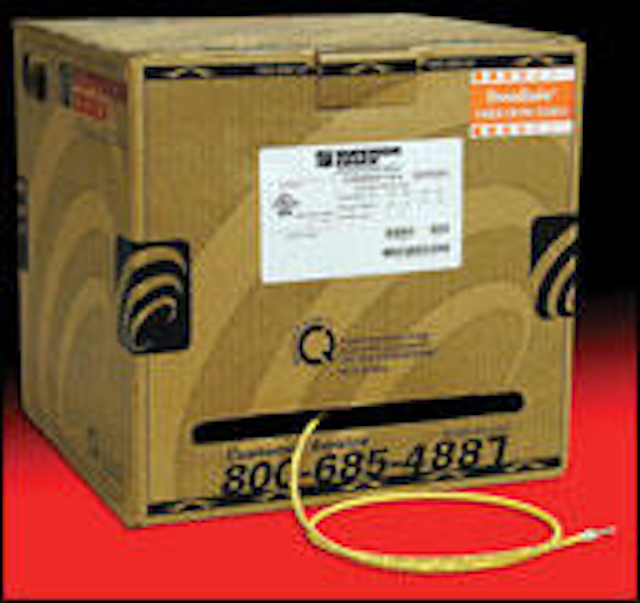 Click here to enlarge image

SUPERIOR ESSEX
www.superioressex.com
BOOTH #97
Power distribution unit
Geist Manufacturing's current monitoring, 19-inch horizontal power distribution unit (PDU) features a digital current meter that displays your ampere readout from 0 to 19.99A. The sampling rate is 2.5 per second with accuracy to ±.1A, according to company claims. This model is available in 15 or 20A versions, with surge suppression or non-surge. Also, the unit comes with ten receptacles on the rear and circuit breaker and a standard 10-foot power cord with a straight blade or twist-lock plug.
GEIST MANUFACTURING INC.
www.geistmfg.com
BOOTH #19

Category 5e cable
Meeting the TIA/EIA-568B.2 standard, General Cable's GenSPEED 5350 Category 5e unshielded twisted-pair (UTP) cables are characterized up to 350 MHz, according to company claims. The cable is independently verified by Underwriters Laboratories Inc. and incorporates the company's TRU-Mark footage marking system as well as the Pull-Pac II package for efficient installations. It is designed for horizontal structured cabling networks.
GENERAL CABLE
www.generalcable.com
BOOTH #124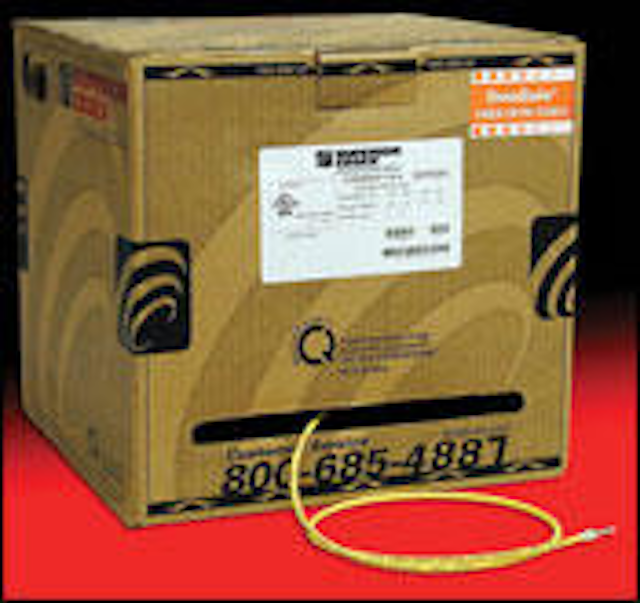 Click here to enlarge image
Budgeting and estimating software
Accubid's version 5 VDV/Telecommunications database lets you choose from a database of 51,500 products. When selecting items for takeoff, you can choose from either a scaled takeoff method or average cable length takeoff. Alphanumeric sort codes let you analyze your bid, as well as move the information directly into project management software such as Microsoft Project or Primavera. With this capability, you can produce schedules to accompany your proposal. You can control what you see on screen using expanded screen styles.
ACCUBID SYSTEMS LTD.
www.accubid.com
BOOTH #58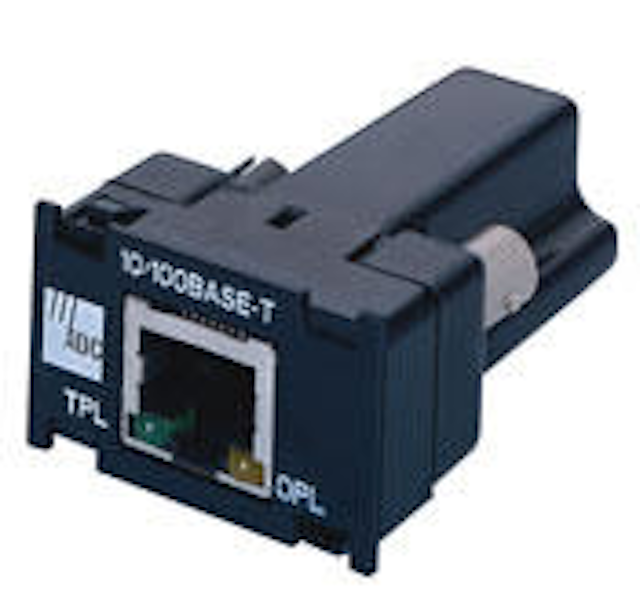 Click here to enlarge image
Work area media converter
ADC's work area media converter features a design that places media conversion circuitry behind the faceplate. This design eliminates the need for a fiber jumper. With powering through the USB or PS/2 mouse port, the need for an external power adapter is eliminated. The work area solution supports 10Base-T and 100Base-TX unshielded twisted-pair (UTP) and 10Base-FL and 100Base-SX multimode optical-fiber cable with auto negotiation.
ADC TELECOMMUNICATIONS
www.adc.com
BOOTH #130
IEEE 802.3af-compatible hub
Red Hawk/CDT's BL-8000 Power-Sense Mid-Span Power Hub provides power to voice over Internet protocol (VoIP) phones, wireless LAN access points, web cameras, and other LAN devices without the use of an external power supply for each device. Each module is hot-swappable, has its own DC-to-DC converter, and is separately fused and protected from any unexpected current surge. When used with an uninterruptible power supply (UPS), it provides power for up to 20 connected devices. Power is supplied to the phones directly over the existing LAN cabling infrastructure.
RED HAWK/CDT
www.red-hawk.com
BOOTH #110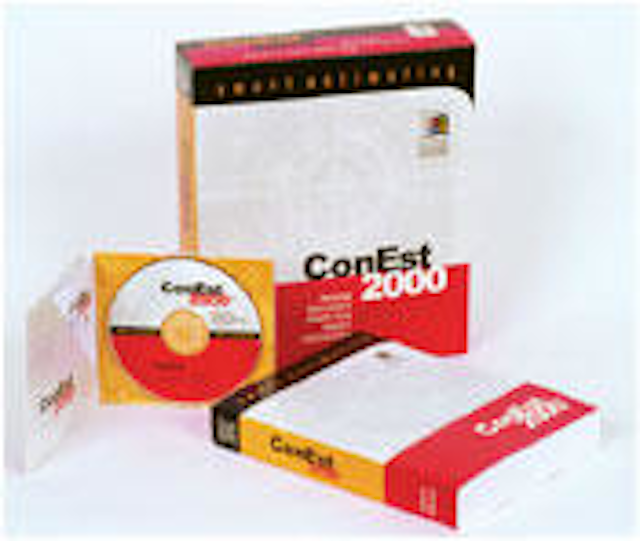 Click here to enlarge image
Estimating software
ConEst Software Systems' ConEst2000 version 3.2 software lets you select from a database of 20,000 material items and 11,000 pre-built assemblies to help you analyze, estimate, track, bill, and maintain projects. Its Smart System technology estimates your job by calculating and comparing data for labor and material requirements. Built-in National Electrical Code (NEC) tables and automatic adjustments to the labor rate for charges in an installation are designed to provide cost-efficient estimates. Other features include alarms for missing prices or labor on items, quotation analysis, zonal cavity lighting, network estimating, temporary assemblies, and a "change order" link.
CONEST SOFTWARE SYSTEMS
www.conest.com
BOOTH #17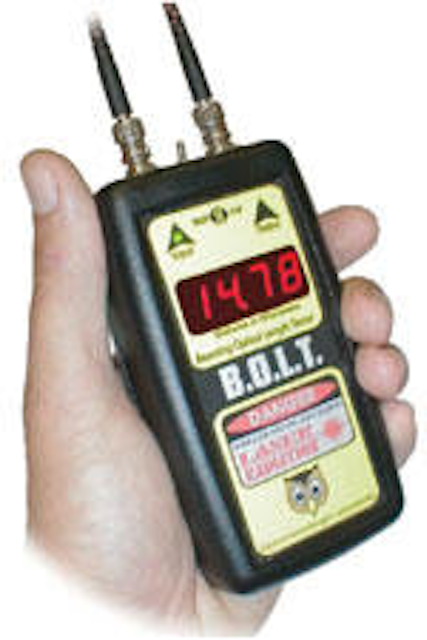 Click here to enlarge image
Fiber cable length testers
Optical Wave length Laboratories' Beaming Optical Length Tester (BOLT) uses a "round-robin" method of measuring fiber length. The tester uses a 1,310-nm infrared laser to measure fiber links up to 25 km, and is accurate to within ±2.5 meters, according to company claims. In addition to length testing, its stabilized laser permits it to act as a National Institute of Standards and Technology (NIST -www.nist.gov)-traceable -10-dBm singlemode light source, and a pulsing mode allows for fiber location when used with a fiber identifier.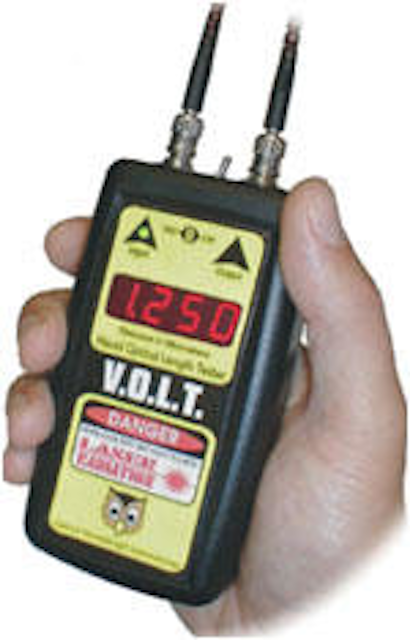 Click here to enlarge image
Optical Wavelength Laboratories' Visible Optical Length Tester (VOLT) is accurate to within ±2.5 meters, according to company claims. It uses a 635-nm visible laser designed to measure fiber links up to 1 kilometer. In addition to length testing, the tester's laser lets you use it as an industry-standard visual fault locator, and a pulsing mode allows for fiber identification. Similar to the BOLT, this length tester also uses a "round-robin" method of measuring fiber length.
OPTICAL WAVELENGTH LABORATORIES
www.owl-inc.com
BOOTH #104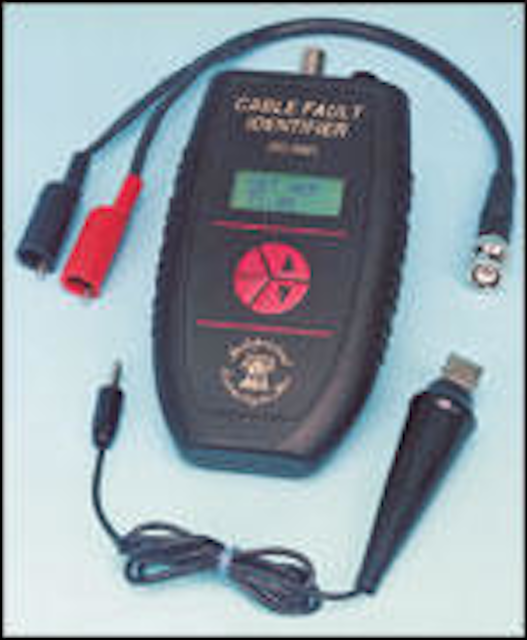 Click here to enlarge image
Time-domain reflectometer
Independent Technologies' ITC-3401KS version of the company's handheld Cable Fault Identifier is designed to support telephone companies, competitive local-exchange carriers (CLECs), and cable TV companies installing business and residence voice communications lines. It features display readouts of AC and DC voltage and ground fault detection. The unit tests twisted-pair, coaxial cable, and electrical wire in buildings, as well as outside plant, central office, residences, and cable on reels or in the box. The kit includes a test set battery, BNC/Alligator interface cord, and ground cord.
INDEPENDENT TECHNOLOGIES INC.
www.independenttech.com
BOOTH #14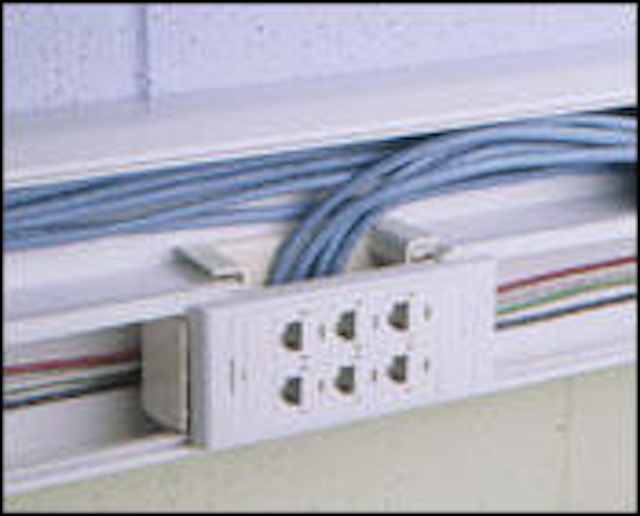 Click here to enlarge image
Raceway systems
The Wiremold Company's CableSmart 40 and 60 Series raceways are made from PVC and feature a 2-inch bend radius. Available with twin and full-width covers, the 60 Series lets you locate data jacks in the power compartment to maximize cable fill. A device box accepts up to six jacks and is designed so that electrical wiring passes behind it. Both the 40 and 60 Series offer separate channels for power and communications cabling. A corner drop option lets you feed horizontal runs.
THE WIREMOLD CO.
www.wiremold.com
BOOTH #47