Handheld testing technology reaches toward Category 7
With one manufacturer providing a 750-MHz tester, others may follow
Feb 1st, 2002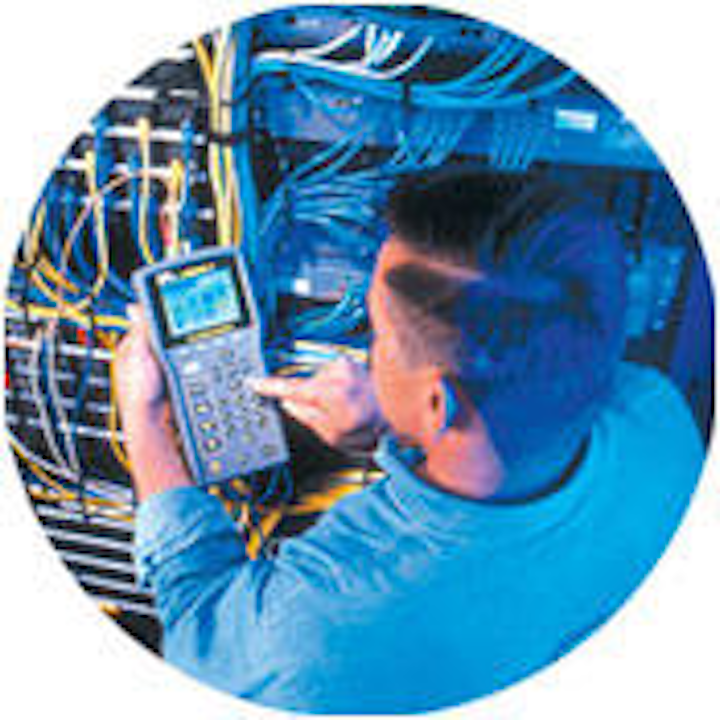 With one manufacturer providing a 750-MHz tester, others may follow.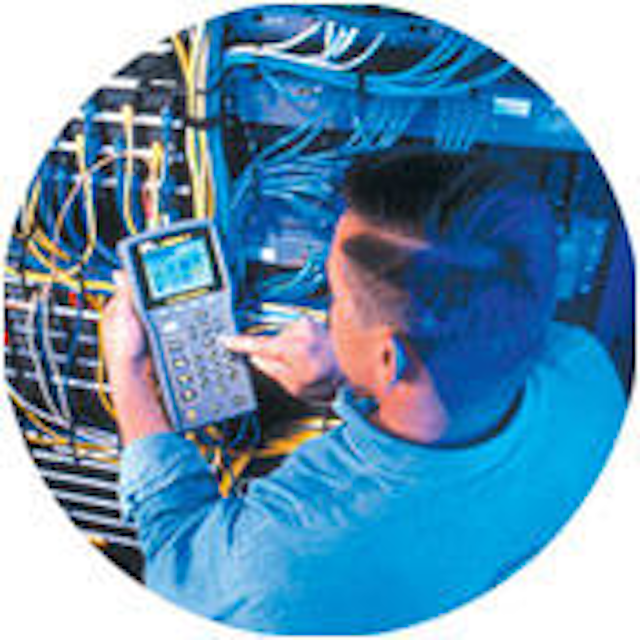 Introduced last month, the LANTek 7 from Ideal Industries is the first Category 7 cabling-system tester on the market. Its testing capabilities extend to 750 MHz-25% higher than the 600-MHz ISO Category 7/Class F specifications.
Click here to enlarge image
Nowadays, you can get a Category 6 tester from several sources. Even though the Category 6 standard is not yet finalized, manufacturers of handheld cabling-system testers have been through their rigors of devising and refin-ing technology to address Category 6 issues, such as vendor interoperability and 250-MHz testing. So, with Category 6 a "done deal" for these test-equipment manufacturers, is Category 7 their next logical step?

It is for Ideal Industries (www.idealindustries.com), which recently acquired the brands and technology of Wave tek's LAN division, including the LANTek product line. Late last month, Ideal introduced the LANTek 7, which, as its name suggests, is designed to certify Category 7 systems. With the Telecommunications Industry Asso ciation currently taking no action to establish a set of Category 7 specifications, Ideal bases its LANTek 7 product on the Category 7/Class F specifications that the International Organization for Standardization has nearly finalized.
Cat 7 development
The Category 7/Class F standard specifies performance up to 600 MHz, and Ideal's LANTek 7 operates up to 750 MHz. "It was a lengthy development time," says Ideal's Rich Helstrom. "The LANTek 7 is a whole new product, not a retooled previous-generation product." He says that at frequencies going up to and beyond 600 MHz, the challenge was to keep the machine "quiet"-in particular, the crosstalk and return loss that the unit generates had to be kept extremely low.
Chuck Ganimian, product manager for Agilent Technologies' WireScope product line (www.wirescope.com), concurs that developing a Category 7 test instrument is not a matter of tweaking the elements of a Category 6 tester. "The product needs to be an order of magnitude better than Category 7 in order to be invisible to the cabling system," he says.
Agilent engineer Phil Lepel notes that, "The ISO separates testing specifications and cabling specifications. They have not yet gone through the exercise of specifying tester accuracy." So, Ideal cannot yet state that its LANTek 7 is within the ISO's Category 7/Class F accuracy range-no such range exists yet.
As for Agilent's intentions to produce a Category 7 test instrument, Ganimian would not specifically state when or even if the company will introduce such a tester.
He and Lepel did, however, comment on where Category 7 systems might see the most deployment. "For mainstream data applications, such as Gigabit Ethernet, good arguments can be made for Category 6 cabling," Lepel said. "Category 7 applications that come to mind are in the home," Ganimian said. "Particularly, running multiple operations over the same cable. Residential users probably will like the idea of putting all their applications under a single sheath."
On the topic of engineering a Category 7 tester, Ganimian said, "It will fit into a handheld tester. With Category 7, we are still dealing with the same clientele as we are with Category 6. A $50,000 test instrument will not be an acceptable option."
Ideal's LANTek 7 is a handheld. Helstrom notes that the unit is "actually shorter than previous-generation products." He says that another engineering feat incorporated into the product is the development of processing power to execute tests in a reasonable amount of time. "Users don't want to wait several minutes for an autotest," he says.
Ideal vice president Doug Waggoner says, "Category 7 tests will be on the order of what today's Category 6 autotests are. And with the newly developed processing power incorporated, Category 6 autotests will be faster." With that latter comment, Waggoner was referring to the Category 6 autotest speed of the LANTek 6, a Category 6 tester that LANTek introduced at the same time as the LANTek 7.
Connector interfaces
The issue of a Category 7/Class F connector interface has been one of the more challenging for the ISO as it has developed the specifications. The organization has settled on an RJ-style interface as the primary connector, but that interface currently is available in prototype only. The ISO also approved a second, non-RJ-style interface based on the TERA connector developed by The Siemon Company (www.siemon.com). "Right now, Category 7 solutions are proprietary," says Ideal's Helstrom.
Users of Category 6 test equipment have become familiar with vendor-specific test leads, and likely will deal with similar devices for Category 7 testing.
Helstrom believes that the adapters is an area of innovation in the LANTek 7. All adapters fit inside the tester's case, leaving no adapters extending from the unit. "The only thing protruding from the unit is the cord," he explains. For permanent link testing with the LANTek 7, users employ an adapter that fits into the case, and a standard patch cord. "This eliminates the need for vendor-specific leads," he says.
The LANTek 6 and LANTek 7 include color display, flash-card storage, a USB port for uploading results to a PC, software that supports graphs and customization, and a remote unit that initiates autotests.
While the LANTek 7 is the first Category 7 cabling tester introduced, it likely will not be the last. Agilent is just one other of several manufacturers that have produced cabling-system testers that test Category 5, 5e, and 6 systems. Their Category 7 models may very well be in their laboratories now.
---
For More Information...
The following companies have Category 5, 5e, and 6 test instruments available. Check out their Web sites for more information on their product lines:

Agilent Technologies WireScope Division-www.wirescope.com
Fluke Networks-www.flukenetworks.com
Ideal Industries-www.idealindustries.com
Microtest-www.microtest.com
Tempo, a Textron Company-www.tempo.textron.com


---
Patrick McLaughlinis Chief Editor of Cabling Installation & Maintenance.