BICSI Product Showcase
The BICSI Spring Conference, May 6-9 at the Mandalay Bay Resort in Las Vegas, NV is an opportunity for you to see the latest products and services that you can use immediately in your daily activities within the telecommunications and cabling industry.
May 1st, 2002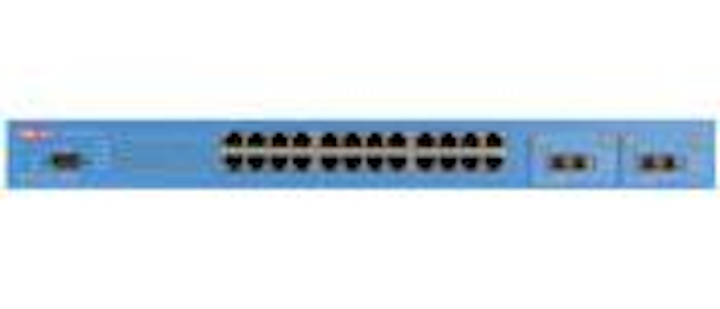 Compiled by Ryan Cliche

Use our online center to request free product information www.onlinecenter.to/cim or fill out the reader service card.
Exhibitors unveil cabling products at BICSI Spring Conference
The BICSI Spring Conference, May 6-9 at the Mandalay Bay Resort in Las Vegas, NV is an opportunity for you to see the latest products and services that you can use immediately in your daily activities within the telecommunications and cabling industry.
This second part of Cabling Installation & Maintenance's two-issue Product Showcase (see the April 2002 issue for the first part) is a representative sampling of what will be new and notable at this year's conference:


---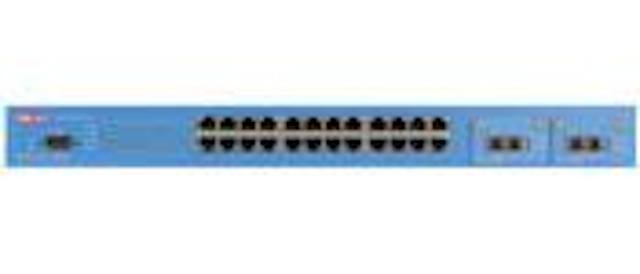 Click here to enlarge image
Multi-layer switch
MiLAN Technology's Procera MLS is designed to provide hardware routing, flow metering, and packet shaping in a single box. It combines the functionality of formerly separate network devices. This switch dedicates 10-/100-Mbit/sec links to desktops and servers or load shares multiple 10-/100- or 1,000-Mbit/sec links.
MILAN TECHNOLOGY
www.milan.com
BOOTH #50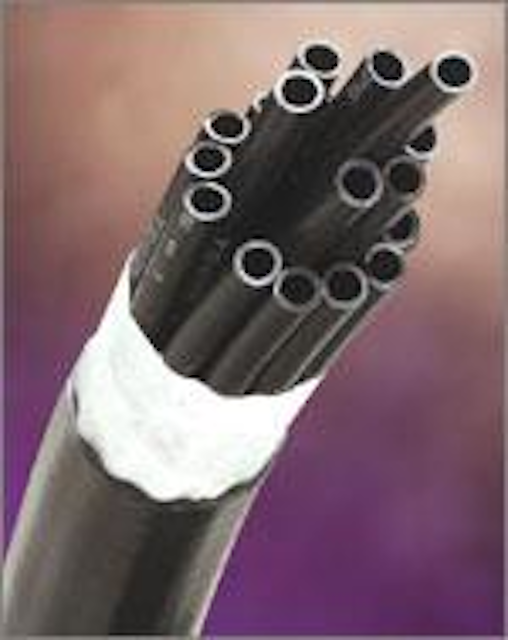 Click here to enlarge image
Cable enhancement
Sumitomo Electric Lightwave's Flex HP (high performance) tubing for the FutureFLEX air-blown fiber cabling system is tubing with a thin, built in layer of materials that reduce drag in the inner tube, letting you increase blowing distance for longer installations. The tubing technology is designed to increase the length of the fiber bundle by as much as 50 to 100%-depending on the application-over that of existing tubes, according to company claims. For LAN applications, a total installation capacity of 342 fibers can be installed within a 19-tube cable.
SUMITOMO ELECTRIC LIGHTWAVE CORP.
www.futureflex.com
BOOTH #26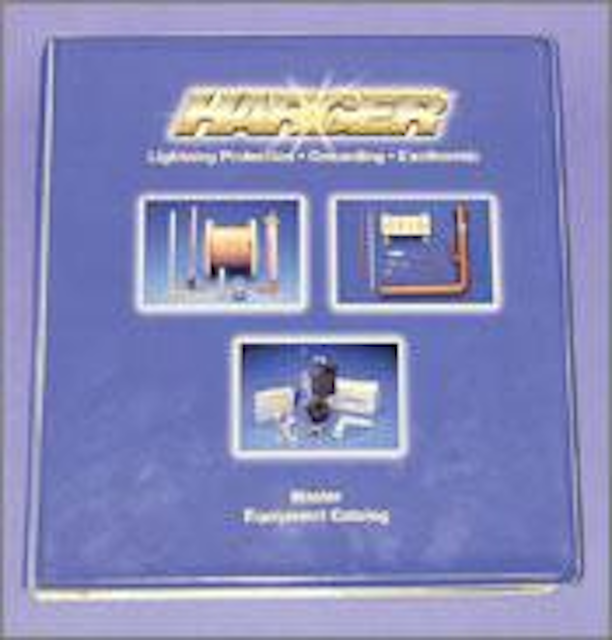 Click here to enlarge image
System protection catalog
Harger Lightning & Grounding's Master Equipment Catalog includes grounding and bonding, ground testing equipment, lightning protection equipment, AC and RF surge suppression, telecommunications products, and Ultraweld exothermic welding products. It is available in a 3-ring binder, on CD-ROM, or at the company's Web site. The electronic version has AutoCAD detail drawings showing examples of lightning protection and grounding applications.
HARGER LIGHTNING & GROUNDING
www.harger.com
BOOTH #114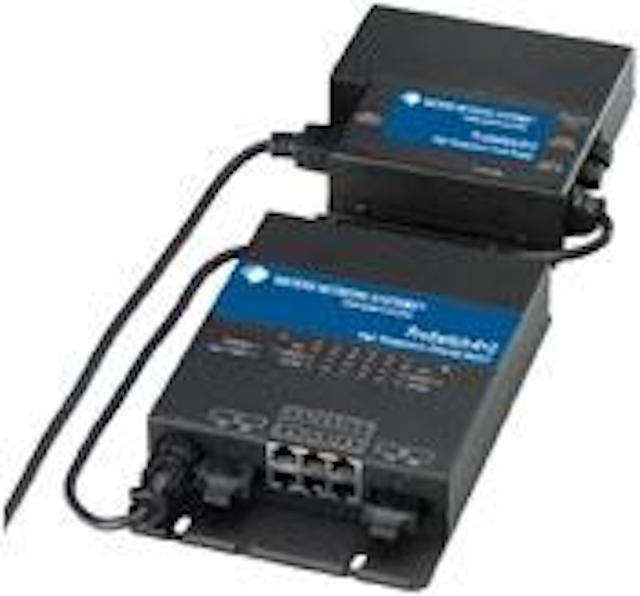 Click here to enlarge image
Plenum-rated switch
Waters Network Systems' ProSwitch-Xtreme is designed for roadside traffic data collection and control stations, unheated or high-temperature industrial plant locations, plenums and ceiling locations in commercial buildings, data communication huts, and military field operation sites. Plenum-rated, it operates in temperatures from -40°F to +160°F. The unit has two 100Base-FX switched ports in either multimode or singlemode fiber combinations and six 10/100Base-TX switched RJ45-style ports. Its case is sealed to prevent elements, smoke, and insects from entering the unit.
WATERS NETWORK SYSTEMS
www.watersnet.com
BOOTH #57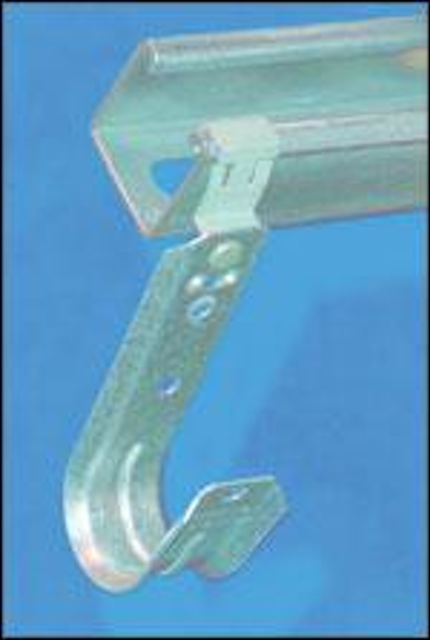 Click here to enlarge image
Snap-in connector
Erico's Caddy Easy Strut Connector (ESC) can be installed on standard as well as low profile, solid or slotted strut. The snap-in feature permits retrofit attachment to existing strut systems. When riveted to the line's J-hooks, it helps to provide wide-base support. It can be used for installation alongside strut profiles for attachment of data communication cables and conduit when combined with the line's fasteners.
ERICO-FASTENING PRODUCTS
www.erico.com
BOOTH #21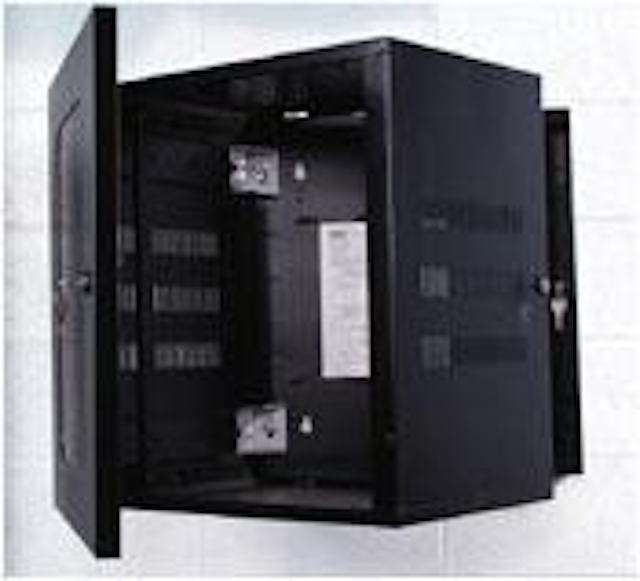 Click here to enlarge image
Double-hinged cabinet
Hubbell Premise Wiring's QuadCab double-hinged cabinet offers quick-disconnect hinges and a pre-assembled doorframe to allow for one man to snap the sections together. Its die-cast hinge design and steel construction support twice the weight of conventional wall-mount cabinets, according to company claims. The rear wall design accepts modular clip-on kits to mount equipment from patch panels and switches to 110 blocks and coax splitters. Front and rear locks and weight-supporting depth members are designed to provide security.
HUBBELL PREMISE WIRING
www.hubbell-premise.com
BOOTH #98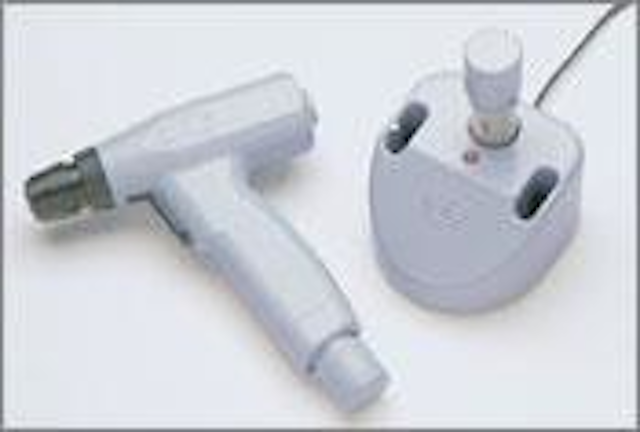 Click here to enlarge image
Wrapping/unwrapping tools
OK Industries' PTX Series electric and battery-powered wire wrapping/unwrapping tools offer a dual-finger, short-throw trigger and a long handle designed to mitigate pressure on the palm. Acrylonitrile-butadiene-styrene (ABS) housing encases a high-torque planetary gear drive that will wrap 18- to 30-American wire gauge (AWG) wire, and is compatible with industry-standard bits and sleeves. It is available with 115 and 230V electric motors, while the battery version is powered by a 3.6V NiMH cell and incorporates a low-voltage LED indicator. Batteries and battery chargers are sold individually.
OK INDUSTRIES
www.okindustries.com
BOOTH #122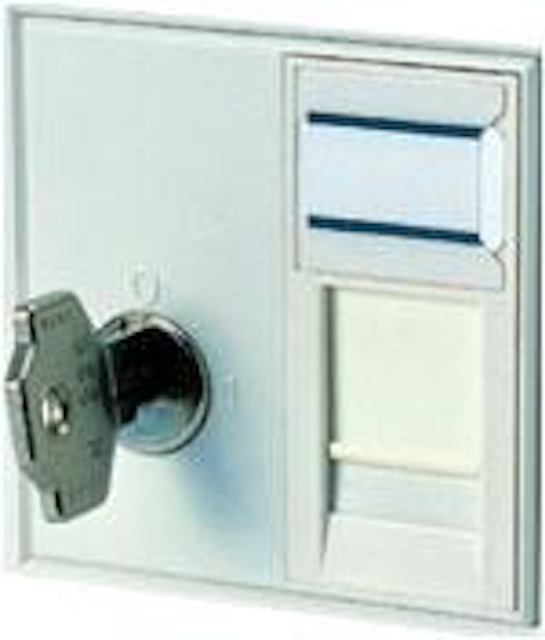 Click here to enlarge image
Category 5e outlet
HellermannTyton's Category 5e inter-lock outlet comes with an individual shuttered jack and lockout system to enable or disable LAN or telephone line access. Supplied with two keys per outlet, the key manages network usage by outlet location and cannot be removed while in the "on" position. The outlet comes with a slide label system for identification. The shuttered jack in the outlet prevents dirt and dust from settling in the jack and provides protection from insertion of objects.
HELLERMANNTYTON
www.htamericas.com
BOOTH #64
Media converter system
Fontel's Amer.com MR16 media converter system mixes your network's media and Ethernet, Fast Ethernet, and Gigabit technologies. The system lets you start with standalone media converters as needed, and then combine and house in the chassis as network needs grow.
FONTEL INC.
www.fontel.com
BOOTH #36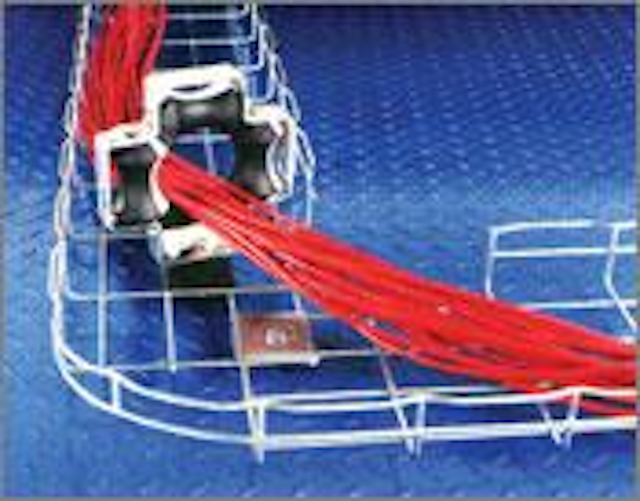 Click here to enlarge image
Cable tray accessory
Sold in kits of six, Cablofil's FAS Roller attaches to the company's cable tray, opens to insert cable, closes, and allows cables to move through its four rollers. A polyurethane multifix swivel base snaps into the tray to hold the accessory in place. Attached to the base is a cross-shaped frame in which cable flows, with a roller in each of the four sections. It opens from the top so you may insert as many cables as required, and the top roller closes and secures in place so that the cables are controlled and safe from damage.
CABLOFIL INC.
www.cablofil.com
BOOTH #87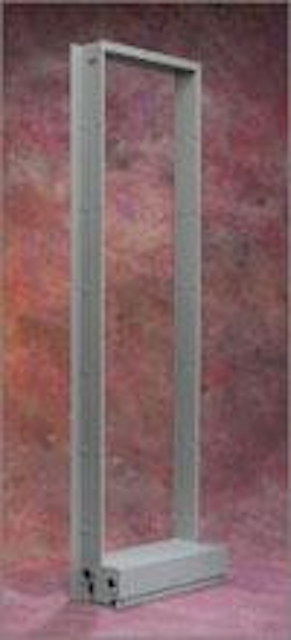 Click here to enlarge image
Central office rack
Homaco's 11-gauge steel Unequal Flange racks are designed to withstand central office applications, including voice, data, and video. Mounting holes are drilled and tapped on front and rear flanges to accept equipment and accessories. Junctioning holes secure rack line-ups. A front guard box is included.
HOMACO
www.homaco.com
BOOTH #148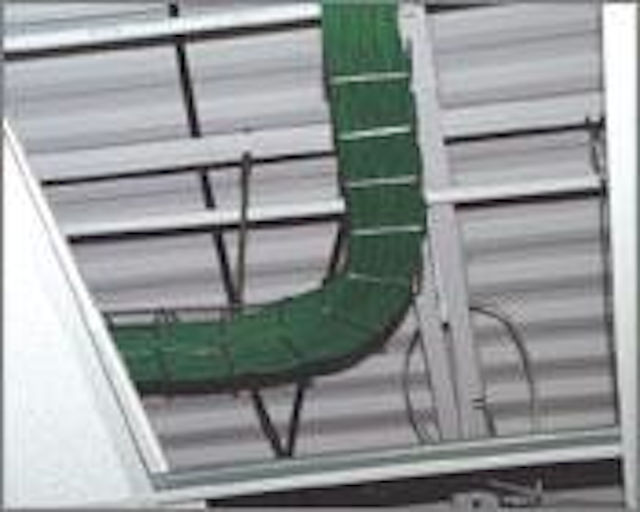 Click here to enlarge image
Low-profile cable tray
Designed for tight spaces, Snake Tray's low-profile cable tray has a vertical dimension of 4 inches, but offers 8 sq in of cable path to hold up to 120 cables. The tray is hand bendable to let you bridge over/under obstacles without the need for fabrication of turns or additional hardware.
CABLE MANAGEMENT SOLUTIONS (SNAKE TRAY)
www.snaketray.com
BOOTH #78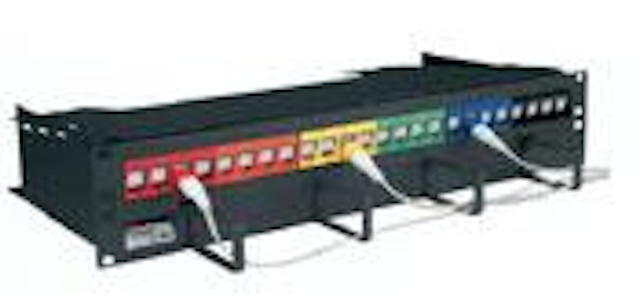 Click here to enlarge image
Interconnect system
3M's Volition VF-45 keyed interconnect system provides controlled access of networks by using a keyed plug that mates to a matched keyed socket and color-coded bezel. You can provide outlets to six distinct and different classified networks, as well as use the non-keyed version for a seventh unclassified network. The fiber-to-fiber interface within the VF-45 configuration uses an 8°-angle polish endface, providing fiber connections with low light loss and improved reflection. Meeting TIA-568B specifications, it is designed for multimode and singlemode applications for backbone and horizontal cabling.
3M
www.3M.com
BOOTH #3

Click here to enlarge image
Layer 2 switch
Allied Telesyn's AT-8024GB Layer 2 managed switch features Enhanced Stacking to let you manage up to 24 other AT-8024GB switches in a virtual stack with a single IP address. In addition to removing the need for switches to be physically collocated, the feature eliminates the need for stacking modules and cables. The switch is an entry-level, 24-port 10/100Base-TX managed Fast Ethernet switch that includes two Gigabit interface converter (GBIC) expansion slots.
ALLIED TELESYN INC.
www.alliedtelesyn.com
BOOTH #86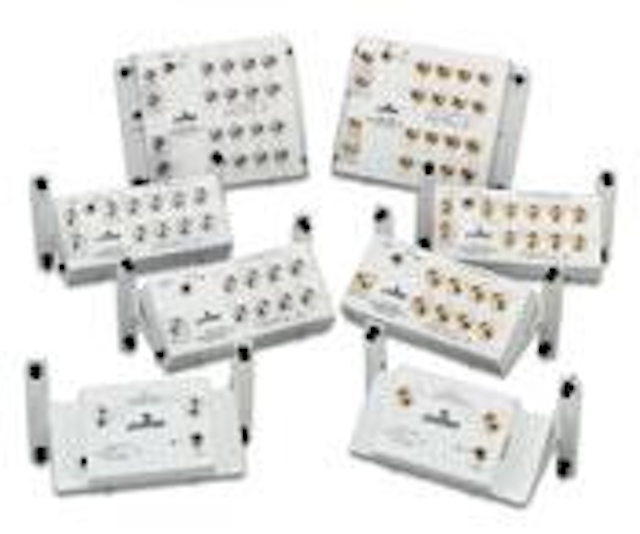 Click here to enlarge image
Splitter modules
Available in 1x8-, 3x8-, and 4x16-inch styles, Leviton Voice & Data's 1- and 2-GHz RF splitter modules are designed to manage and distribute audio/video signals to 8 or 16 locations throughout the home. It incorporates bi-directional signaling to support interactive applications such as digital cable and standard inputs like antennas, VCRs, DVD, and security cameras. Designed to snap into the company's Structured Media Centers, each module comes with isolated outlet ports (no termination caps required), F-connectors to handle incoming and outgoing video signals, and a built-in attenuator with signal strength from -5 dB to +15 dB, according to company claims.
LEVITON VOICE & DATA DIV.
www.levitonvoicedata.com
BOOTH #75
Ethernet cable, multi- function tester, enclosure
Shaxon Industries' retractable Cat egory 5e-type Ethernet cable and case features the company's Super Flexible Cat5e-type cable in a housing designed for travel and laptop (10/100Base-T) applications. Reel out the cable to the desired length and it automatically locks in place. Push a button and both sides retract into the plastic housing.
With a press of a button, Shaxon Industries' CT-Remote2 can test Ethernet hubs, switches, or NIC cards for 10/100Base-T operation, full- or half-duplex operation, or operation failure in any of these modes. It can identify continuity of unshielded twisted-pair (UTP) and shielded twisted-pair, as well as identify shorts or opens on the cable. In BNC port testing mode, it can identify 10Base-2 with terminators on the both sides, 10Base-2 with a terminator on one side, and 10Base-2 with no terminators present. It can also perform the same procedures for 75-W video cabling.
Shaxon Industries' Home Net residential-wiring enclosure features a simple design and a durable construction. The box can be ordered pre-loaded with the standard telecommunication/video module or ordered separately.
SHAXON INDUSTRIES INC.
www.shaxon.com
BOOTH #5
Insulation enhancement
Helix/HiTemp Cables' 100% fluoropolymer insulation over copper twisted-pairs for both unshielded twisted-pair (UTP) and shielded twisted-pair (STP) produces vivid colors for plenum applications. These colors are designed to help in pair identification, resulting in reduction of time and costs of installing and connecting cables at the outlets and in the patch panels.
DRAKA COMTEQ
HELIX/HITEMP CABLES INC.
www.drakacomteq.com
BOOTH #140
Loose-tube cables
Chromatic Technologies' line of loose-tube, low-smoke zero-halogen (LSZH) jacketed cables meets Underwriters Laboratories 1685 requirements. This designation lets you install the cables in such applications as transit or industrial, which require a Limited Smoke (LS) designation. These are designed for indoor and outdoor use, and are available for aerial, direct buried, and tray constructions. Single-jacket, double-jacket, and armored versions are available with up to 144 optical fibers in an SZ-stranded design.
DRAKA COMTEQ CHROMATIC TECHNOLOGIES INC.
www.drakacomteq.com
BOOTH #140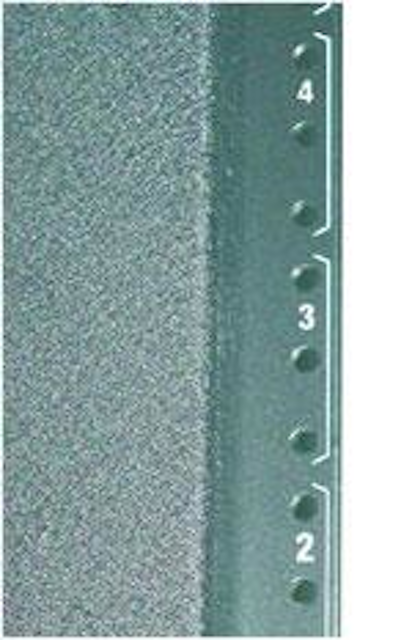 Click here to enlarge image
Numbered rack rail spaces
Middle Atlantic Products/DataTel's No Extra Charge campaign features numbered rack rail spaces on all of its welded floor-standing enclosures. The numbered spaces help you position equipment for installation in rack enclosures. When used with RackTools, you can produce a guide that locates individual components within a system.
MIDDLE ATLANTIC PRODUCTS/DATATEL
www.middleatlantic.com
BOOTH #71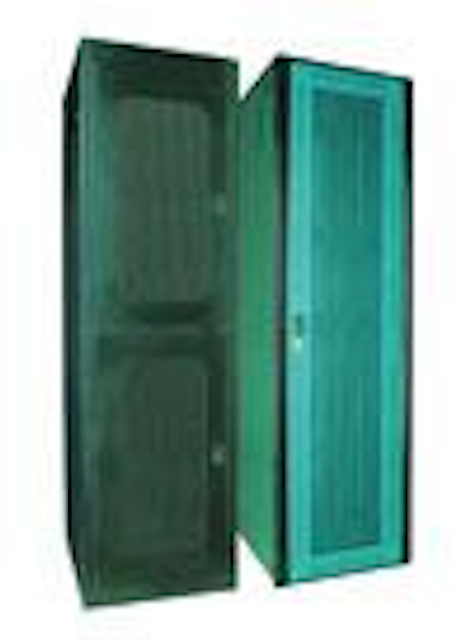 Click here to enlarge image
Pre-configured enclosure
Kewaunee Scientific's pre-configured 500 Series enclosures are designed to bring operational flexibility to the technical environment. You can order common configurations according to a model number. These accept all of the series' accessories, including fixed shelving, pullout shelves, heat exhaust fans, wire-management accessories, anti-tip plates, ganging hardware, and power distribution bars.
KEWAUNEE SCIENTIFIC CORP.
www.kewaunee.com
BOOTH #6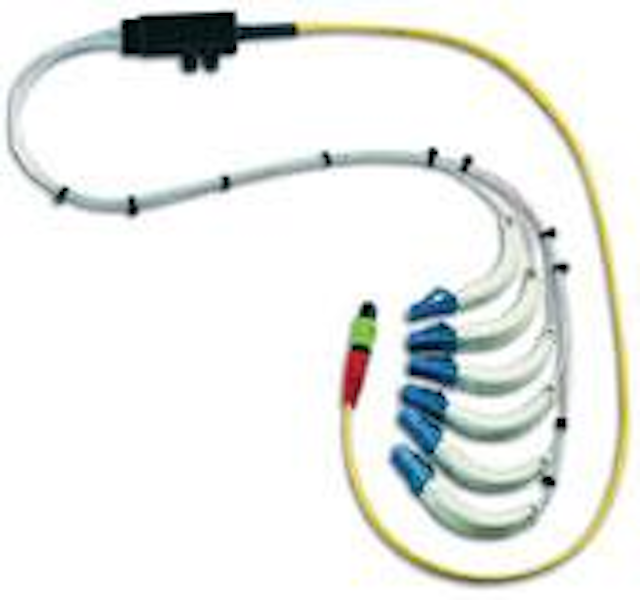 Click here to enlarge image
Singlemode, multimode cable assemblies
Advanced Interconnect/Woodhead Con nectivity's singlemode and multimode MTP cable assemblies are offered with either ribbon fiber or ribbonized individual fibers. Connectors come in male, female, or ferrule only with 4, 8, or 12 positions. The push/pull design is keyed for proper insertion and provides low back reflection.
ADVANCED INTERCONNECT/WOODHEAD CONNECTIVITY
www.ai-global.com
BOOTH #76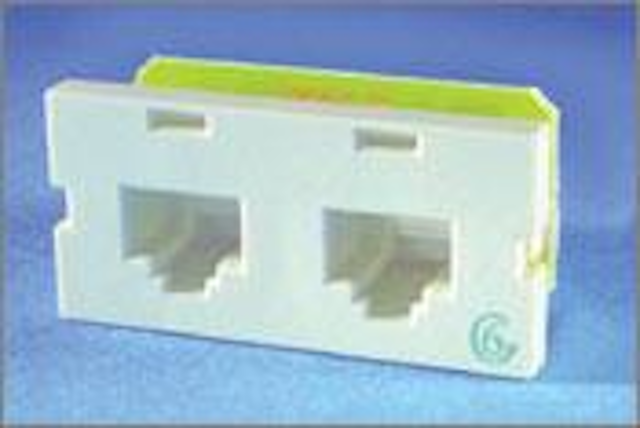 Click here to enlarge image
Modules, patch panels
Using dual-reactance technology designed to improve signal-to-noise ratio, Ortronics' Clarity6 Series II 1- and 2-port modules reflect mechanical improvements to help you terminate the larger conductors of Category 6 cable. These offer low-emission insulation displacement connection (IDC) contacts and universal wiring labels, fit the line's faceplates and housings, are icon-compatible, and include a C6 marking on the jack face. Also, the modules are available in four colors and backward compatible to Category 5e, 5, and 3.
Also backward compatible to Cat egory 5e, 5, and 3, Ortronics' Clarity6 PHD68 patch panels with 8-port modules offer connections using dual-reactance technology to improve signal-to-noise ratio. Low-emission insulation displacement connection (IDC) contacts support a standard termination practice using a 110 impact tool. Panels are supplied with labeling for T568 wiring, but can be converted to T568A with the change of a supplied label. In addition, the panels include front labeling fields and rear cable management.
ORTRONICS INC.
www.ortronics.com
BOOTH #8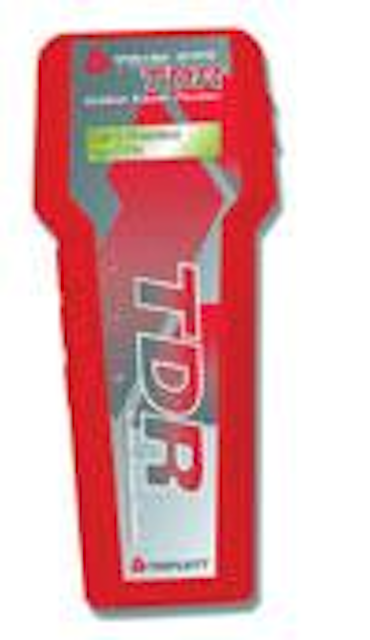 Click here to enlarge image
Time domain reflectometers
Triplett Corp.'s TDR 3271 tester gives you length measurement of any 2-wire or single-wire shielded cable. It includes a library of 39 commonly used cable presets, a tone generator for cable tracing, and standard test leads, as well as a padded Cordura carrying case, belt strap, and 9V battery. The unit is powered by a single 9V battery and takes readings in meters and feet.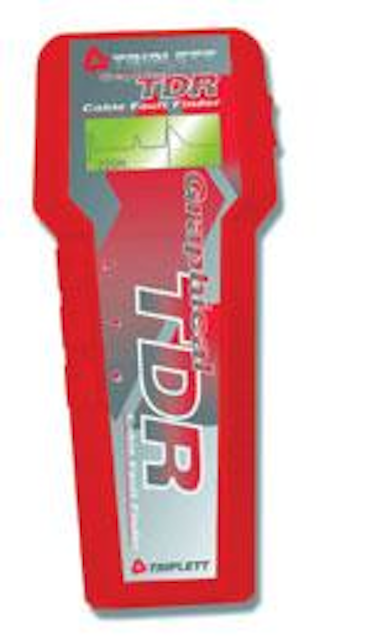 Click here to enlarge image
Also powered by a 9V battery, Triplett Corp.'s Graphical TDR 3272 provides a graphical display of cable integrity. Designed for testing all types of communication cables, it shows the distance to and loss through a connector, spike, or splice on runs of up to 10,000 feet. It is interchangeable from meters to feet, and generates a tone for tracing with the company's tone probes. The tester comes with a padded Cordura holster and alligator test leads.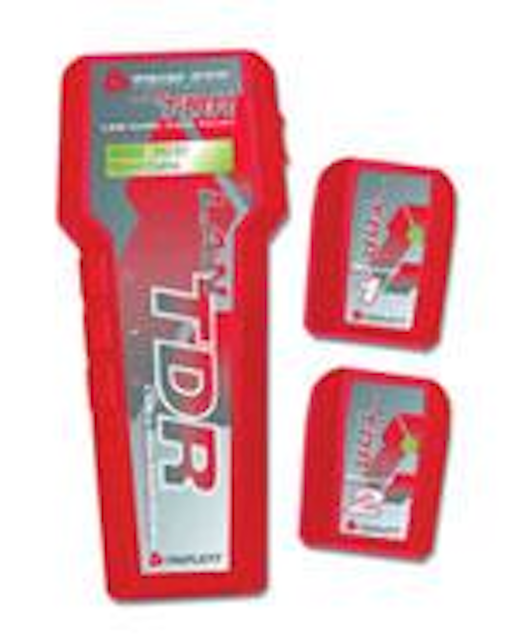 Click here to enlarge image
Designed for testing the wire configuration of RJ-45-style-terminated Cat egory 5, 5e, and 6 cabling, Triplett Corp.'s LANTDR tests for shorted pair, open pair, crossed pair, capacitive near-end crosstalk (CNEXT) for double-split pairs, reversed pair, shield continuity, and split pair. It may be used specifically for length testing up to 400 feet and for distance-to-fault on any pair testing by using the optional alligator test lead. An incorporated tone generator traces the tested cable. The unit comes with two remotes, RJ-45-style test lead, a 9V battery, and padded Cordura holster.
TRIPLETT CORP.
www.triplett.com
BOOTH #119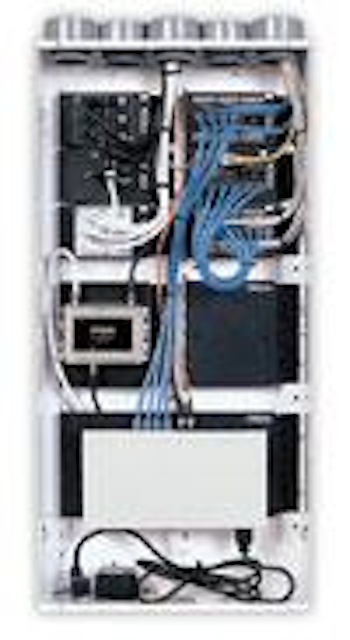 Click here to enlarge image
Residential enclosures
Unicom's UniHome Plus20 and Plus30 enclosures mount between standard studs opening (16 inches to center) with self- adjusting mounting tabs to keep the enclosures square in the wall. Both enclosures feature a removable one-piece cover consisting of an integrated bezel and door. In addition, an opening allows additional cables through the door from underneath while maintaining a closed door.
UNICOM
www.unicomlink.com
BOOTH #23