A new chapter for telecommunications and testing
With the principles of Division 17 approved, the revised MasterFormat will include new subsections that address cable testing, labeling, and cable management administration.
Aug 1st, 2002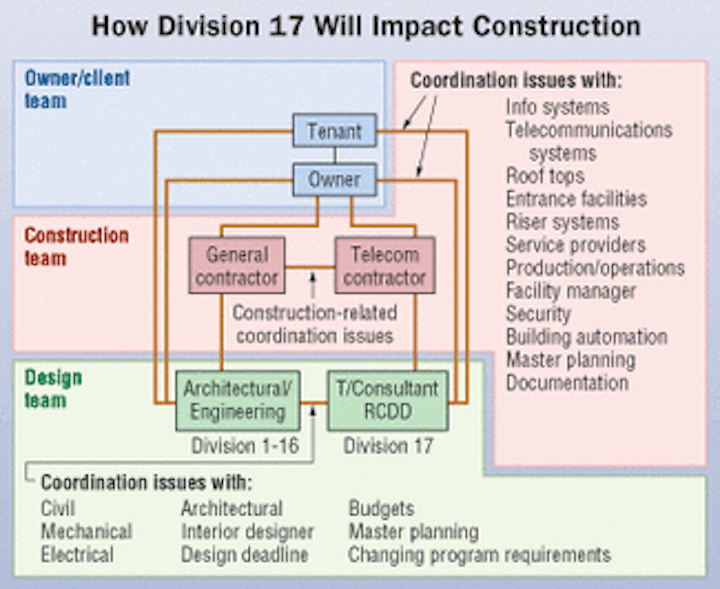 With the principles of Division 17 approved, the revised MasterFormat will include new subsections that address cable testing, labeling, and cable management administration.
Next year will mark a major milestone for the telecommunications industry when it has its own section in the MasterFormat document-the construction industry's "Building Bible."
For four decades, the MasterFormat, developed by the Construction Specifications Institute (CSI) in Arlington, VA (www.csinet.org), has been followed by all architects and building designers when planning, bidding, and constructing a new facility. Originally published in 1963, and revised in 1988 and 1995, the MasterFormat contains 16 Divisions (or "chapters") that spell out construction requirements, practices and products needed to guide construction management through a project. Only two pages out of 317 minimally address communications technology requirements, in the electrical (Division 16) section.
But now, a new section-which was first proposed as Division 17 when it was introduced three years ago at a BICSI conference-will incorporate everything from conduit placement to final cable testing. Division 17, which may actually end up being Division 25 in the revised MasterFormat, details products and methods needed to budget and install a high-speed cabling infrastructure.
Better planning, fewer problems
In the last decade, the evolution of high-speed data and telecommunications has become an integral part of planning a new facility, as well as renovating an older building. But, without defined guidelines, there has been no consistency to provide designers or contractors with a method of defining the scope of a telecommunications plant or preparing a budget. The principles set out in Division 17 are designed to do just that. They spell out all the procedures and products needed to efficiently plan, estimate, design and integrate a cable plant for data, voice, video and other low-voltage systems.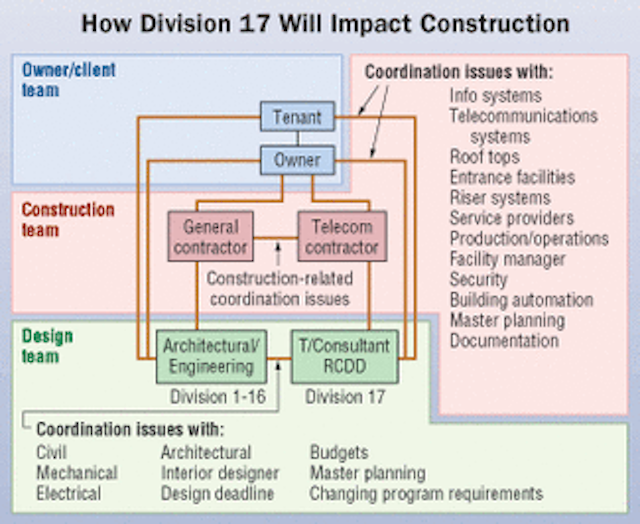 The construction industry's MasterFormat document will now detail products and methods needed to install cabling infrastructure within a building.
Click here to enlarge image
"Including communication systems as part of the base when designing a building instead of during construction will result in improved coordination, better cost planning and fewer problems in the long run," says Tom Rauscher, president of Archi-Technology LLC (www.archi-technology.com), and who was the primary evangelist behind Division 17.
Following the standard sequencing or formatting of previous divisions set by the MasterFormat, Division 17 originally submitted ten proposed sections:

Section 17000: General information on basic communications, administrative and site specific requirements;
Section 17100: (Previously Section 167100), Cable Plant Overview with communications rooms, MDFs, IDFs backbone, and horizontal cabling requirements;
Section 17200: (Previously Section 167300), Data & LAN Overview covering communications electronics, hardware, and software;
Section 17300: (Previously Section 167200), Voice and PBX systems, as well as Call Center requirements;
Section 17400: (Previously Section 168100), Video/Audio Systems, which include control and headend equipment, production and teleconferencing, monitors, satellite systems, and software;
Section 17500: WAN and Dial Tones for Internet and long distance;
Section 17600: Electrical, HVAC and Architectural requirements for MDF, conference rooms, furniture, and exterior requirements;
Section 17700: Intra-Building Communication Systems, which includes paging, bar coding, and timekeeping;
Section 17800: (Previously Section 13800), Building Automation and Control, which includes elevator monitoring, temperature, and door control;
Section 17900: (Previously Section 13700), Security Access and Surveillance systems.
In each of the sections that apply to telecommunications, there is a sub-sub-section that addresses testing, labeling, and cable management administration to assure that the backbone, horizontal and all connections are properly routed, terminated, and documented. "An efficient structured cabling plant must be thoroughly tested to meet specific standards and guidelines," says Bob Jensen, RCDD, Fiber Optics Programs Manager for Fluke Networks (www.flukenetworks.com). "Therefore, it is Fluke Networks' goal to provide information by sponsoring this site [www.Division17.com], which spells out testing procedures to assure that the cabling meets specifications." (See sidebar, "Mastering the format," see above.)
Jensen is leading the team of engineers and telecommunications experts to address the requirements of qualified fiber and copper testing, and will be providing the details for the test sections. "The new sections on testing will include information on who is expected to test, what test instruments should be used, when testing needs to be conducted, and the proper documentation to ensure the cabling system will perform well for years to come," explains Jensen. "In essence, specific tests will provide the same specifications that are given in ANSI/TIA/EIA building standards that are already being used by many certified telecommunications contractors and installers."
Testing impact
The testing, identification, and administration sections of Division 17 specify the labor, tools and equipment required before, during, and after the cable installation: Fiber testing-Testing starts with manufacturers' testing and quality assurance programs. For fiber, this is accomplished through testing cable and connectors with power meters, or, if required, by the owner or manufacturer using an OTDR (Optical Time Domain Reflectometer). Under Division 17, before and after installation, multimode optical-fiber cable must be tested in both directions at both 850 nm and 1300 nm in accordance with ANSI/EIA/526-14A. Singlemode must also be tested in both directions at 1310 nm and 1550 nm. Localized attenuation shall not exceed 0.5 dB at any point.
Copper testing-For 100-W UTP backbone cable testing under Division 17, 100% of all cable pairs are to be free of shorts, opens, splits, crosses, reversals, and grounds. For horizontal copper cabling, the test parameters apply to cabling runs up to 90 meters in length, using 8-pin modular connections and a crossconnection layout (which includes two connections in the telecommunications room). Parameters to be tested will include wiremap, length, attenuation, power-sum near-end crosstalk, attenuation-to-crosstalk ratio, power-sum ACR, equal-level far-end crosstalk, power-sum equal-level far-end crosstalk, near-end crosstalk, return loss, resistance, and-for ScTP (shielded) cable only-shield continuity.
Under Division 17, contractors are to test all installled cables and submit test result data (which will correspond with specific labeling requirements) in electronic format as well as a file-formatted hard copy (such as Microsoft Word or Excel).
"Testing is the final activity associated with a cable plant installation," says Rauscher. "Without it, it should not be turned over to the building owner."
Evolution, not revolution
A task team formed last year by CSI says the revised and expanded MasterFormat will allow for future growth. "We recognize that these proposed changes are significant, but they're an evolution, not a revolution," explains Dennis Hall, FCSI, CCS, CCCA, chairman of the MasterFormat Expansion Task Team.
The most recent concept is for the new MasterFormat to have more than 40 division numbers, but with only about 20 in use, allowing for easier expansion or revision later. Divisions 15 through 20, for example, would remain blank for now. The proposal includes reviewing the previous 16 divisions and pulling out subsections that may need to be clarified with their own detailed section. Divisions 20-25 are the proposed systems division-mechanical, electrical, plumbing-which puts tele communications as Division 25.
"It only makes sense to carve out elbow room within the plan instead of appending at the end," Rauscher notes.
Carol Everett Oliver is a principal of Everett Communications (coliver@everettcom.com) and a freelance writer for the industry. This article was written on behalf of Fluke Networks.
---
Mastering the format

Information on the MasterFormat and the proposed divisions can be found at several Web sites:

CSI (www.csinet.org) includes a MasterFormat expansion information page as well as the latest updates and meetings by the Task Team. By linking to www.csinet.org/technic/mfrevision, you one can obtain the latest proposed drafts for review and feedback.
In 1999, Tom Rauscher set up www.Division17.net as a non-commercial educational site. Here, you can download details of Division 17, as well as understand the background and the involvement of such organizations as BICSI, Building Owners Managers Association (BOMA), Association of College and University Telecommunications Administrators (ACUTA), National Systems Contractors Association (NSCA), and the Telecommunications Industry Association (TIA).
Another site, www.Division17.com, owned and operated by Archi-Technology LLC, was designed for input from contractors and suppliers. Manufacturers can provide information about their products, services, and links. Through a sponsorship of the Testing and Documentation area on the Division17.com Web site, Fluke Networks will provide information on products and requirements used in cabling systems' testing procedures to ensure well-performing networks. Contractors, engineers and architects will be able to download information related to the design and testing requirements for a telecommunications infrastructure, and also create a building model. Information will include a comprehensive set of performance specifications for testing and documenting cable plants for voice, data, and video applications.
Recently, Archi-Technology LLC announced the formation of www.MasterLibrary.com, as part of a strategic alliance with the northeast region of CSI. This site will include all the information currently included on Division 17.com, as well as information for construction and facility management.