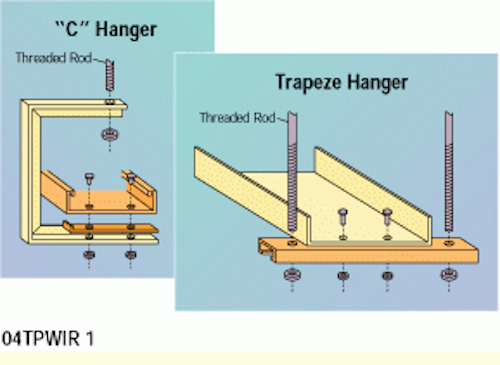 Neil Sutton,
The Wiremold Co.
Problem
Many large retail stores and manufacturing plants require the distribution of communications and power wiring in open-ceiling environments. Because these types of buildings do not have drop ceilings, concealing any exposed cabling in these environments is an important design and safety issue. You need to find a way to organize, support and conceal the cabling so that it blends into the ceiling design.
Solution
Instead of using ladder-tray systems, which can allow cables to droop between the rungs, install solid or ventilated-bottom cable trays, also known as channel or trough trays. These systems hide wiring in open ceilings while still keeping the wiring accessible, organized and secure.
Procedure
You can use different types of hangers to install solid-bottom cable trays in open ceilings and in applications that require a vertical transition to wiring closets. Solid-bottom cable-tray systems are also available with service-pole adapters to run communications wiring down to open areas in retail and manufacturing environments.
For "C," trapeze and center rod hangers, the recommended procedure is as follows:
1) Cut the threaded rod to the appropriate length and fasten to a structural member.
2) Bolt the hanger to the threaded rod through the holes provided, ensuring that it is level and in line with other hangers.
3) Once the cable tray is in place, fasten it to the hanger using any structurally sound method: Nuts and bolts or self-threading screws are used in many installations. Make sure the fasteners do not have any sharp edges that might nick the cable.
4) If you are using wall-mounted hangers, fasten the hanger to structural members in the wall to ensure sufficient support strength.
To distribute communications wiring, you may also need to install a service-pole adapter as follows:
1) Place the pole adapter on the cable tray and drill holes in the appropriate location to match the holes in the pole adapter. Cut and grommet the hole to match pole adapter entrance feed.
2) Bolt the pole adapter to the underside of the cable tray, ensuring that there are no sharp edges inside the tray.
3) Insert the service pole into the underside of the pole adapter and tighten the set screws onto the pole.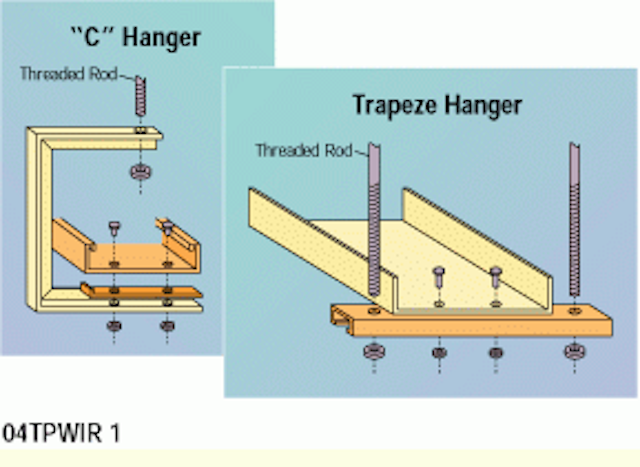 Click here to enlarge image
"C" hanger (left) fits tray widths up to 12 inches, while the trapeze hanger fits any size tray.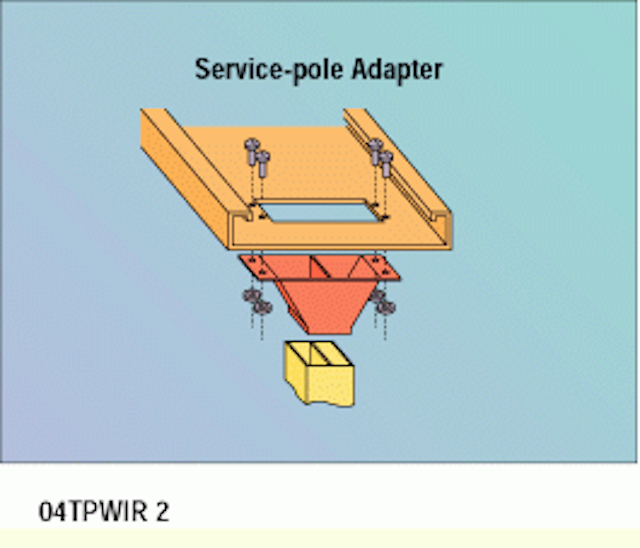 Click here to enlarge image
Service-pole adapter can be attached to the cable tray for communications wiring only.
Neil Sutton is a product development engineer for The Wiremold Co., West Hartford, CT.