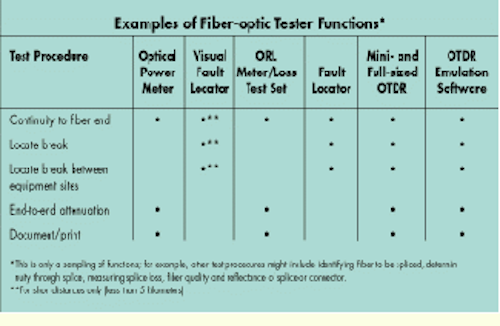 William Fandel, Laser Precision Division/GN Nettest
Problem
Choosing the appropriate fiber-optic tester for your installation can be confusing, especially when there are so many of these devices on the market. It can be expensive if you select a tester with more functions than you need, as well as frustrating for installers to use. Conversely, if the tester does not perform all the tests you require, it can lead to extended downtime.
Solution
To determine which tester is the best for your needs, first decide how much you can spend. Next, identify the tests you will be performing most often, and then compare each test procedure against the different types of testing devices.
Procedure
1) The first question is, "How much can you spend?" A full-sized optical time-domain reflectometer, or OTDR, with different wavelength ports, disk drives, built-in printer and both singlemode and multimode capabilities will cost at least $25,000. A miniature OTDR costs approximately $10,000. You will pay the least amount-- $7500 or so--for a fault locator; however, this device basically only finds breaks in the cable, and you cannot use it for acceptance or insertion-loss testing on your fiber-optic cabling system. A visual fault locator is available for almost $1000 but is only useful for finding breaks in very short fibers or patch cords.
2) Identify the tests you will be forming most often and compare this list against the functions of the different types of testers. Some of the tests are listed below, with an indication of which type of tester to use:
--Determining continuity to fiber end. To determine if light is successfully traveling from the transmitter to the receiver, you can use an optical power meter to check for light at the receiving end of the fiber-optic cable, an OTDR to determine the overall length of the fiber, or a fault locator/visual fault locator to check continuity.
--Locating a break in fiber-optic cable. If the cable is hidden from view, use an OTDR or fault locator to detect any breaks. However, if the fiber is visible and the breaks are close to the cable ends, you can use a visual fault locator.
--Locating a break between equipment sites. If a break occurs between equipment sites, use an OTDR, mini-OTDR or fault locator.
--Measuring fiber loss (end-to-end attenuation). This loss includes normal loss in fiber, connector loss and any losses from splices, defects or excessive bends in the fiber-optic cable. To measure overall loss accurately, use a stable light source and an optical power meter. An OTDR or mini-OTDR will also measure overall loss, but you need to use a launch box to include connector losses accurately (the "dead zone").
--Documenting results. You will most likely document any new fiber-optic installations and, when performing system maintenance, you may need to compare the new data with the original records of the cable losses to determine if any part of the system is degrading. An OTDR with loss test set capability and a built-in disk drive (for data storage) is one way to archive test data. Another way is to use a software program that emulates an OTDR and stores the information in a database on a personal computer. You can then analyze the test data or print detailed records and reports.
3) Try out several testers--lease or rent them--to find the appropriate one for your needs.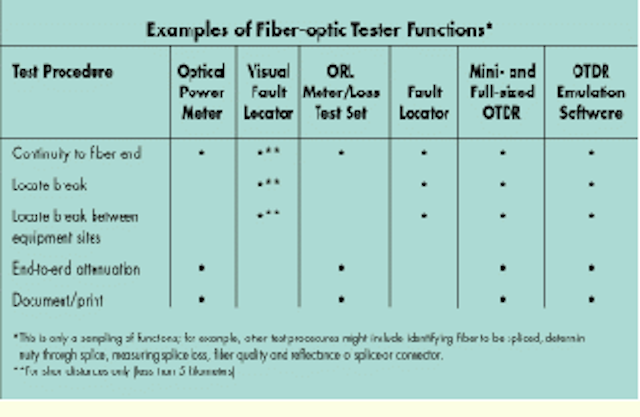 Click here to enlarge image
William Fandel is marketing manager at Laser Precision Division, GN Nettest, Utica, NY.