Ike Casey, Independent Electrical Contractors Inc.
Problem
Scaffolding may be set up and taken down many times during a construction project. Because scaffolding is considered temporary equipment and is moved from place to place at the job site, it is no surprise that sufficient care is not always taken in erecting it. As a result, inadequate scaffolding is responsible for many construction-site accidents.
Solution
To prevent accidents associated with scaffolding, a number of safety precautions should be taken during its construction and use.
Procedure
1) To avoid the use of makeshift platforms, plan each job carefully to ensure that scaffolding is used only when required, and that the scaffolding conforms to all applicable construction and safety regulations.
2) Scaffolds should be designed, built and inspected by trained and experienced workers.
3) Place baseplates, sills or footers on solid ground; make sure the scaffold is leveled or plumbed.
4) Do not use damaged end frames or braces. Make sure to attach braces at all points provided; do not shortchange bracing.
5)Tie the scaffold to the structure being worked on, if possible.
6) Use only scaffold-grade wood or metal catwalks for platforms. Before each job, inspect each scaffold platform thoroughly for breaks, knots, cracks or warpage.
7) Planks should have cleats attached permanently to keep them from sliding off the scaffold frame.
8) Use guard rails and toe boards on platforms higher than 6 feet.
9) Inspect the scaffold after it is erected and each day during its use on the site.
10) Rope off the area underneath the scaffold.
11) To mount the scaffold, do not climb the braces; use a ladder.
12) Keep tools and materials away from the edge of scaffolds, so that they cannot be knocked off onto people working below.
13) Avoid an off-balance position when pulling, pushing or prying--especially when working at heights.
14) Rolling scaffold units should be no higher than four times their narrowest base measurement.
Always keep the casters of rolling scaffolding locked when it is not being moved. Never ride on rolling scaffolds.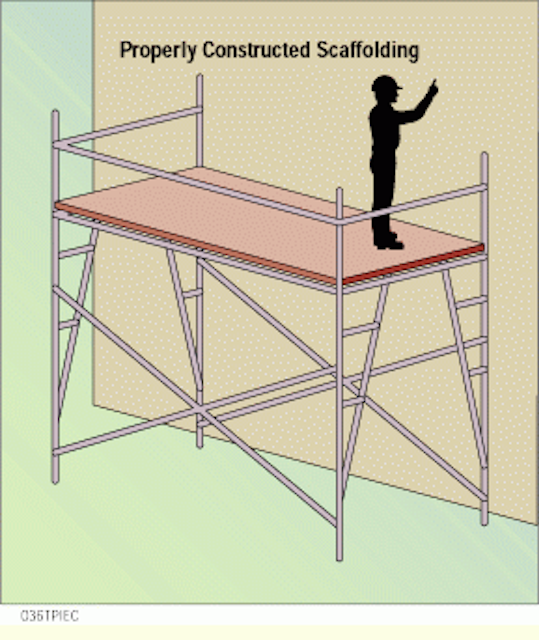 Click here to enlarge image
Before working on a scaffold, make sure it has been properly built and securely anchored and that all relevant safety precautions are in place.
Ike Casey is executive vice president of Independent Electrical Contractors Inc., Alexandria, VA. This tip is excerpted from IEC`s booklet, Jobsite Safety Handbook for Electricians.