Copper weighs in as choice for 10-Gigabit Ethernet
Pending standard seeks to give installers and end users a viable alternative to optical-fiber cable.
Apr 1st, 2003
A Category 6 Consortium study group faces an uphill battle as it looks at the technical feasibility of running 10-Gigabit Ethernet over UTP cable. Its exploration is coming at a time when there is still confusion or even apathy in the marketplace about 10-Gigabit Ethernet, and raises questions about whether end users are willing to rip out their old Category 5 and 5e cable and replace it with a new cable that will bring them a transmission speed that they may not need right away.
While many enterprise end users are still in the process of migrating to 1-Gigabit Ethernet, analysts and manufacturers interviewed by CI&M expect companies will soon undertake installations that will enable 10-Gigabit Ethernet in the backbone and, eventually, to the desktop. In fact, they expect the transmission of 10-Gigabit Ethernet over UTP cabling will break down many of the barriers that have thus far kept the high-speed LAN protocol at a distance.
Power to the backbone
At the moment, the market for 10-Gigabit Ethernet to the desktop is minimal. Analysts believe that fiber-to-the-desk installations still represent less than 10% of the market. "The backbone is where people want to see
10-Gigabit Ethernet," says Renee Cook, an RCDD with Network Products, Inc. (www.npiconnect.com), based in Gaithersburg, MD. "People aren't concerned about it (10-Gigabit Ethernet to the desktop) at this point. We just got 1-Gigabit in the backbone."
But some sense a change coming, with early adopters like government institutions, universities and medical facilities seeking out Gb-E's high bandwidth potential. Some manufacturers say they are already seeing a significant surge in the demand for high-performance, laser-optimized 50-µm optical-fiber cable now needed for
10-Gigabit Ethernet transmission. "We are just starting to see an uptick in Gigabit sales," says Bill Schultz, vice president of marketing for Transition Networks (www.transition.com), based in Eden Prairie, MN. The company makes gigabit converters, and Schultz says it saw a 25% increase in sales last year. "People are migrating to Gigabit, and more than in just the backbone."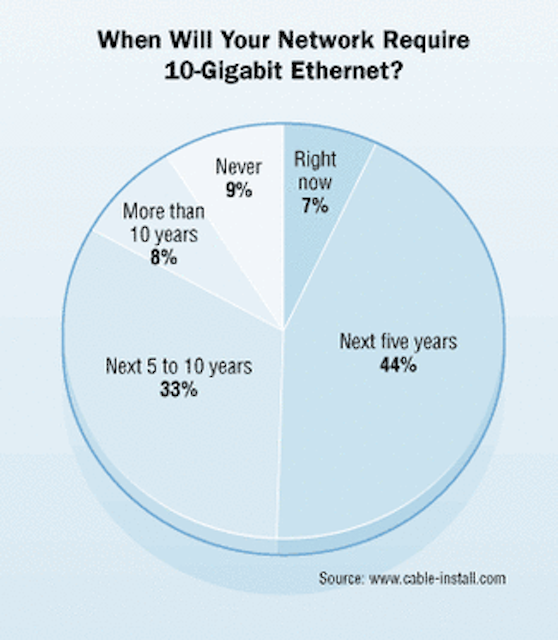 The majority of respondents to a recent survey indicated that their network will require 10-Gigabit Ethernet in the next five years.
Click here to enlarge image
null
But copper, says the Category 6 Consortium, would represent a much cheaper alternative to installing singlemode and multimode optical fiber. "Copper is appealing because it is more cost-effective, and many feel it is easier to handle when it comes to installation," says Linda Bert, a Consortium member and an electrical engineer for AMP Netconnect's (www.ampnetconnect.com) facility in Winston-Salem, NC.
Gary Bernstein, Consortium chairman and director of product marketing/telecommunications for HellermannTyton (www. hellermantyton.com), based in Milwaukee, WI, argues that Category 6 cable is the logical choice, partly because it represents "the latest and greatest" in UTP cabling, and partly because manufacturers that are now bringing it to market would like to see it used for future applications.
"The way the industry has been, we have to focus on what we've got now," says Bernstein. "A lot of research and development dollars have been invested to get Category 6 to market. We also don't want to see people jump ahead. Let's at least see the lifespan of Category 6 and the investments it can support."
Category 6 cabling, according to the TIA standard, calls for 200 MHz to meet a positive ACR, and is tested or certified to 250 MHz. It offers the advantage of high frequencies and low-cost electronics, and the Consortium argues that Cat 6's larger bandwidth will make it compatible and more cost-effective for
Gb-E transmission over 100 meters.
To be safe, however, the Consortium is examining all angles, not limiting its research solely to Category 6. "We'd like to run 10-Gigabit Ethernet over two scenarios: existing cabling that has already been installed, or use the new Category 6 cabling," says Rob Bellassai, a Consortium member and staff engineer for Underwriters Laboratories Inc. (www.ul.com), based in Melville, NY. "The vote is still out on what's possible."
Still, Bellassai believes Category 6's superior bandwidth capabilities, better balance systems, and resistance to EMI will give it an edge over Categories 5 or 5e. This, coupled with the fact that Category 6 is expected to be the choice in end users' future cabling needs makes it the optimal copper cable for 10-Gigabit Ethernet, he says.
One company, for example, which is constructing a 10-story building in Silver Spring, MD, is planning for 10-Gigabit Ethernet applications that it expects to need during the next 10 years. The installation uses Berk-Tek's NetClear GT3 solution, which includes enhanced Category 6 cabling as the backbone, and fiber-to-the-desk to support 10-Gigabit Ethernet. Before the project is complete, installers will have put in roughly 10,000 cable drops.
Cook, the RCDD who is overseeing the project, says it's impossible to predict how trend-setting the Maryland installation may be. "The critical question is, what are people going to be doing in 10 years?" Cook asks. "No one has a crystal ball."
But Consortium chairman Bernstein likens the Maryland copper/fiber installation to the opening of a door. "They [end users] probably don't need it at all at this point," says Bernstein. "But some of the more demanding business environments will feel that they need it, and they will put in an optimum solution today to take them further."
The need for 10-Gigabit Ethernet will be driven by new and emerging applications like videoconferencing and security technology, such as CCTV. Also fueling this drive is the fact that Ethernet is moving beyond the traditional data traffic market and is now used in IP-based storage and interprocess communication.
"I think that once companies get over this setback in the telecom industry, they will be interested in Voice Over IP or desktop conferences that require a lot more bandwidth," says William Oberer, a cable installer and engineering assistant for Verizon Enterprise Solutions (www.verizon.com), based in Washington, D.C.
Category 6's role
The Category 6 Consortium says a 10G-Base-T standard for deploying 10-Gigabit Ethernet over copper could be complete by 2006. Multiple vendors are now trying to come up with copper-based solutions, and Consortium study group members believe they will have 10-Gigabit Ethernet-capable products in three years.
The IEEE 802.3 Executive Committee met last fall in Hawaii to determine the interest level, and then formed the study group. The group was charged with determining if there would be a demand for the products. Chief among the questions to be answered:
What are the technical requirements for running 10-Gigabit Ethernet over UTP cable?
Can it be done with existing products, or will it require new products?
This isn't to say that the Consortium hopes to make optical-fiber obsolete for 10-Gigabit Ethernet, rather it wants end users to have the option of using either copper or fiber. And analysts say it is only logical that Category 6 cable be the first place to look when considering 10-Gigabit Ethernet transmission.
"It's a matter of economics between fiber and 10-Gigabit Ethernet over Category 6 copper," says Ashok Kumar, an independent market analyst for New Media Systems Inc., based in Atlanta, GA. "I don't see 10-Gigabit Ethernet working over the installed Category 5 or Category 5e copper in the near future."
"We predict that by the end of the year, 25% of the projects will be Category 6," says Todd Harpel, director of marketing for Berk-Tek. "By 2005, we predict 40% to 50% of new installations will be Category 6."
Click here to enlarge image
Blell from Berk-Tek believes Cat 6 installations will have an exponential growth impact on 10-Gigabit Ethernet. Once companies have access to the more affordable method of transmitting it, he forecasts there will be a 40% to 50% compound annual growth rate in Category 6 cable installations. This will happen, he says, "once we get 10 Gigabit to the door."
Hold on just a minute
But not everyone believes that the industry is ready to jump full throttle into Category 6 cable, let alone 10-Gigabit Ethernet. Dan Freedman, president of Jasomi Networks (www.jasomi.com), based in San Jose, CA, points out that Category 5e cable is prevalent in most end users' networks right now, and since he believes it can now handle most of their cabling needs, they won't be in a hurry to jump to Category 6 cable in the near future. "Category 5e is everywhere, and it is sufficient for 1 Gigabit," says Freedman.
Consortium members are not turning their backs to this argument, but Bernstein says end users are expected to migrate to Category 6 cable, and they can prolong its usefulness if they can find a way to transmit 10-Gigabit Ethernet over it. It is that visionary approach, they believe, that is needed in the industry today. "At least we know there is something else on the horizon—a next generation for these applications," says Bernstein. "We've got to keep looking ahead."
A gradual migration to 10-GbE
Even if the demand for products is non-existent, interest in 10-Gigabit Ethernet appears to be growing. In a recent QuickVote survey on the Cabling Installation & Maintenance Web site (www.cable-install.com), only 7% of the respondents indicated that they think their network now requires 10-Gigabit Ethernet.
But the majority of survey respondents—44%—indicated that their network will require 10-Gigabit Ethernet in the next five years. And 33% think their network will require 10-Gigabit Ethernet in 5 to 10 years. Only 8% believe their network will need it more than 10 years from now, and only 9% of the respondents said they will never need 10-Gigabit Ethernet.
Despite the growing interest, many end users remain a step behind—still in the process of implementing 1-Gigabit Ethernet technology. For example, Mark DiDomenico, network administrator for the Burlington Coat Factory (www.coat.com) in Burlington, NJ, says he understands the basics of 10-Gigabit Ethernet, but 1 Gigabit is all his company needs at the moment.
"There has been some talk about it, but no implementation of it or even a push for it," says DiDomenico. "Our demand is about 1 Gigabit right now. We use it for network backups."
But analysts say this is exactly the sort of situation that creates the forthcoming drive for 10-Gigabit Ethernet to the desktop. "Right now, any significant corporate end user has on his radar screen a migration path from 1-Gigabit to 10-Gigabit Ethernet in the future, with some deployment of 10-Gigabit already," concludes Tony Beam, director of new business development at AMP Netconnect.
Brian Milligan is senior associate editor for Cabling Installation & Maintenance.
---
Arguments for using Category 6 for 10-Gigabit Ethernet
Category 6 enables higher performance for a range of applications that are just starting to emerge.
Category 6 global volume usage was estimated at 30% in 2002, with growth expected to reach 80% during 2005.
By 2005, a forecasted 40% to 50% of new installations will be Category 6.
Multiple vendors are now working on solutions and expected to create a single Ethernet-based solution.
Copper would represent a much cheaper alternative for today's market, where end users are installing singlemode and multimode optical fiber that can transmit 10-Gigabit Ethernet.
Source: The Category 6 Consortium