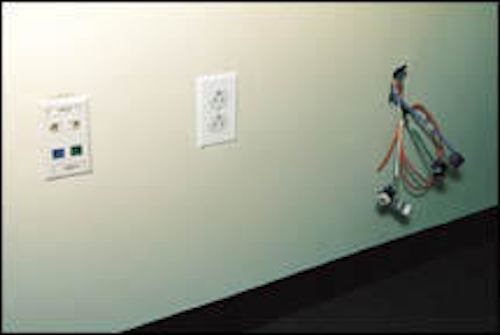 A structured cabling contractor's practice and principles take Big Apple business and education to new heights.
Doing business in New York City is no easy task-especially when it involves cabling a Gigabit Ethernet network for a state-funded 785,000-square-foot vertical campus, curving up 14 stories into the skyline. But one cabling contractor has taken the challenge, with a commitment to quality that it hopes will revolutionize a learning environment.
A vertical campus
Of the $3 billion in state funds allocated to improve New York's university facilities, $319 million alone is allocated to building a new Academic Complex for Baruch College, one of the single largest building projects for the City University of New York (CUNY) system. Scheduled to open for the start of classes in August, the new Complex covers nearly an entire square block between New York City's Lexington and Third Avenues and 24th and 25th Streets.
To keep up with high enrollment, Baruch College was leasing space at a cost of more than $19 million per year-more than half of all CUNY rental costs. "Leasing works only as a short-term solution, but when the need is permanent, there has to be a long-term plan," says Claudia Hutton, a spokesperson for the Dormitory Authority of the State of New York (DASNY), CUNY's representative for the project and fiscal agent for the State. While most college campuses are designed with buildings around an open area, this is not an option for Baruch, which is located in downtown Manhattan. As Hutton explains, "Space is at a premium in New York City, and the only place to go is up. Instead of several separate locations, Baruch is getting a vertical campus with an ultra modern look."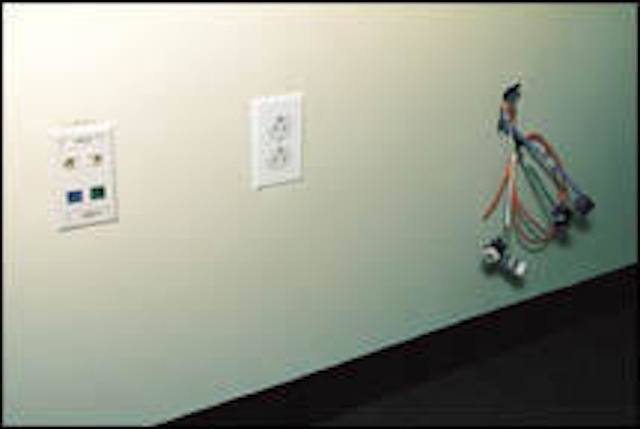 Connections with two Category 6 data outlets and two Category 5 voice outlets, along with 180 fiber-to-the-desk connections will support current and future teaching technologies in the classroom, such as multimedia and distance learning.
Click here to enlarge image
Designed by architect Kohn Pedersen Fox Associates, Baruch's new Academic Complex is three stories below ground, with a 6-story brick base and eight stories of metal and glass-curving walls that form a series of large-window atria. "They were very creative in designing this building," says Hutton. "Not only were they able to manipulate sunlight, but they moved the floors with the heaviest traffic to street level. And with the use of escalators and some larger elevators that stop at floors 2, 5, 8 and 11, they reduced the usual heavy elevator traffic that has troubled Baruch students for years."
At the forefront of technology
A large part of the initiative to improve university facilities is the upgrade of educational technologies. Baruch's Academic Complex is no exception. The telecommunications system for the building supports Gigabit Ethernet and was designed in keeping with the college's long-term investment. The system utilizes Category 5 for voice, Category 6 and optical-fiber cable to the desktop for data and multimedia, and coaxial cable for video.
When Cosentini Associates (www.cosentini.com), a New York-based consulting engineering firm, designed the system in 1998, Category 6 cabling was not close to being the industry standard. "At the time, we expected Category 6 to be approved in 2000," says Joe Banahan, engineer for Cosentini. "Our intent was for Baruch's Academic Complex to open with state-of-the-art technology that would take them well into the future."
The main crossconnect located on the third floor of Baruch College's new Academic Complex is connected to 37 intermediate crossconnects throughout the building with an optical-fiber backbone of 12-strand multimode and 6-strand singlemode fiber.
Click here to enlarge image
Although some fiber-to-the-desk was included in the system design, Cosentini also sized conduit large enough to accommodate additional optical fiber cable for future needs. "I'm thankful we hired a consultant who keeps their finger on the pulse of the industry," says Jim Anastasio, director of Baruch's Computing and Technology Center. "Cosentini knew the Category 6 cable would best handle Gigabit transmission."
Up to the task
With the Complex already under construction and the Gigabit Ethernet design completed, it was time to find a skilled cabling contractor for the job. "State-funded building projects are open to any bidder in the state, and there was high competition for the cabling contract," says Hutton. "DASNY engaged Cosentini Associates to review the lowest bids and advise us on which vendor's submission would best meet the technological requirements of the college."
Among the requirements for the cabling contractor:
Have personnel trained and certified by the proposed manufacturers;
Have demonstrated experience in installing at least two cabling systems in New York City with a minimum project size of 750,000-square-feet;
Have the ability to warranty the system for at least 15 years following installation.
Bob DiMarsico, RCDD, vice president and co-founder of Interworks Systems Inc. (www.interworks.com), believed his company was the one for the task.
Cosentini Associates re viewed the bids and made recommendations to a project team, consisting of representatives from DASNY, CUNY, and Baruch. "Aside from having the best price, Interworks' response was the most thorough regarding the scope of work," says Banahan. "They understood exactly what was being called for in the RFP [request for proposal]."
A rapidly growing company, Interworks provides installation of structured cabling products and services in the New York, Connecticut, and New Jersey areas. "We put a lot of planning into everything we do," says DiMarsico. "We analyze each project out for bid, and before we invest our people, our time, and our money, we make sure we have the resources and the capabilities." Ethics, integrity, and reputation are crucial to Interworks, and DiMarsico says, "It's very important to us that everyone in the industry understands our principles and the way we conduct business."
A worry-free warranty
In its detailed bid submitted to DASNY, Interworks proposed the ClearBIT solution, a combination of General Cable (www.generalcable.com) PlatinumPlus Category 5e and CommandLinx 6 Category 6 cable, and Hubbell Premise Wiring (www.hubbell-premise.com) Category 5e and 6 jacks, patch panels, patch cords, racks, and surface raceways. The Hubbell-General Cable alliance was the first of its kind to achieve third-party verification of Gigabit Ethernet performance.
The ClearBIT solution offers the two companies' Mission Critical enhanced 25-year warranty, which extends beyond the required minimum 15-year warranty outlined in the project RFP. "One of the most important aspects of the system is making sure that the design and technology will last beyond the day the building opens, and you have to make sure there is a good warranty that you can rely on," explains Anastasio.
The Gigabit Ethernet system at Baruch's Academic Complex is comprised of the latest technology and cabling, featuring nearly 1.5 million feet of CommandLinx 6 Category 6 cable, more than 500,000 feet of Category 5 cable, and nearly 100,000 feet of optical-fiber cable. The backbone is optical-fiber, with General Cable's 12-strand multimode and 6-strand singlemode fiber connecting a main crossconnect (MC) located in a telecommunications room on the third floor to 37 intermediate crossconnects (IC) located throughout the building.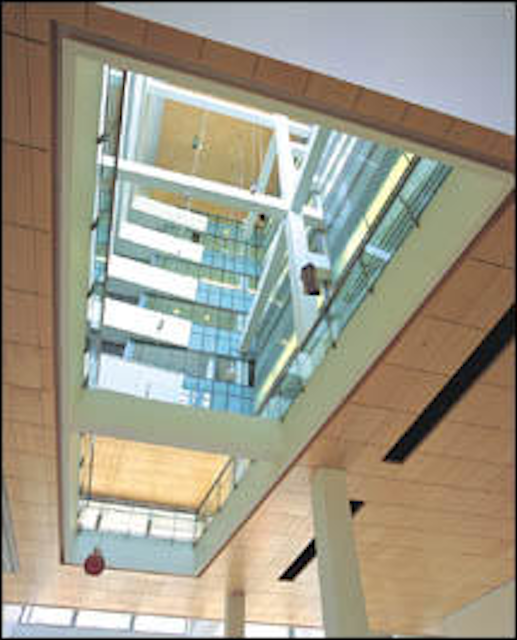 Classrooms and offices for each area of study are centered around the large series of atria that provide plenty of natural light.
Click here to enlarge image
Two ICs are located on each floor, with the exception of floors two through six, which each contain three. From patch panels in the ICs, 180 fiber-to-the-desk connections are also located throughout the building. "Some fiber will stay dark until we figure out campus-wide needs," says Anastasio.
Baruch's Information and Technology Building and the William and Anita Newman Library, located across the street from the new complex, will also be connected to the MC via underground optical-fiber cable entering at the incoming service room located on the first basement floor.
Termination of the General Cable CommandLinx 6 en hanced Category 6 cabling at the MC and ICs is done via Hubbell's Nextspeed 48-port patch panels, while the Category 5 cabling is terminated via 24-port patch panels. In both the MC and ICs, crossconnect equipment is stored in Hubbell racks, trays, and cabinets. The connections-located in 98 classrooms, 39 computer labs, and various offices and locations throughout the building-each contain two Category 5 voice outlets and two Category 6 data outlets. "Con nections are provided in strategic locations where faculty and students can plug into the network, and we also built enough funding into the project to provide up to 50 wireless hubs in the building," says Anastasio.
A core of competency
Bidding on a project the size of the Baruch Academic Complex is challenging enough, but actually winning the bid proposes a whole new set of challenges. On a state-funded job, DASNY ensures the project is completed according to the scope of work. "Baruch should feel very fortunate that they have someone like DASNY to watch over their money," says DiMarsico. "DASNY is a great customer, but if you're not set up for it, it could make or break you. You've got to play by the rules and work through each challenge as it comes up."
For the Academic Complex, like many other state-funded projects, DASNY requires thorough documentation at every juncture. Each part of Baruch's new telecommunication system requires its own identification number and barcode. This includes every cable, patch panel, jack, and faceplate. The logistics alone is a full-time job, says Rich Bruno, Interworks' infrastructure design engineer. "The amount of information that DASNY requires is different than other customers, and staying on top of it is quite challenging." The information will be kept in a specially created database that lets every workstation correspond back to a specific patch panel, rack, and IC, thereby providing a complete road map of the system for future troubleshooting or upgrades.
Other challenges include extremely limited space in the MC and ICs, as well as small delivery windows and just one freight elevator in the building. "We've been able to overcome a lot of challenges because we have a core group of competency," says DiMarsico. "Every one of us, from my middle managers to my purchasers, came from the field." Although Interworks is a young company, its core group of 12 individuals has worked together in the cabling industry for more than 20 years, including the previous up grade of Baruch's Information and Technology Building.
In addition, Interworks is staying on schedule with the help of on-site foreman Mark Cagna, and a project management team headed by Interworks project manager Jeff Bender and representatives from TDX Construction Corp. (the construction manager for DASNY). The project management team ensures that each milestone is met, and TDX ensures that one contractor is not holding up another. "The cabling follows the electrical, and if one contractor is slow, it slows down the entire process," says Bruno. "If Interworks falls behind, we put more people in on nights and weekends. The cabling will be there-we don't have a choice."
A learning environment transformed
The Baruch Academic Complex will accommodate more than half of the school's campus spaces, including a three-floor sports and recreation center, performing arts theater, a 500-seat auditorium, food court, computer labs, bookstore, classrooms, and offices. The Complex will serve as the campus hub, and its Gigabit Ethernet telecommunications system will encourage the use of technology and boost communication between faculty and students.
The most technologically advanced voice, data, and video connections in the classroom will support multimedia instruction and distance learning. "The new technology at the Complex is so important for us," says Baruch's acting provost, Myrna Chase. "There will be no more writing on overhead acetates or wheeling televisions and VCRs into the classroom. It will all be right there, integrated into the entire network and campus."
Baruch's Zicklin School of Business, the largest school of its kind in the United States, and Weissman School of Arts and Sciences will both be located at the Academic Complex. "It's the first time that our schools will be in one building, and the new technology will do a great deal for communication between the schools," explains Chase. "The technology and design of the building will merge learning and employment environments, and that's very important for the future of our students."
Betsy Ziobron is a freelance writer for the communications and cabling industry.