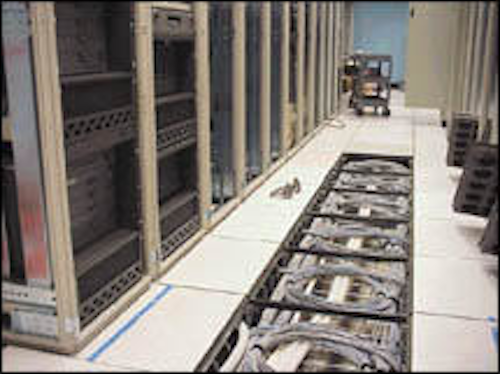 Twin-side rail systems are giving way to more flexible single-rail and center-rail designs.
Traditional-style cable tray systems are giving way to a world of off-the-shelf, flexible systems designed for speed and ease of installation.
While the job requirement of a cable tray system-to support, protect and manage cable-remains constant, the materials and techniques are changing with the developing requirements of evolving telecommunications applications. Flexibility has become the keyword, especially when retrofitting buildings to accommodate new cabling in spaces already crowded with HVAC ducts, pipes and lighting equipment.
To save time and money, installers need to be able to make on-site modifications when faced with unforeseen obstructions, elevation changes and other challenges. Traditional steel, twin-side rail systems-often supporting heavy-duty power supply cables through long spans-while still a viable alternative for many installation solutions, are giving way to more flexible single-rail and center-rail systems. Also emerging are trays designed especially for cable management.
"Cable tray traditionally was used in smokestack-type building environments for power supply," says Jim Sargent, director of product management at Cooper B-Line (www.bline.com). "High-tech cabling has been one of the alarm clocks that has been waking people up to the use of cable trays."
Flexibility a must
Sargent says the U.S. is still heavily dependent on the use of conduit to support cable. But that's changing by necessity, with data cable that is subject to frequent upgrades. "High-tech cable in a closed system doesn't make any sense because you know there is going to be change," Sargent said.
So, if cable trays are meant to simply support the weight of cable through a space, why differ from the traditional, two-sided, ladder-type system? The answer lies in the variety of installation challenges and an increased need for on-site flexibility, speed of installation, minimized labor costs and managing cable through its lifetime.
One company that has taken a radically different approach is Cable Management Solutions Inc. (www.snaketray.com), which has made reducing labor costs the focus of its Snake Tray designs.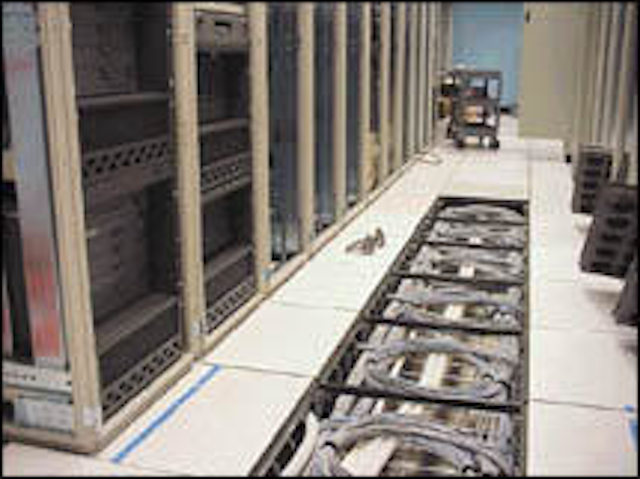 Snake Tray's Snake Canyon raised-floor cable management system can be dropped below the floor at the same time the floor is being installed. The system is also designed for retrofits because it does not use brackets.
Click here to enlarge image
"We've been pioneering a different way of doing our thing," says Roger Jette, Snake Tray president. "We don't want to offer a product to the world unless it reduces cost."
Snake Tray products are manufactured from flexible steel that is bendable without cutting or clipping. The trays are joined by a single CB-10 universal connector bolt that creates a mechanical and electrical bond between the sections. Mounting rings are located above the cable path along the top spine so that the cable can be loaded from the side, while eliminating the need for additional hanging hardware.
The company's Snake Canyon, meanwhile, can be used in a raised floor environment. It combines the technology of the floor system with a cable tray. "It becomes what we call plug-and-play cable tray," Jette says. "We make them to match all of the floor systems that are currently made and that have been discontinued."
Snake Canyon can be dropped in below the floor at the same time the floor is being installed, providing an almost "free ride on construction and installation costs," says Jette. The system is also designed for retrofits because it does not use brackets. Snake Canyon is available in 2, 4, 6 and 8-inch depths providing up to 184 square inches of cable path. Crossing and turning components are available for creating intersections and tees.
The ability to load and unload cable from the side is also driving the development of center-spine or single-rail systems. These trays eliminate the need for cable to be pulled through the tray, avoiding strain on sensitive material and letting you easily remove cable from a span.
The Wiremold Company (www.wiremold.com) offers a center-spine cable tray in its SpecMate line. It features removable, replaceable and interchangeable rungs that the company says permit easy field modification and expansion.
Center for ease control
"Center spine is growing because cable can be laid in from either side, which avoids pulling," says Janet Stanley, a product manager for Wiremold. "There is more of a challenge in pulling communications cable, and the center spine design also makes it easier to remove cables when necessary."
Cooper B-line's center spine system, the Cent-R-Rail, also touts flexibility and installation speed. This high-strength aluminum system is designed to address ceiling, floor and wall-mount installations. The ceiling-mounted Verti-Rack and wall-mounted Multi-Tier Half-Rack systems let you hang multiple tray runs from one center rail.
Another product that promises flexibility-in more ways than one-is Caddy CatTrax from ERICO (www.erico.com). It comes in pre-packaged kits that include five steel support brackets, a 25-foot roll of flexible plastic mesh used to contain the cable, 15 spring-steel bracket clips, 10 plastic splice clips, and five steel restraining straps. A transition kit is also available.
The plastic mesh hangs between the hoop-style support brackets, which you hang from threaded rod drops positioned every three or four feet. Once you've placed the cable in the mesh basket, you secure the system with a steel retaining strap.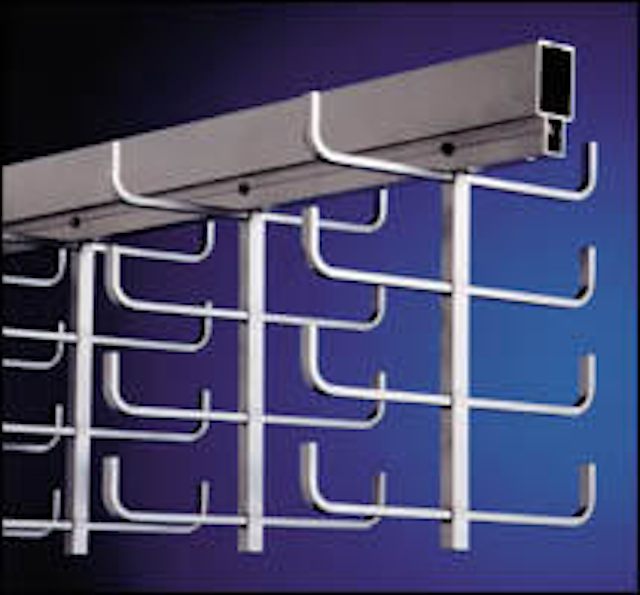 Verti-Rack is a ceiling-mounted center spine system from Cooper B-Line that lets you hang multiple tray runs from one center rail.
Click here to enlarge image
"CatTrax is truly flexible," says ERICO's Barry Gregg, technical marketing specialist/fastening division. "It's ideal to bend, bob and weave around what's up there now."
The hooks in the CatTrax system act as the primary cable support, while the plastic mesh acts as a containment device, like an oversized tie wrap. Cable can be placed or removed by unclipping the hook connectors. Wire-mesh transition pieces can be shaped to accommodate bends and elevation changes, then placed into the plastic mesh to guide its shape. Multiple or single cable dropouts can be run through the mesh at any point.
The Caddy line also includes j-hooks and the Cable Cat 425, which acts as a sling or wrap. Used with threaded rod drops, Gregg says the combination of the products can provide installers with the flexibility they need in a retrofit environment, while saving time, money and material.
The European flavor
The steel wire-mesh system of cable management is another growing segment of the industry. Wire mesh was developed in Europe-where cable tray use dwarfs that of conduit-and is used in an indoor, shorter span environment. FlexTray, the communications division of GS Metals (www.flextray.com), is one such system designed for maximum field flexibility without the need for special accessories for intersections and dropouts.
Sales support manager Belinda Zoller says that while GS Metals continues to manufacture the heavily engineered, steel ladder-type cable tray systems, the datacomm world demands different solutions.
Zoller says FlexTray customers want off-the-shelf, easy to install flexibility without the front-end engineering necessary for a traditional cable support system. To that end, the company designed a steel wire-mesh system that can be customized in the field.
By using the company's patented Clean Shear cutter (a pneumatic version will be available soon) or a common set of bolt cutters, Zoller says you can create a custom system at the job site. Several methods of splicing are available, including a bolting scheme that allows the system to meet UL code as a grounding device.
"We've tried to make our products as fast and easy to install as snapping the pieces into place," says Zoller.
The flat-bottomed tray, meanwhile, is also seeing continued use-especially in situations where hiding the cable from view is desirable, such as in a sports arena and other entertainment-related facilities. Covering options make this style of tray popular.
Make it pretty, too
According to Wiremold's Stanley, hinged and tamper-proof covers, louvered bottoms and a variety of surfaces and colors are all part of the flat-bottomed trays appeal. "In retail, casino and arena applications, where the cable tray is visible, they want the bottom to be painted or concealed," Stanley says.
Companies retrofitting existing manufacturing facilities to include datacomm capabilities will also continue to drive the flat-bottomed tray marketplace. And with the continuous development of new datacomm infrastructure and cable, the needs for their support will continue to grow as will the need for new and innovative cable tray designs.
"Each one of the systems has its own benefits," says B-Line's Sargent. "The end result is there is a lot more selection for installers."
Peter Carvelliis a freelance writer from Temple, NH. You can contact him at: peter@carvcom.com.