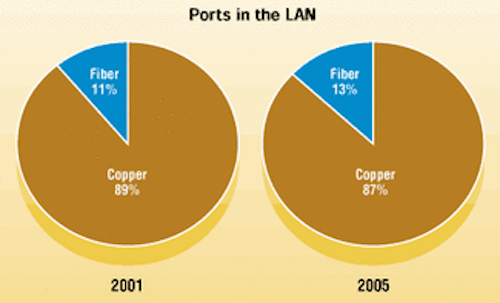 Compiled by Patrick McLaughlin and Ryan Cliche
Category 5 copper cabling, with the help of Fast Ethernet, won the first fiber versus copper battle, but fiber is in a solid position to turn the tide, according to a survey by Cahners In-Stat Group (www.instat.com), a provider of digital communications research from vendor to end user. The report, Copper, Fiber, & Wireless: How Will We Hook Up? provides end-user survey results and five-year forecasts for fiber, copper, and wireless ports. Although copper is much more predominant to the desktop than fiber, the report says fiber can expect to see double-digit growth over the next five years.
Most of this growth to fiber will be driven by the economical multimode fiber. The transition to fiber will be a slow process, says In-Stat Group, as organizations will not immediately begin to rip out copper cabling infrastructures in favor of fiber. Fiber will account for approximately 13% of all the ports in the LAN in 2005, up from 11% in 2001.
With a compound annual growth rate (CAGR) of 23% through 2005, optical-fiber cabling is a promising technology. Even though copper cabling is expected to dominate over the next five years, fiber will reach almost 69 million ports shipped in 2005 for the combined LAN switch and network interface card (NIC) markets.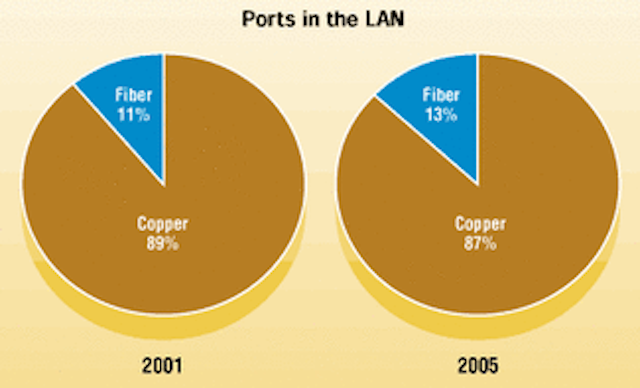 According to a new study by Cahners In-Stat Group, fiber will account for a 2% increase of all the ports in the LAN in 2005. Benefits relative to upgrade options as well as security and quality attributes will drive fiber further into the enterprise.
Click here to enlarge image
In-Stat comes to this figure by tracking and forecasting both the LAN switch and NIC markets on a supply side basis, so that current and historical figures are based upon shipment information
given by vendors. LAN switch ports and NIC cards are considered the primary connectors in the LAN, and therefore, the best indicator of what type of cable is being used. "Because switch ports and NICs do not operate on a one-to-one ratio, I believe it is a better indicator of the market to look at the combined figure as opposed to a derivative 'LAN segment' number, or each of the numbers separately," explains Lauri Vickers, senior analyst, voice and data communications, Cahners In-Stat Group. When the numbers are combined, you can give a forecast for the overall market.
What does this forecast say about the future of the copper market? At the current time, standardized copper cable can only reach Gigabit Ethernet speeds. "No other standards are finished and there are serious doubts about their cost-competitiveness and compatibility with existing copper cable," says Vickers. This means that when a company needs speeds beyond 1 Gigabit, it will most likely go with fiber. While most companies do not need 1-Gbit speeds throughout LANs at this time, it is expected that bandwidth needs will grow over the next five years.
"Copper could have a chance in the future if 10-Gigabit Ethernet over a single 4-pair Category 5 or 5e copper cable at standard distances becomes a reality," states Vickers. "Some chip vendors say it is more than possible, and others say it is not."