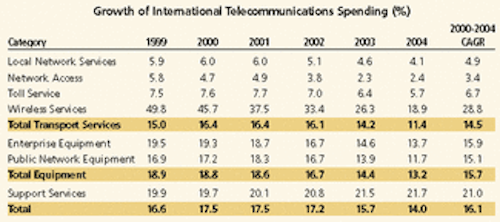 Our intent is to establish a premier organization that will support the needs of carriers and manufacturers so the telecommunications industry can forge ahead," says Matthew Flanigan, president, TIA (www.tiaonline.org). Many TIA standards are currently being used around the world. The TIA is making efforts to expand its leadership on complex telecommunications issues for policy makers as well as the industry as a whole, on a global scale.
TIA's first effort towards a global reach involves setting up its trade association and standards development organizations as autonomous entities. This move, approved at TIA's summer board of directors meeting, is intended to let each organization focus on its respective mission. Its standards development activities currently produce more than 100 standards each year and rely upon the contributions of about 1,400 volunteers.
In planning a spin-off, TIA intends to establish a standards development organization (SDO) for telecommunications that will accommodate service providers and manufacturers, together with others, on a global basis. The plan also provides for the SDO to support the TIA trade association with technical assistance so that TIA can provide policymakers with guidance on telecommunications issues.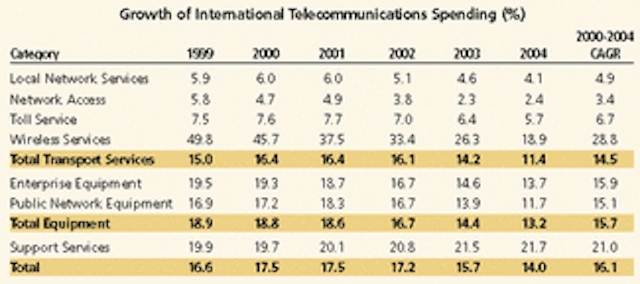 This table taken from TIA's 2001 MultiMedia Telecommunications Market Review and Forecast illustrates the compound annual growth rate (CAGR) of the ever-expanding international telecommunications market. TIA hopes to offer its assistance during this period of rapid growth.
Click here to enlarge image
"We are separating this function of TIA so that standards development can serve the telecommunications industry more widely by having a global membership and reach," explains Flanigan. "Under the plan, all TIA members initially will have automatic rights to participate in the standards development activities without incurring additional dues, while other interested parties, world-wide, will have equal opportunities to be members of the SDO and provide for its governance."
The association is resolving the final details of its plan, which will be reviewed for approval at the November meeting of TIA's board of directors. Further information of the organizational changes will be announced following that meeting.
Working with the neighbors
null
In addition to internal changes, TIA is also forming alliances with the Inter-American Telecommunications Com mission (CITEL-www.citel.oas.org), an agency of the Organization of American States (OAS), to share its resources with other countries. This signed agreement with CITEL will spur a range of activities, including joint projects and publications, seminars, meetings, and training.
The cooperation agreement was signed as delegates from member countries gathered at OAS headquarters for a three-day CITEL working-group meeting. These main areas of cooperation include activities involving CITEL's Permanent Consultative Committee I (PCC I), on public telecommunications services, as well as Permanent Consultative Committee III (PCC III), on radio communications.
PCC III will form an advisory body with respect to standards coordination, planning, and full and efficient use of the radio spectrum and satellite orbits, as well as matters pertaining to the operation of radio communication services in the member states. This forum is designed to promote harmonization in the utilization of the radio frequency (RF) spectrum and the operation of services; foster the development and implementation of modern technologies and new services in the field of radio communications; and coordinate efforts.
TIA and CITEL plan to cooperate as well on a conference to include participation by the International Tele communication Union, among other regional telecommunications organizations, as well as the private sector.
---
Correction
Contact information for Acton Corp. was incorrectly listed in our August issue (Product Update, page 78). The company is located in Ontario, California (www.acton.cc).
In the same article on patch panels, HellermannTyton (www.hellermann. tyton.com) should have been included in the table of vendors. The company offers its GigaBand and MegaBand patch panels for Category 6 and Category 5e respectively, and a 100 Base-T patch panel.