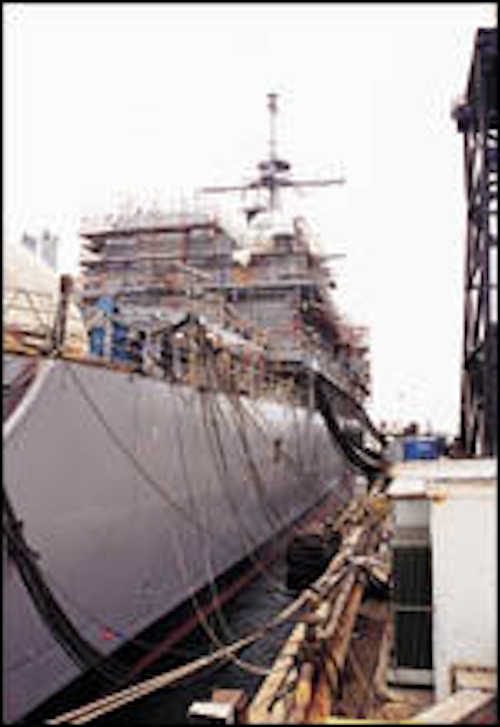 Wiring a ship is like a Lego model-you do it in sections and then connect the sections together.
The U.S. Navy will be putting optical fiber cable to the ultimate test when they reinstate their first two "SmartShips" into the waters. San Diego-based NASSCO (National Steel and Shipbuilders Co.; www.nassco.com) the largest shipbuilder on the West Coast, is refurbishing and building new ships for the Navy, which includes total optical fiber cabling for data, power and automated control systems.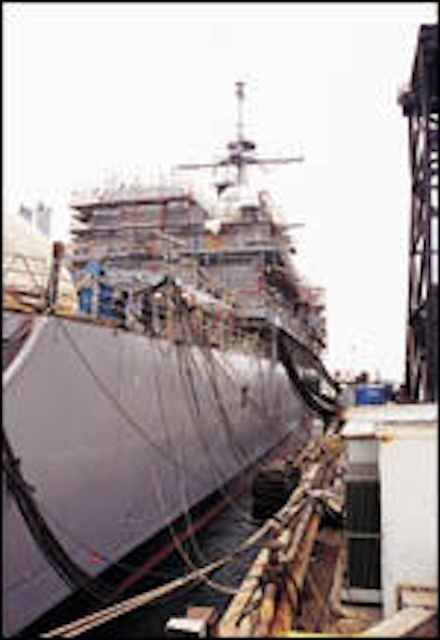 One of the first U.S. Navy "SmartShips," in port at the San Diego, CA shipyard, getting refurbished and rewired to an all-fiber SWAN (Ship Wide Area Network) system.
Click here to enlarge image
"The U.S.S. Cole was a wake-up call for the Navy. It would have been more disastrous if they didn't have a redundant control system," states Andrew Huffman, optical fiber supervisor for NASSCO. "So, the Navy has been reviewing all ships' communication and control systems, and found that optical fiber makes sense. Combine speed with unbeatable bandwidth, reliability, immunity to EMI, and certainly less weight than previous copper systems, and you have a sensible fiber-based SmartShip," he explains. "Bottom line is to keep the ship afloat through calm and perilous seas," Huffman adds.

Together with ship repair contractor Litton, and KITCO Fiber Optics (www.kitco.com)-a government-approved supplier of tooling and test equipment for shipboard cabling-NASSCO installed an all-fiber backbone and horizontal cabling system, and tested all lines and circuits. "From installation to final topology, testing took eight weeks. But it would have taken longer without Microtest's CertiFiber (a bi-directional, handheld tester)," states Huffman. "Without an efficient automatic fiber-optic test set, we would have been running long lengths of the ship, as well as running over deadlines," adds Ali Keramati, optical fiber technician for NASSCO.
SWANs on the water
Cabling a ship is very similar to cabling a commercial office complex. Much like the layout for a LAN or WAN, an optical fiber shipboard system-which includes a singlemode backbone and multimode fiber horizontal runs-is referred to as SWAN (Ship Wide Area Network). But unlike a LAN or a WAN, the SWAN is more than data, voice and video. It is a closed fiber loop that interacts with the control and power of emergency systems, as well as the data, voice and video. Previously, the control system was confined to copper cabling.
SWAN works with several systems, including multimedia inputs from navigation automation, ship controls and fire control. The term "multimedia" on a SWAN system describes the varying types of information traffic distributed throughout the ship, such as voice, video, digital and analog data.
Like office complexes and campuses that are segmented for the backbone wiring to the MDF (main distribution frame) and out to separate IDFs (intermediate distribution frames), the ship is divided into backbone zones. The zones are not divided by the floors, but in vertical blocks, referred to as fire zones.
For the two ships that were rewired by NASSCO, the backbone consisted of five zones, each terminated to ATM switches. "The ATM is nothing more than a giant traffic cop," explains Huffman. "This device is a switching network for high-performance multimedia traffic. ATM provides a higher bandwidth, which supports explosive amounts of information and at higher speeds." Huffman explains that ATM traffic is composed of fixed length cells. Each cell consists of 53 bytes, 8 bits per byte. "Only 5 bytes are used as a header to identify the information. The remaining 48 bytes is used for voice, digital and video information," he says.
Meeting specs
The main difference between commercial and U.S. military installations is that all products selected for Navy and government use must meet established military standards and pass extensive military testing to get on the approved QPL (Qualified Product Listing). KITCO is one of the few manufacturers/distributors of military telecommunications and optical fiber products. "All the cable, connectors, test equipment and even the polishing papers are pre-approved to meeting the MIL-STD-2042B military specifications; otherwise, we cannot spec it in or even consider using it," states Huffman.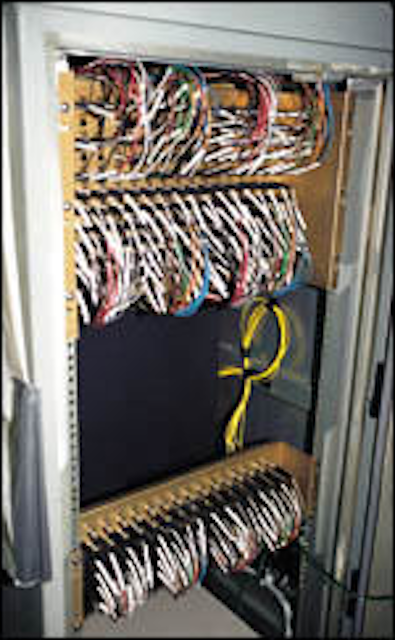 Because it is installed in open, exposed areas, optical-fiber cable aboard U.S. Navy ships must meet stringent Department of Defense specifications that include a tight-buffered cable encased in a zero-halogen, low-smoke jacket.
Click here to enlarge image
Cable installed on the first two ships were General Cable's (www.generalcable.com) 8-fiber multimode, 4-fiber multimode and 8-fiber singlemode. All meet the U.S. Department of Defense MIL-C-85045E specification document, which defines the fibers to be housed in tight buffer tubes, reinforced with aramid yarns, and encased in a zero-halogen jacket. The specification includes passing many tests, such as acid gas generation, halogen content, smoke generation and flame propagation, toxicity, fluid immersion, thermal shock, humidity, tempest and low/high salt water blocking. Use of low-smoke, zero-halogen (LSZH) materials are critical in a shipboard environment to ensure the safety of personnel and equipment.

"We are reviewing the manufacturers of military-approved optical fiber cable, for which there are only two at this time. We found through this installation experience that a major cable feature is a flexible jacket, especially when installing around tight corners of a ship," states Huffman. "Pulling cables at angles less than 90 degrees can create pinch points, which need to be avoided." But Huffman adds, "Another manufacturer, Chromatic Technologies (www.drakausa.com), which we have used, offers MIL-spec qualified shipboard cables with a jacketing variety that is flexible but has inner strength members and kevlar to protect the fiber." Chromatic Technologies offers a thermoplastic or thermoset jacket-rugged but flexible, especially in temperature extremes.
The QPL'd MIL-C-83522 specification for connectors states that ST connectors are to be used for optical fiber backbones. SC connectors are being reviewed by the military since the TIA/EIA have accepted the SC connector as the standard for the telecommunications industry. "Consequently, electronics that have the SC interface have begun to appear aboard naval vessels, and we have added multimode and singlemode SC connectors for 2 mm and 3 mm cables in our military product QPL catalog as a stock item," notes Larry Widgeon, president of KITCO.
For the SmartShips installation, there were 2,986 terminations per ship. Of those, NASSCO installed 80% STs (from AMP Netconnect) and the rest SCs (from Fiber Solutions Inc.).
For testing of all the circuits and connectors, KITCO supplied its Advanced Measurement Quality Jumper (MQJ) test kit, which includes the Microtest CertiFiber for bi-directional testing of multimode cable, and a light source and power meter for singlemode. The complete CertiFiber kit includes handheld transmit and receive remote units, ST-SC hybrid adapters, and ScanLink software to edit, sort and view all link loss verification test data accordance with MIL-STD-2042 and print test results. "The bi-directional testing of the link loss, power loss as well as unique topology testing with the Microtest CertiFiber minimized test time by over 75% over manual power meter techniques," states Hoffman.
Wiring above, below sea level
To rewire the ship's various levels and zones, NASSCO installed 236 different cable runs encompassing 17,000 feet of LSZH optical fiber cable (8-fiber multimode, 4-fiber multimode, and 8-fiber singlemode). "Wiring a ship is like a Lego model-you do it in sections and then connect the sections together," states Huffman.
For connection of each ATM in the five zones, NASSCO installed 8-fiber singlemode cable because of the additional distance and bandwidth needed between the ATMs. Cabling represented one-third of the total hook-up. Since fiber-optic cable is immune to EMI, cable was installed on exposed "U" hangers secured by rubber and metal banding.
Within each zone, the horizontal cabling goes through routers and subrouters called FICB (fiber interconnection boxes) and then terminated to UICB (user interconnection boxes). These are connected with 4-fiber and 8-fiber multimode cables, depending on how many terminations are required in each zone. The FICBs act like "mini-traffic cops" to disperse the information through a particular zone. All FICBs are terminated with ST connectors, like the backbone. The UICB is a sub-router for connection to each individual DAU (data acquisition unit), sensor and monitors in sub-zones. Each fiber is color-coded to a specific circuit controller, and includes both ST and SC terminations. To link the system throughout the ship, multiple RSOSs (remote standard operating stations) consist of a keyboard printer and monitor to let the operator manipulate and access information.
All systems "go"
Before turning over the ship to the Navy, NASSCO performed 5,972 bi-directional tests and 97 different topology tests. "The Microtest CertiFiber saved us a lot of time. It was a real lifesaver. On previous installations, we had to use a separate light source and a power meters, which meant walking back and forth between the terminations to get proper readings for both transmit and receive from each end. The CertiFiber automatically tests both ends (transmit and receive) at the same time," states Keramati. "Once the cables are connectorized, we placed one technician on the transmit end and one on the receive end, and we would communicate through our talk sets."
The automatic link loss tester could test both the multimode wavelengths-850 nm and 1,300 nm-at the same time. The link loss tests connector to connector, one fiber at a time. "Two good link loss tests to do not equal a good topology test, because you have to mate those together. So, we performed topology tests as well," states Huffman.
Topology testing includes testing one cable from the ATM, through the FICBs, UICB, and out to the DAUs and RSOS. "We stationed one person at the ATM and one person at the RSOS, and to test two circuits at the same time,'" explains Joselito "Joey" Paguia, optical fiber technician for NASSCO. "What we are looking at is three mated pairs at no more than 1 dB loss per pair. This tells us if the cables are lined up and if they are good or not good. If it goes over 3 dB, then it's usually the third fiber and the problem can get fixed immediately."
The CertiFiber also compared the measurements against the specifications of the commercial standards set by TIA/EIA-568A (requirements for horizontal optical fiber cabling). A built-in list of LAN standards makes it easy for the technician to select the parameters and immediately read a pass or fail.
Before the ship was inspected by Litton and then by the government, NASSCO downloaded each test to a PC-based report through Microtest's ScanLink software feature. Each test report includes the actual measured loss, the loss limits, and the margin between the two. The report includes applicable reference for each connector and cable runs, as well as confirming certification to today's standards.
"Adding an automatic optical fiber tester for multimode testing to the QPL listing certainly aided in saving time," notes Huffman. "Because of the short length of the singlemode fiber backbone, we used a power meter and light source for link loss and topology testing. This meant manually switching the send and receive units from one end to the other for both singlemode wavelenghs-1,310 nm and 1,550 nm. The good news is that the majority of cabling was not between the ATMs but from the ATMs."
Total control
Precision is paramount when installing, connecting and testing fiber lines. The slightest of defects within the fiber can cause attenuation losses or lack of the optical signal. It was important that all 16 NASSCO journeymen electricians be certified by KITCO's training team in shipboard optical fiber installation and testing. The course qualified the personnel in the MIL-STD-2042A (SH) Fiber Optic Cable Installation for Naval Ships, which was a first for NASSCO.
With the comprehensive training and expedient installation and testing practices of the SWAN systems, NASSCO performed the rework at 6.5% under expected rework and within two weeks of expected completion, which included redundant pathways.
"For a ship's operational capability, it is critical that we installed redundant pathways. It can make the difference between life and death," states Huffman. "For example, when the ship takes a hit on the port side, there is still communication on the starboard side," he explains. "When the ship is involved in an emergency situation, the SWAN system manifests immediate data input so that the progression of the damage can be monitored and can immediately control the water and fire ravaged areas."
Huffman continues, "Within the different zones, these areas can be shut off from the rest of the ship to alleviate further damage and keep the ship operational. You can monitor, but you can't fix it. While the optical fiber cable system will operate at higher speeds to make for quicker and more thorough reactions in an emergency situation, maybe the next step could be to handle automatic repairs."
Concludes KITCO's Larry Widgeon, "This is just the tip of the iceberg. We are anticipating a breakthrough in the combatant ship repair market to all-fiber."
---
Carol Everett Oliver, principal of Everett Communications (Ashland, MA,), is a freelance writer specializing in cable, connectivity and testing of LAN installations (prcarol@pop.ma.ultranet.com).Caren Calsadillois fiber optic product manager for Microtest, Inc. in Phoenix, AZ (www.microtest.com).