New Products
Hitachi Cable Manchester's mini-catalog highlights their high-speed, balanced twisted-pair copper cable offerings
Aug 1st, 2001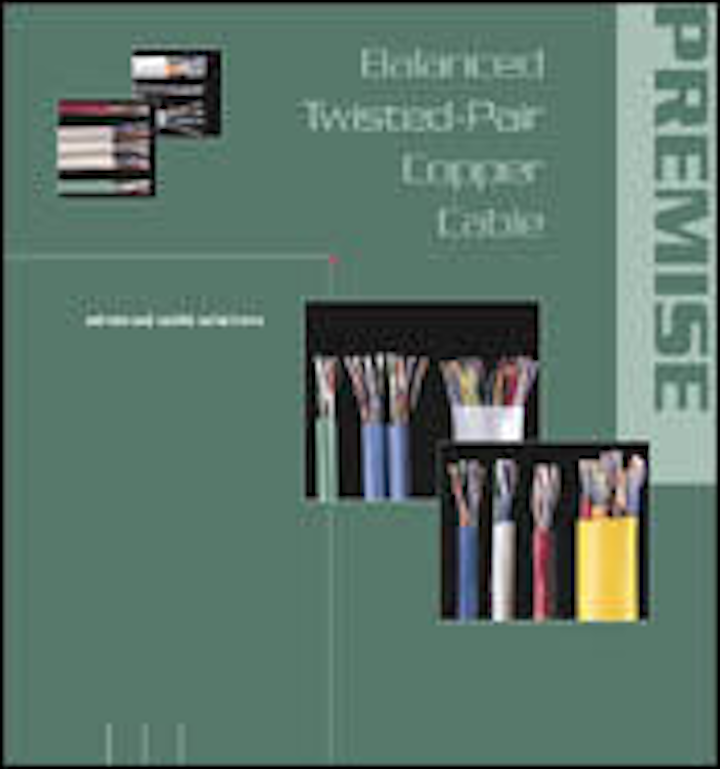 Compiled by Ryan Cliche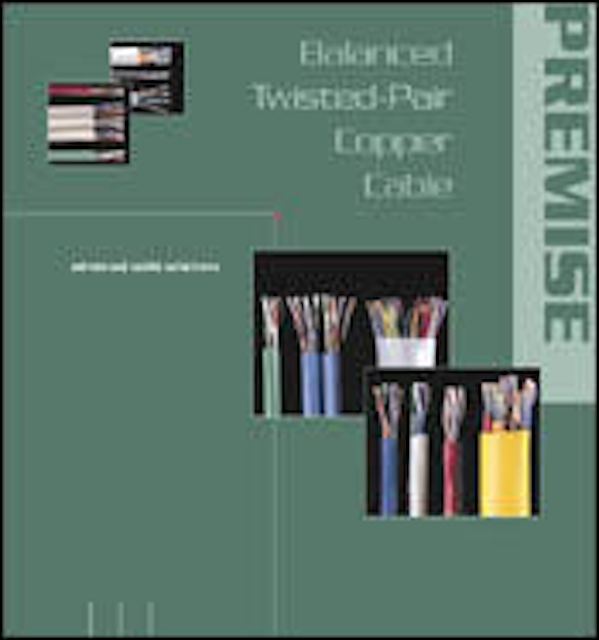 Click here to enlarge image
Category 5e cable info
Hitachi Cable Manchester's mini-catalog highlights their high-speed, balanced twisted-pair copper cable offerings. Featured cables include the Hi-Net 350 (Category 5e with headroom) and Hi-Net Supra (Category 6 with headroom) cable families, as well as standard Category 5e and Category 6 products. Also, the catalog showcases the GoldLAN series of TIA-compliant hybrid cables and Category 5e power sum multi-pair cables.
HITACHI CABLE MANCHESTER INC.
www.hcm.hitachi.com
Technical publication
Solvay Polymers' free technical publication, Process Improvements Lead to Blow Molding Customer Satisfaction describes process involvements in its Fortiflex high-density polyethylene (HDPE) high-performance resins. The publication details the process improvements, including production fine-tuning, data comparison, and resin testing. To obtain your free copy, write to the company or download the publication from the Web site.
SOLVAY POLYMERS INC.
www.solvaypolymers.com
Product brochures
Controlled Power Company offers a four-page, four-color brochure for its 250-VA to 25 kVA single-phase Series 800A commercial power purification systems. This brochure highlights the features, benefits, and specifications of the Series 800A power purifier, as well as a model selection guide for choosing a power purifier for your application. The company's brochure, Power Control Products highlights the features, benefits, and commercial/industrial applications of CPC's nine distinct product families, including uninterruptible power supply (UPS), emergency lighting inverters, shielded K-rated isolation transformers, power line conditioning/power distribution systems, and rectifiers.
CONTROLLED POWER COMPANY
www.controlledpwr.com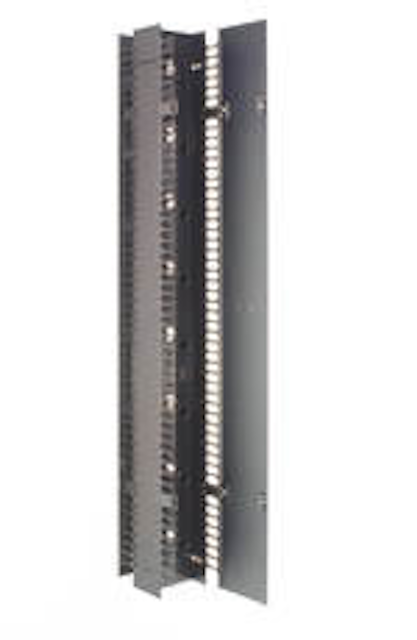 Click here to enlarge image
Routing system, runway kit
Available in single- or double-sided styles; in narrow, wide, or extra-wide widths; and in seven different heights; Chatsworth Products' MCS Master Cabling Section system provides a vertical pathway for routing cable between or adjacent to the company's racks. Cable guides in the system align with rack spacing to let you transition cable from the horizontal to the vertical pathway. The aluminum SwitchGate door/cover for hiding and concealing cabling is a standard feature. Designed to open from either the left or right, the door/cover can also be removed. Double-sided sections have pass-through ports for front-to-back cable routing.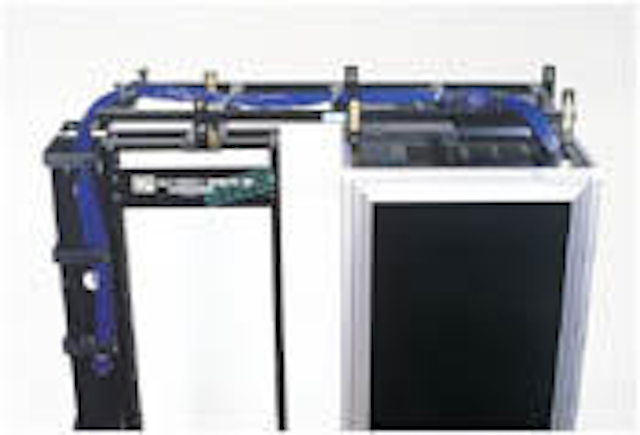 Click here to enlarge image
Chatsworth's patent-pending Cable Runway Elevation kit is designed to meet radius bend requirements of the Commercial Building Standard for Telecommunications Pathways and Spaces (ANSI/TIA/EIA 569-A). The kit is designed to support cables and add space in the area above open or enclosed rack mounting systems, even if the mounting systems are of varying heights. With an adjustable elevation, the kit supports cable runway up to six inches above a row of racks or cabinets and two-tiered cable runway environments.
CHATSWORTH PRODUCTS INC.
www.chatsworth.com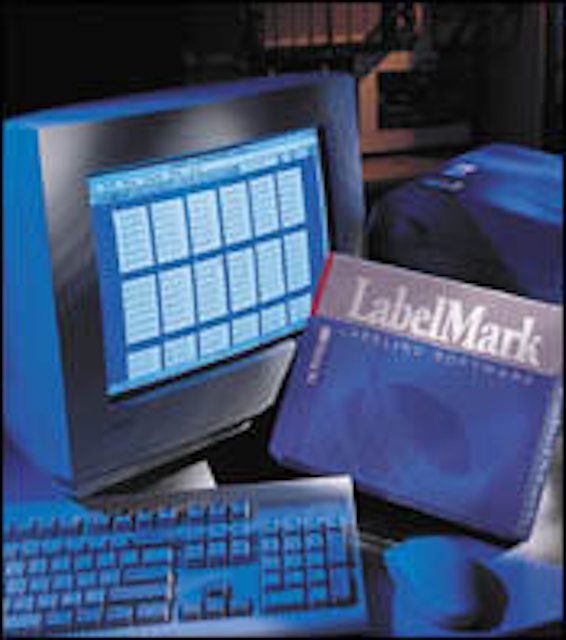 Click here to enlarge image
Labeling software, labeling system
Brady's Windows-based labeling software, LabelMark Version 2, lets you design labels in line-edit or free-form modes, plus gives you the option to import graphical images such as company logos and agency symbols. Also, the software allows for standard label formats to be repeatedly used by applying templates, while masking allows input for certain fields only. Other design features include advanced serializing, printing barcode symbologies, transposing text, and defining unprintable objects. You can change font type, font size, rotate text and objects, and vary line spacing. Changes are seen immediately with single-screen editing.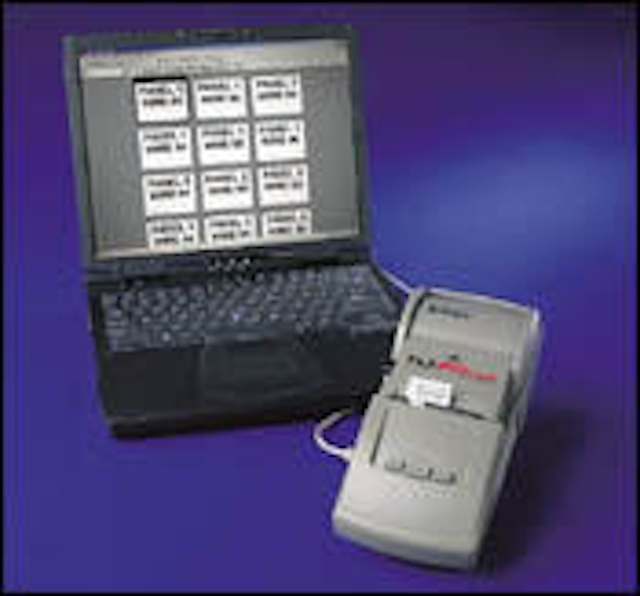 Click here to enlarge image
Brady Worldwide's TLS PC Link creates labels as a desktop or portable printer. The company's patented Smart Cell technology automatically identifies label size and printer settings, so calibration and printer set-up are not required. A built-in industrial cutter gives the labels a clean cut and the printer automatically re-registers the settings. The ribbon cartridge system lets you replace a ribbon in seconds, according to company claims. In addition, upgradeable firmware protects your technology investment and software features can be loaded for free via a designated Web site.
BRADY WORLDWIDE INC.
www.bradyid.com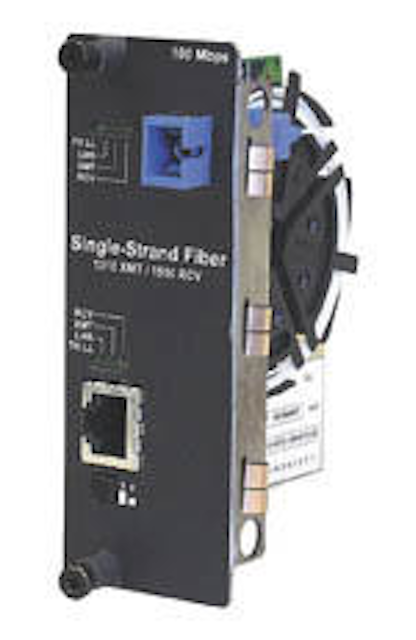 Click here to enlarge image
Media converter
IMC Networks' simple network management protocol (SNMP)-manageable copper-to-single-strand fiber iMcV-LIM SSF is a 100-Mbit/sec Fast Ethernet media converter that lets you double your fiber capacity without pulling new fiber and extend the reach of Ethernet networks up to 50 km over optical fiber, according to company claims. It allows two individual channels to share one fiber-full-duplex data travels on different wavelengths (1,310 nm and 1,550 nm)-doubling the capacity of installed fiber. You may add new customers on existing full-duplex fiber connections without the need to pull new fiber. Fault isolation circuitry alerts managers of a broken fiber cable should one occur.
IMC NETWORKS
www.imcnetworks.com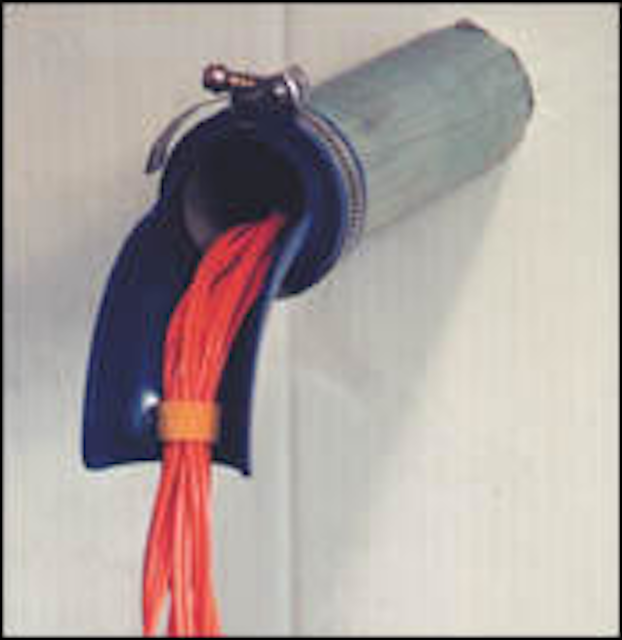 Click here to enlarge image
Cable drop solutions
Cable Management Corp.'s Cable Spillway for 2-inch electrical metallic tubing (EMT) pipe and 4-inch EMT pipe offers a fiber and copper cable drop solution. It is designed to ensure fiberand Category 5e radius compliance for pipe exit and entrance and in fire pass-thru applications. It eliminates trapeze assemblies and protects cable jacketing from sharp EMT pipe edges. Made with a rugged fire-retardant ABS plastic design, you can install the unit with a single snaplock clamp and retrofit existing installations with its split-sleeve design.
CABLE MANAGEMENT CORP.
www.cablemanagementcorp.com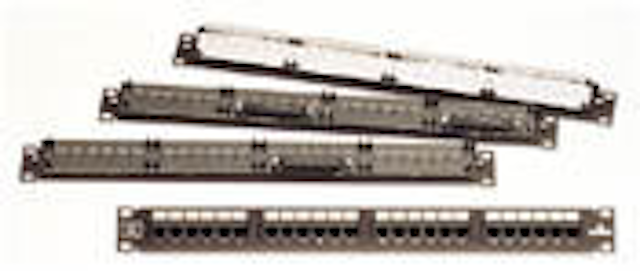 Click here to enlarge image
Patch panels, cable management system
Pre-configured in 24- and 48-port densities, Leviton Voice & Data Division's voice-grade patch panels are designed for voice-grade applications. The panels are available in a 25-pair preconnectorized version and a standard 110 insulation displacement connection (IDC) style featuring a rear label that delineates 1-pair and 2-pair termination and shows 25-pair color-coded termination. These panels mount on standard 19-inch TIA- approved equipment racks and accommodate top, bottom, and side cable entry. To facilitate in the laying of cables, a cable management bar is offered as an accessory.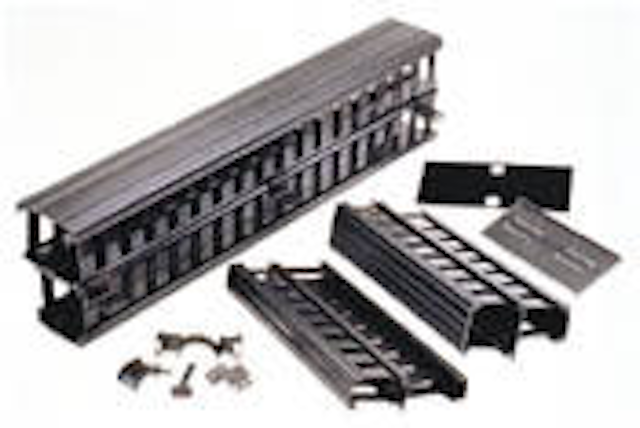 Click here to enlarge image
Leviton Voice & Data's Versi-Duct system mounts on standard 19-inch TIA-approved equipment racks and accommodates top, bottom, or side cable entry. The vertical and horizontal duct is offered in "front and back" and "front only" configurations. The horizontal duct is available in one rack unit (1.75 inches) and two rack unit (3.50 inches) sizes. This system eliminates contending with an array of duct sizes and configurations. Vertical and lateral dividers, slack loop storage organizers, bend-radius-compliant routers, cable retainers, and mounting brackets are included with the system.
LEVITON VOICE & DATA DIV.
www.levitonvoicedata.com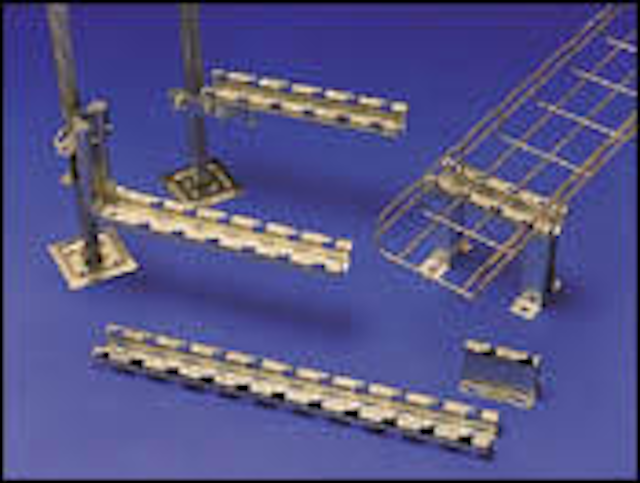 Click here to enlarge image
Cable tray supports
Cablofil Inc.'s line of corrosion-resistant underfloor support (UFS) products is custom-made for under floor cable management applications. The 22-inch FAS Profile stand is designed for 24-inch grid underfloor supports and rests at floor level. A 3-inch UFS support stand adds height, and a 6-inch UFS 150 stand gives you more ability to change levels and avoid obstructions. UFC support clamp pedestal supports attach FAS L-brackets to access floor posts with a support plate that works with square or round posts. Also designed to work with square or round posts, the UFCN support clamp pedestal support secures FAS profiles to access floor posts with a snap-on-and-bolt design.
CABLOFIL INC.
www.cablofil.com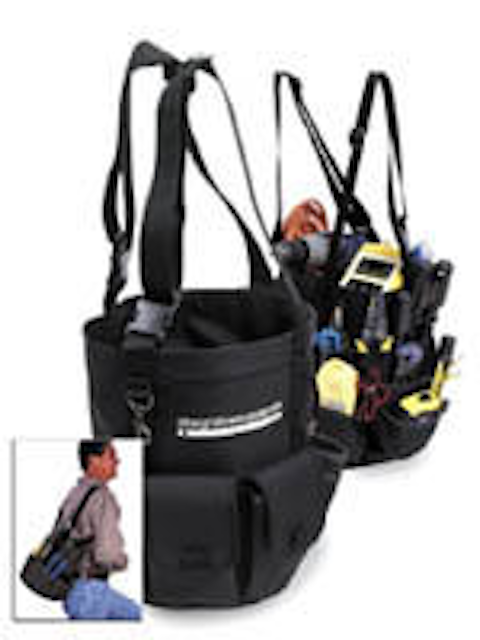 Click here to enlarge image
Equipment bag
Made from 600D ballistic nylon, StraightlineSupply.com's Bag Bucket lets you carry up to 60 pounds of equipment, hands-free. The 36 pockets and pouches are designed to hold tools, testers, cords, etc. and may be carried either by hand or slung over the shoulder. It weighs 12 pounds and stands up on its own for convenient access.
STRAIGHTLINESUPPLY.COM
www.straightlinesupply.com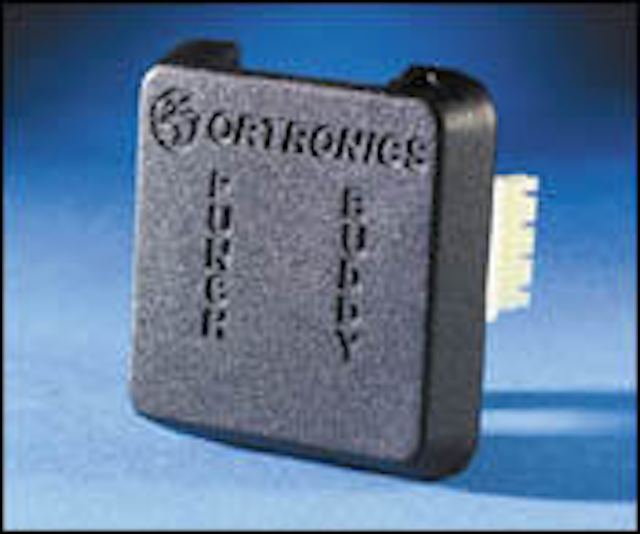 Click here to enlarge image
Module accessory
The Ortronics Punch Buddy is a small, molded plastic work base that holds the individual jack during termination. This accessory is designed for use with the TracJack module and compliment practices during termination. Designed so it can be laid on a surface, in your hand, or along a flat edge, the unit will stabilize the jack termination at patch panels, workstations, or confined areas where you may need to install both regular and angled jacks. Two are shipped per standard carton of 100 of the company's modules, or these accessories may be sold separately.
ORTRONICS INC.
www.ortronics.com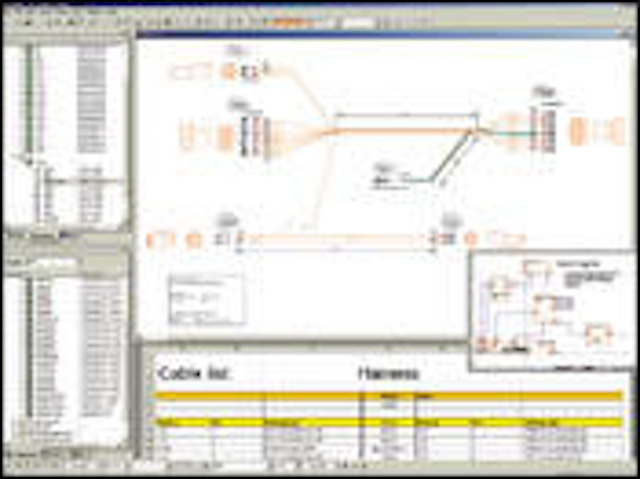 Click here to enlarge image
Design and documentation software
CIM-Team Inc.'s E3.cable SecondEdition Windows-based software designs and documents complex wiring, cabling, and wire harnesses. By use of the multiple display capabilities, you can depict a complete connector and its connections as a single pin, single connection representation or, alternatively, by all pins and all connections. Functionality has been enhanced to allow for single pin representations to be split into individual pins, or for individual pins to be combined into single pin representations, or any combination of the two. "Black box" functionality lets you split these functional blocks into any number of "sub" blocks that can be placed, as required, on any drawing sheet. Also, existing connections to pins on a connector may be changed by the use of the "reconnect" command or by selecting a new connection point from a drop-down list.
CIM-TEAM INC.
www.cim-team.com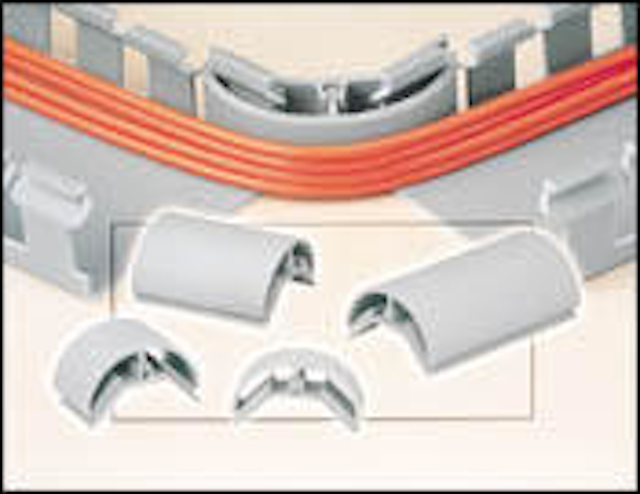 Click here to enlarge image
Duct attachment
Panduit's Duct Corner Strip fits inside of the company's PVC wiring duct to provide (TIA-compliant bend radius control and smooth edges at corners and T-junctions. The strips feature a 2-piece design that offers efficient installation and convenient removal during panel modifications. These strips with 1-inch bend radius control are available in five pre-cut sizes, ranging from 1 to 4 inches to match wiring duct wall heights, or they can be purchased in 6-foot lengths and hand-cut for special applications. Also, the strips are formulated of lead-free PVC to eliminate any health concerns associated with PVC that contains lead.
PANDUIT CORP.
www.panduit.com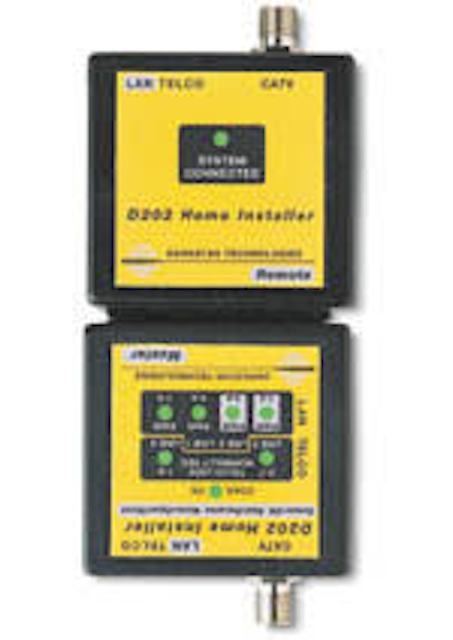 Click here to enlarge image
Installer tool
Darkstar's D202 cable tester operates from a standard 9-V alkaline battery and tests cable continuity. Both the master and remote modules contain a dual-mode 8-pin modular connector for use with unshielded twisted-pair (UTP) cables as well as an "F" connector for use with television coaxial cables. LED indicators on the master unit indicate if LAN pairs are open, shorted, reversed, or terminated. The 2-piece design lets you test cables before or after they have been pulled into place.
DARKSTAR TECHNOLOGIES
www.wiremap.com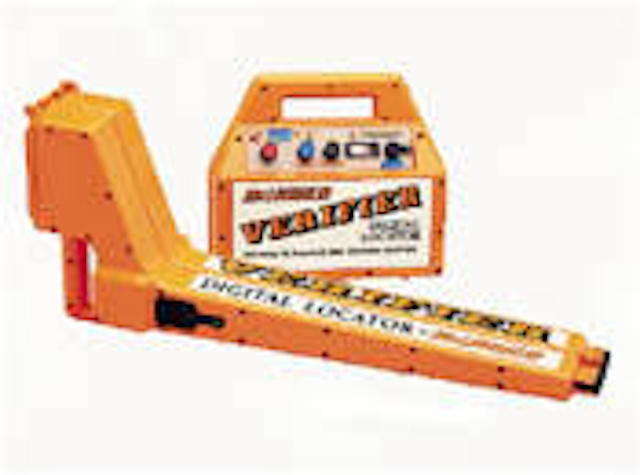 Click here to enlarge image
Digital locator
McLaughlin's Verifier multiple-frequency digital pipe and cable locator is designed to detect buried metallic utilities, and an optional transmitter probe lets you locate non-metallic pipe or conduit. In addition, it passively tracks live electric and telecommunication lines. Multiple coils in the unit's receiver measure the magnetic field and translate to the exact location and depth to 16 feet on a digital liquid crystal display (LCD). The high-gain filters and current measurement index assist in distinguishing multiple lines in congested areas. No cal ibration is required and the unit is water-resistant.
MCLAUGHLIN MFG CO.
www.mightymole.com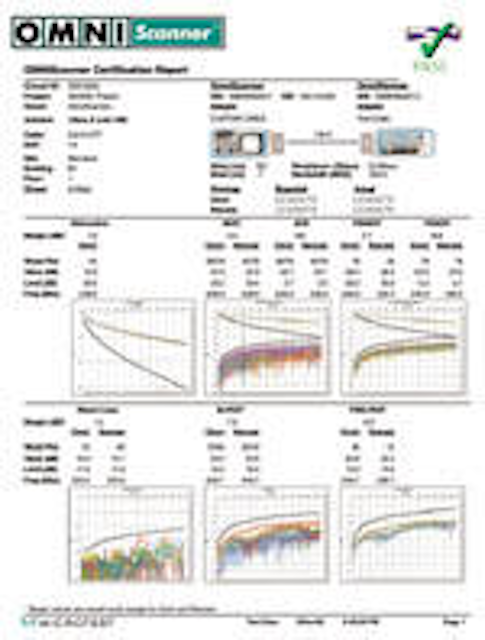 Click here to enlarge image
Tester enhancements
Microtest announces software updates for the OMNIScanner tester line designed to provide diagnostic tools and ensure long-term compliance with upcoming TIA and International Organization for Standardization (ISO-www.iso.ch) standards. Localized language support lets you provide both certification reports and all operating and user interface aspects in your native language. Using a proprietary algorithm, a measurement function diagnoses the presence and severity of external noise sources that may impact network performance. A compatible audible tone generator traces wires behind walls or ceiling panels, in wire bundles, or at punchdown locations in wiring closets. Also, the testers have been updated to comply with proposed TIA 568B, Category 6, and ISO 11801 2nd Edition standards.
MICROTEST INC.
www.microtest.com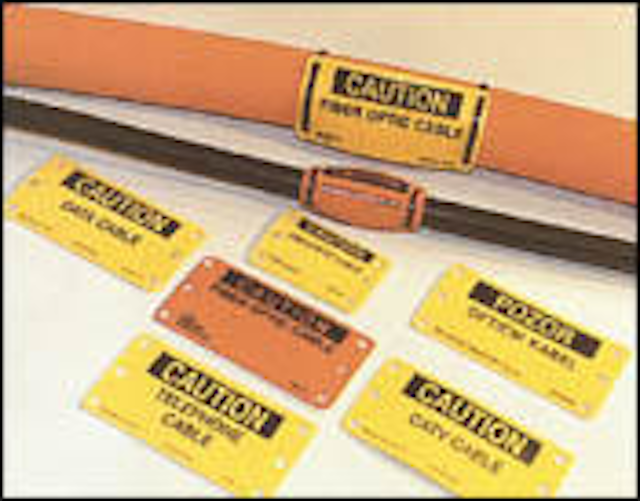 Click here to enlarge image
Identification labels
VIP Division's Hefty-Poly cable markers are available in two stock sizes: 2.25x1.5 inches and 3.5x1.75 inches. They can be attached to the cable with ultraviolet (UV)-resistant self-locking ties (sold separately). Made from durable plastic, the labels are designed for indoor, outdoor, and underground applications and resistant to heat, cold, and UV light. The markers come in packages of 25 and are available with seven different legends. Custom colors, sizes, and legends may be ordered.
VIP DIVISION
www.vipdivision.com


---
By the Book
Optical engineering, and then some
The Third Edition of Modern Optical Engineering, by Warren J. Smith, goes into a subject to a depth that most of us in the cabling industry may never need. Those who do need in-depth information, however, will find chapters on image formation, aberrations, prisms and mirrors, the working of the eye, stops and apertures, optical materials and interference coatings, radiometry and photometry, basic optical devices, optical computation, and image evaluation. The book concludes with several chapters on designing optical systems. The illustrated, 600-page hardcover comes with a CD-ROM. It retails for $79.95, and is published by the SPIE Press of McGraw-Hill (www.books.mcgraw-hill.com).
Briefly noted:

Linux Routers: A Primer for Network Administrators, Tony Mancill, copyright 2001, Prentice Hall (www.phptr.com). List price: $44.99.
HP Certified: HP-UX System Administration, Rafeeq Ur Rehman, copyright 2000, Prentice Hall (www.phptr.com). List price: $59.99.
-Arlyn S. Powell, Jr