Take charge of static and save your tester
You will often find a static charge in Category 5 cable. This is due to the fact that the charge is still retained in the cable that was tested by the manufacturer. Another way the cable becomes charged is when the cable is pulled through conduit or rubbed on any solid surface
Aug 1st, 2001
problem
You will often find a static charge in Category 5 cable. This is due to the fact that the charge is still retained in the cable that was tested by the manufacturer. Another way the cable becomes charged is when the cable is pulled through conduit or rubbed on any solid surface. It is possible to build a charge in the cable even after the cable has been discharged. When you discharge the cable and make your punchdowns, you may still feel a shock if the charge builds up.
solution
Before you make your punchdowns or plug in your tester, "short out" all of the pairs using an 8-pin modular plug and a spade terminal. Taking this precaution of extracting the static from the cable will decrease the chance of damaging your tester or receiving a shock yourself.
procedure
Create an adapter with an 8-pin modular plug and attach this adapter to one end of the cable.
On the opposite end of the cable, strip three inches of the sheath from the cable so that the conductor insulation is exposed.
Strip one inch of this conductor insulation and twist the ends of the exposed wires together at the end opposite the adapter. Insert these twisted wires into the barrel of a spade terminal and crimp the barrel.
Remove the adapter. Now you are ready to test your cable.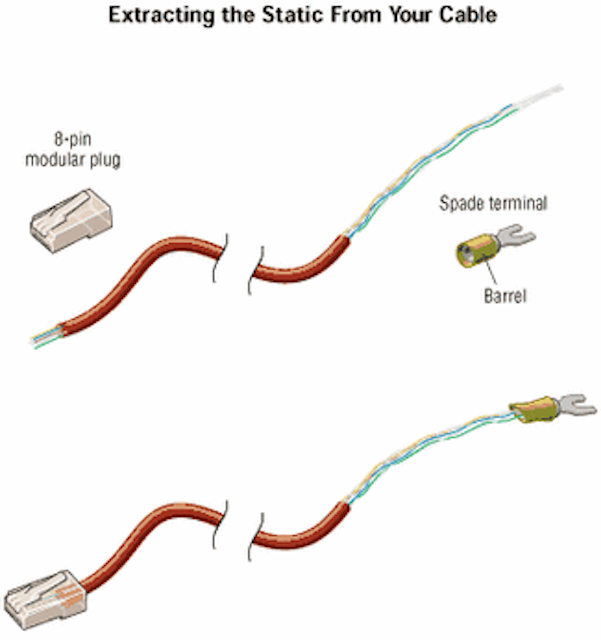 An 8-pin modular plug and spade terminal may be used to extract the static charge from your cable
Click here to enlarge image
The spade terminals mentioned in this tip may be found at your local hardware store in the electronics section.
If a spade terminal is unavailable, these twisted wires may be held in place by using a "sta-kon" or wire nut or by soldering the ends.
---
Bob Poston is a cabling installer from King of Prussia, PA. He has spent 45 years as an installer, foreman, and supervisor working with electrical and communications cabling. He is a member of Local Union 98 IBEW.