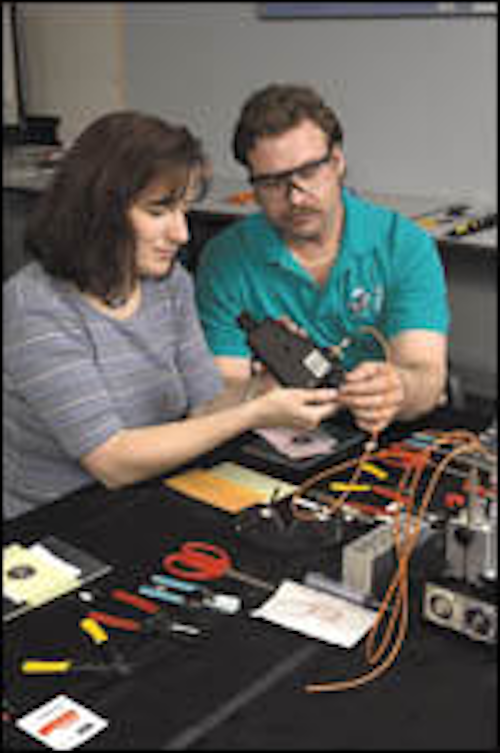 With the industry in a slowdown, now may be the best time to get your skills up-to-speed.
While the need for further training in copper and optical-fiber installation is being pushed by constantly evolving technology, many contractors say their growing challenge is finding qualified workers who can properly handle both copper and fiber. Instructors and contractors agree that yesterday's cable installers focused mainly on the wire itself, but that today's and tomorrow's installers need to be able to do much more.
"The other day, this guy had some Category 5 cable to put in," says Jim Hayes, president of test equipment-maker and cabling educator FOTEC (www.cableu.net). "He spliced it with telephone splices, and that ruined the performance of the cable."
Adds Dick Dunfee, training program manager for BICSI (www.bicsi.org), "Every day in our classroom, they [installers] prove they don't know as much as they think that they know."
More skills to keep pace
"If you took some training five years ago and haven't been retrained, the technology has changed, and new and more stringent requirements require greater knowledge and skills for today's technicians," says Larry Johnson, president of The Light Brigade Inc. (www.lightbrigade.com), an optical-fiber training company.
The slowing economy has had an impact on both the communications/ cabling industry and the electrical industry, according to Pat Gill, communications program coordinator for the International Brotherhood of Electrical Workers (IBEW). Gill says the brotherhood has seen 5% unemployment among its members and no dramatic demand for new hires from contractors. But despite the industry slump, training courses are flourishing.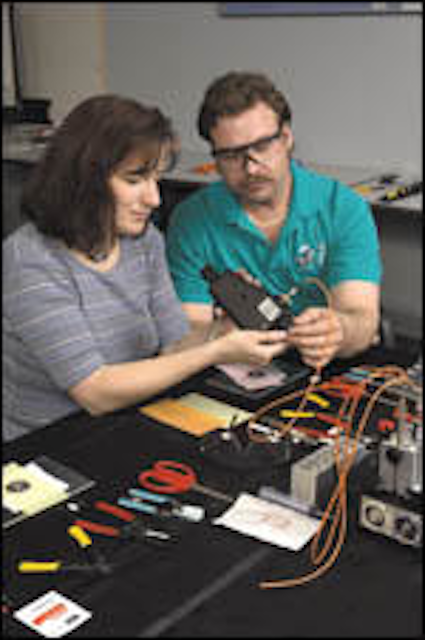 Cameron Karch, an instructor for The Light Brigade, shows student Pam Wooten how to use an ST connectorization station to complete a visual inspection of the surface quality of a recently polished cable.
Click here to enlarge image
Telecommunications association BICSI reports it is seeing more students in its classes this year.

To accommodate them, BICSI has increased classes from three and a half a month to six a month, with the average number of students in each class going from about eight last year to 12 this year. BICSI instructors believe contractors are taking advantage of the economic slowdown and trying to learn about new techniques and technology while they can, with the expectation that work will pick up again next year.

But there's now more to it than just being cable-wise.

"They need to have a fundamental knowledge of networking," adds Scott Knell, manager of education alliances in Cisco Systems' Worldwide Education Group (www.cisco.com/edu). The group offers basic training for cable installers. "You find that most installers are quite concerned that many will lose their jobs if they didn't start upgrading their knowledge beyond cable and wires."
BICSI, the Communication Workers of America, IBEW and the National Institute for Certification in Engineering Technologies (www.nicet.org) all offer installation courses. Some, like The Light Brigade, are offering a series of new courses in sonic architecture, multiplexing, protocols and dense wavelength-division multiplexing (DWDM) that help installers understand the component level of cable installation.
But Knell says finding installers who can handle the latest in technology isn't the only challenge. He says the demand for installers who have basic skills is just as pressing. "We still need a lot of entry-level installers," says Knell. Hayes adds that it is increasingly difficult to find properly trained professionals, even compared to six months ago, because he says not enough installers are trying to keep their skills up to date.
Contractors say the need to find installers with up-to-date skills will be driven further by a growing demand for home theater installation and fire alarms, as well as an increased awareness and need for commercial security systems. And, as Hayes points out, cabling technologies within any particular building are becoming increasingly complex, requiring diverse skills.
"If you look at a building, [it] may have eight or nine different kinds of cable in it: electrical cable, grounding, computer cable, telephone cable, security cabling, card entry systems, video, cable TV, building automation," says Hayes. "And we haven't touched on the fact that a lot of buildings have entries from a number of different telecommunications suppliers, and large department buildings have multi-tenant telecommunication rooms. They have miles of cable."
Still behind the times
Dave Engebretson, president of optical-fiber training company Slayton Solutions Ltd. (www.slaytonsolutions.com), says that while the lagging economy is slowing the development of newer cabling technologies ("Things are being developed, but they are not being brought to market. "No one is buying anything."), he believes that many installers still fall short of the mark when it comes to working with technology that has evolved during the past five years. "The speeds of the systems constantly increase," adds Johnson.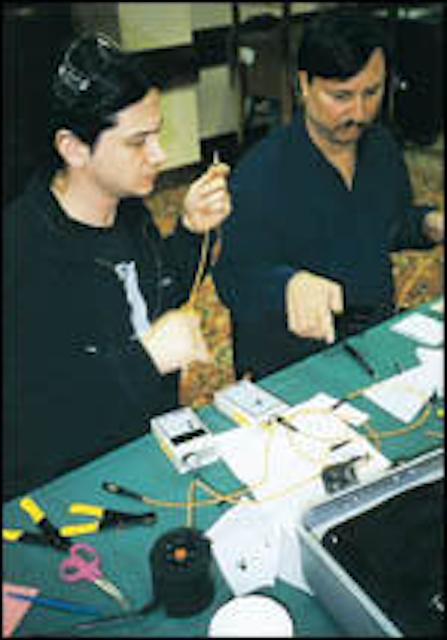 Two students use an optical fiber meter and power source to test the cable they have just prepared at FOTEC's Cable U training facility in Boston.
Click here to enlarge image
He says recent developments in increased communications bandwidth and high-end optical fiber are pushing the level of complexity. And faster computers are demanding cabling that can transmit data at a high speed. All of these factors call for installers who are familiar with existing technology, and who can meet new challenges head-on.

For example, Johnson says, data-rate increases can require adding a laser to an optical-fiber system. And with it comes potential noise problems from reflections and echoes. Installers, Johnson says, need the proper training to know how to address such crucial problems.
"It's a very costly issue," says Johnson. "A person who hasn't taken training doesn't understand these impacts. They make mistakes, and it costs them in lost revenue."
As speeds rise, Johnson says, so must the network's reliability. Accordingly, he adds, "The knowledge of the technician has to increase. His capabilities and skills have to increase. These are essential."
While some installers say they feel overwhelmed by the constantly changing technology and the need to keep up, others say that scenario should only fuel the efforts to seek new training.
"The technology is changing so fast, I'd say we are probably five years behind the computer in the area of running the wire and with installation," says Carl Mock, assistant administrator for telephone systems for Space and Warfare Command in Pensacola, FL.
Mock says that just two years ago, Category 5 and Category 5e cables could adequately serve high-speed computer communications. But today, high-speed computers may require Category 6 cables, and installers need to know when and how to install it.
"We as installers have to keep up," says Mock.
The basics and beyond
The basic skills, blended with a focus on emerging cabling technologies, are at the core of today's training courses. Most focus on the differences inherent in copper and optical-fiber cabling, seeking to teach the nuances of optical-fiber technology while exposing the myth that today's contractors think they know everything that they need to know about copper cabling.
But some instructors say they are seeing students who don't measure up to even this basic training level. Knell, for example, has found many installers who have worked with optical fiber but have never worked with copper cabling. "There are many people we [Cisco Systems] have trained who never touched copper," Knell claims. In that case, "You have to start from the beginning."
BICSI's Dunfee notes that "we get complaints [from students] that we rehash old stuff." Some students feel the copper cable installation is basic. But it isn't, Dunfee claims. Copper wiring has gone through many transitions, making it more complex to install than in the days of Category 3.
Corey Aikens, a network implementation manager for Branch Banking & Trust in Winston-Salem N.C., agrees that installers cannot learn enough about copper cabling. They need to know, for instance, when a Category 3 cable will work in a given situation, or when a higher category is necessary.
"No one will know as much as they need to know about copper cabling. There is no way possible," says Aikens, who was certified by BICSI in 1996.
Termination expertise needed
Optical fiber, meanwhile, continues to present its own challenges for installers. While Aikens maintains that optical fiber is the best medium for high-speed data interchanges, when it comes to termination, dealing with optical fiber can be much more labor-intensive than working with copper. Not knowing the proper termination methods, Aikens says, increases the possibility of making a mistake-increasing the installation cost in the process.
Contractors, too, need to be optical-fiber savvy. Aikens says contractors need to know when to use multimode or singlemode fiber, and whether a cabling job calls for core optical fiber that is either 62.5 µm or 50 µm in diameter. Contractors also need to know which of the latest connectors are necessary to complete the job, and how to polish the cable onsite to keep it free of oil and other impurities.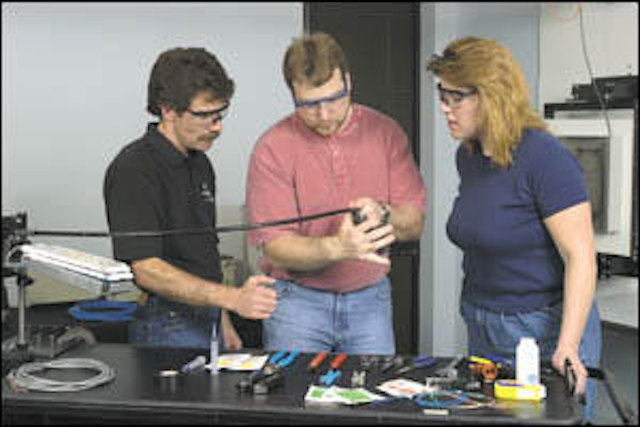 The Light Brigade technician Phil Shoemaker (c), shows students Steve and Trina Rounds how to ring an optical fiber cable.
Click here to enlarge image
Johnson believes many optical-fiber installers are fully capable of conducting multimode terminations and testing, but may not be properly prepared to handle singlemode fiber. Singlemode terminations are more complicated because tolerances are much more stringent, and flat polishing techniques used during multimode fiber termination can cause reflections.
All of which means that training to know the right equipment can be as important as learning the right methods. Many installers, Johnson says, don't realize they need to use a reflectometer during singlemode fiber termination. "Most users don't know how or have the equipment to measure reflectivity. "Other pieces of equipment can do it, but you have to know their limitations, how to use it correctly. You have to understand reflection issues."
Training is also needed to keep pace with the changing rate of data exchange speeds. For instance, lasers that transmit data through optical fiber still cause reflections, resulting in noise that can be beyond the grasp of an untrained person.
Installers can certainly learn to work with these different types of cables from on-the-job training. But obviously, that can be costly. "A lack of knowledge is a painful and expensive lesson," says Johnson.
---
Nothing beats hands-on
Installers can find a lot of opportunities to get cable installation training on the Web, but many say nothing beats the hands-on approach. BICSI's Dick Dunfee says installers need to be able work with cable and feel, for example, what it is like to have 25 pounds of pressure placed on it.
"They come up with nine pounds and think it's 25 pounds," says Dunfee.
This isn't to say that Web-based courses don't cut it. They do. Virtually all schools now offer sites that provide installers online training in communications wiring, structured cabling, cable preparation, plug termination and the like.
"The problem is, there is no human element," says Larry Johnson of The Light Brigade. "You need to talk to someone in real time and say, 'I don't understand this,' or, 'How does this work?'"
Corey Aikens, a network implementation manager, agrees that Web-based courses can provide installers with a foundation of knowledge, "but unless you get it [education] hands-on, and touch it day-to-day, you won't know what the challenges are. There is no way a Web-based course can give you all the tools you will need if you are an installer."
---
Brian Milliganis Senior Associate Editor with Cabling Installation & Maintenance.