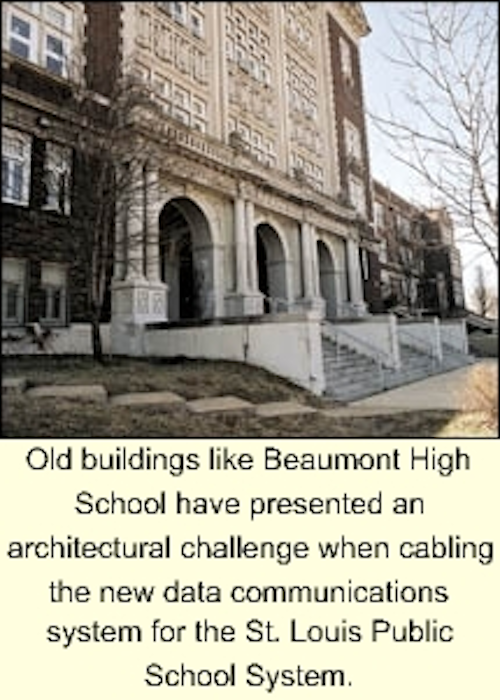 Cabling solutions bring 21st Century technology into St. Louis schools.
The recent buzz around the nation has people talking about the need to improve our public schools and education system. The integration of technology into the classroom is one sure way to upgrade how teachers teach and students learn. Recent studies show that students who graduate with expertise in the use of modern-day technology have higher cognitive skills and are better prepared to enter college and the workforce.
In integrating technology into the classroom, Missouri's St. Louis Public School System is receiving top-notch cabling solutions to provide the latest data communications to 44,000 students in 108 schools.
A giant step up
At every level, the U.S. government is spending billions of dollars on communications technology for schools. The Universal Service Fund for Schools and Libraries provides discounted services on telecommunications, Internet access, and internal cabling connections through its E-rate program. Under E-rate, discounts ranging from 20% to 90% are paid directly to companies that provide technology services to the schools.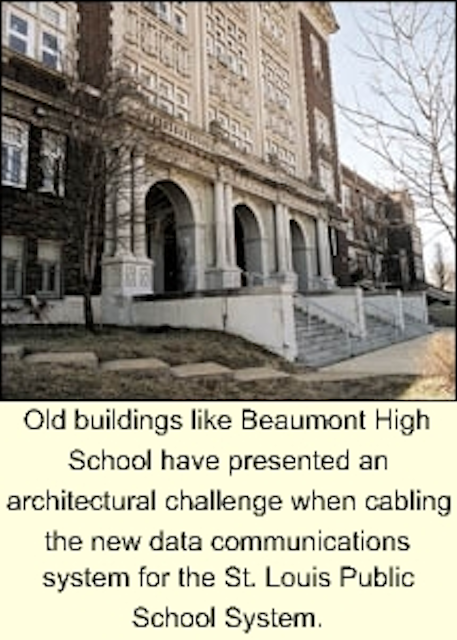 Old buildings like Beaumont High School have presented an architectural challenge when cabling the new data communications system for the St. Louis Public School System.
Click here to enlarge image
When the St. Louis Public School System was granted E-rate funds on July 1, 2000, they had little more than a working LAN at each school. "The technology in place was extremely limited," explains Mike Jackson, electronics supervisor responsible for coordinating network infrastructure at the schools. "What we did have was primarily used for computer labs, libraries, and administrative offices."
Dietrich Lockard Group (www.dietrichlockard.com), a St. Louis management consulting firm specializing in telecommunications, designed a new Ethernet network for the St. Louis Public School System. A $47.5 million project, the new system utilizes Category 5E cabling to provide 12 connections in each of the 3,000 classrooms throughout the district. In each classroom, crossconnection equipment is housed in Hubbell Premise Wiring's (Stonington, CT; www.hubbell-premise) Rebox, a remote equipment cabinet.
The heart of the system is the network control center, located at the board of education offices. Each of the 108 schools contains a main distribution frame (MDF) and intermediate distribution frames (IDF) located in telecommunication closets on each floor. To maintain security of remote crossconnection equipment, Hubbell full-size and 4-ft wall-mount cabinets were chosen for each of the MDFs and IDFs.
"Copper is used to connect classrooms to IDFs, and the fiber optic backbone of the system connects the IDFs to the MDF within each school," explains Don Dietrich, vice president of Dietrich Lockard Group. "Each school is then connected to the network control center via a T-1 connection." The system was designed utilizing 50-micron multimode fiber, but due to lack of availability, most schools had to be installed with 62.5-micron multimode fiber. Each school was cabled using one single type of multimode fiber, and the project required that all fiber and copper cable meet EIA/TIA specifications.
A strategic approach
Organizing a consistent cabling installation with seven separate contractors presented a major challenge for system designers. The situation was further complicated by E-rate's requirement of a one-year turnaround time. Coordination, from filing E-rate documents to cabling the schools, required a strategic approach from the very beginning.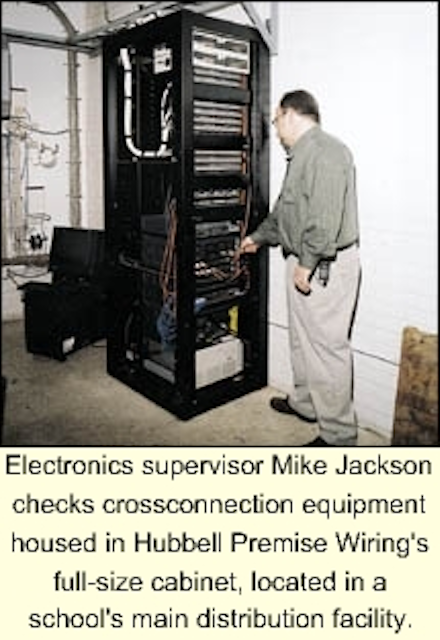 Electronics supervisor Mike Jackson checks crossconnection equipment housed in Hubbell Premise Wiring's full-size cabinet, located in a school's main distribution facility.
Click here to enlarge image
In applying for E-rate funds, the school system was filed as an entire district rather than on a school-by-school basis. This provided the flexibility of incorporating additional money to cover changes that crop up during installation, such as an increase in the required number of connections. Lori Thompson of Dietrich Lockard, who is responsible for managing the system's cabling design, explains, "After the first couple of schools were cabled, we needed to make modifications to the scope. Filing as an entire district gave us the ability to make necessary changes in a timely manner without having to re-file plans and delay progress."
In the initial phases of cabling, each contractor provided the designer with blueprints indicating locations for drops, MDFs, and IDFs at their assigned schools. "Once we gave our approval, the contractors submitted a form with a detailed timeline and bill of materials," explains Thompson. Dietrich Lockard, the school principals, and electronics supervisor Mike Jackson all signed off on the forms before contractors entered the schools to begin installation.
Once the cabling is installed, as-built drawings and test results are reviewed and a walk-through of each school is performed.
"Due to the large size of the project and the short completion time, we had to come up with a prototype for all seven contractors to follow," explains Thompson. "The goal is to make the layout as cookie cutter as possible so that upon completion, each of the 108 schools will be virtually identical."
Through careful planning and cooperation, the cabling number plan was reworked and refined, and is now the same throughout the entire school system. "There is constant feedback and cooperation from all the cabling contractors as to what's working and what's not," says Thompson. "I think everyone is taking pride in their work and contributing to the project's success, in part because they know this is such an important project for the students in our area."
Even though the St. Louis project includes seven contractors, installers have also faced coordination challenges. "With more than 30 of our installers working on this project at any given time, it has required a lot more management and scheduling than usual," says Robert Bray of Telcom Services Installation (TSI; St. Charles, MO, www.tsi-inc.com), one of the contractors. Bray believes that distributing the work to seven contractors was a smart move. "I don't think any one contractor could have completed all 108 schools in the one-year time frame," comments Bray. Responsible for cabling 30 of the schools, TSI has taken on somewhat of a leadership role due to their experience and size.
Breaking building barriers
As with most school districts across the nation, the162-year old St. Louis system includes many older buildings that have presented an architectural challenge when cabling a new data communications system. In a school environment, cable crews are faced with concrete or brick walls, limited space, and high ceilings.
The St. Louis schools vary in architecture, and some presented more of a challenge than others did. In a few buildings, masonry walls are three to four feet thick. How exactly is cable run through these walls? If you ask Joe Straatmann of TSI, he'll tell you it's a very difficult process that requires careful drilling and teamwork. "In some areas, we had to measure off of a common point on the wall and drill through both sides with a long 36-inch drill bit," explains Straatmann. "On a scale from one to ten, the difficulty was definitely a ten."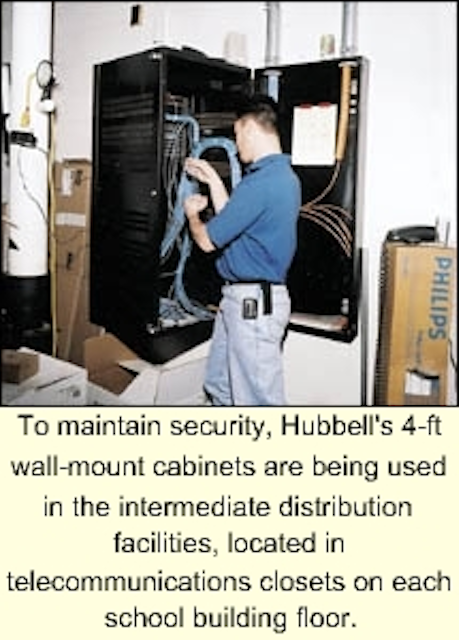 To maintain security, Hubbell's 4-ft wall-mount cabinets are being used in the intermediate distribution facilities, located in telecommunications closets on each school building floor.
Click here to enlarge image
Tight, cramped locations are often the only choice for equipment locations in a school environment. In the St. Louis system, the Hubbell cabinets used for cross-connection equipment often had to share space with other school supplies or administrative facilities. Selecting cabinet locations required a detailed approval process by the school system and impinged on cabling distance limitations. "It's tricky to find the best place for a 7-ft cabinet," explains Straatmann. "A lot of times, we had to move everything out of a location to get cabinets in; but at least the Hubbell cabinets are easy to work with." To simplify installation and speed loading of equipment, the Hubbell cabinets arrive pre-assembled, ready to use.
Many of the ceilings in the older school buildings are nearly 15 feet high with curved archways. Without the drop ceilings found in newer buildings, cable was difficult to hide and had to be run via metal raceways. This not only creates a more difficult installation but can also take away from the beauty of the existing architecture. "We've been really impressed with how the faculty is accepting the appearance of the cabling," comments Straatmann. "Because they know they'll get superb technology with these cabling solutions, teachers and students are happy to see us."
Finding a way to run cable to each classroom also presented a challenge for designers and installers. "We needed an affordable solution to support the 12 connections in each classroom," says Dorothy Lockard, president of Dietrich Lockard. "Hubbell's Rebox cabinet provided a lockable, durable storage for switches and patch panels, as well as offering space for future expansion and supporting the use of fans." The Rebox is a rugged wall-mount cabinet designed for use in uncontrolled environments. Its compact size and styling are designed for mounting in classrooms, corridors, and open offices.
Another barrier faced by cabling crews was the discovery of lead in the schools' original plaster walls. To avoid elevated lead levels caused by the dust from drilling, crews had to alter their drilling procedures dramatically. Instead of typical dry drilling, wet drilling was utilized with filtered vacuums and an environmental cleanup process.
Maintaining safety and security
Although a few schools are unoccupied, most of the cabling is taking place alongside thousands of young faces. Being careful with tools and getting off of ladders in the knick of time is a major challenge, and makes for a slower and more careful cabling installation. These complications are being overcome, however, through careful planning and constant communication between designers, installers, and school faculty.
"The entire district has been very helpful in moving students so we can get in, complete the work, and clean up before they return," says Straatmann. "Multiple meetings and constant contact with staff lets our guys know when the bell is about to ring so they can get off their 12-ft ladders and get out of the way. From TSI's point of view, the project is running as smooth as possible."
The threat to network equipment and cabling by the student population is persistent and unpredictable, whether due to simple curiosity or intentional vandalism. "All of the cabinets are anchored and supported," explains Straatmann. "We used metal raceways because they provide durable, secure protection."
The Rebox cabinet utilized in each of the 3,000 classrooms was specifically designed for use in uncontrolled locations. Not only does it provide a secure location for equipment, but also its compact design is intended to prevent obstruction hazards that may occur with bulkier standard cabinets. The Rebox also inhibits students from viewing the blinking lights of the hub, further minimizing the temptation to tamper with equipment.
Although maintaining security and safety during installation is a priority, cabling crews find the inquisitive minds of the student population a welcome change. "The students are really taking it all in," says Straatmann. "Some of the installers have even given demonstrations, offering kids a crash course in cabling a data communications system.
Enhanced learning environment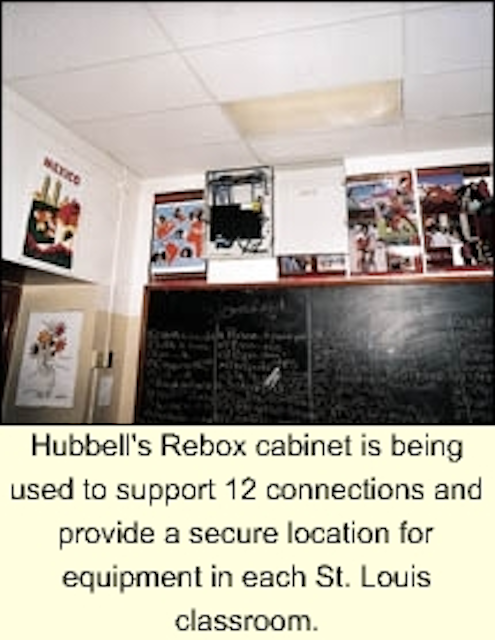 Hubbell's Rebox cabinet is being used to support 12 connections and provide a secure location for equipment in each St. Louis classroom.
Click here to enlarge image
Completing the St. Louis project by the E-rate deadline of June 30 will be a huge undertaking for all key players involved. The end result will be an enhanced learning environment, and already, excitement among both faculty and students is soaring. Peter Mudd, deputy director of technology services, is looking forward to seeing how the new technology will affect education and learning. "There are three ways to use technology in the classroom and only one way is the right way," clarifies Mudd. "Using computers as drill instructors does not teach cognitive skills. Simply learning how to use the computer and the software is also not effective and often not retained. The best way to use technology in the classroom is through project-based learning, and that's what we plan to do here." In project-based learning, teachers take on a facilitative role and students learn how to use the technology to accomplish project-related tasks in every subject.
The school system will train teachers to be comfortable with computers so they can integrate technology into their daily lessons. "Our goal is to implement the use of computers into the classroom and into the lives of students and teachers," says Mudd. "And that requires a tremendous amount of training and buy-in from all levels."
The school system is adopting the model of a 2:1 ratio of computers to students. Each computer will be located either on or in classroom desks and will contain Microsoft Office, e-mail, and Internet browsing capabilities. Other software will be available for specific areas of learning. "Students will receive assignments in the form of Web pages and will be able to access information from any computer at any school within the district," says Mudd. "This is important since many kids participate in after-school programs at different schools."
Mudd also knows that delivering the latest data communications technology to 44,000 students requires a superior infrastructure and quality installation job: "We wouldn't be able to accomplish our goals without dedicated designers and installers, and quality cabling solutions that allow technology to make the critical leap out of the lab and into the classroom where the real work gets done."
Robert Baxter is group director for cable management and crossconnect systems for Hubbell Premise Wiring (Stonington, CT). Betsy Ziobron is a freelance writer and editor for the company.