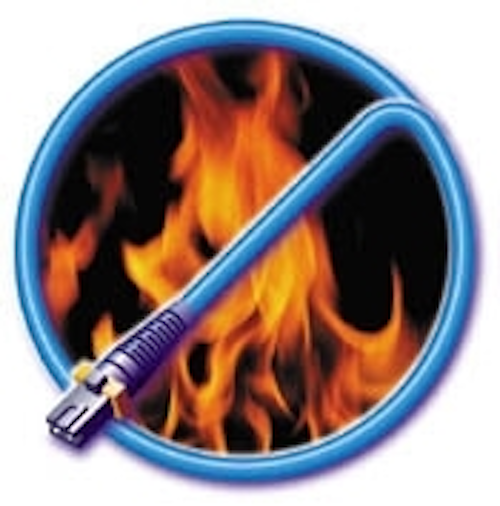 A limited-combustible cable with a CMP-50 rating is a new option in plenum spaces.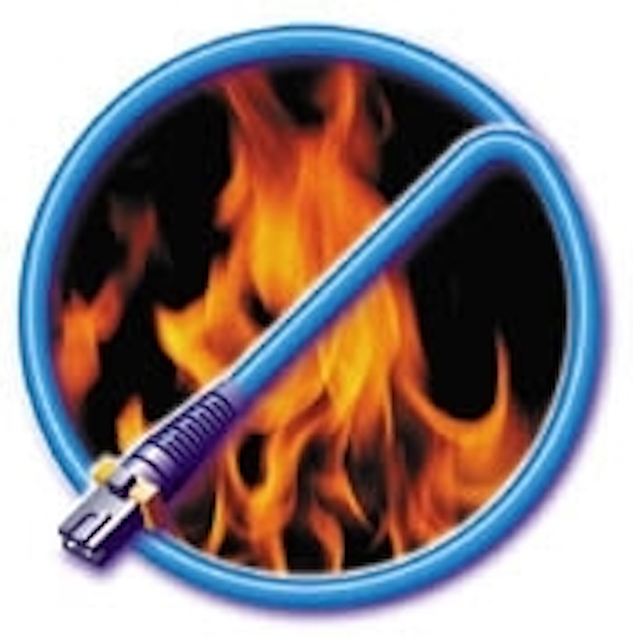 Click here to enlarge image
A BICSI (Tampa, FL) Region 1 breakfast meeting held last November, and more recently BICSI's January conference, included presentations on an impending update to the National Electrical Code (NEC), particularly as the update relates to listings for plenum-rated cables. The topic of limited-combustible (LC), or CMP-50, cable was the basis of each of these presentations. Additionally, NFPA 70 (the NEC) and the NFPA 90A Standard for the Installation of Air Conditioning and Ventilating Systems have been topics of much discussion and some controversy lately.
Most professionals in our industry are familiar with the NEC, which is sometimes referred to as the "bible" of the electrical industry. It is the source for safety requirements for all types of electrical installations. NFPA 90A has jurisdiction over the return air (or plenum) spaces within a facility, as well as the materials that go in them.
"Plenum" is the term for the space above a suspended ceiling, or beneath a raised floor, when that space is used to return air to the heating and air-conditioning equipment from ventilated spaces, such as offices. The NEC can define the criteria for materials in plenums, including cable, as set out in NFPA 90A. The National Fire Protection Association (NFPA-Quincy, MA; www.nfpa.org) writes both documents on non-concurrent three-year revision cycles.
For more than two decades, conventional communications plenum (CMP), and more recently, multipurpose plenum (MPP) cables have been widely accepted in North America to carry data and telecommunications transmissions. Under the NEC's Article 800, these traditional plenum-cable constructions meet the current 1999 code requirements for use in plenum spaces. For safety in the event of a fire, voice and data cables installed without metal conduit in plenum spaces must meet the electrical and building code requirements for low-smoke generation and flame spread.
Traditional plenum cable
Traditional CMP cables are manufactured with fluorinated ethylene propylene (FEP) insulation over the individual copper conductors. In some constructions, polyolefin insulation may be substituted, and the cable will still achieve plenum listing. In such constructions, the cable jackets are made of polyvinyl chloride (PVC) compounded with fire retardants and smoke inhibitors. CMP LC cable goes a step beyond this rating. Specifically, CMP LC cables are designed and constructed with materials that have lower smoke, frame spread, and fuel loads than some traditional plenum constructions.
If CMP cables have worked so well for so long, why would the NFPA go this step beyond? Realistically, it comes back to the NFPA's mission, which is "to reduce the burden of fire on the quality of life by advocating scientifically based consensus codes and standards, research and education for fire and related safety issues." There is some concern over the potential fire-load buildup and associated smoke-production potential from the ever-growing concentration of cables in plenum spaces.
When plenum cables were introduced, nobody could have imagined how many generations of cable would be installed to support information-age computer networks. Some are viewing the accumulated fire load, resulting from the increasingly large number of data and telecommunications cables being installed, as an unacceptable risk. In the event of a fire, these cables are viewed as fuel. We already accept as fact that some cables contribute more fuel, and hence pose more of a threat, than others.
For example, while their test format is significantly different, no one would argue the point that communications riser-listed (CMR) cables generate more smoke, flame spread, and fuel load than CMP cables do. But even CMP/MPP-listed cable is an exception within NFPA 90A. That document has always defined a higher grade of performance than CMP. It calls out limited-combustible materials as a primary requirement for plenum spaces.
Another plenum rating
An additional plenum approval-limited combustible-is for those plenum cables that meet the added safety performance criteria. The CMP LC listing is available from Underwriters Laboratories (www.ul.com) and Intertek Testing Services/ ETL Semko (www.etl.com).
For a cable to be listed CMP LC, it must meet the additional criteria defined in NFPA 90A. By NFPA's definition, FEP is a limited-combustible material, while other materials such as polyolefin and PVC are not. These LC cables offer a new combination of superior fire and low-smoke performance, and excellent electrical performance achieved with state-of-the-art cable design and manufacturing.
Limited-combustible materials are defined in the additional tests of NFPA 255 Surface Burning Characteristics of Building Materials, and in NFPA 259 Potential Heat of Building Materials.
In NFPA 255, the maximum flame spread is no more than 25, and the maxi mum smoke-development index is 50. NFPA 259 specifies a maximum potential heat of no more than 3,500 BTU/pound. Currently, only a limited number of cable constructions meet these requirements.
Today's plenum cables exist under an exception to NFPA 90A, as adopted in 1975, and need not meet the additional requirements of LC cables. Nowhere is the issue of fire load addressed. An NEC code modification in 1979 allowed the use of plenum cables without protective metal conduits.
No one anticipated the number of generations, or explosion in the amount of telecommunications cabling that would be installed. Even when a single generation of cabling exists in a plenum space, the sheer amount of cable in that space is staggering.
Taking its proper place
Traditional plenum cable has a long history of service to our industry, and will continue to meet many of this market's conventional needs. CMP LC cable is not being advocated over standard plenum constructions, but rather, it is an option for use in plenum spaces. It is up to codes bodies and the authorities having jurisdiction to determine CMP LC's place, and if deemed applicable, to include the construction in the respective code documents as an optional plenum-rated cable. The option is available today in the form of new cable designs that provide the highest available protection.
Architects, design engineers, and end users can select LC cables for installations in which fire and smoke present special risks. Such high-risk applications include health-care facilities and densely populated buildings where the ability of individuals to exit a building quickly can be a critical concern.
Even facilities with extensive computer installations and other sensitive electronic equipment may be sensible locations for LC cable. Smoke as a byproduct of cable combustion is a special concern because it represents a threat to building occupants. Similarly, the same smoke can damage electrical and electronic equipment-even when that equipment is located some distance from the source.
Recent research provides a deeper understanding of the effects of smoke on sensitive electronic equipment. And the data shows that smoke's effects are more severe than many previously suspected. Studies show that very small amounts of smoke containing fine, conductive particles result in current leakage and irreversible damage to digital electronic equipment. This fact is believed to be one reason why the AT&T central office fire in Hinsdale, IL several years ago caused so much equipment damage.
Flame, smoke characteristics
Traditional CMP and MPP plenum cables produce 17 times as much smoke as LC cables. Even specially designed zero-halogen cables, while they do not produce halogen gases as a byproduct of combustion, still produce tremendous amounts of smoke from combustion. They are also significantly more combustible, and combustible at lower temperatures, than their LC cable counterparts.
Codes, like standards, are dynamic rather than static. They change as technology and the markets they serve change. If change will reduce the burden of fire on the quality of life, then it is incumbent upon us as an industry to respond, and comply with these changes.
Much of the research into fire and smoke performance was conducted in cooperation with the Fire Protection Research Foundation (FPRF), which is an independent, non-profit foundation that investigates fire-safety technologies and strategies for the NFPA. The LC cable program was developed in response to a need expressed by authorities for additional documentation regarding the fire performance of products used in plenums. The two primary concerns investigated were fire-load build-up and smoke production.
NEC Code Panel 16 has presented a proposal for approval by the membership at this month's NFPA national meeting. Under the proposal, "limited combustible"-or, CMP-50, as the cable is called-is presented as a cabling option. It is not presented as a wholesale replacement for CMP cables. In early March, the NEC Technical Correlating committee returned the proposal to Code Panel 16. This jeopardizes CMP-50 approval in the 2002 NEC to be balloted at the NFPA annual meeting in May. It does not, however, impact the "Limited Combustibles" approvals currently issued by UL and ITS/ETL Semko.
Abandoned cable
To take this discussion the final mile, a proposal has been made to NFPA 90A, regarding abandoned cables-those previously installed but no longer in service. This generational build-up of cables is a considerable source of fuel in the event of a fire. The proposal would require the removal of all cables in plenum spaces that are no longer in use, before installing any new cable. Firefighting professionals have expressed concern regarding the hazard posed by cables in plenum spaces when a drop ceiling collapses during a fire. If cables from the plenum spaces also collapse, they could create a serious tangle threat to firefighters.
Reducing the fire hazard from building facilities requires a combination of careful system design and a variety of interrelated active and passive systems working together to protect people, property, and equipment. For communications cabling specifically, facility personnel can assess and reduce the potential fire hazard with an understanding of the issues.
This discussion should be considered food for thought when planning your next installation. Additional information is available from the NFPA (617-770-3000; http://roproc.nfpa.org).
Gregory Niemiera, RCDD, is technical sales and marketing manager at Mohawk/CDT (Leominster, MA), and a voting member of TIA/EIA-568 Commercial Building Telecommunications Cabling Standard. You can contact him via e-mail at gregn@mohawk-cdt.com