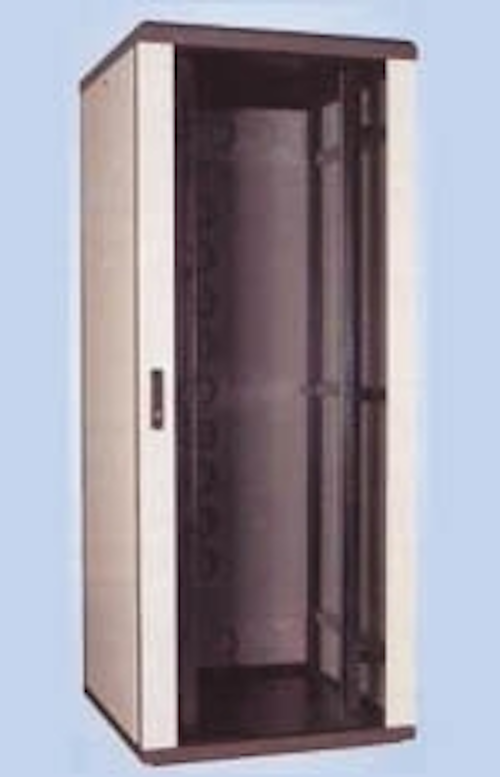 Compiled by Ryan Cliche
Use our online center to request free product information www.onlinecenter.to/cim or fill out the reader service card.
Fiber-optic catalog
Fiber Instrument Sales' free 19th Edition fiber-optic catalog features 3,000 communications products. Some of the products include: the Optical Verifier (OV-2) "Meter Reader," Mode Conditioning patch cords, MU connectors, 3M Diamond Lapping Films, TLC custom-manufactured cable, male-to-female attenuators, 3M and Corning specialty fiber, the Easy Crimp conversion tool, custom-colored patch cords, and a series of training videos.
FIBER INSTRUMENT SALES INC.
ORISKANY, NY
CIRCLE NO. 115
Connectivity tester, tone/probe kit
The NetTool Connectivity tester by Jensen Tools identifies a jack as Ethernet, phone, token ring, or inactive, and checks link pulse for speed, polarity, duplex, level information, and receive-pair. It resolves PC network configuration issues such as Internet protocol (IP) address, default getaway, and e-mail and Web servers, while showing key network resources used by that PC such as servers, routers, and printers. In addition, the tester simultaneously monitors network health for full-duplex connections, with individual counts for both the desktop and the network conversations. A Problem Log lists problems detected on the PC and network such as addressing issues, e-mail, and Web problems.
Jensen's JTK-100 is a combination of the TT-100 tone tracer and TG-100 tone generator housed in a leather-trimmed Cordura Plus belt holster with top flap. The tone generator outputs constant tone amplitude. To avoid power line interference, the tone tracer controls the frequency. The kit's case has gusseted seams and offers a strengthened rib to stand up to constant wear from the probe tip.
JENSEN TOOLS INC.
PHOENIX, AZ
CIRCLE NO. 116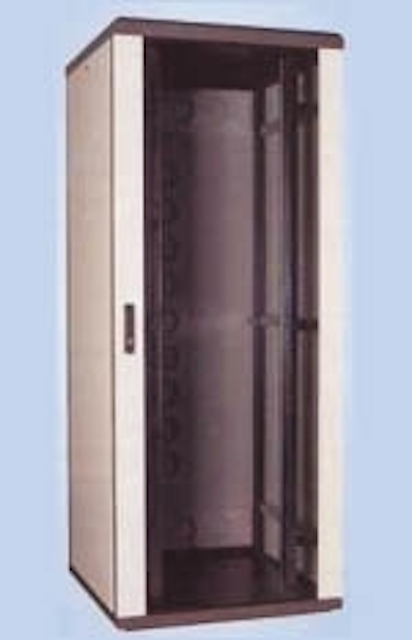 Click here to enlarge image
Cabinets
SME Racks' RackMate cabinet starts with the power supply as a "double-conversion sine wave" power to the equipment. The crossconnect structured cabling is directly connected to the switch, and a virtual private network (VPN) connectivity and bandwidth management can be added. A liquid crystal display (LCD) is integrated with a Keyboard, Video, and Mouse (KVM) switch that features the capability to control 256 nodes in a single switch configuration and cascading in addition to an "onscreen display" (OSD). Two separate consoles can manage and monitor the network environment at the same time. The uninterruptible power supply (UPS) checks the life of the 12V batteries and the total average runtime available.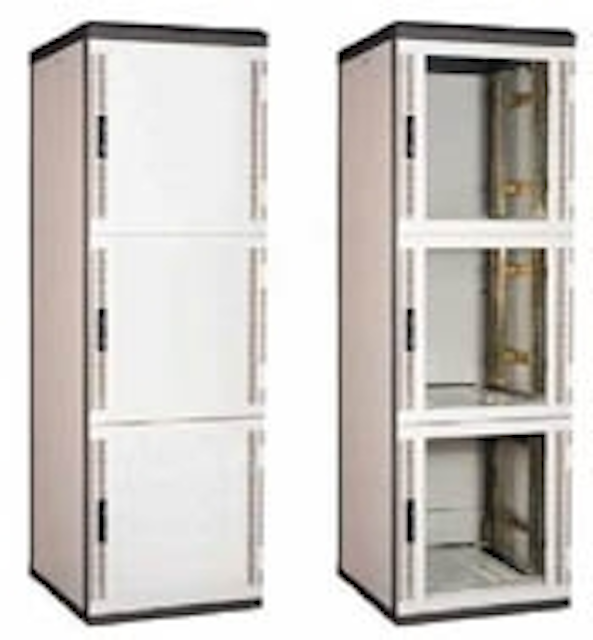 Click here to enlarge image
The company's Jet Housing cabinets provide a multiple-tenant environment to share space among customers. A ventilated tray blocks access from neighboring compartments to create independent units. Individually keyed compartments provide privacy with cable management areas secured for each tenant. There is also a master maintenance key that has access to all the compartments.
SME RACKS INC.
MIAMI, FL
CIRCLE NO. 117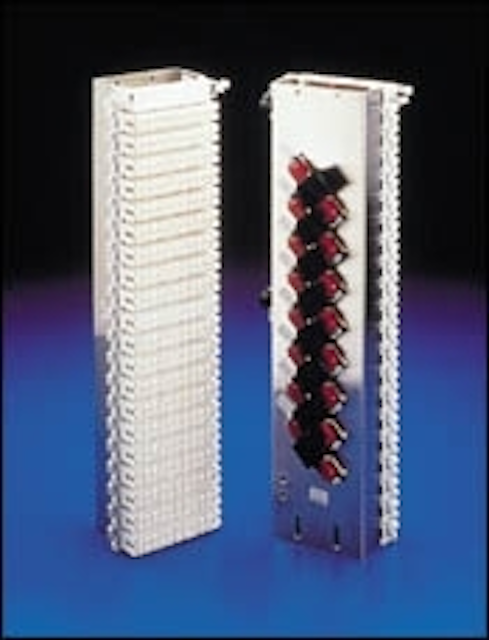 Click here to enlarge image
Collocation blocks
Krone's HighBand pre-terminated ten-wire termination block offers Category 5E compliance, a 45°-angle silver- plated contact, and a center port design for testing and patching. The center port provides a testing point to pinpoint problems to either the service provider side or customer side. Available in 200- or 300-pair kits, the blocks are mounted in a c-channel Back Mount Frame and are pre-wired to industry-standard 25-pair cables. Labeling areas are included on each pre-terminated assembly. Up to 3,200 pairs can be mounted on the side of a standard 7 ft x 23-in-wide equipment rack.
KRONE INC.
ENGLEWOOD, CO
CIRCLE NO. 118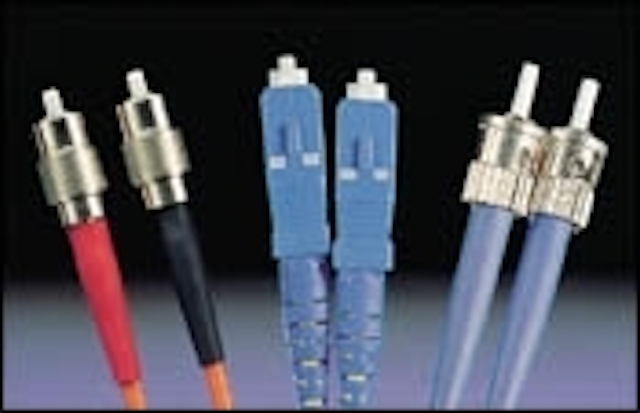 Click here to enlarge image
Connectors
Panduit introduces multimode and singlemode versions of their FC, SC, and ST connectors. The FC connector's threaded design provides terminations in a variety of environments, including both the service provider and enterprise markets, from the backbone to the electronics. A non-optical disconnect feature in the SC connector maintains data transmission for equipment crossconnects and interconnects in the backbone, as well as for horizontal and work area applications. Also designed for equipment crossconnects and interconnects, the ST connector is used in fiber-optic backbone and horizontal applications for high-speed data transmissions.
PANDUIT CORP.
TINLEY PARK, IL
CIRCLE NO. 119
Click here to enlarge image
Pliers, tool carrier, installation kit
Ideal Industries offers insulated electrician's pliers with extra-large finger stops that guard against accidental contact with exposed metal tool parts, and the injection-molded grips provide uniform insulation thickness and dielectric integrity. The chromium-plated heads are "drop-forged" and contain high-carbon alloy steel. Heat-treated blades retain their cutting edge without re-sharpening. These pliers are in compliance with the latest Occupational Safety & Health Administration (OSHA) requirements, plus meet VDE, International Electrotechnical Commission (IEC-Geneva), and American Society of Test and Measurement (ASTM) safety standards.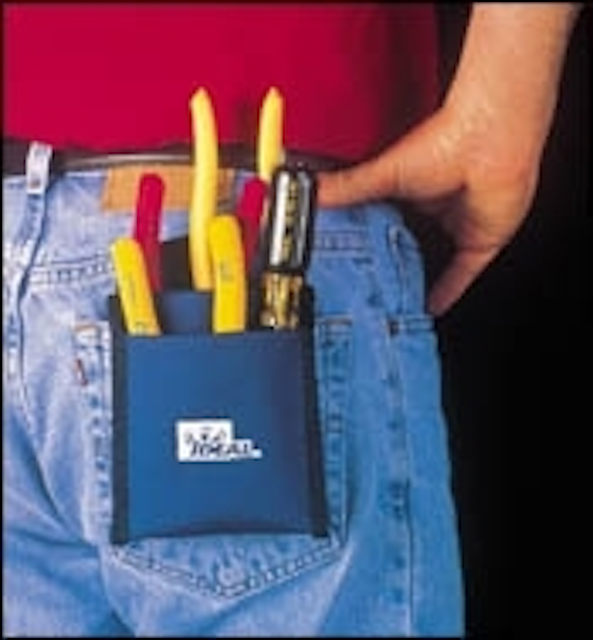 Click here to enlarge image
Made from lightweight, pliable, military-grade synthetic fabric with industrial-weight stitching, the company's Pocket Pal is a durable tool carrier that fits in the back pocket of an electrician's jeans. This tool carrier protects pants from the sharp tips of screwdrivers, pliers, deburrers, and other tools, plus it has a "bonus" pouch that hangs over the outside pocket to double the tool toting capacity. You can carry up to seven tools at once without stretching or ripping your pants, yet the carrier measures 6.5x4.5 inches.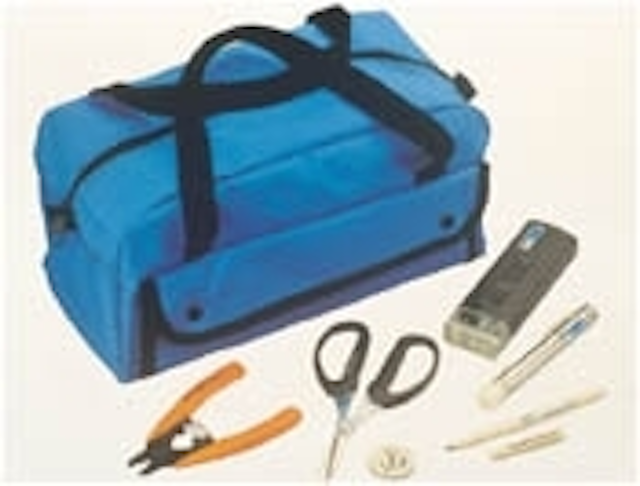 Click here to enlarge image
Housed in a durable, soft-sided mechanic's bag with capacity for additional storage, Ideal's Basic Fiber-Optic Kit includes: a 100x fiber-optic scope for viewing fiber before and after cleaving; a pen-sized fiber continuity tester; and the company's optical fiber stripper to remove buffer and coating material. Also, the installation kit contains a Kevlar cutter featuring a high-carbon, steel frame and serrated blades; a carbide fiber-optic scribe; and a fixture for polishing optical fiber ST and SC connectors.
IDEAL INDUSTRIES INC.
SYCAMORE, IL
CIRCLE NO. 120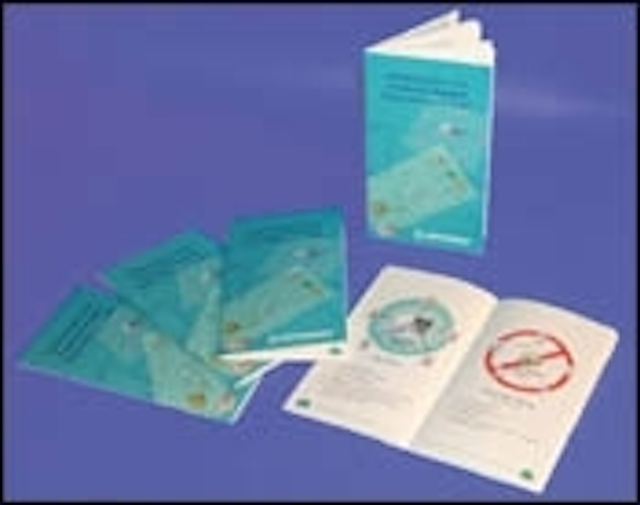 Click here to enlarge image
Reference guide
Ortronics' Residential and Light Commercial Telecommunications Wiring Standard (ANSI/TIA/EIA 570A) Pocket Reference Guide is designed to provide reference to this standard. The pocket guide includes summarized information on the new standard and proper installation practices, in addition to product ordering information. It is a tool for residential cabling installers in the field.

ORTRONICS INC.
NEW LONDON, CT
CIRCLE NO. 121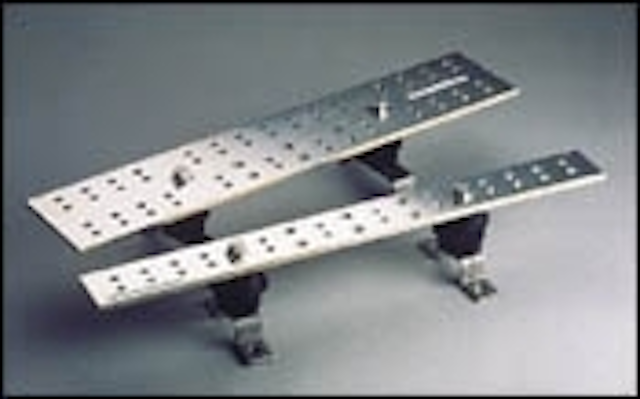 Click here to enlarge image
Grounding busbars
Conforming to the specifications of Telecommunications Industry Association/Electronic Industries Alliance (TIA/EIA-Arlington, VA) 607-A and BICSI recommendations, the Telecommunications Main Grounding Busbar (TMGB) and Telecommunications Grounding Busbar (TGB) by Erico may be designed for two-hole lugs or one-hole non-twisting lugs. The TMGB is the dedicated extension of the service grounding busbar in the building to the telecommunications infrastructure. In the telecommunications room, the TGB acts as the floor-serving extension of the TMGB. Measuring 100x5mm, the busbars are electro-tin-plated to provide a low-resistance, corrosion-free contact between the lugs and the grounding busbars.
ERICO INC.
SOLON, OH
CIRCLE NO. 122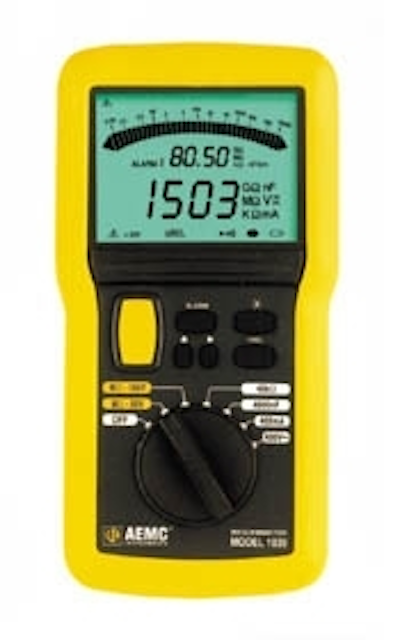 Click here to enlarge image
Telephone cable tester
The Model 1039 multi-function telephone cable tester by AEMC is designed for testing insulation resistance, line resistance, resistive imbalance, capacitance, and capacitive imbalance of copper telephone cable. Also, it can measure overall capacitance to 4,000 nF and cable length to 80km, according to company claims. As an added feature, the instrument measures alternating current (AC) and direct current (DC) voltages, and it can detect off-hook current via direct connection to the telephone line. You can select test voltages of 50 or 100 V for insulation testing.
AEMC INSTRUMENTS
FOXBOROUGH, MA
CIRCLE NO. 123
Click here to enlarge image
Faceplate, panel, tools and accessories
ICC's Classic Series station ID faceplates come in single-, double-, and triple-gang configurations, and are engineered to fit any standard National Electrical Manufacturers Association (NEMA) electrical box or the company's mounting and junction boxes. Some faceplates also feature a row of angled slots on the bottom of the faceplate to angle connectors downward, relieving cable strain, and allowing cables to hang closer to walls. A built-in slot and plastic cover helps you insert identification labels and identify the workstation that is served by that particular group of connections. The faceplates are made from molded plastic, and come in ivory, white, or gray to match and blend with the environment.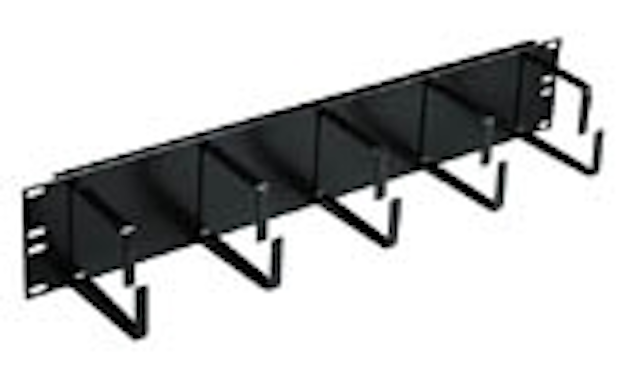 Click here to enlarge image
ICC's Cable Management Panel Series can be used with unshielded twisted-pair (UTP), screened twisted-pair (ScTP), fiber-optic, or any other premise cable types. The panels and attached cable management rings are available in standard metal or plastic for horizontal and vertical routing. All panels are compatible with the company's racks, wall mount racks, and wall mount brackets, and conform with Electronic Industries Alliance (EIA-Arlington, VA)-310-D spacing standard specifications. Other features include: Velcro tie anchoring points to relieve cable strain, feed-through holes to permit cables to be loaded from either the front or rear of the panel, and optional plastic snap-on cable covers.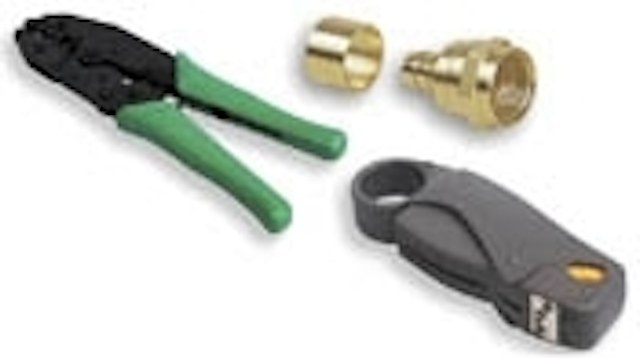 Click here to enlarge image
ICC announces additions to their line of tools and accessories for voice, data, video, and multi-media applications. The high-impact Delrin plastic cable TV coaxial cable stripper tool lets you prepare RG-6 or RG-59 coaxial cable for termination with a long-life cutting blade. Designed with a steel frame and cushioned grip handles, the cable TV connector crimp tool's ratcheting feature lets you crimp RG-6 and RG-59 coaxial cables without damaging the cable. Their cable TV F-Type, two-piece, crimp-on connector is gold-plated to provide conductivity and corrosion resistance.
ICC
CERRITOS, CA
CIRCLE NO. 124
Click here to enlarge image
PVC bender
Used to bend 1/2- to 2-in polyvinyl chloride (PVC) conduit, Gardner Bender's HotTube PVC Bender simultaneously heats up to five bundles of 1/2-in or three bundles of 3/4-in conduit without rotating. The adjustable thermostatic control heats conduit fast and maintains a bending temperature without scorching or burning. Additional features include: an aluminum-heating element for consistent heat conductivity; a lightweight construction; an insulated, waterproof housing for safe operation and portability; a low-power consumption for standard 120-V outlets; a fiberglass body; and high-temperature paint to keep the heat directed to the conduit.
GARDNER BENDER
MILWAUKEE, WI
CIRCLE NO.125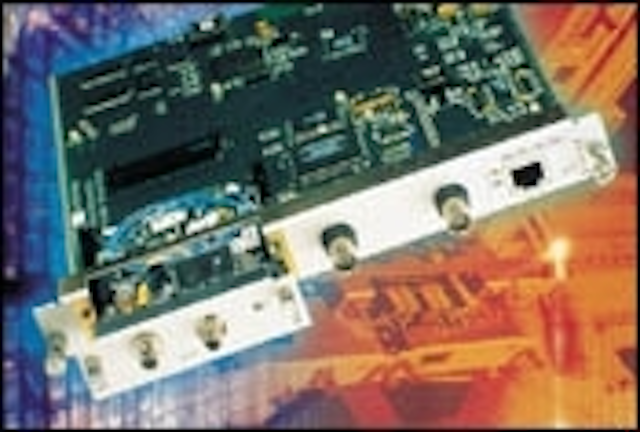 Click here to enlarge image
Modem, media converter
The EdgeAccess Model 2345 T3 fiber-optic modem by Canoga Perkins has simple network management protocol (SNMP). It optically extends standard T3 (44.736 Mbits/sec) signals over singlemode or multimode fiber-optic cable, up to 100km, according to zcompany claims. Simple network management protocol support is available for both rack mount and standalone versions. With end-to-end monitoring and configuration facilitated via the Side Band Management Channel, the modem's network manager gathers statistics and link information from the remote end. In addition, the modem transports any B3ZS-coded framed data stream and provides a transparent link extension when transporting C-bit Parity and M-13-framed signals.
Click here to enlarge image
Designed for multimode or singlemode support in the 850-, 1,310-, and 1,550-nanometer wavelengths, Canoga Perkins' Model 9120 Gigabit Ethernet Media converter extends Gigabit segments up to 70 km over singlemode fiber, according to company claims. This Network Equipment Building System (NEBS) Level 3-compliant product is field installable and can coexist with the company's Ethernet converters. The media converter features user control of link loss forwarding (LLF), remote fault (RMTF), and link loss echo (LLE) alarms. You can enable or disable these features from a set of switches located in front of the converter. Also, you may select the direction of LLF-from user port to extension port, or vice versa.
CANOGA PERKINS
CHATSWORTH, CA
CIRCLE NO. 126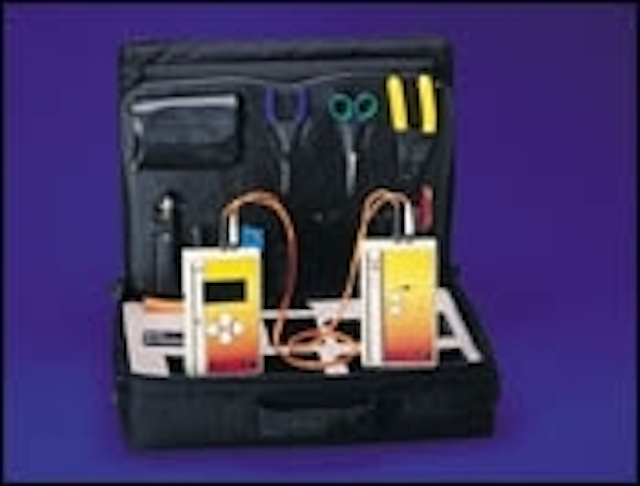 Click here to enlarge image
Installer kit
Fotec's fiber-optic "toolbox" offers both tools for fiber-optic premises cabling installation and an automated cable tester that tests the cables and stores data for certification and customer reports. These kits include tools for cable preparation, pulling, terminating and splicing, plus a set of test equipment. An ACT2 tester included in the kit offers automated testing of two fiber links, data storage for certification reports, and a built-in fiber-optic talkset. The kit is available in either hard or soft carrying cases as a no-cost option.
FOTEC INC.
MEDFORD, MA
CIRCLE NO. 127
Rate converter
Omnitron Systems' FlexPoint 10/100 rate converter reduces 10- to 100-Mbit/sec migration cost, enables fiber-to-the-desktop applications, and increases network distances up to 58 km via fiber. When used in pairs, the rate converter enables connection between any half- and full-duplex, copper-based devices operated at either 10 or 100 Mbits/sec, providing 200 Mbits/sec of bandwidth via Fast Ethernet fiber. The fiber port supports Fast Ethernet fiber, and is available with SC or ST connectors for multimode or singlemode fiber. A copper port features 10/100 auto-sensing and half-/full-duplex auto-negotiation. Also, the rate converter has an unshielded twisted-pair (UTP) crossover switch that facilitates a straight-through cable connection and eliminates the need for a crossed cable when connecting to another switch or hub.
OMNITRON SYSTEMS TECHNOLOGY INC.
IRVINE, CA
CIRCLE NO. 128

Click here to enlarge image
Access platform
Quick Eagle's 4200 Series IP Access Platform offers a solution for managed carrier services in a variety of wire speeds. The devices are service-ready hardware platforms that run a series of Service Application Packs (SAPs), which provide you with a granular set of managed service applications. T1/E1 access, remote monitoring specification (RMON)-1 and RMON-2, service level agreements (SLAs), Internet protocol/semiconductor laser amplifier (IP-SLA), three-Mbit/sec multi-link frame relay (MLFR) applications, and direct Ethernet connectivity with routing for IP access are offered applications. These offerings will serve carrier bandwidth delivery worldwide from fractional T1/E1 speeds to 45 Mbits/sec.
QUICK EAGLE NETWORKS INC.
SUNNYVALE, CA
CIRCLE NO.129


---
By the Book
Fiber optics from the experts
Jim Hayes, president of fiber-optic test equipment manufacturer Fotec (Medford, MA), is arguably one of the technological gurus in this rapidly expanding field. Instrumental in the founding of the training organization Fiber U, and the Fiber Optic Association membership association, Hayes has also found time to write a number of books in his area of expertise.
The latest from his pen-or, to update the metaphor, from his laptop-is the second edition of Fiber Optics Technician's Manual, from Delmar/Thompson Learning (Albany, NY). With other instructors from Fiber U, including such well-known names as Jeff Hecht, Paul Rosenberg, Eric Pearson, Larry Johnson, and John Highhouse, Hayes moves from the basics into fiber-optic networking and then covers components such as cable, connectors, and other hardware. Other nuts-and-bolts topics, such as cable pulling, plant restoration, and testing, also merit their own chapters. But the book is perhaps most notable for the attention it pays to the "softer" side of fiber optics, including chapters on specifying cable, fiber-optic safety, planning and installation guidelines, cable-plant documentation, estimating and bidding, and getting started in the business.
Hayes has also co-authored with Paul Rosenberg a more general handbook from the same publisher, entitled Data, Voice, and Video Cabling. For more information on these titles, visit Delmar/Thompson's Website at: www.delmar.com.
-Arlyn S. Powell, Jr.