Cat 6 UTP connectors: Has copper topped out?
Bigger, better, and faster seem to be the mantra of almost every "new" product on the market today. And these words ring ever so true when it comes to new Category 6 cabling systems
Jun 1st, 2001
Bigger, better, and faster seem to be the mantra of almost every "new" product on the market today. And these words ring ever so true when it comes to new Category 6 cabling systems. Currently in draft form, Category 6 has already firmly planted its feet in the industry. Almost every major manufacturer has introduced products that claim to comply, or even exceed, the proposed standards. The standard in question is TIA 568-B.2-1 and is currently entering its seventh draft.
Every cabling system requires some form of connecting hardware, and Category 6 is certainly not any different. Much like its unshielded twisted pair (UTP) Category 5 and 5E predecessors, Category 6 connectors (see table, page 64) consist of a plug and a jack. As explained by Cabling Installation & Maintenance editor Patrick McLaughlin, these two components work together to achieve continuity between conductors.
As to their actual function, the plug contributes crosstalk and the jack counters by contributing negative crosstalk (see "UTP system performance hinges on connectivity issues," May 2000, page 41). The result is a performance level that meets the specified standard, whether Category 5, 5E, or 6.
"As a component, Cat 6 connectors represent an incredible increase in performance over Cat 5E," says Jerry Solomon, RCDD/LAN specialist marketing manager/copper systems for Tyco Electronics/AMP Net-connect (www.ampnetconnect.com). He explains that "For example, the 43 dB near-end crosstalk (NEXT) requirement at 100 MHz for a Cat 5E connector represents a signal-to-noise ratio of around 140:1. The NEXT performance for a Cat 6 connector at 100 MHz is 54 dB-a signal-to-noise ratio of about 500:1." Ultimately, the bottom line is that Category 6 represents a communications "pipe" that is roughly twice as big as Category 5.
As to the physical construction of the connector, Solomon says that Category 5E and Category 6 have internal differences, which are often difficult to see. Much like its Category 5 and 5E cousins, the Category 6 connectors typically have an 8-pin construction but are designed to achieve backward compatibility and interoperability with Category 5 and 5E systems.
Backward compatibility
The Siemon Company's (www.siemon.com) report, Siemon MC6 Plug and Category 5E Connecting Hardware Backward Compatibility Study," addresses an issue that goes to the heart of Category 6: will products be compatible with their predecessors? "Backward compatibility," says the report, "implies that next generation cabling is not only superior to, but is an electrical superset of existing specifications."
ADC's Enteraprise 6000 connectors feature front or rear-loading, angled or flat profile, with an optional colored bezel.
Click here to enlarge image
According to Gary Bernstein, director of product marketing-telecom market with HellermannTyton (www.htamericas.com), the issue of backward compatibility was actually an impetus behind the drafting of the Category 6 standard. He points out that backward compatibility is a "sticky issue" because there has yet to be a consensus among manufacturers as to how it should be achieved. The draft of Category 6 has come to embrace a concept called de-embedded values as a means of providing guidelines for manufacturers to follow for achieving such things as backward compatibility and interoperability.
"De-embedded values are a way of creating a 'test plug' that can be tested by all manufacturers," says Bernstein. AMP's Solomon adds, "De-embedding is the procedure used for qualifying the plugs that are used to evaluate Cat 6 jacks. It has evolved from attempts to ensure that Cat 6 means the same thing from test lab to test lab." De-embedded values are a safety net to assure that Category 6 products from any manufacturer will work together in a standard structured cabling system. These values are also to ensure interoperability of jacks.
According to Bernstein, de-embedded values are specified in the proposed standard. "TIA/EIA-568-B.2-1, draft 7, has requirements in Annex E-Connecting Hardware Procedures." He continues to explain that Annex E outlines the requirements for qualifying modular test plugs for Category 6 connectors. Bernstein adds, "It provides specific limits for de-embedded test plug NEXT loss and far-end crosstalk (FEXT) loss." Heller-mannTyton's Category 6 connector, he says, meets the proposed de-embedded values stated in Annex E.
Importance of interoperability
In addition to helping to assure backward compatibility, de-embedded values provide guidelines for interoperability among products of various manufacturers. Just as systems are constantly changing, so are the companies that supply the components. And today's supplier may not exist next year. Similarly, a current supplier may not be able to provide future upgrades at a competitive price. Therefore, to protect existing investments, the proposed Category 6 requires components, including connectors, to be interoperable with all other Category 6 components. This includes those from other suppliers and manufacturers.
AMP, however, believes that being able to provide an entire Category 6 system is essential. While the goal of the TIA standard is interoperability between components from different manufacturers, the Category 6 product design and manufacture is substantially more sophisticated and sensitive than Cat 5 and 5E. "Optimum performance can be realized from components that are designed specifically to work together as a system," says Solomon.
Nuts and bolts
Connectors are possibly the simplest components of an overall cabling system. There are no shiny finishes or high-tech keypads that attempt to "dress-up" the connector. As Solomon remarks, "in many ways, a connector is just a connector." But of course, every manufacturer looks for a way to distinguish themselves from the rest of the competition. This has given birth to a variety of new "technologies" for the Category 6 connectors, in addition to creative new marketing strategies.
Solomon says, "One of the main advantages we offer to the industry is being one of a limited number of suppliers who manufacture and provide the entire cabling system: cable, connectors and patch cords." Additionally, the AMP system, notes Solomon, "Enables us to provide higher density at the outlet than with our Quantum jacks. Compared to our Category 5E jacks, the Category 6 jacks use a special 110 block with increased pair separation for improved NEXT performance. They also use a unique, patent-pending secondary PC board for capacitive compensation."
Various manufacturers have developed their own technology to assure that connectors meet Category 6 performance specifications. The Siemon Company has developed its Category 6 offering, the MAX 6, utilizing a technology called Tri-Balance. Simply put, this strategy aims to accomplish three goals: achieve maximum pair signal balance; utilize quadrant pair isolation; and obtain linear crosstalk response and minimum plug dependence from the printed circuit board.
AMP Netconnect's Category 6 connectors utilize 110-style termination and are designed for rapid installation.
Click here to enlarge image
John Wages, associate product analyst with Siemon, says, "When we developed our Category 6 outlet, we had to invent the 310 block, a completely new circuit board, and a new high-performance outlet. Each one in itself does not achieve Category 6 performance, but together they not only meet but also provide performance margin. We call this our Tri-Balance technology." The 310 block represents the most noticeable physical difference in the Category 6 products. "The 310 block has two pairs on one side of the block and the other two on the opposite side," says Wages, who adds it also has a pyramid wire entry feature that helps separate the pairs for installers.
The goal, according to a white paper entitled The Anatomy of a MAX 6 Connector, is to achieve "balanced and linear transmission performance across the entire Category 6 frequency range." Outlet designs that are not "well-balanced" can result in what The Siemon Company calls a "severe deviation from the expected crosstalk slope." This includes such negative consequences as poor signal balance and poor crosstalk performance.
To meet the Category 6 specifications, HellermannTyton introduced crosstalk cancellation technology. This, according to Bernstein, adds two additional contacts to what is normally an 8-pin jack. The additional contacts are on the printed circuit board and are not visible from the front of the jack. Bernstein says the purpose of the contacts is to "allow the near-end crosstalk to be reduced inside the jack."
Strain relief is also an important issue when evaluating connectors, and manufacturers have begun developing features to address this issue. "We activate a standard latch to grab hold of the cable to provide strain relief," explains Derek Imschweiler, product manager for Stewart Connector Systems (www.stewartconnector.com). The latch can be activated without distorting the cable and, therefore, it won't distort the connector's performance.
Connectors are important, in Bernstein's opinion, specifically because they provide strain relief: "The connector secures the cable so that after termination is finished, the cable cannot be pulled out from the termination." In essence, in a Category 6 cabling system, connectors serve as the glue that keeps the entire system running.
How to select a connector
Compared with other components of a cabling system, connectors are fairly inexpensive. On average, they range from $4.50 to $8 each. Bernstein says this price range represents a "40% to 80% price increase from Category 5E components."
While connectors may not represent a gigantic proportion of a cabling system's overall cost, it is still important to carefully select the ideal connector for each particular system.
For example, contractors should evaluate connectors for the speed and ease of installation. According to Solomon, AMP's connectors are easily assembled in the field. "They utilize 110-style IDC terminations and standard punchdown tools," and he also points out that they are available only on factory-terminated assemblies.
Stewart Connector Systems also aims for easy installations. Says Imschweiler, "We try to provide a product that is as easy to install as possible and provide the tools to do it (the install)." The package, connectors and tools, are designed to be simple for an installer already proficient in Category 5 and 5E systems.
Customers are looking at connectors in much the same way they evaluate an entire system-reliability and performance. Bernstein says that HellermannTyton offers both a product warranty and an end-to-end system warranty to assure customers that the company stands behind the Category 6 performance. Over the next few months, HellermannTyton will also be introducing an angled connector, as opposed to the standard flush connectors offered by most manufacturers. The angled product has a jack angled down 45° that offers an angled presentation in the faceplate.
Really bigger and better?
While Category 6 products seem to be the sexiest offerings when it comes to UTP cabling products, they are not making a huge impact on the balance sheets. "Today, there are few people who use Category 6 and are installing it," says Imschweiler, because the standard is still in draft form. But he adds, "Once the standard is final, we expect to see people buying Cat 6."
Rich Marowsky, Stewart's principle engineer for product testing and design, acknowledges that much of the industry is eagerly awaiting progress on the standard. "The TIA goal was to have something ready by June," he explains, "but my gut feeling is that it will be passed by the end of the third or fourth quarter of 2001." As an active participant in the drafting of Category 6, however, Bernstein expects it to take a bit longer. He sits on the TR42.1 standards committee that is charged with drafting the standard and notes that the committee is "aiming to get the standard published by the end of the year."
Bernstein explains that HellermannTyton has begun to see a slow increase in the Category 6 sales versus the Category 5E offerings. In 2000, Category 6 products had between 10% and 15% in terms of market share, versus the 5E products. He expects that number to be between 20% and 25% for 2001. "At some point," says Bernstein, "It [Category 6] will totally replace Category 5E."
Once the Category 6 standard is passed, work will begin on another standard aimed at improving performance. But the much talked about European Category 7 standard does not seem to be crashing the Category 6 party. Imschweiler says there is nothing to fear because "Category 7 looks like it is going to be something other than modular." Imschweiler and Marowsky concur that because they will not be modular, Category 7 products will not be backward-compatible. Thus, there is not a big push for this European standard to move to North America.
"Most people think it will go from Category 6 straight to fiber," notes Bernstein. As a system designer, Vincent Wolcott agrees that fiber is the next step. In fact, this director of communications solutions with Jacobs Engineer Corp. in Arlington, VA, advises clients to skip Category 6 all together and install optical fiber. "Eventually, you are going to top out with copper and I look at Category 6 and say 'just run fiber.' " And he says his clients keep coming back thanking him for the advice.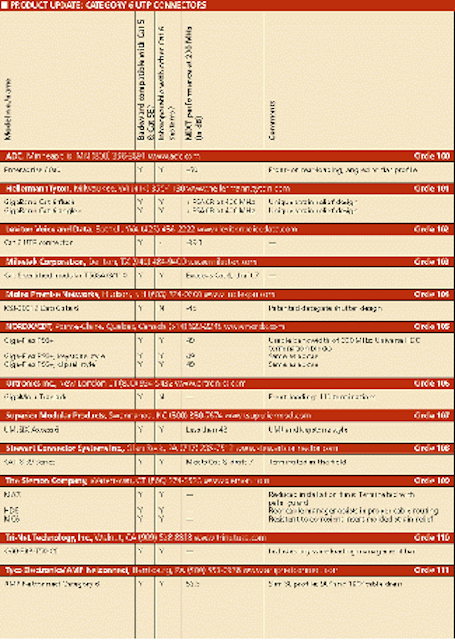 Click here to enlarge image
This is not to say that Wolcott won't design customers' systems to the performance specifications of Category 6. Wolcott recommends connectors made by The Siemon Company and AMP Netconnect. "The products are great and my engineers say this stuff is bullet-proof."
Now it remains to be seen if Category 6 connectors and cabling systems are strong enough to stand the test of time.
Michelle Abrams is Associate Editor for Cabling Installation & Maintenance.