New Products
Conversion links
Stratos Lightwave's MHSDC Series uses a HSSDC copper interface on the host side and a LC fiber-optic interface on the other
Jun 1st, 2001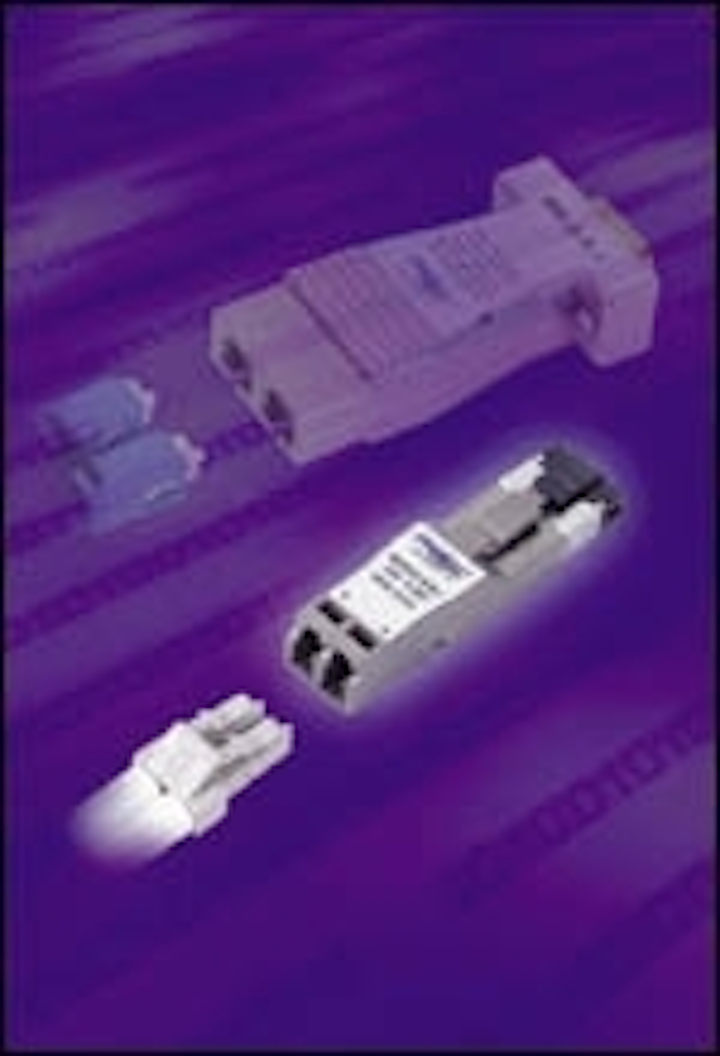 Compiled by Ryan Cliche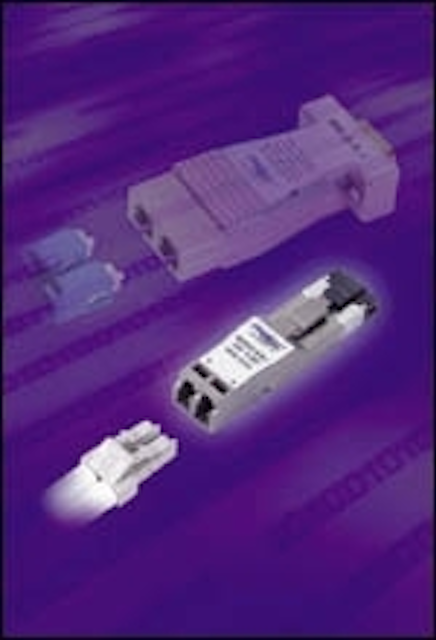 Click here to enlarge image
Conversion links
Stratos Lightwave's MHSDC Series uses a HSSDC copper interface on the host side and a LC fiber-optic interface on the other. Because of their reduced size, the links do not protrude far behind the equipment, so they are less likely to cause mechanical interference. These small form factor (SFF) copper-to-optical links are available in both short- and long-wavelength versions. Both the short- and long-wavelength products are available in 1.0625- or 2.125-Gbit/sec data rates, and are offered in both 3.3- and 5-V versions. All links are Underwriters Laboratories Inc. 1950-listed, comply with FDA Radiation Performance Standards, and can be plugged and un-plugged from powered systems.
STRATOS LIGHTWAVE LLC
www.stratoslightwave.com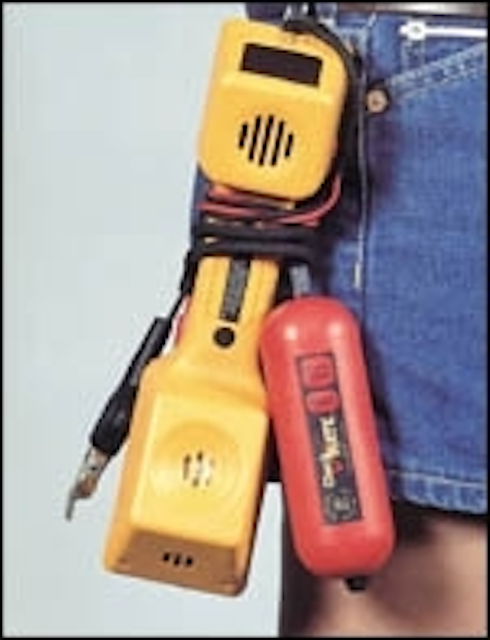 Click here to enlarge image
DSL cable tester
ITC's 6614-DSL Check Mate adds features to the standard Butt Set. This tester features measurement of line voltage, loop current, the amount of battery life remaining, and warble tone for locating wiring. A built-in digital subscriber line (DSL) filter lets you access dial tone on DSL circuits and not interfere with data being transmitted. Each of these features is announced audibly through the Butt Set's receiver and/or speaker.
INDEPENDENT TECHNOLOGIES INC.
www.independenttech.com
Click here to enlarge image
Multiple-rack enclosures
Almetco Enclosures' 29-inch-wide Advanced Series Upright Enclosures provide multiple rack mounting capabilities that you can configure in the field without additional parts. Removable panels can include a cable gland for dust prevention and an optional air filter that can be changed from outside the enclosure without disturbing any equipment inside. Cooling fans are available for the top of the enclosure and on the doors, and can be purchased with or without the bottom filter unit. The enclosures feature a beveled frame design and have a textured powder-coated finish.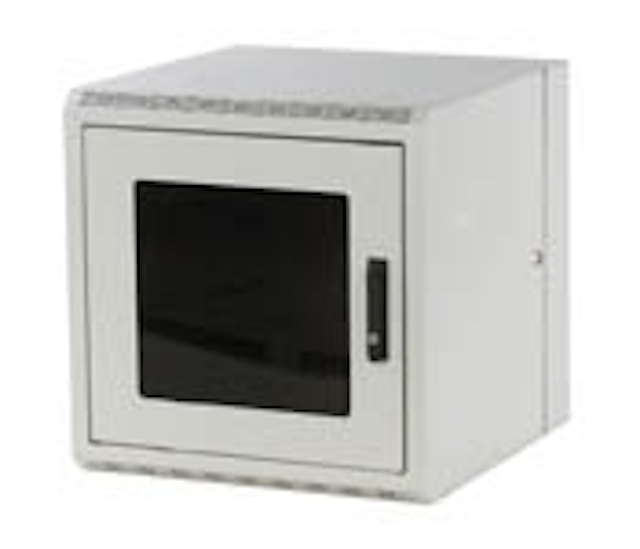 Click here to enlarge image
Also featuring a beveled frame design, each WE Series Wall Mount Enclosure is supplied with two pairs of 19-inch EIAspaced rack-mounting rails that are adjustable front-to-rear. The enclosure is available with a tempered safety glass or solid steel front door. Both the front door and the enclosure main section are key-locked for security. Cable management is available, providing cable routing for vertical, horizontal, and front-to-rear cable runs.
ALMETCO ENCLOSURES
www.almetco.com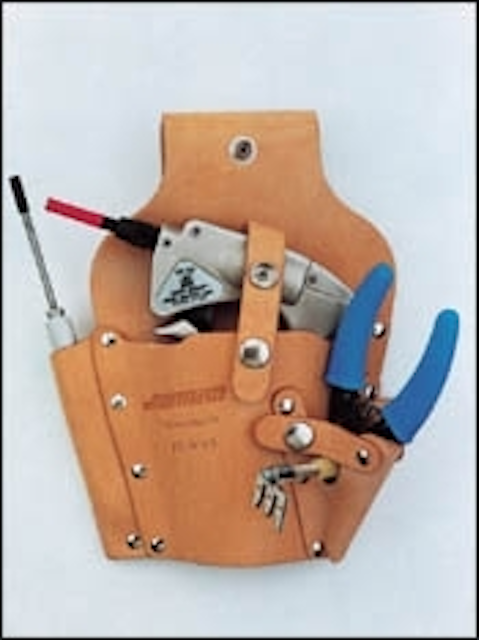 Click here to enlarge image
Wire wrap kit
Designed to wrap and unwrap 22- to 24-gauge wire, Jonard Industries' TK-WW5 telecommunications wire wrap kit contains five tools: a cutter/stripper, an aluminum alloy metal wrap gun with a bit sleeve, and a two-in-one wrap and unwrap tool. This kit meets Bell Laboratories specifications and comes in a leather holster.
JONARD INDUSTRIES CORP.
www.jonard.com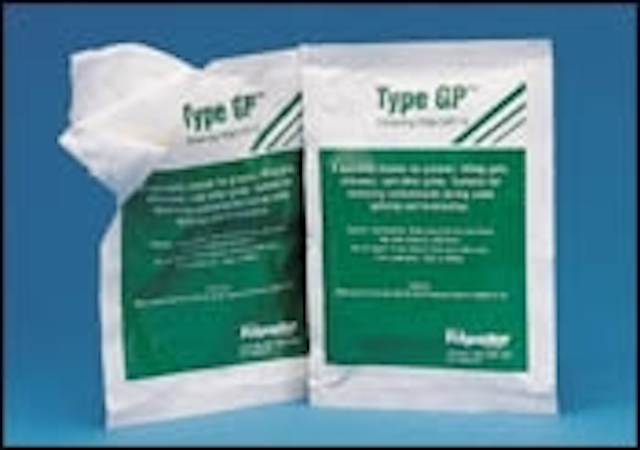 Click here to enlarge image
Cable cleaner
American Polywater's Type GP Specialty Cleaner has a moderate evaporation rate, has no ozone-depletion potential or carcinogens, and leaves no residue. The trade-off is a moderate flashpoint, so the cleaner is not intended for use when sparks or flame are present. Available in wipes, sprays, and bulk, the company says the product excels at cleaning flooding compounds, silicone greases, and adhesives.
AMERICAN POLYWATER CORP.
www.polywater.com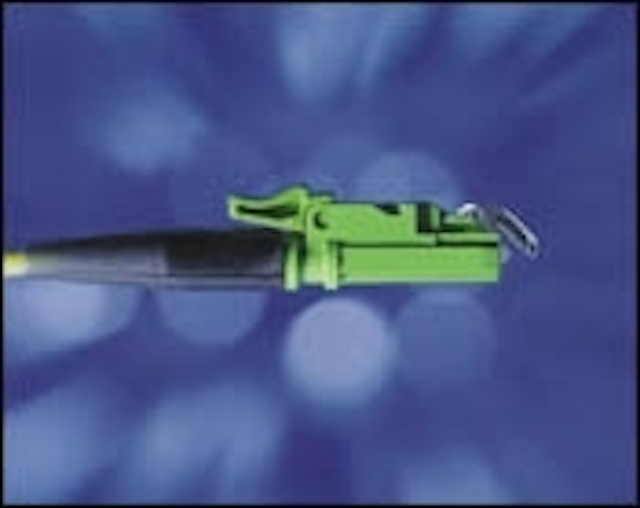 Click here to enlarge image
Connector with shutter
QPC Fiber Optic's E2000 connector has a full-metal protection shutter to conform to safety requirements in current laser classes. An insertion loss of less than 0.1 dB and a return loss of more than 85 dB on the angled physical contact (APC) make this system designed for high-performance networks, according to company claims. Its compact adapter is designed for high-packing applications and fits the same panel cut-outs as a SC simplex adapter. These assemblies are available with various cable types, from 900-micron buffered fiber to 3.0-mm jacketed cable.
QPC FIBER OPTIC INC.
www.qpcfiber.com
Environment-friendly jacket and insulation materials
To enhance the disposal and recycling capability of cables removed from service, AlphaGary introduces polyvinyl chloride (PVC)-based lead- and cadmium-free counterparts to their standard jacket and insulation materials for energy/power and local area network (LAN) cables. This environment-friendly metal-free range of materials provides you with a solution that maintains fire performance without sacrificing electrical properties. Also, these materials meet tray, IEC 332.1 and .3, riser, and plenum fire performance testing standards.
ALPHAGARY CORP.
www.alphagary.com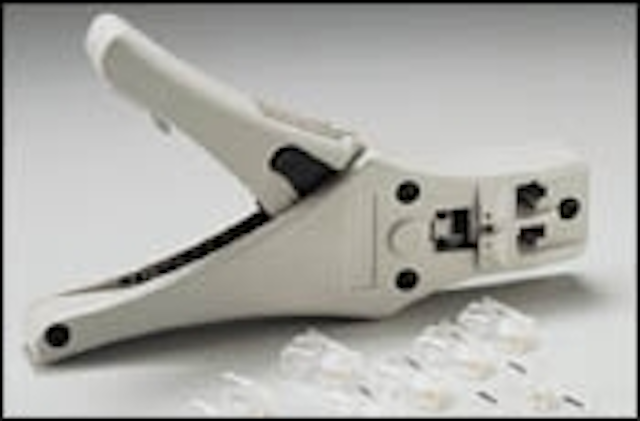 Click here to enlarge image
Crimp tool kit
Gardner Bender's GMC-2000 modular crimp tool kit cuts and terminates Category 3, Category 5, and handset cables. The kit features five RJ-11, RJ-22, and RJ-45-style modular plugs. Designed with a built-in wire stripping and cutting station, this kit is used to repair and install data wiring. A standard wiring configuration on the back of the package provides instructions.
GARDNER BENDER
www.gardnerbender.com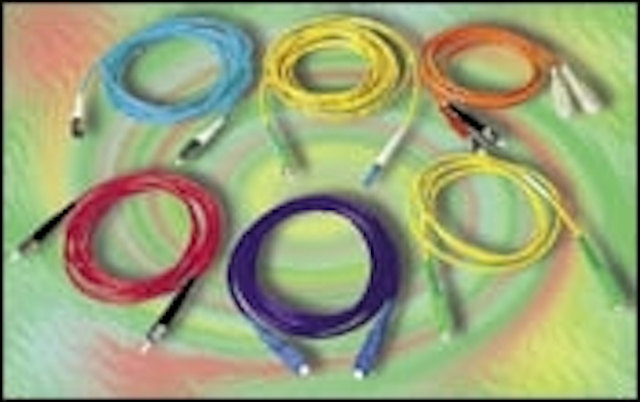 Click here to enlarge image
Custom patch cords
Fiber Instrument Sales' colored patch cords can help technicians identify ports while referencing labeling on ports or identification charts. Different custom-colored patch cords can identify such functions as forwarding transmissions, return transmission, and patching of certain fiber runs that may continue through to another location. Available in blue, orange, green, brown, slate, white, red, black, yellow, violet, rose, and aqua, the patch cords can be requested on multimode or singlemode cables.
FIBER INSTRUMENT SALES INC.
www.fiberinstrumentsales.com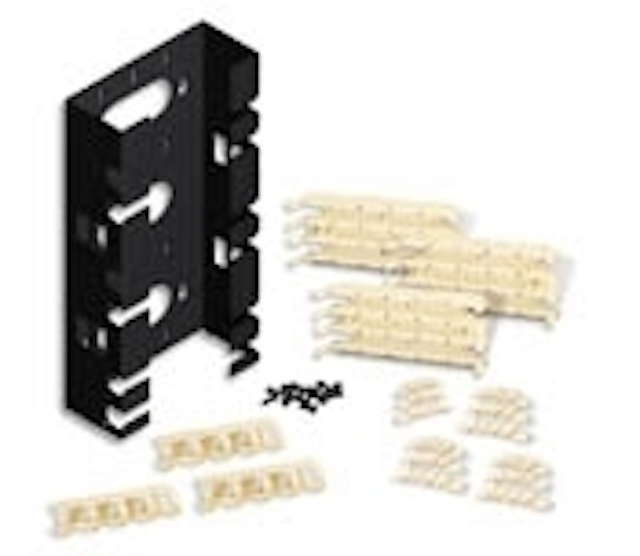 Click here to enlarge image
Cable management kit
Engineered to be wall-mounted and stacked as needed, ICC's IC110 tower kit provides a high-density crossconnect cable management system. The kit contains three 100-pair 110 blocks, seventy-two 4-pair connecting blocks, three cable management rings, and mounting hardware. Optional components include a wall-mounted cable management trough that can be mounted below the tower, wall-mounted cable management rings that can be mounted to either side of the tower, and wall-mounted cable channels that can also be mounted to either side of the tower or between towers. This kit comes ready for field assembly.
ICC
www.icc.com
Patch panels, spec sheets
Panduit has added two models to its line of Mini-Com modular patch panels. One is a 32-port patch panel that occupies one rack space, increasing density-per-rack unit by eight ports, compared to a standard high-density 24-port panel. The second panel is a 24-port recessed model, also occupying one rack space unit. This recessed panel is designed for use in cabinets employing a door, since the 3-inch recessed design provides extra clearance for patch cords and bend radius control. Like the other panels in the line, these panels feature front-removable snap-in faceplates for front access to modules.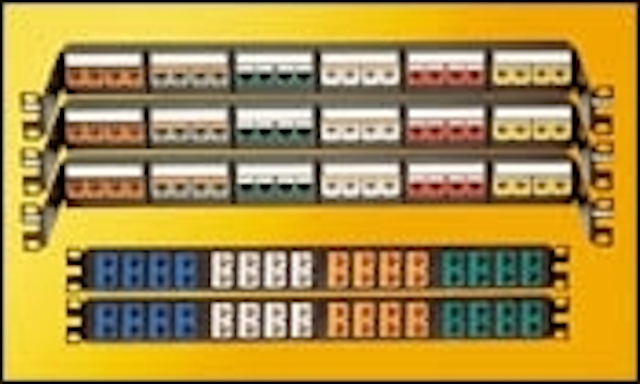 Click here to enlarge image
Panduit also offers three free spec sheets covering the features of the company's Opticom HD line of enclosures. The first spec sheet (SA117N308-OP) discusses the line's rack-mount, fiber-optic modular enclosures for protecting and organizing fiber-optic cables and connector, splitter, and wavelength-division multiplexing (WDM) modules in interconnect and crossconnect applications. A second spec sheet (SA117N309-OP) provides data on the line's rack-mount, fiber-optic connector enclosures, designed for the management of connectors and cables. The third spec sheet (SA117N310-OP) includes information on the company's telecommunications equipment racks and accessories, which provide support structures for fiber-optic enclosures, cable management, and active equipment.
For help with selecting one of the company's cable management systems, Panduit announces a series of spec sheets for vertical, horizontal, In-Cabinet, and Open-Access cable management systems. Each spec sheet describes detailed technical data, features, benefits, and application information. The vertical and horizontal cable management systems feature duct-style cable managers for fiber-optic, Category 6, and coaxial cabling. A second spec sheet covers the In-Cabinet cable management system-a modular system featuring wiring duct to manage and organize patch cords and distribution cable within a cabinet. The Open-Access spec sheet provides information on how the system's horizontal D-ring panels and rack-mounted vertical D-rings offer flexibility and efficiency for moves, adds, and changes.
PANDUIT CORP.
www.panduit.com/ncg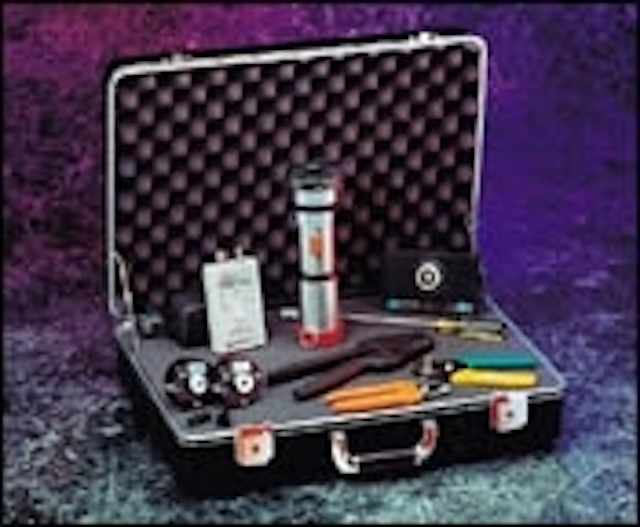 Click here to enlarge image
Tool kit, connector
Trompeter's newest version of its BNC installation tool kit includes a rapid charger for the battery-powered coaxial wire stripping tool, an ergonomically improved crimp-sleeve tool frame, and a modified BNC tester. Custom kits can be ordered with a mix of tools for specific applications.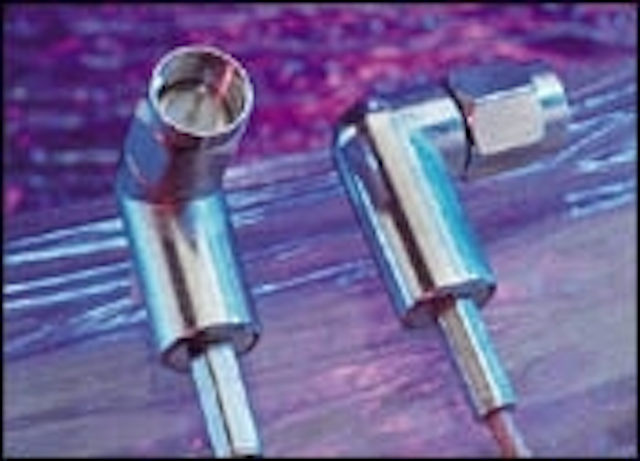 Click here to enlarge image
Trompeter's PLR130SC high-performance 90° F-connector is designed for wireless applications. The right-angle configuration is designed for space constraint situations, and allows for increased connector density. This connector delivers improved frequency response over an extended bandwidth, and can be assembled to any standard coaxial cable using the company's installation tools.
TROMPETER ELECTRONICS
www.trompeter.com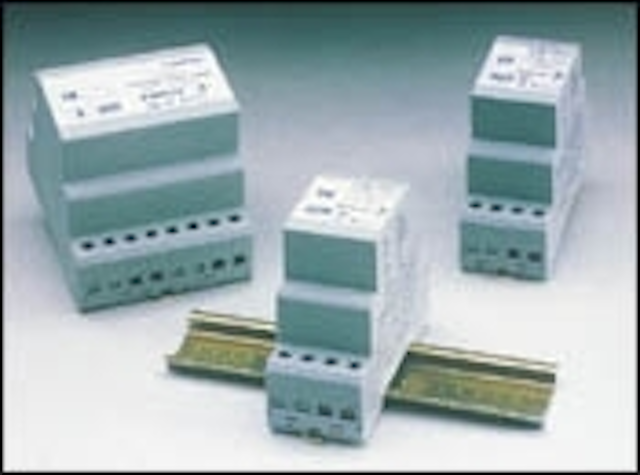 Click here to enlarge image
Surge protector
Erico's Critec Transient Discriminating Suppressor (TDS) is a shunt protection device that is installed across the power circuit near the equipment to be protected. It is designed for more robust electronic loads such as electromechanical devices, motors, heating, and lighting. It is packaged in a 35-mm Deutsches Institut fur Normung (DIN) rail mount and features light-emitting diode (LED) status indication, plus optional Form C alarm relay. Underwriters Laboratories Inc. (UL) 1449 Edition 2-recognized, UL 1283-compliant, and carrier service area (CSA)-certified, Erico says this transient suppression technology offers improved safety and reliability, yet retains optimum protection levels for sensitive electronic equipment.
ERICO INC.
www.erico.com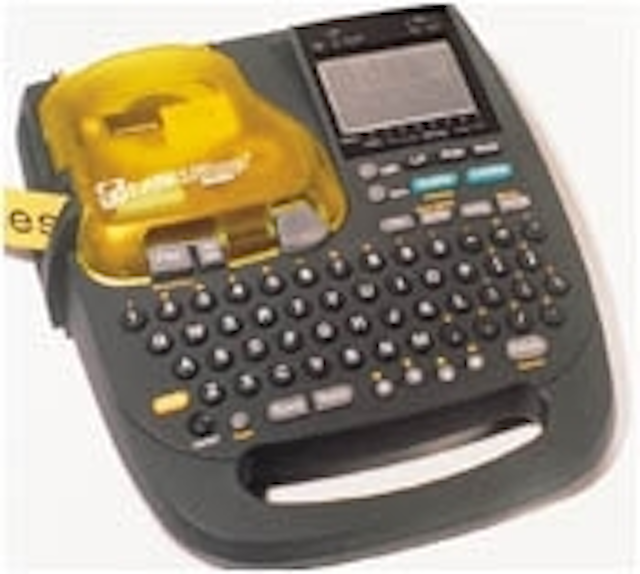 Click here to enlarge image
Label printer
K-Sun's LabelShop 2001XLST prints vertical or horizontal text on white, red, or yellow shrink-tube material. This machine can print up to eight lines in two different type styles and seven sizes. It can also print six bar code formats on 1/4- and 1/2-inch diameter heat shrink material. Conforming to Federal Communications Commission (FCC) Class B standards and meeting Underwriters Laboratories Inc. 224 specifications, there is more than 50% shrinkage in direction of diameter and less than 15% in length direction, according to company claims. Both alphanumeric sequencing and repeat printing are included in the unit.
K-SUN CORP.
www.ksun.com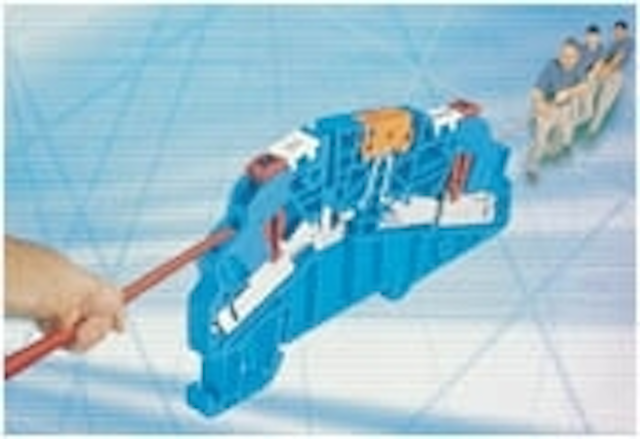 Click here to enlarge image
Terminal block, connectors
Wieland Electric's taris insulation displacement connection (IDC) terminal blocks are rated for 50 pounds pullout force for 14 American wire gauge (AWG) wire. These blocks employ a proprietary clamping design that moves the clamping mechanism to the wire, resulting in 80 to 100 newtons of contact force. The block is available in 29 versions, including single-double feed-through, knife-edge disconnect, fuse, and ground blocks. All are equipped with universal Deutsches Institut for Normug (DIN) mounting feet, and measure 5 mm wide.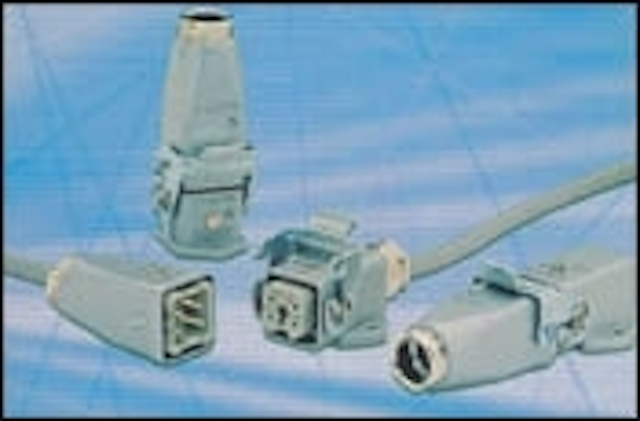 Click here to enlarge image
Wieland's metal-housed 76 Series miniature multipole rectangular connectors are silicon-free and carry an IP 55 protection rating. Available with top- or side-entry cable glands in three, four, and seven poles, plus ground configurations, the connectors offer pin density in a restricted space. Socket and plug contacts, which accept 16 to 22 AWG wire connections, are available in either screw clamp or crimp clamp versions. Screw clamps are 2.5 square mm, rated at 10 A and 600 V, while crimp connections are 1.5 square mm without contacts.
WIELAND ELECTRIC INC.
www.wiwlandinc.com
Fiber-optic adapter
Microtest's OMNIFiber SM adapter transforms the company's OMNIScanner into a comprehensive laser-based, singlemode fiber-optic certification tool. This adapter measures power, optical loss, and length at both 1,310- and 1,550-nm wavelengths. It tests fibers with improved speed by checking duplex fibers in both directions, at both wavelengths, and from a single autotest. Results are automatically compared against fiber-optic standards to certify links, and are stored for subsequent certification reporting. Also, interchangeable connector adapters let you directly support different fiber-optic connection systems.
MICROTEST INC.
www.microtest.com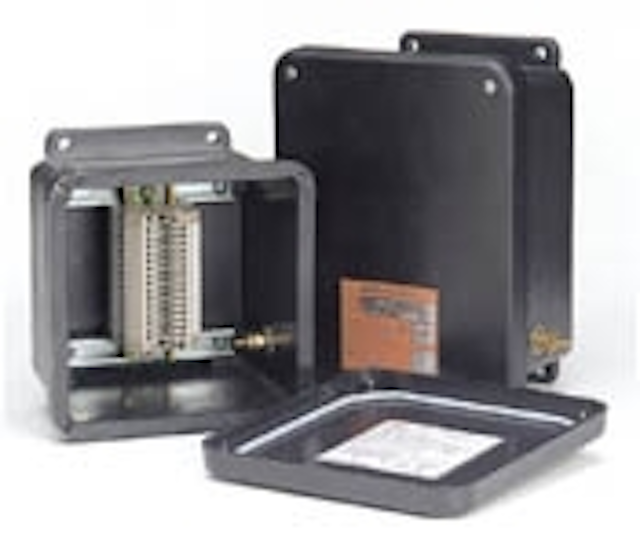 Click here to enlarge image
Terminal enclosures
Adalet's TFG Series of fiberglass terminal enclosures provide explosion protection through design measures that prevent the possibility of excessive heat and the occurrence of an arc or spark, according to company claims. Designed for both indoor and outdoor areas, the enclosures are compression-molded from a fiberglass- reinforced polyester resin. Standard features include: a memory retaining, poured-in-place silicone gasket; molded mounting feet with clearance holes; captive cover screws; chained cover; and a universal rail-mounting system for terminal rail assemblies.
ADALET
www.adaletcom
Cleaning products catalog
CAIG Laboratories' A Universe of Possibilities catalog introduces new products and packaging of environmentally-safe products, which eliminates the need for repeated cleaning. These products can be used on all metal surfaces that conduct electricity, such as edge connectors, integrated circuits, sockets, probes, contacts, relays, batteries, and terminals. The cleaning products do not rely on solvents to clean contacts and connectors, thus preventing damage during cleaning. A line of alternative applicators is available to meet the requirements of specific applications.
CAIG LABORATORIES INC.
www.caig.com
Click here to enlarge image
Communications solutions
3M's Communication Products Catalog features photographs, technical drawings, and specifications on the company's line of cabinets, enclosures, and main crossconnect (MDF) solutions for copper and fiber optics, as well as test, locating, and marking equipment. Static control, fire protection, safety/environmental, marker products, and specialty tapes are also highlighted. The catalog offers data in narratives and tables, with products cross-indexed by model number, generic alphabetical description, and by market.
3M
www.3m.com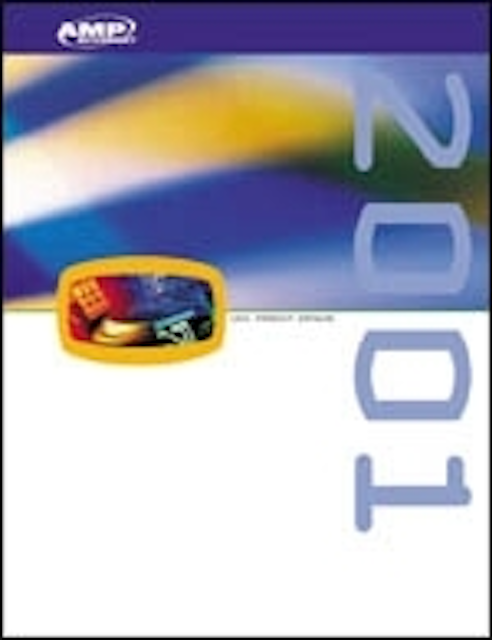 Click here to enlarge image
Premises cabling catalog
Featuring 355 new part numbers, Tyco Electronics' AMP Netconnect 2001 catalog introduces systems for Category 6, cable management systems, surface-mount raceway products, and a rack management offering. This catalog presents product data in bulleted facts and tables. Each catalog section has a contents and summary page. Products are cross-indexed by part number and by alphabetical description.
TYCO ELECTRONICS
www.tycoelectronics.com
Marking system
Automation Systems Interconnect's marking system can mark terminal blocks and wire markers-both wrap-around-adhesive-type and tube-insert-type-as well as panel and push button nameplates. The software features the ability to import both spreadsheet format documents and computer-aided design (CAD) files. Each kit includes the plotter, two tag templates, ink, solvent, printer cable, pen, software, and a manual.
AUTOMATION SYSTEMS INTERCONNECT INC.
www.asi-ez.com