BICSI Cabling Workshop and Cabling Installation Expo Product Showcase
This month's BICSI Cabling Workshop and Cabling Installation Expo 2001, September 18-20 at the Rhode Island Convention Center in Providence, RI, is a chance for members of the cabling industry to gather and view notable communications products and services relevant to the industry
Sep 1st, 2001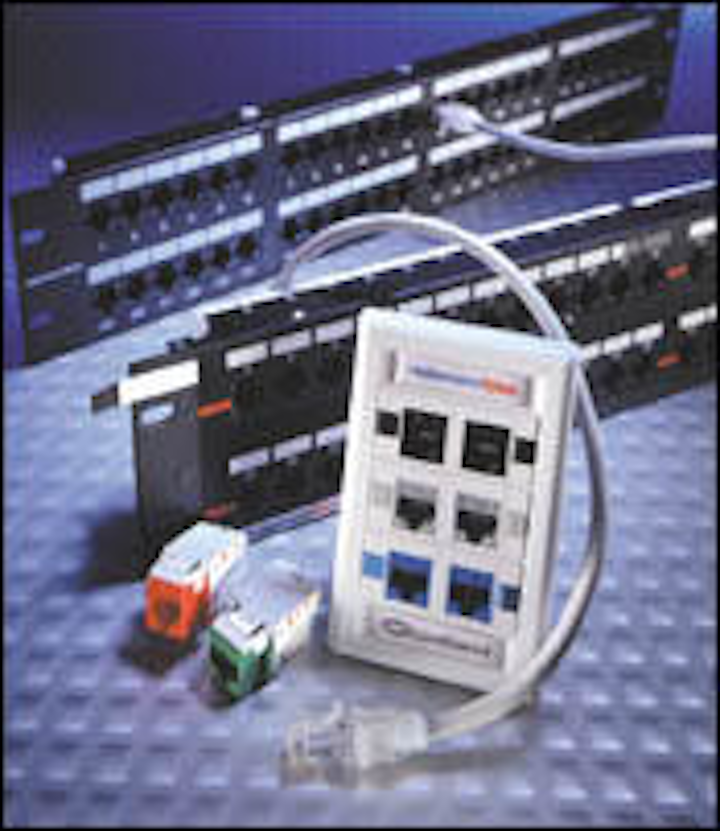 Compiled by Ryan Cliche
This month's BICSI Cabling Workshop and Cabling Installation Expo 2001, September 18-20 at the Rhode Island Convention Center in Providence, RI, is a chance for members of the cabling industry to gather and view notable communications products and services relevant to the industry.
The following is a representative sampling of what products and services will be featured at this year's conference: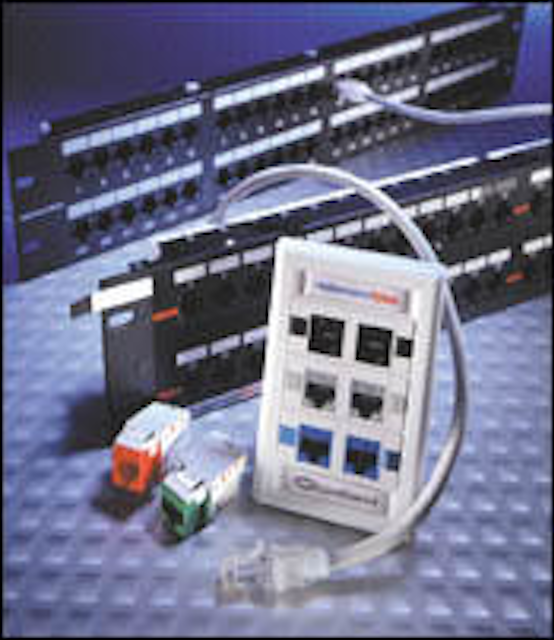 Click here to enlarge image
Structured cabling system
Designed to perform to the proposed Category 6 Commercial Building Telecommunications Cabling (TIA/EIA-568) B.2-1, draft 7 standard, the GigaBand system consists of jacks, patch panels, and patch cords. When these products are used with approved horizontal cabling, up to 20-dB attenuation-to-crosstalk ratio (ACR) headroom is achieved through the 4-connection channel. The system is interoperable with other manufacturer's products and offers backward compatibility. Its modular jacks are designed with two additional contacts built into the jack to ensure functionality and feature a design offering strain relief for the cable. The compatible patch panel features a slide label system that offers a protected labeling area for smudge-free identification of the ports as well as individual PCB modules.
HELLERMANNTYTON
www.htamericas.com
BOOTH #930
Click here to enlarge image
Optical-fiber cable line
Superior Essex's 62.5-micron TeraGain XT fiber line is designed to provide a bandwidth of 250 MHz/km at the 850-nm wavelength and 1,200 MHz/km at the 1,300-nm wavelength, making it the highest bandwidth 62.5-micron fiber product on the market, according to company claims. This cable is designed to support the IEEE 802.3z Gigabit Ethernet standard to distances of 625 meters at 850 nm and 1,225 meters at 1,300 nm, according to company claims, which are greater than two times the industry standard of 200 meters and 500 meters for the respective wavelengths. The bandwidth capabilities also provide for headroom that may be required by future applications. It is available in both 50-micron and 62.5-micron fiber designs, including simplex, duplex, zipcord, quad, distribution, riser, and indoor/outdoor loose tube cable constructions.
SUPERIOR ESSEX COMMUNICATIONS GROUP
www.superioressex.com
BOOTH #903

Click here to enlarge image
Flexible raceways
Carlon's Riser-Gard, Plenum-Gard, and Flex-Plus Blue ENT flexible cable management raceways for power, data, and communications applications are nonmetallic and lightweight. The corrugated design lets you push or pull wire with minimum effort and offers nonconductive, noncorrosive protection, according to company claims. Male terminal adapters for adapting the conduits to boxes, threaded fittings, and metallic systems and ceiling boxes for fixture support are available accessories.
CARLON
www.carlon.com
BOOTH #817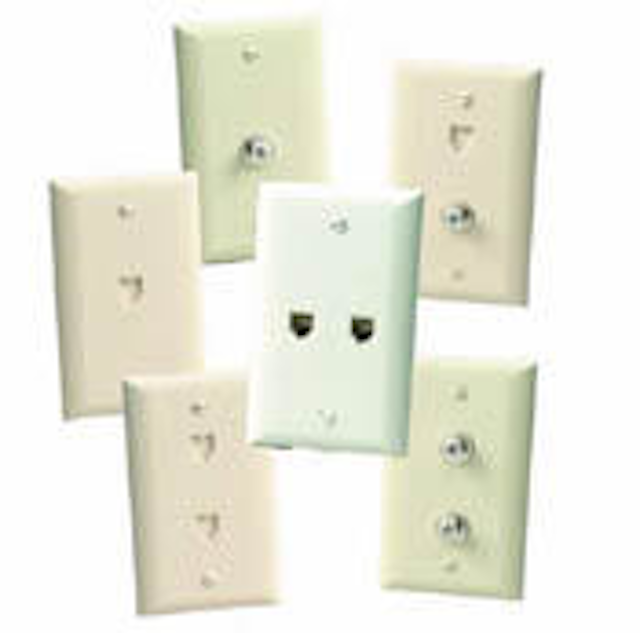 Click here to enlarge image
Designer faceplates
Suttle's 2000 Series designer faceplates have a smooth surface, painted screws, and rounded corners designed to resemble existing electrical faceplate designs. These faceplates are designed to eliminate the need for mounting brackets. The units are available in either 4- or 6-conductor versions, with or without spring-loaded trap doors, and in four designer colors. CorroShield equipment and "F" adapters come standard with the faceplates.
SUTTLE
www.suttleonline.com
BOOTH #910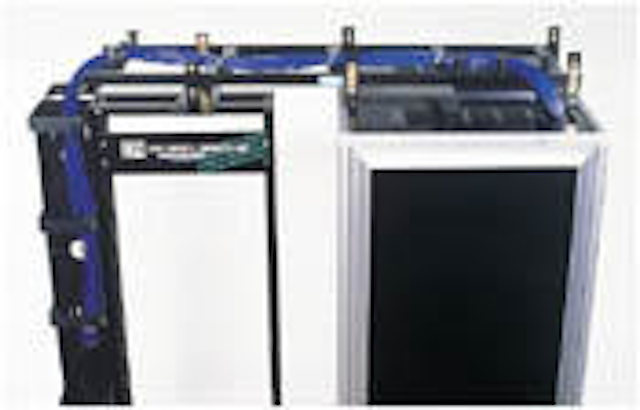 Click here to enlarge image
Routing system
Available in single- or double-sided styles; in narrow, wide, or extra-wide widths; and in seven different heights; Chatsworth Products' MCS Master Cabling Section system provides a vertical pathway for routing cable between or adjacent to the company's racks. Cable guides in the system align with rack spacing to let you transition cable from the horizontal to the vertical pathway. The aluminum Switch Gate door/cover for hiding and concealing cabling is a standard feature. Designed to open from either the left or right, the door/cover can also be removed. Double-sided sections have pass-through ports for front-to-back cable routing.
CHATSWORTH PRODUCTS INC.
www.chatsworth.com
BOOTH #1017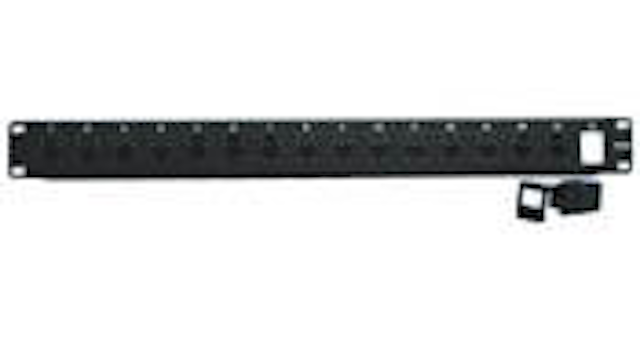 Click here to enlarge image
Cat 5e patch panel
Acton's MPK016C-5E patch panel lets you terminate cables directly to a modular plug instead of terminating to a punchdown block. After you crimp the wiring and modular plug, you can snap the plug directly into the panel. All components can be ordered separately. Also, the company can pre-load the patch panel for faster installation.
ACTON CORP.
www.acton.cc
BOOTH #1117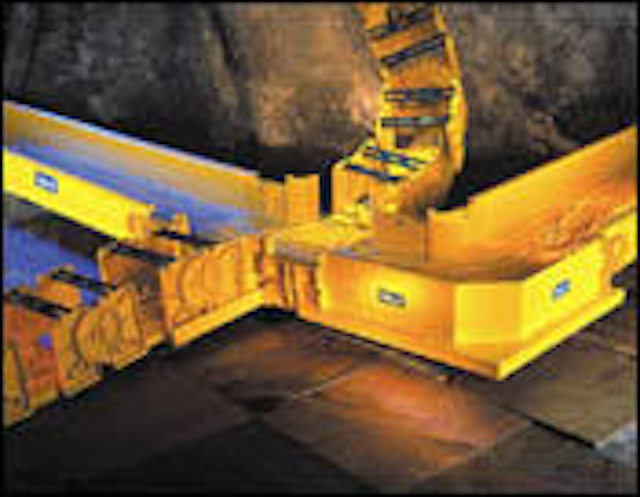 Click here to enlarge image
Cable management solution
Telect's WaveTrax solid optical-fiber guideway system offers snap-on hinged lids that protect fiber while providing access. It is available in 5- and 6-foot channel lengths and widths ranging from 2 to 12 inches. High volumes of cable in perimeter or trunk environments can be managed with the 12- and 8-inch width channels, while 2, 4-, and 6-inch widths are designed for routing and protecting smaller volumes of cable in distribution bay runs. It uses roving off-ramps to provide a bend radius exit for the cable without cutting the trough and inserting a dedicated drop. No junction is needed.
TELECT
www.telect.com
BOOTH #1007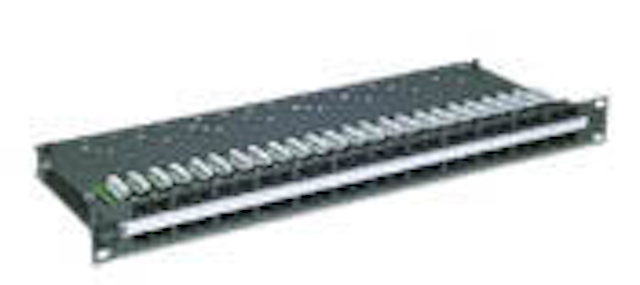 Click here to enlarge image
48-port patch panel
Molex Premise Networks' 48-port HD Patch 5e in a 1U configuration meets TIA/EIA Category 5e standards with 3 dB of headroom. The high port density of the patch panel is designed for data centers, Internet service providers, and other applications where cabinet and/or rack space is at a premium. Using the company's connectors, the panels can be terminated with standard tooling. Labeling features, rear cable management options, and a powdercoat finish give it an industrial design.

Click here to enlarge image
Also featuring labeling features and rear cable management, Molex Premise Net works' Category 5e and 6 shuttered patch panels combine the benefits of the DataGate jack: headroom, a shutter shielding unoccupied jacks from contaminants, and tactile plug/jack engagement feedback, with the benefits of the company's patch panels. These patch panels are designed with 3 dB of headroom at a component level for improved link and channel performance. Also, the patch panels are laboratory-tested.
MOLEX PREMISE NETWORKS
www.molexpn.com
BOOTH #1003
Click here to enlarge image
Connector, cable splice
Trompeter Electronics' SMZ series UPL143-026 plug is a 75-Ω coaxial subminiature connector that uses a Posi-Lok-type interface. The small BT43-type connector is designed for improved interconnect density in a rack. While the connector does not use a bayonet coupling mechanism, it does have a non-threaded positive locking feature. These connectors are terminated using the company's standard BNC strip and crimp tools.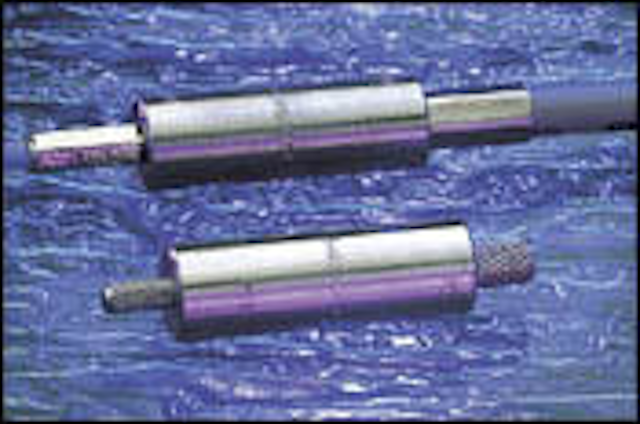 Click here to enlarge image
Trompeter's cable splice is designed for transitioning common cable types, such as 734 and 735, and for splicing like cables together. Use of the splice reduces the number of connectors involved and prevents potential disconnection. Featuring return loss and insertion loss characteristics, the splice accommodates standard stripping dimensions and installation can be accomplished with the company's standard crimp tools.
TROMPETER ELECTRONICS INC.
www.trompeter.com
BOOTH #1106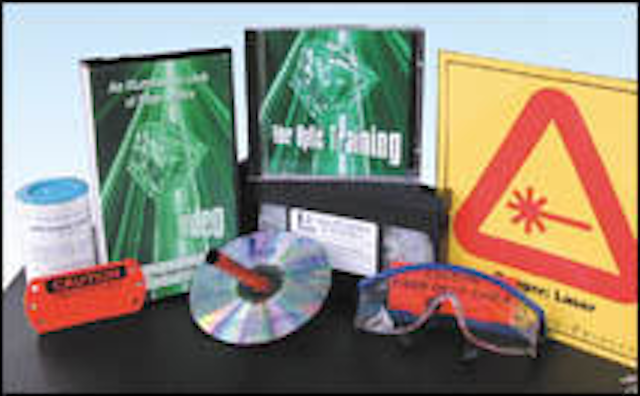 Click here to enlarge image
Safety video/CD-ROM
The Light Brigade's Fiber Optic Safety is designed to give a detailed explanation of the many safety issues that need to be followed when working with optical-fiber. Both field and lab applications are covered with specific examples of necessary safety practices and standards. Topics include: safety in the work area, safe handling of optical fibers, laser safety, ultraviolet light, chemical and right-to-know laws, safety in installations, confined spaces, high voltage, and safety tools. This is designed as a supplement to an organization's internal safety program.
THE LIGHT BRIGADE
www.lightbrigade.com
BOOTH #1211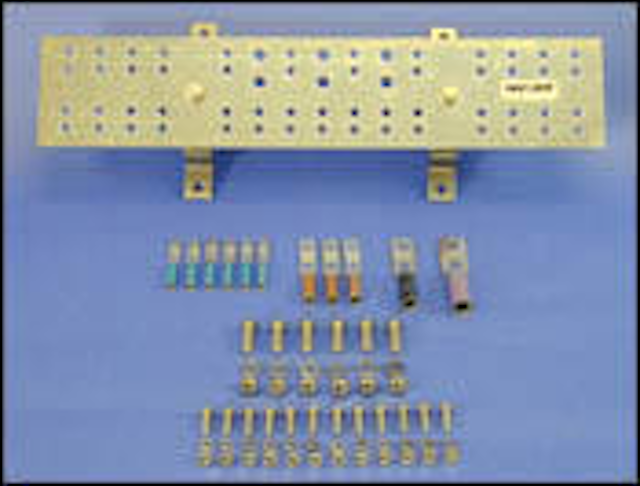 Click here to enlarge image
Ground bar kits
Harger's ground bar kits are designed for cabling installation contractors. These ground bar kits include a ground bar manufactured from tin-plated electrolytic tough pitch copper bar and hardware consisting of compression lugs, stainless steel screws, washers, and nuts. Stainless steel wall brackets and insulators are also provided.
HARGER LIGHTNING & GROUNDING
www.harger.com
BOOTH #937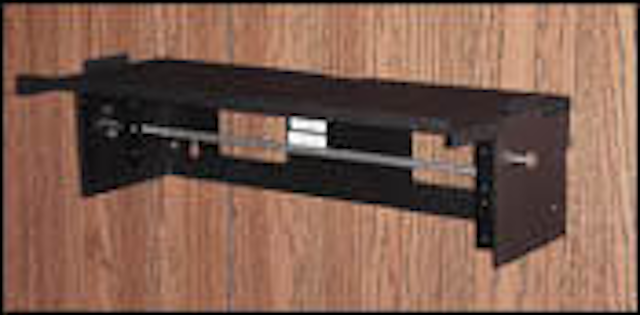 Click here to enlarge image
Wall mount solution
iNNOdata's EZMBL and EZMBLS EZ Mount wall swivel bracket/shelf combination provides a platform to install a small network including up to a 48-port patch panel as well as mini hubs, modems, and switches. It requires 19x5 inches of wall space and the shelf is 8 inches deep. The EZ Mount swivel bracket technology lets you punchdown the mounted patch panel from the facing side.
INNODATA LTD.
www.ezmt.com
BOOTH #902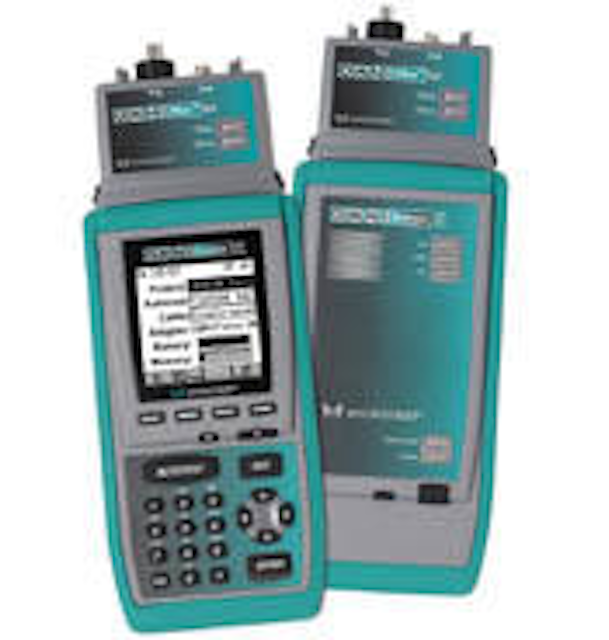 Click here to enlarge image
Adapter, testers, tester enhancements
Microtest's OMNIFiber SM adapter measures power, optical loss, and length at both 1,310 nm and 1,550 nm wavelengths. Fiber testing is delivered by checking duplex fibers in both directions, at both wavelengths, from one-button Autotest. Results are automatically evaluated against fiber-optic industry standards like Gigabit Ethernet or Fiber Channel for performance certification and are also stored for subsequent reporting. It features interchangeable connector adapters for the direct support of fiber-optic connection systems (SC, ST, LC, FC, and MT-RJ). This adapter lets you switch from copper cable testing to singlemode fiber cable testing.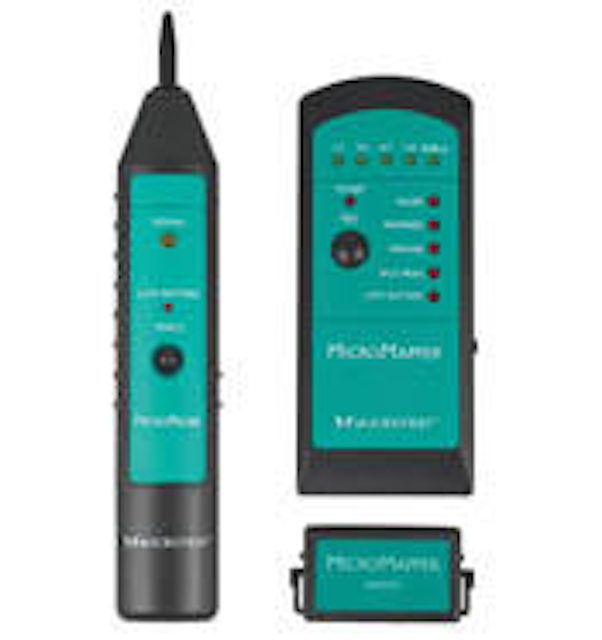 Click here to enlarge image
Microtest's MicroMapper, MicroNetBlink, and MicroProbe are designed to address the diagnostic needs of network administrators and installers, and includes tools for both residential and commercial network testing. The MicroMapper tests local network twisted-pair cabling for opens, shorts, crossed, reversed, and split pairs. MicroNetBlink identifies network ports and cables in crowded wiring closets through both analog toning and digital signaling methods. MicroProbe is an inductive probe with a non-conducting tip for tracing cables and locating network jacks. All of these products have six-language user guides, accompanying carrying cases, and patch cords.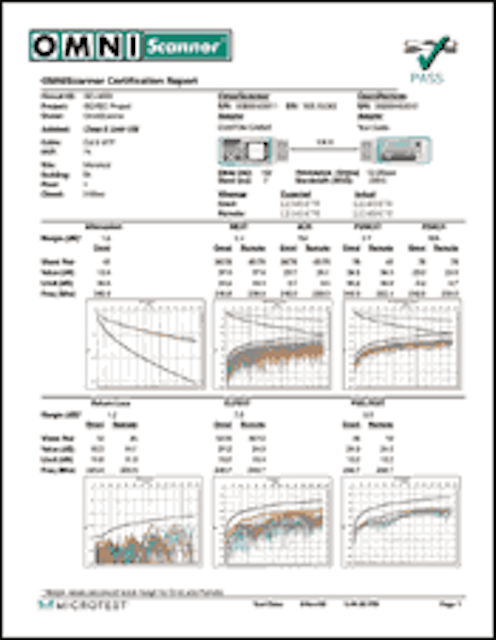 Click here to enlarge image
Microtest announces software updates for the OMNIScanner tester line designed to provide diagnostic tools and long-term compliance with upcoming TIA and International Organization for Stand ardization (ISO-www.iso.ch) standards. Localized language support lets you provide both certification re ports and all operating and user interface aspects in your native language. Using a proprietary algorithm, a measurement function diagnoses the presence and severity of external noise sources that may impact network performance. A compatible audible tone generator traces wires behind walls or ceiling panels, in wire bundles, or at punchdown locations in wiring closets. Also, the testers have been updated to comply with proposed TIA 568B, Category 6, and ISO 11801 2nd Edition standards.
MICROTEST INC.
www.microtest.com
BOOTH #825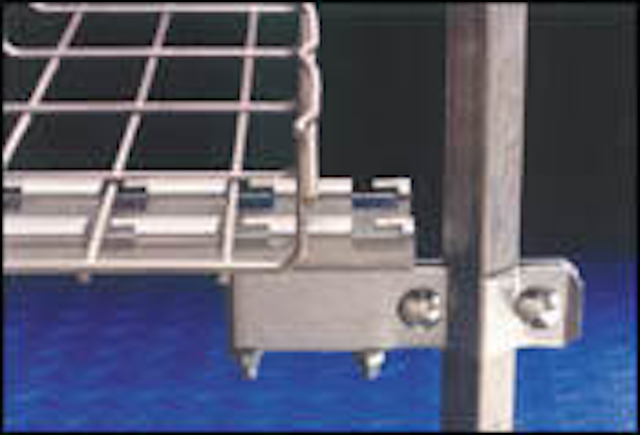 Click here to enlarge image
Cable tray accessory
Cablofil's UFCN is a support accessory for the company's wire cable tray that attaches to support posts in raised access floor installations. Its snap- on-and-bolt design reduces installation time. The unit is a corrosion-resistant clamp that includes bolts and nuts needed for attachment to both square and round support posts. This adjustable clamp is designed to adapt to under floor installations.
CABLOFIL INC.
www.cablofil.com
BOOTH #1203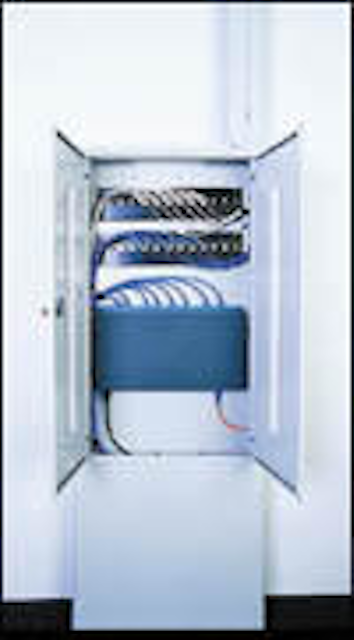 Click here to enlarge image
Limited space enclosure
Holocom Networks' Sure Thing Gateway has a wall-mount application designed for data environments with minimal amounts of space. It is secured by lock; accommodates both ceiling and floor cable feeds; and houses switches, hubs, routers, and media converters. Also, it supports new network overlays and cutovers without interrupting network operations while reducing the number of cables in the horizontal infrastructure by 95%, according to company claims.
HOLOCOM NETWORKS
www.holocom
networks.com
BOOTH #1116
Click here to enlarge image
Category 6 system, connector system, singlemode jack
Tyco Electronics' AMP Netconnect Category 6 cabling system meets TIA- and International Organization for Stand ardization (ISO-www.iso.ch)-proposed performance requirements for Category 6/ Class E cabling systems and components. SL Series Category 6 jacks are designed to support 180° and 90° cable termination for added flexibility. The Category 6 patch panels provide the same circuit layout per jack for improved performance on each port. If repair is necessary, individual jacks may be replaced without disturbing other ports.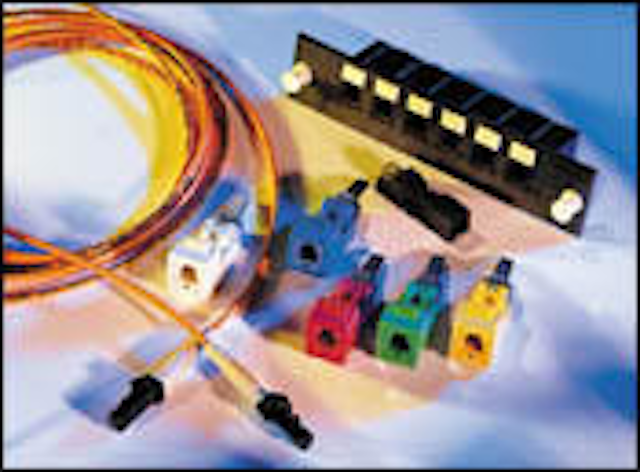 Click here to enlarge image
AMP Netconnect MT-RJ optical fiber cabling system combines of the features and benefits of the standard MT-RJ connector system with the added advantage of network security. Molded slots on the plug and molded keys on the latching jack reduce the chance of accessing the wrong network. The plugs and jacks are keyed in four different color-coded versions to assist network administrators in identifying the designated plug intended for an authorized workstation jack. Like standard MT-RJ connector products, the MT-RJ connector secure products are designed to fit into conventional 8-pin modular faceplates and patch panel cutouts to provide density when converting from copper to optical fiber cabling. Also, the MT-RJ connector features epoxyless and polish-free fiber termination.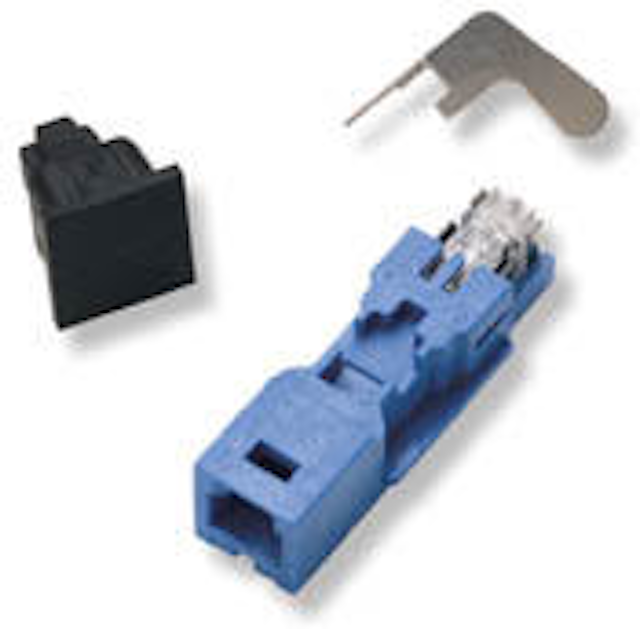 Click here to enlarge image
AMP Netconnect singlemode MT-RJ connectors feature a factory-polished ferrule. Like the multimode MT-RJ jack connectors, the singlemode design uses the same technology, eliminating the need for epoxy, curing ovens, heat, or power to achieve a connection. These jacks can withstand temperature fluctuations ranging from -10° to +60°C, meeting the relevant TIA/EIA, International Electrotechnical Commission (IEC-www.iec.ch), and the European Committee for Electrotechnical Stand ardization (CENELEC-wwww.cen elec. org) standards, according to company claims. The same toolkits for the company's multimode MT-RJ jack also terminate singlemode MT-RJ jacks.
TYCO ELECTRONICS
www.ampnetconnect.com
BOOTH #920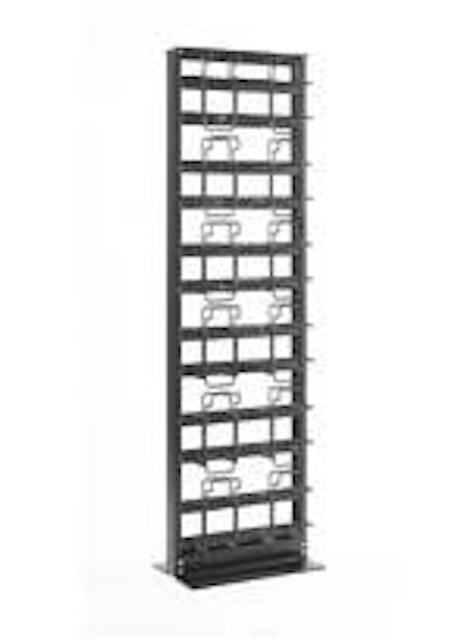 Click here to enlarge image
Distribution frame
Homaco's single-sided XLBET floor frames are designed to use minimal space for high density without congestion. You can mount 100- or 300-pair 110D blocks and terminate up to 3,600 pairs on a 23-inch equipment rack. These frames feature separate cabling and jumpering fields for tracing.
HOMACO INC.
www.homaco.com
BOOTH #821
Ferrule polishing machine
US Conec's multi-fiber ferrule polishing machine uses a pneumatic system that applies the polishing force instead of a mechanical system found in most other polishing machines. The pressure is controlled by a built-in planar lightwave circuit (PLC) microprocessor, resulting in improved accuracy and consistency. It comes pre-programmed with procedures developed by the company and gives the customer the ability to program their own processes. Both methods provide step-by-step instructions on a LCD screen that guide you through the entire process.
US CONEC LTD.
www.usconec.com
BOOTH #738
Category 6 system
Ortonics' Clarity is a component and channel standards-compliant line, including modular 110 jacks, patch panels, patch cords, 110 blocks, and 110 cords. Targeted balance offers minimal impact of media change on the transmitted signal. Dual-reactance technology is designed for a nearly transparent interface for improved signal-to-noise ratio. Also, the system offers backward compatibility and interoperability with other standards-compliant cabling elements and field testers.
ORTRONICS INC.
www.ortronics.com
BOOTH #631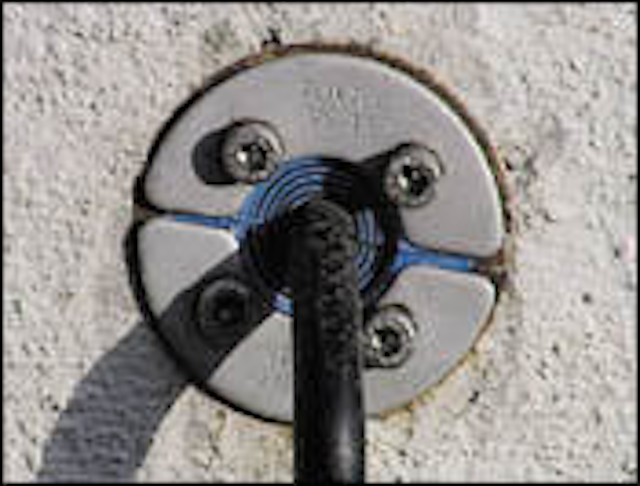 Click here to enlarge image
Sealing system
Roxtec's RS Conduit Seal is a mechanical sealing system designed to seal a single cable or pipe by creating an air- and water-tight seal. It is rated for hazardous area locations and is also used as a firestop system in accordance with Underwriters Laboratories (UL-www.ul.com) 1479/American Society of Test and Measurement (ASTM) E814. You can use the sealing system in new applications or retrofits around existing cable or pipe. The sealing system is available in 10 sizes from .90 to 5.99 inches, while sealing cable or pipe from .14 to 4.69 inches.
ROXTEC INC.
www.roxtecinc.com
BOOTH #806