New Products
Wiremold's nonmetallic Eclipse raceway comes in standard 8-foot sections and may be installed by one person
Sep 1st, 2001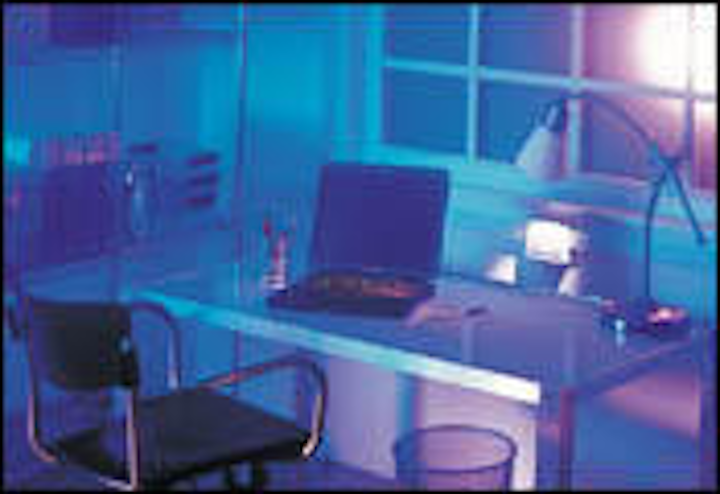 Compiled by Ryan Cliche
null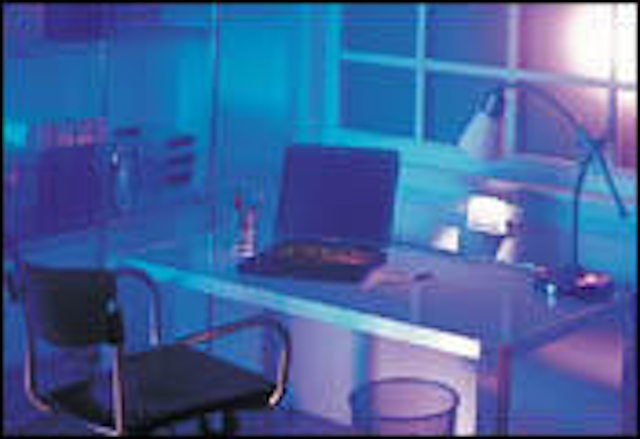 Click here to enlarge image
One-person raceway
Wiremold's nonmetallic Eclipse raceway comes in standard 8-foot sections and may be installed by one person. Its sections feature a standard adhesive backing for low-voltage applications. All base sections and fittings have alignment guides that help avoid gaps and uneven installations. Built-in wire retainers facilitate lay-in installation without the use of wire clips. Also, a drop ceiling connector fits over the existing ceiling grid, so cutting of the grid is eliminated.
WIREMOLD CO.
www.wiremold.com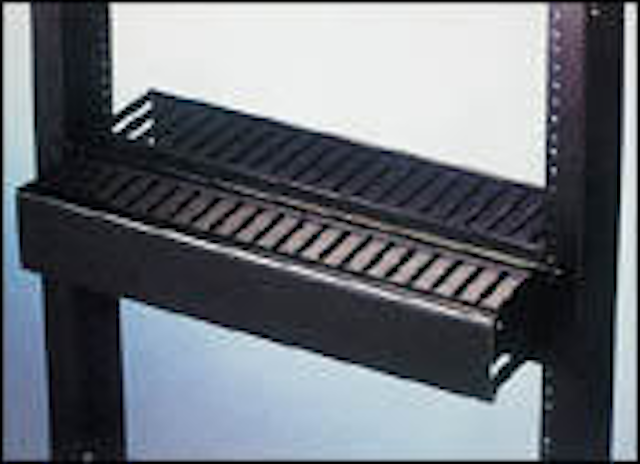 Click here to enlarge image
Cable management panel
Dek, a division of Tyco Electronics, introduces a dual-sided 3x3-inch/3x4-inch horizontal management panel designed for improved cable routing. A 1-inch standoff extends the rear channel and provides a "single-surface" look at the rear of the rack. A wire retainer attaches to the panel side slots with a twist-lock action, holding the cables in place when the cover is removed. A quick-release design helps you add new cables in less time.
DEK CABLE ACCESSORIES INC.
www.dekusa.com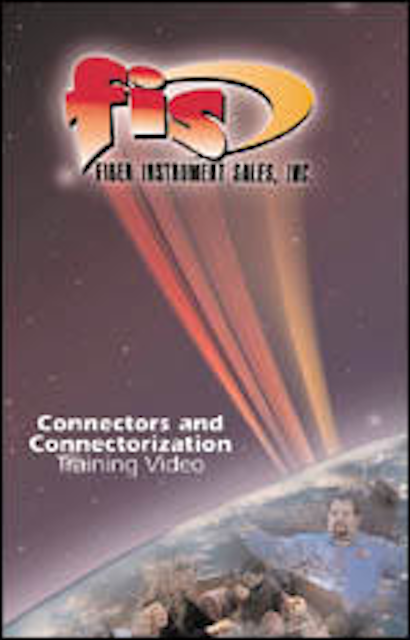 Click here to enlarge image
Training video
Fiber Instrument Sales' training video Connectors and Connectorization teaches connectorization from a classroom setting. This first in a series of training videos features training specialist John Bruno. It is a no-nonsense, right-to-the-point tutorial, which is designed to show you how to assemble both the ST and SC connectors. The techniques discussed in the video can be applied to other connectors as well.
FIBER INSTRUMENT SALES INC.
www.fiberinstrumentsales.com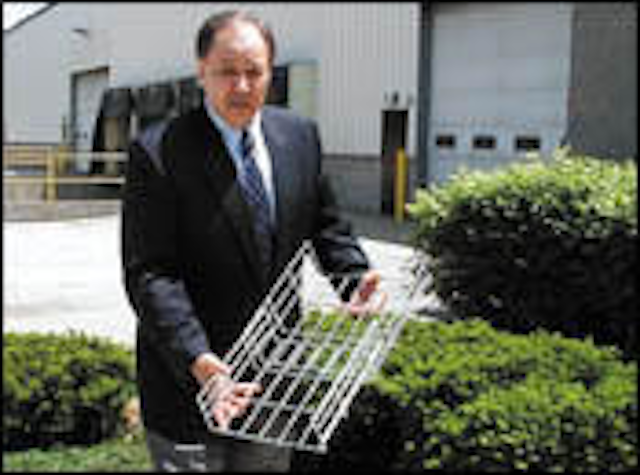 Click here to enlarge image
Cable tray
Triangle Electrical Products' (TEPCO) Ameri-Tray wire mesh cable tray system for cable management layouts is manufactured in feet and inches. This tray solves the problem of converting tray requirements from metric. It is available in all standard sizes in electro-galvanized, powder-coated, or 304 and 316 stainless steel finishes. Also, metric sizes may be custom-ordered for existing installations.
TRIANGLE ELECTRICAL PRODUCTS CO.
Tel. Only: (888) 558-9500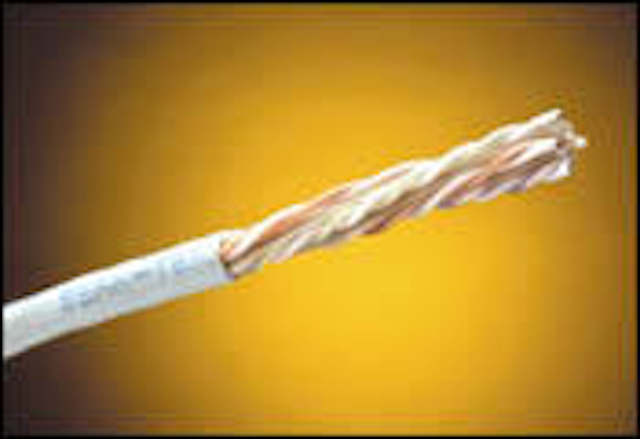 Click here to enlarge image
UTP patch cable
Berk-Tek's LANmark-2000 4-pair unshielded twisted-pair (UTP) patch cable is designed to meet the proposed TIA/EIA Category 6, Draft 8 standard. The cable is constructed of two insulated conductors twisted together to form a pair and four such pairs laid-up to form the unit jacketed with flame-retardant PVC. It provides bandwidth required for multimedia, broadband video, voice, and data to operate simultaneously. Also, the cable has balance requirements to improve overall cable performance and reduce cable emission, resulting in fewer transmission errors.
BERK-TEK
www.berktek.com
Cabinet catalog
Bud Industries' 4-color catalog DC-100 features server and collocation cabinets, turn-key cabinet assemblies, distribution cabinet assemblies, open rack servers, wall-mount racks, and open double racks. There is also a line of Underwriters Laboratories Inc./National Electrical Manufacturers Association/International Electrotechnical Commission (UL-www. ul.com/NEMA-www.nema.org/IEC-www.iec.ch)-compliant enclosures, wall-mount cabinets, and accessories to complement the line. For custom data communications enclosures, there is a section describing the company's design and fabrication capabilities.
BUD INDUSTRIES INC.
www.budind.com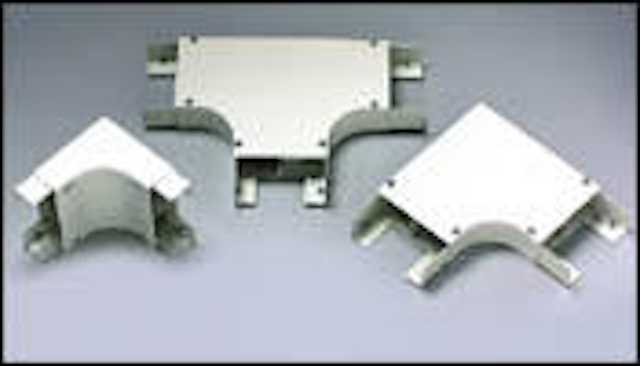 Click here to enlarge image
Raceway accessory
Thomas & Betts' radius fittings are designed to provide the appropriate bend radius for Category 5e, Category 6, and fiber-optic cabling, and eliminate the sharp corners that can degrade network performance. Underwriters Laboratories Inc. (UL-www.ul.com)-listed, the metallic fittings are available in ivory and gray. Voltage dividers, which can be pre-assembled at the factory, are designed to separate power and voice/data cabling throughout the system.
THOMAS & BETTS CORP.
www.TNB.com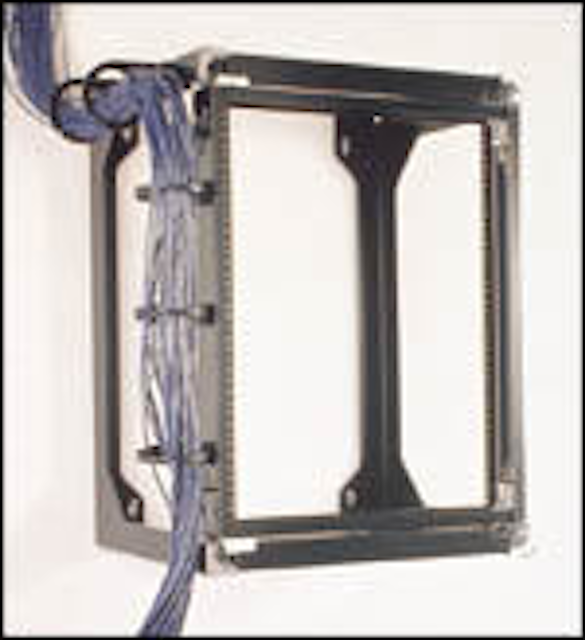 Click here to enlarge image
Racks, cabinet
Chatsworth Products' Fixed Wall-Mount equipment rack and the Standard Swing Gate wall rack designs for smaller network systems feature double-sided rack mounting channels and offer a range of sizes and multiple points of attachment, allowing for a wider range of equipment to be attached directly to the racks. This design expands the racks' ability to accommodate shelves of varying dimensions and functionality. These wall-mount units also feature an improved mounting bracket design. The Fixed Wall-Mount equipment rack provides a fixed mounting surface with a high load bearing capacity; the Standard Swing Gate wall rack features a pivoting mounting surface that is designed for improved access to the rear of equipment.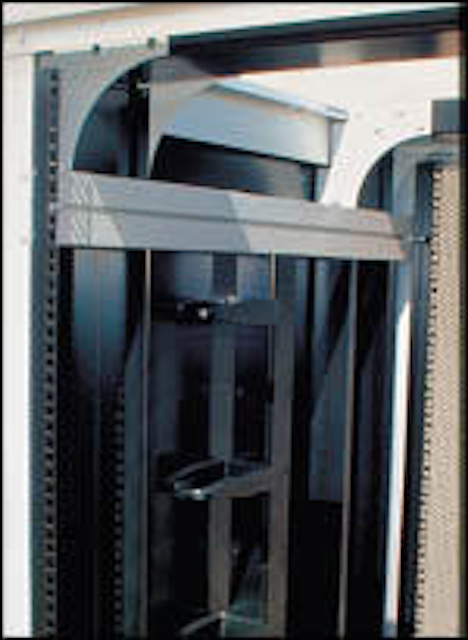 Click here to enlarge image
Zone 4-compliant to Bellcore's GR-63-CORE, section 4.4.1.1, for Network Equipment Building Systems (NEBS), Chatsworth Products' Seismic Frame cabinet system has been tested to withstand the stress of an 8.3 Richter scale earthquake, according to company claims. The 19x36x84-inch cabinet is built on a high-grade aluminum frame and features built-in cable management. A Multi-Mount rail design lets you mount different servers and other equipment within the same cabinet.
CHATSWORTH PRODUCTS INC.
www.chatsworth.com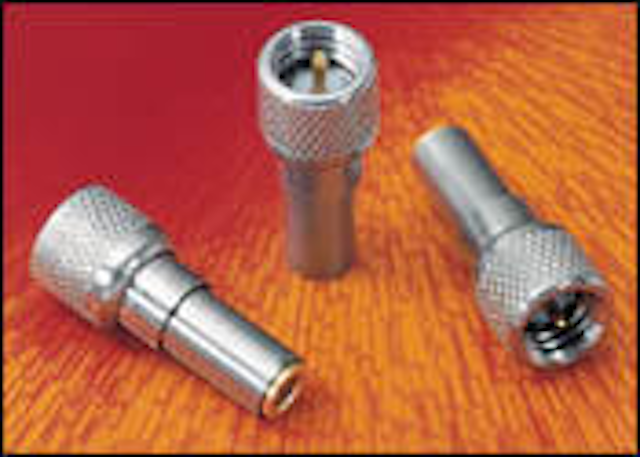 Click here to enlarge image
Coaxial connector
Tyco Electronics' Microdot coaxial connectors have stainless steel housings and coupling nuts. The stainless steel design is available for straight connectors in all of the line's connector sizes, including the standard, gold-plated crimp-style connector and twist-pin-style connector series. These connectors accept 50-, 70-, and 93-ohm miniature coaxial cables and are available in screw-on, slide-on, or quick-connect versions. It is also available in a brass construction version.
TYCO ELECTRONICS CORP.
www.tycoelectronics.com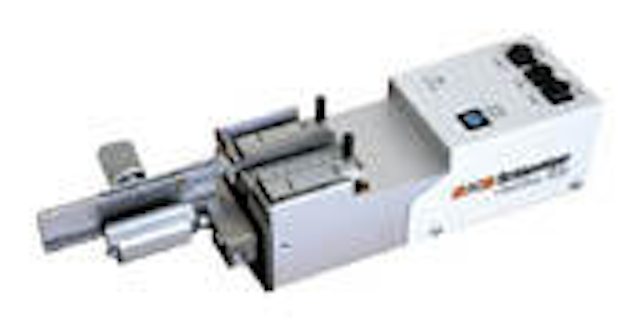 Click here to enlarge image
Cable stripper
Schleuniger's 1.5-lb FiberStrip 7035 semi-automatic fiber ribbon stripper may be used in a production environment or during the field installation of cable systems with fiber ribbons. This portable unit is designed to complement cleaving and splicing devices for standard and high-strength applications. A closed-loop temperature control improves repeatable stripping quality. Also, a motorized stripping stroke lets you document repeatable processes.
SCHLEUNIGER
www.schleuniger.com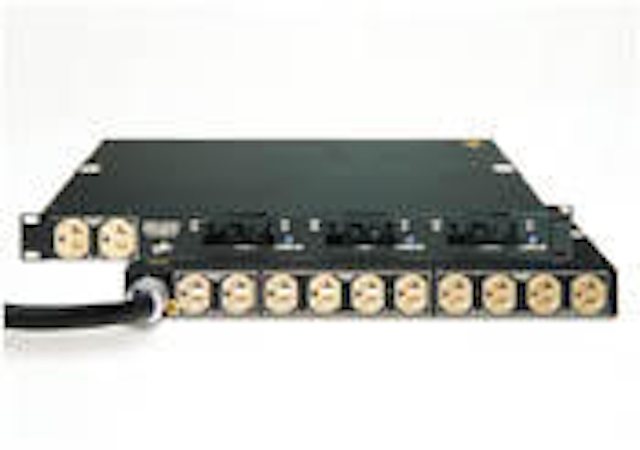 Click here to enlarge image
Power distribution systems
Pulizzi Engineering's TPC4100 Series of 3-phase, high-current, zero-U-mounted power distribution systems is designed for either zero-U or 1-U rack mounting and provides 20A or 30A 3-phase WYE power input with distribution to 12 single-phase outlets rated 15A or 20A at either 120 V, 240 V, or a combination of the two. This is provided in a 16-GA steel chassis that measures 19x1.75x9.5 inches. The series is designed to provide over-current Listed Main Disconnect circuit breaker protection to Underwriters Laboratories Inc. (UL-www.ul.com) 489 requirements and includes electromagnetic interference/radio frequency interference (EMI/RFI) filtering and surge suppression. There are four outlets per phase with PH-X, having two outlets on both the front and rear panel, whereas PH-Y and PH-Z have four outlets each on the rear panel.
PULIZZI ENGINEERING INC.
www.pulizzi.com
2-way balun
NHC/Muxlab's VideoEase 2-Way audio/ video balun lets you transmit to two baseband video and two audio signals via one Category 5 cable. The product is designed to eliminate the need to use coaxial cable and take advantage of pre-existing twisted pair in a building. Used in pairs, the balun supports color composite and color up to 2,200 ft and 500 ft respectively via Category 5 cable, according to company claims.
NHC/MUXLAB
www.nhc.com
By the Book

Safety manuals cover lasers
The Laser Institute of America (LIA) has available the Fourth Edition of its Guide for the Selection of Laser Eye Protection (copyright 1996). Edited by Dr. David H. Sliney, the 56-page paperback pamphlet includes a discussion of the effect of lasers on organisms, and general policies and specific factors to consider in laser eye safety. Other chapters cover the selection and limitations of eye protection, along with minimum technical requirements, hazard analysis and procedures for testing safety goggles. At the end of the illustrated pamphlet are a safety checklist, optical density tables, a vendor list, and references.
For more information visit: www.creol.ucf.edu/~lia/home.html
Also, from scientific and technical publisher Marcel Dekker comes the revised and expanded Second Edition of Practical Laser Safety (copyright 1990), a volume in the publisher's Occupational Safety and Health series. By safety consultant D. C. Winburn, the 241-page, illustrated hardcover volume covers the characteristics of both lasers and the human eye, describes eye and skin damage that lasers can do, and explains the laser safety standard of the American National Standards Institute (ANSI). Selecting protective eyewear, medical surveillance of personnel working with lasers, safety rules, and emergency procedures are also covered.
For more information, visit: www.dekker.com
-Arlyn Powell Jr.