Identification equipment makes marked improvements
Tools that enable compliance with plant-administration requirements now do even more
Feb 1st, 2001
Tools that enable compliance with plant-administration requirements now do even more.
Patrick McLaughlin
As has been reported in this publication, the Telecommu-nications Industry Association (TIA-Arlington, VA) is updating what is known as its Administration Standard, TIA/EIA-606 (see "A standard labeled with logical solutions," January 2001, page 37). Between the time the January article was written and this one was researched, the group responsible for revising the standard has made a few modifications to its draft, proving once again that cabling-system standards are, in fact, "moving targets," "works in progress," and other catch-phrases that really mean "constantly evolving."
Brady Worldwide's TLS2200 label printer (left) now combines with Agilent Technologies' WireScope 350 (right) to give users the ability to print identification labels while simultaneously carrying out system certification.
Click here to enlarge image
Regardless, the thrust of the forthcoming TIA/EIA-606A Administrative Standard for Telecommunications Infrastructure remains largely the same. With the standard, the TIA's TR-42.6 Committee on Telecommunications Infrastructure Administration intends to simplify the cabling-identification process for the ultimate system user. The new standard "will be more customer-focused," says Brien Christopherson, data-communications market manager for identification-equipment maker Brady Worldwide (Milwaukee, WI) and member of the TR-42.6 Committee. "It will make things simpler for the customer, in part because it is more problem-resolution-centric," he adds.

The draft standard calls for an organized, easy-to-follow naming convention within the telecommunications closet (TC). In other words, looking at a patch panel in the TC, the ports will follow a logical naming convention. And they will stay that way regardless of the amount of moves, adds, and changes (MACs) implemented after initial installation. It will be a departure from the norm for some, especially those who are used to identifying cables based on office number. For example, in many systems today, the four cables that run to office number 3023 are labeled 3023A, 3023B, 3023C, and 3023D. Those four cables most likely are terminated at different points in the TC, so an effort to search inside a TC for all the cables that run to a specific office can be time-consuming. And considering that most system troubleshooting at least begins in the TC, the effort to simplify port identification in that space should pay dividends to the end user.
Label-generating equipment
One part of the standard that is likely to affect cabling-system installers as well as end users is the statement that all labels should be generated by a mechanical device. The word "should" rather than "shall" means that the use of label-generating equipment is recommended rather than required. But makers of the equipment have reason to believe that many will take the recommendation seriously.
"As little as two years ago, we would spend a good deal of time showing users how they could benefit from using labeling equipment," says Todd Fries, marketing manager of identification systems with HellermannTyton (Milwaukee, WI). "Nowadays, contractors are seeking out information," he notes.
Fries says the situation "has created a competitive advantage for those contractors who can provide that type of service to customers. It is somewhat analogous to ISO-9000 certification, which initially may not have been widely regarded, but certainly is today."
Contractors who provide identification as part of an installation typically do so through commercially available labeling equipment. Brady World-wide, Hellermann-Tyton, and Panduit Corp. (Tinley Park, IL) are among the makers of the most widely used cable-marking gear. When it comes to innovation in the labeling arena, software has been at the epicenter in recent years, and these three companies each have their own offerings.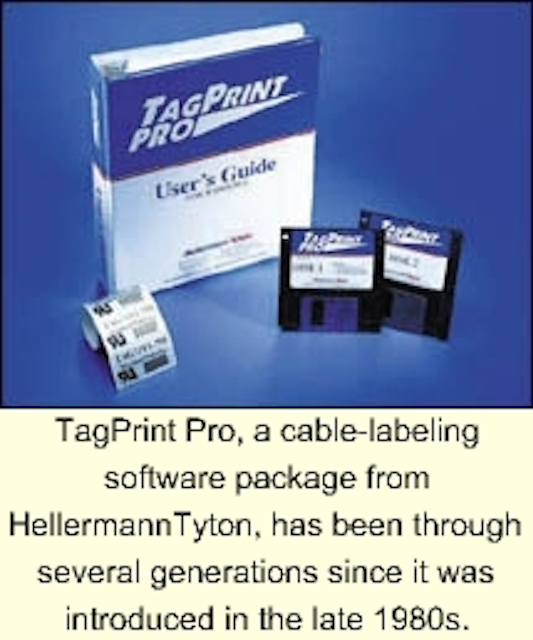 TagPrint Pro, a cable-labeling software package from HellermannTyton, has been through several generations since it was introduced in the late 1980s.
Click here to enlarge image
Panduit's I.D. division produces Pan-Mark label-printing software, which creates labels for identifying cables and components in communications and electrical applications. The newest version of Pan-Mark for Windows, Version 2.5, offers the ability to create spreadsheets and databases within the program for data import and information storage. The open database connectivity feature allows users to import information from electronic databases, such as Excel or Access, directly onto the label formats. Other features include the ability to create custom label formats, image and text scaling, format and label previews, text rotation and alignment, as well as data, time, series, graphic and data-import fields.
Similarly, HellermannTyton's TagPrint Pro software package allows data importation from any Windows-based database. Such import capability can eliminate errors, says Heller-mannTyton's Fries. "All the contractor has to do is perform a couple clicks," he comments. "There is no keyboard error to worry about. It can be used in an office environment or on a job site." The company offers a printer, which weighs about
4 pounds, that can go to the job site. He adds that the TagPrint Pro package has evolved considerably since its introduction in the late 1980s.
Another software offering from HellermannTyton, TagPrint 6.0, offers similar features and is designed for systems not compatible with TagPrint Pro's software requirements. The company recommends TagPrint 6.0 for users with Microsoft DOS 3.3 or higher, Windows 3.1, or Windows 95/98.
Handheld printers
Handheld printers represent another area of development in the field of cable marking and labeling. They are typically used on small job sites, or for small portions of larger jobs. Generally speaking, large-quantity label printing is accomplished with computers and printers.
HellermannTyton is set to come out with a handheld printer shortly-probably within a couple months. Meanwhile, Brady Worldwide and Panduit have commercially available handhelds.
Panduit's PanQuik LS3E prints labels, self-laminating wire markers, heat-shrink markers, component labels, cloth-wire markers, and network labels. The printer includes all the features of the company's previous-generation handheld, the LS3. Features new to the LS3E include automatic recall of the last legend entered; file-storage memory; a formatting feature that allows the user to set all print characteristics at once; an optional alternating-current adapter; additional fonts; new label types; and multi-language screen prompts.
Brady's TLS2200 has been available for a couple years, and the company recently announced technological enhancements in conjunction with Agilent Techologies' WireScope Operation (Marlborough, MA). The companies have jointly developed a technology that integrates Agilent's WireScope 350 handheld cable tester with the TLS2200. The integration allows users to print labels at the job site as the certification is performed.
"Labeling the cabling and administering the cable certification is a big part of an installation job, and there are several points in this process when costly mistakes can be made," says Fanny Mlinarsky, general manager of Agilent's WireScope operation, when the technology was announced in December. "Our solution automates the process of cable labeling while the certification testing is performed, ensuring that the certified cable runs are automatically identified using standards-based cable IDs." She notes that built-in software wizards provide guidance to the standards-based cable identifier structure.
Users can also import cable identifications into the WireScope 350 from cable-plant design applications, such as AutoCAD. The imported or generated list of identifiers is stored in the tester, letting the user select cable IDs from the list.
"It really simplifies labeling," says Brady's Christopherson. "The WireScope 350 automatically senses the label size in the TLS2200, making it a snap to print labels. It eliminates re-keying numbers into a printer to make a label."
Agilent has incorporated the technology into Version 2.1 of its WireScope 350 software. In addition to the labeling capabilities, the software upgrade provides WireScope 350 users with an auto-cancellation technology that Agilent says makes possible highly accurate certification of Category 6 channels.
As the new cabling-administration standard takes steadier form, the means by which users will identify systems similarly evolves. But for experienced professionals in the cabling industry, change and evolution are nothing new.