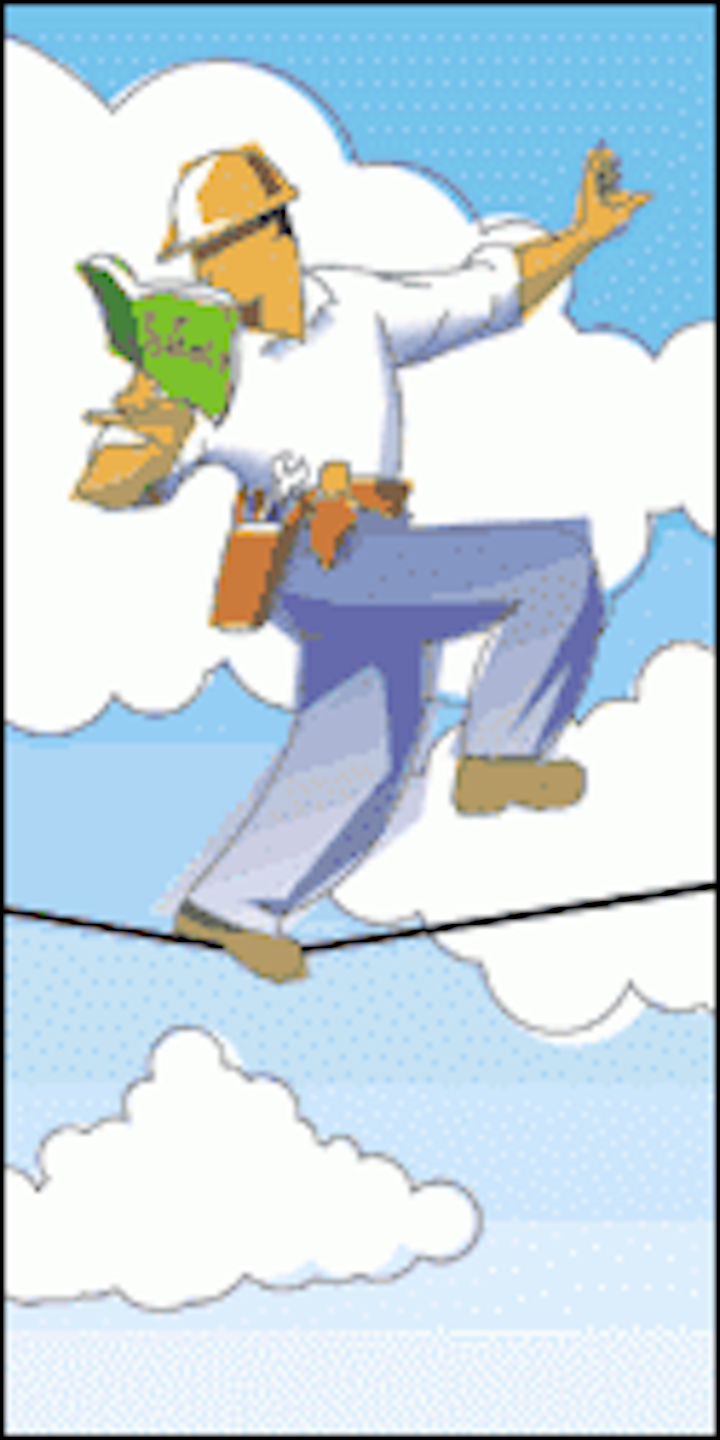 Job site safety calls for corporate planning, specialized training, and on-site checklists.
Arlyn S. Powell, Jr.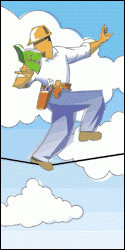 Click here to enlarge image
On-the-job safety, whether for the independent cabling contractor or for the cabling technician working for an enterprise, must be an integral part of everyday routine. The problem is that we all feel lucky, and it is often easier and quicker to take shortcuts than it is to go by the safety manual. And then, it always jolts us when our luck changes, as it almost always does.

One thing that makes on-the-job safety difficult is the number of procedures and guidelines that must be observed. According to Mark Franks, a senior training specialist at the AVO International Training Institute (Dallas, TX), "Telecommunications cabling installers must be familiar with general construction safety guidelines, as well as electrical safety and the special rules that apply to low-voltage installations. The most important thing to remember, however, is that low voltage does not necessarily mean low hazard."
Safety regulations abound
Construction-site safety procedures are spelled out in the Code of Federal Regulations (CFR), which is enforced by the Occupational Safety and Health Administration (OSHA-Washington, DC). These safety procedures have the force of federal law, and OSHA is entitled to inspect any job site, without prior notification, to make sure they are being followed. Safety violations can lead to hefty fines.
Although cabling installers are responsible for observing general construction safety standards like all other workers, their main areas of concern will be electrical and low-voltage safety. Electrical safety work practices are found in 29 CFR 1910.331-335, while low-voltage safety practices come under 29 CFR 1910.268.
Even though the telecommunications standard, which applies to lines operating at under 50 volts, is less rigorous than the electrical standard, Franks points out that low-voltage systems can be not only dangerous, but deadly. "They can deliver a tenth of an ampere," he says, "which can be fatal if delivered to the heart region, where it can result in heart fibrillation." Shock from DC power supplies, such as batteries backing up uninterruptible power supplies (UPSs), can also be fatal under certain circumstances.
Electrical safety is also a major concern of the National Electrical Code (NEC), which is published on a three-year revision cycle by the National Fire Protection Association (NFPA-Quincy, MA). The first sentence of the NEC, in fact, makes this point explicitly: "The purpose of this Code is the practical safeguarding of persons and property from hazards arising from the use of electricity."
The NEC accomplishes this purpose, not by outlining specific safety procedures, but by describing safe and effective equipment and procedures. Although the bulk of the code deals with utility-powered systems, certain articles also cover low-voltage and even fiber-optic installations, as follows:
Article 720-Circuits and equipment operating at less than 50 volts;
Article 725-Building-automation systems;
Article 760-Fire-alarm systems;
Article 770-Optical-fiber cables and raceways;
Article 800-Communications circuits;
Article 810-Radio and TV equipment;
Article 820-Community-antenna TV (CATV) and radio systems.
In the 1999 edition of the NEC, an additional article, Article 830, was added to cover network-powered broadband communications systems.
The document devoted specifically to electrical safety procedures is the National Electrical Safety Code (NESC), maintained by the Institute of Electrical and Electronics Engineers, Inc. (IEEE-New York City). This code covers safe handling of both electrical-power and telecommunications equipment and systems, including both overhead and underground distribution networks.
Dealing with safety issues
Obviously, then, there are a variety of different regulations and codes that apply to worker safety in the cabling industry. What's the best way to deal with all of these requirements?
Tony Minichiello of Maximis Communications Consultants (Concord, NH) believes that two key ways to cut through the confusion are the corporate safety plan and the job-site safety checklist. Minichiello points out that, following passage of the Occupational Safety and Health Act in 1970, "federal labor law prescribes minimum safety and health standards for most workers. The law also authorizes inspections, citations, and monetary and civil penalties to enforce its standards."
A number of states have since followed suit, enacting their own safety legislation. In many cases, corporate safety plans must now be filed with the state. The components of such a plan are described by Minichiello in an earlier article in Cabling Installation & Maintenance (see below, and "A safety plan protects cabling companies," March 1996, p 31).
Minichiello adds, however, that such a plan is only the first step. He says, "Active safety education, written safety programs and constant communication from company management about the importance of safety are key to the success of a corporate safety program. Follow-up is necessary to make sure that safety procedures have been learned and are being employed at the job site."
One way to ensure safe work practices at the job site is to develop a safety checklist that can be carried and used by the project manager. A template for such a checklist is given in an earlier article by Minichiello ("If there's a hazard, identify the risk," January 1996, p 57).
Another key to effective safety programs is worker training. AVO's Marks states, "The best way to learn about these safety guidelines and procedures is through training based on the regulatory requirements, as well as industry-consensus standards and practices. The result should be a worker who wants to comply with the laws contained in these standards."
Elements of a safety-training program
Make sure that your safety-training program covers the full range of construction, electrical, and telecommunications protection topics, including (but not necessarily limited to):
Housekeeping-safety rules and safe practices;
Job site layout, and safety barriers and markings;
Fire prevention and safety;
Protective clothing;
Fall safety-ladders, scaffolds, lifts, and rigging;
Lifting safety;
Handling chemicals;
Handling compressed gases;
Safe tool use;
Electrical safety-grounding and bonding, lockout/tagout;
Fiber-optic safety;
Outside-plant safety-excavation, shoring, and trenching;
Confined spaces;
Other hazardous areas;
Radiation and other unusual hazards;
Asbestos exposure and other health hazards;
Vehicle safety;
Emergency procedures;
Medical procedures and first aid.
Although some training in safety may be part of many more targeted courses, particularly in the area of fiber optics where safe fiber handling has come to the fore recently, broadbased safety training may be needed to cover all the bases. Classroom training in safety, for instance, is one of the areas covered in the Cabling Installation & Maintenance Buyer's Guide. The latest issue came out in March 2000; a new and updated version is due out next month.
Alternatively, the three-level installer-training program launched by BICSI (Tampa, FL) may be adequate to instill safety consciousness in most technicians. This program covers OSHA regulations, first aid, emergency rescue procedures, personal protective gear, and working in hazardous environments (both indoors and outdoors).
With these three elements in place-a corporate safety plan, on-site safety checklists administered by project managers, and comprehensive training of job site workers-any cabling contractor should be well positioned to both meet OSHA's regulatory requirements and to improve on-the-job safety among workers.
---
Building a safety plan
Cabling Installation & Maintenance has been unique among trade journals serving the cabling industry in making workplace safety a consistent and ongoing theme. During 1999, we declared a "safety campaign" for the magazine and published more than 20 articles with safety as either the main or a secondary theme.
Indeed, going back to the founding of the magazine in 1993, we have published almost 200 pages of safety information. This information has not just appeared in safety-oriented feature articles either, but has run throughout the magazine, with useful coverage appearing especially in the "Ask Donna" column and among the Cabling Installer Tips.
In fact, if you arranged some of this information systematically, it could provide the core of a corporate safety manual. Here's a list of basic references that you might use for that purpose:
Corporate safety planning

"A safety plan protects cabling companies," March 1996, p 31
"If there's a hazard, identify the risk," January 1996, p 57
"Safety standards and training," December 1994, p 51
OSHA inspections and compliance

"OSHA report lists most common violations," November 1995, p 43
"How the new OSHA asbestos regulation affects installers," September 1995, p 71
"Safety guidelines for cabling installlers," July 1994, p 24
Protective clothing

"Wear latex gloves beneath work gloves," April 1998, p 58
"Use personal protective equipment to cut costs," February 1996, p 42
Fall safety

"Bucket-truck safety training saves lives," October 1998, p 101
"Prevent falls at the job site," July 1996, p 47
"Keep scaffolding safe to avoid accidents," March 1996, p 44
"Maintaining and using a ladder safely," November 1995, p 42
Lifting and handling safety

"Use conduit as a ball bearing," May 1998, p 68
"Lifting and handling materials at the job site," December 1995, p 55
Handling chemicals

"What fiber technicians should know about workplace chemicals," October 1999, p 103
"Workplace chemicals and the role of the MSDS," October 1999, p 109
"Safe use of workplace chemicals," May 1997, p 54
Safe tool use

"Giving fiber the respect it deserves," October 1999, p 67
"Insulated tools: Protection from injury, death, and liability," July 1999, p 39
Electrical safety

"Digital multimeters close the safety loop," June 1998, p 116
"Use raceways to eliminate hazards in your telecommunications closet," April 1998, p 55
"Avoid electric shock by carefully handling low-voltage wiring," June 1996, p 54
"Grounding and bonding ensure a safe installation," September 1995, p 21
Fiber-optic safety

"Safety for the fiber craftsperson," June 1999, p 31
"Use caution when working with fiber," September 1997, p 6
"Work safely when terminating fiber-optic cable," June 1996, p 51
"Installing optical fiber safely," August 1995, p 29
Outside-plant safety

"Prepare for the perils of excavation," July 1994, p 30
"Handling the cable lasher safely and smoothly," September 1994, p 43
One beauty of workplace-safety information is that, unlike the latest LAN cable tester, it does not go out-of-date in six months. Many of these articles, old and new, are available in the archive on the Cabling Installation & Maintenance Web site (www.cable-install.com). Registration is required, but there is no charge for downloading this information.




---
For more information...
The National Electrical Code (NFPA 70), 1999 Edition, is available from the National Fire Protection Association, 1 Batterymarch Park, Quincy, MA 02269. The NFPA's Web site is: www.nfpa.org.
The National Electrical Safety Code (ANSI C2) is published by the Institute of Electrical and Electronics Engineers, 345 East 47th Street, New York, NY 10017. The IEEE's Web site is: www.ieee.org.
Independent Electrical Contractors International publishes a useful booklet entitled Jobsite Safety Handbook for Electricians. Find out more at IECI's Web site: www.ieci.org.