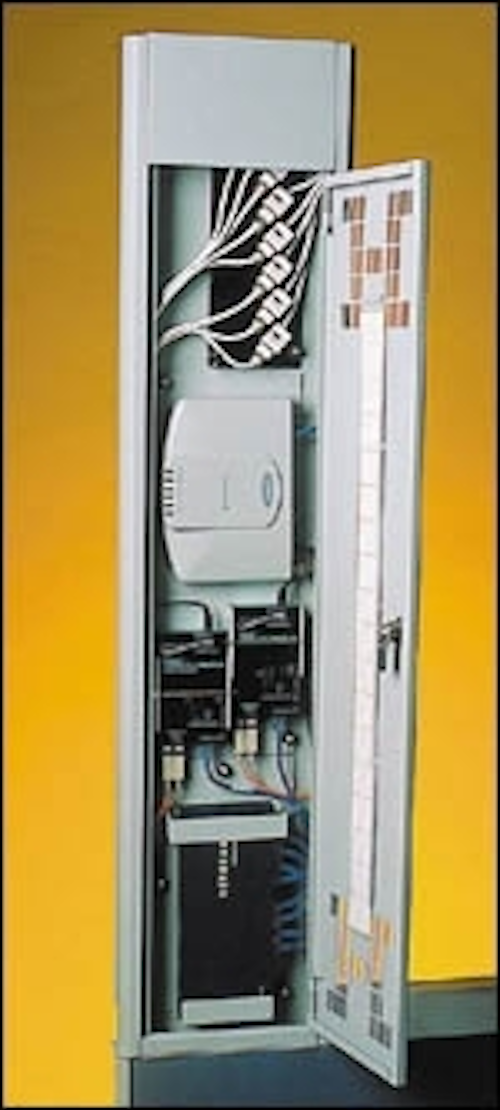 Compiled by Ryan Cliche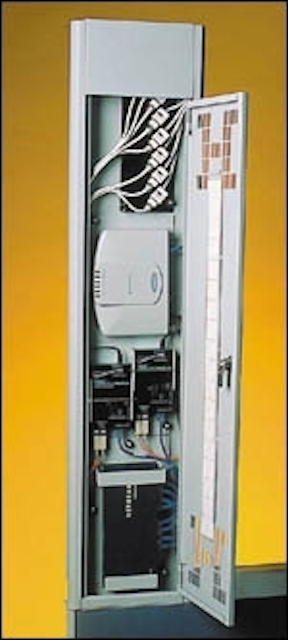 Click here to enlarge image
Network enclosure
Designed for cubicle office environments, the Active Gateway "T" model houses switches, hubs, and routers, and supports new network overlays and cutovers without interrupting network operations. The enclosure houses and distributes this local area network architecture from the head of a workgroup cluster. The "T"-style enclosure also reduces the number of cables in the communications infrastructure by 95% while providing the ability to drive fiber close to the user, according to company claims.
HOLOCOM NETWORKS
SAN DIEGO, CA

Click here to enlarge image
Flame-resistant cable
PlenumPlus Limited Combustion (LC) plenum cables provide flame and smoke resistance of Teflon fluorinated ethylene propylene (FEP)-for both insulation and jacketing-combined with lower signal attenuation. These TIA-compliant Category 5, 5E, and MegaLan 5E+ cables have been tested and UL-approved for National Fire Protection Association 90A requirements for limited combustible materials in air-handling spaces. The company designed the cable series to provide safety in healthcare and assisted-living facilities, high-rise structures, and high-density electronics installations such as competitive local-exchange carriers.
MOHAWK/CDT
LEOMINSTER, MA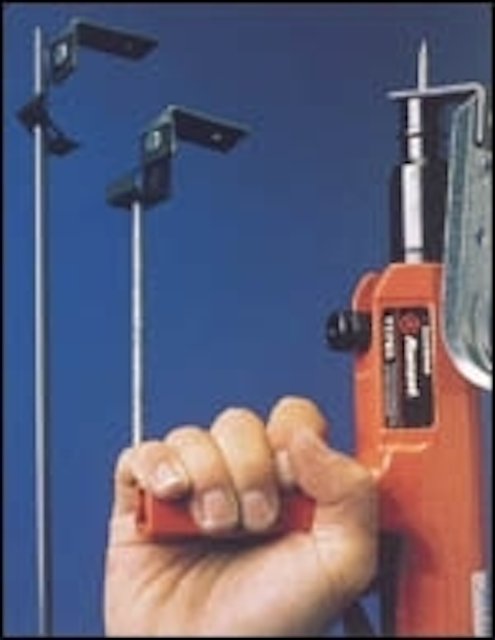 Click here to enlarge image
Angle brackets
Caddy CPNA Pin-Driven Angle Brackets are designed for installation of drop wires/rods and related attachments for acoustical, electrical, data communications, or mechanical projects. The leg of the bracket has been extended to provide more room for installation tools. Also, the hole in the extended leg is smaller and star-shaped to let the pin be pre- assembled to the bracket for steady installation. These brackets may be ordered with attachments to help in the installation of drop wires for t-bars, ceilings, trapezes, and electrical or plumbing raceways.
ERICO INC.
SOLON, OH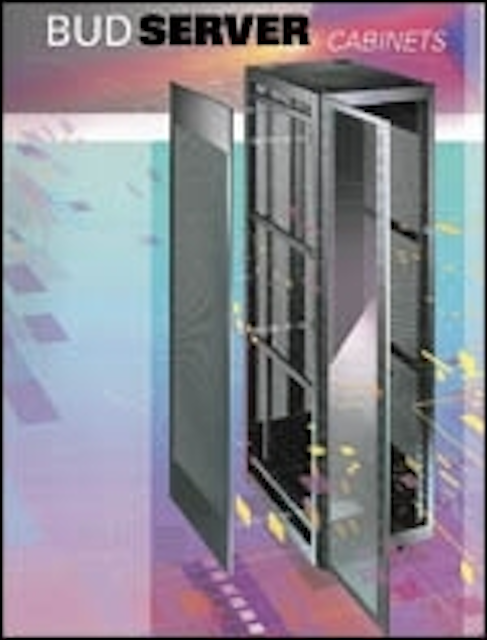 Click here to enlarge image
Server cabinet
Available in 36- and 43-inch depths, these extra-deep server cabinets accept most manufacturers' products. Each cabinet has perforated side panels, a rear door, and a ventilated Econoglas front door to provide airflow. Cable access ports at both the top and bottom provide for overhead cabling or raised flooring. Two pairs of adjustable, L-shaped panel mounting rails, with mounting holes on Electronic Industries Alliance universal spacing, have provisions for vertical cable management. A ventilated top can be used with an additional exhaust fan.
BUD INDUSTRIES INC.
WILLOUGHBY, OH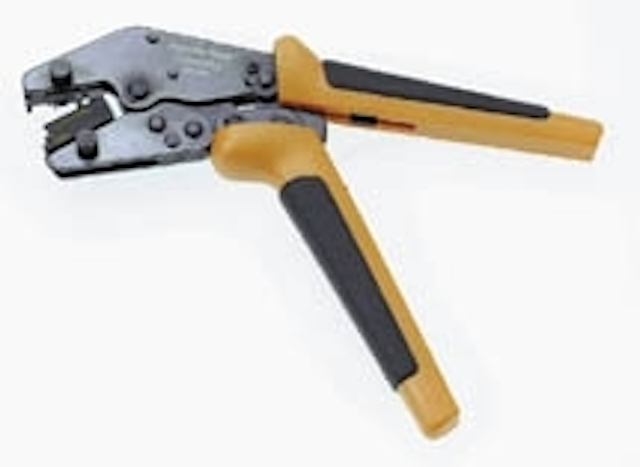 Click here to enlarge image
Crimp tool
The 8000 Series CrimpAll crimp tools are compatible with Paladin's die sets, and feature an ergonomic design for comfort. For example, an angled head prevents awkward bending of the wrist during operation, and a reduced handle grip distance is designed to be more comfortable for workers with smaller hands. In addition, higher crimp force is produced with lower hand force. No break-over hand force is required.
PALADIN TOOLS/CONNECTOOL INC.
ASHLAND, VA
Click here to enlarge image
Multimedia box
Available in three sizes, Interlink Activate Multimedia Boxes accommodate one, two, or three inserts for flexible connectivity to multiple data communications systems from a single location. These boxes attach to any solid surface, including drywall, wood, and modular furniture partitions. The two larger boxes can also be mounted on standard single- or double-gang National Electrical Manufacturers Association or European-type service boxes. In addition, the boxes are designed with knock-outs for integration with the company's steel and non-metallic perimeter raceway systems. Storage loops in the two larger boxes maintain the bend radius of Category 5 and fiber-optic cable, and provide one meter of fiber storage at the workstation.
THE WIREMOLD CO.
W. HARTFORD, CT
Click here to enlarge image
Optical power meter
The Fiber Owl II is a handheld optical power meter accurate to 0.15 dB, designed for both singlemode and mul-timode fiber network testing. Features include National Institute of Standards and Technology calibration at 850, 1,310, and 1,550 nm; 2 1/2-mm universal adapter that accepts a range of standard connectors; 2-mm Germanium detector; 200-hour battery life; back-lit graphic display; built-in data storage for up to 1,000 labeled data points, including physical fiber characteristics for four locations; serial interface for printing and downloading data; and free data management and reporting software.
OPTICAL WAVELENGTH LABORATORIES INC.
WHITEWATER, WI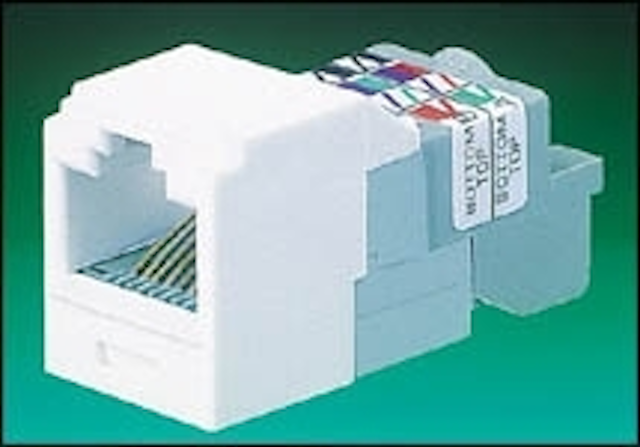 Click here to enlarge image
Jack module
The Mini-Com TX-5 jack module meets TIA/EIA Category 5 industry standards, according to company claims. Its termination method reduces conductor untwist, and eliminates crosstalk variability and stress on critical subcomponents. Each contact is plated with 50 micro-inches of gold, and complies with Federal Communications Commission regulations. The Mini-Com can be terminated without the use of a punchdown tool.
PANDUIT CORP.
TINLEY PARK, IL
Patch enclosures
RPA series pre-terminated patch enclosures are 19- and 23-inch rack-mountable, and feature single-finger adapter plates. These enclosures can patch 72, 96, or 144 fibers within a seven-inch-high rack space. Ten of the enclosures may fit into the company's rack, permitting up to 1,440 fibers in a seven-foot rack. The enclosures can be supplied with pre-terminated cable stubs in ribbon or stranded fiber cable style, or loaded with pigtails for routing to splice enclosures. All enclosure terminations meet Telcordia Specification GR-326-CORE Issue#3 as tested by Underwriters Laboratories Inc.
THE SIEMON CO.
WATERTOWN, CT
Resource catalog
The 2001 Educational Resource Catalog contains information about all of BICSI's training programs, including course descriptions and schedules, and details on how to attain a professional designation in a variety of specialty areas. Its contents are separated by subject to include general information, and extend to telecommunications distribution design, customer-owned outside plant, data distribution design, telecommunications cabling installation, and schedules and forms. This catalog also tells you about the organization's publications and conferences, as well as how to keep up-to-date in the telecommunications industry.
BICSI
TAMPA, FL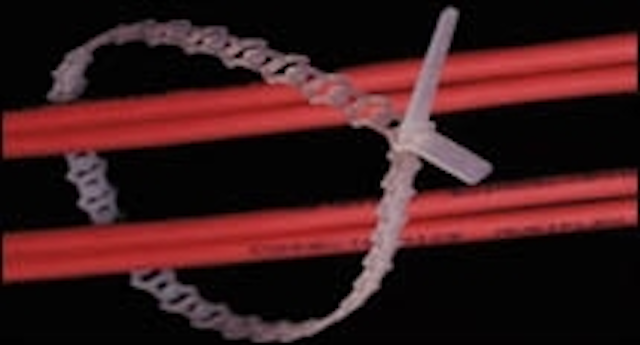 Click here to enlarge image
Re-useable cable tie
The Multi-Tie is a reusable, "earth-friendly" fastener-tie. One tie can be used a number of times either by unlatching and using it again, or by tying something, snipping off the unused portion, and then using what's left over. It can be latched and unlatched, or you can get multiple uses from one tie with the zip-it and snip-it feature. Its thermoplastic polyurethane elastomer material provides tensile and tear strength, abrasion resistance, elasticity, and resistance to fuels and oils.
MILLEPEDE
WARREN, PA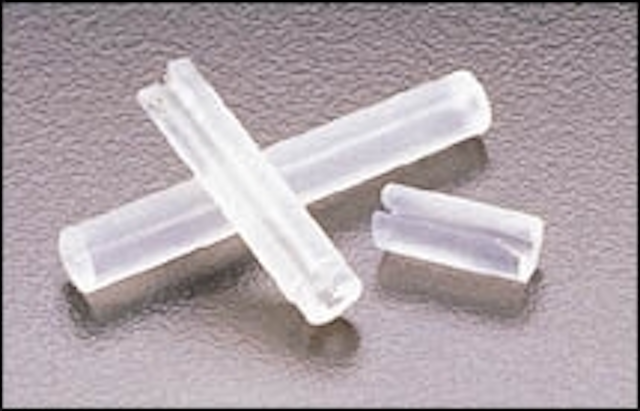 Click here to enlarge image
Build-up sleeve, consumables kit
Available in SC, FC, and ST styles, Thread-Lock connectors come equipped with a silicone, 900-micron build-up sleeve that is split for snap-on installation. The Universal Consumables Kit is available for both singlemode and multimode terminations. It comes with polyester wipes, alcohol pads, music wire, and 12-, 3-, and .3-micron lapping film.
LEVITON VOICE & DATA DIV.
BOTHELL, WA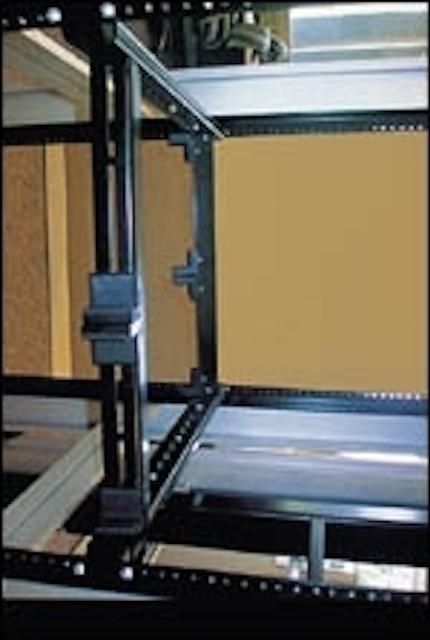 Click here to enlarge image
Seismic bracket
The MegaFrame seismic bracket secures the chassis of servers and computers to Chatsworth's compatible cabinet, and protects equipment from being bumped, dented, or shifted off the shelf. Once in place, the bracket is then clamped to the cabinet's mounting rail to stabilize the equipment. Designed for cabinets that are 24 inches or more in depth, each bracket can secure equipment between 15 inches and 32 inches in depth. The bracket's mounting flanges are adjustable from 22 to 39 inches to match the existing depth of the cabinet's vertical mounting rails.
CHATSWORTH PRODUCTS INC.
WESTLAKE VILLAGE, CA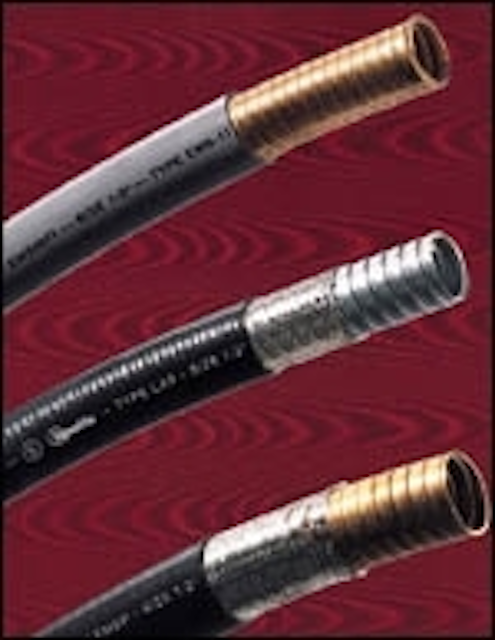 Click here to enlarge image
Shielding conduit
Designed to protect sensitive electronic circuits in communications, radar, and data transmission applications, the electromagnetic interference/radio frequency interference (EMI/RFI) line of shielding conduit effectiveness has a range from 126 dB @ 1 MHz to 120 dB @ 1 GHz, according to company claims. With a temperature rating of -55° to +105°C, Type EMS features a flexible core constructed of a helically-wound interlocked strip of bronze, and an all-temperature polyvinyl chloride (PVC) jacket extruded over the core. Type EMSP is identical to the previously mentioned type, except for the addition of a tinned-copper shielding braid under the flexible jacket for improved shielding. Conforming to Underwriters Laboratories' 360 standard, Type LAS is a flexible steel conduit with a galvanized steel core, over which a tinned-copper shielding braid is applied.
ELECTRI-FLEX CO.
ROSELLE, IL
Click here to enlarge image
Power converter
The SQ Series of 100-W quarter-brick DC/DC power converters is designed with a six-sided metal shield that prevents EMI, thereby eliminating the need for ferrite beads or other EMI/RFI-filtering devices, according to company claims. This six-sided shield also reduces heat with its large surface area. In addition, the unit features high-power density (90 W per cubic inch), with two-to-one input voltage range and an industry-standard footprint of 2.30x1.45 inches. Operating temperature range is -40° to +100°C.
BROADBAND TELCOM POWER INC.
SANTA ANA, CA


By the Book
Field manual aids in outside plant
The Lineman's and Cableman's Field Manual is designed for use outdoors; it has a sewn binding and a sturdy plastic cover, and comes in an oblong format that will fit into a jacket pocket. Published by McGraw-Hill Professional Book Group (New York, NY), the volume sells for $49.95 and is authored by Thomas M. Shoemaker and James E. Mack.
Illustrated with many tables and line drawings, and even a few photographs, the handbook begins with coverage of electrical symbols, schematic drawings, measurement units, definitions, formulas and calculations. Chapters following discuss line conductors, cable, splices, terminations, transformers, utility poles, guying, and fuses. There are also chapters on lightning and surge protection, inspection and maintenance, tree trimming, and grounding. Even ropes, knots and splices, as well as safety and rescue procedures are covered. A long final section covers all relevant OSHA regulations.
For more on this manual, visit the McGraw-Hill Web site at: www.books.mcgraw-hill.com.