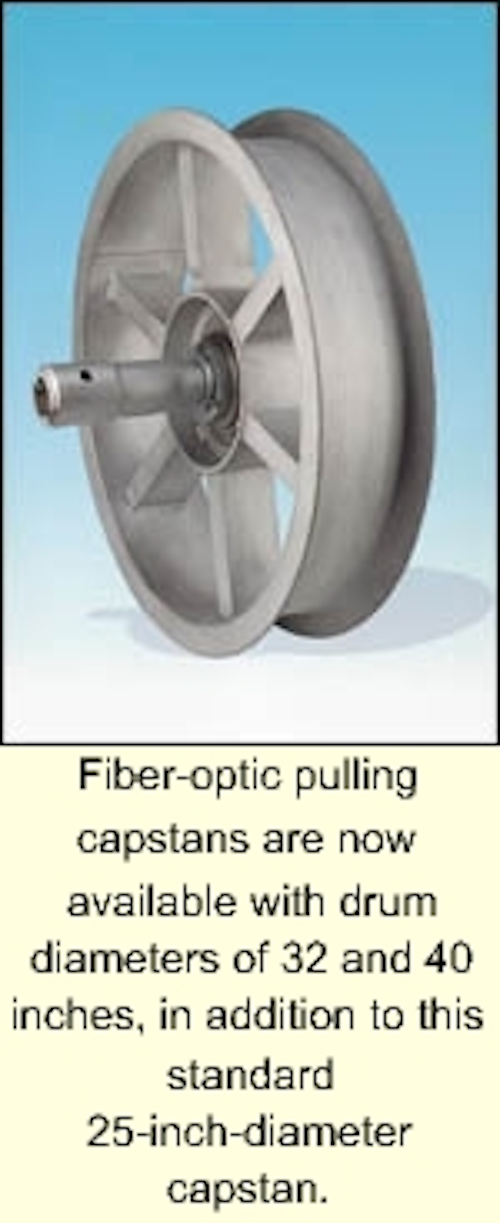 Capstans provide an economical outside plant solution, but they also require caution.
When fiber-optic technology started to gain widespread use among telecommunications companies in the early 1980s, installers tended to treat the expensive cable with a great deal of caution, including using costly dedicated winches. But as fiber-optic technology became more common, installers took fewer and fewer precautions-so much so that they often damaged cable by using inappropriate tools.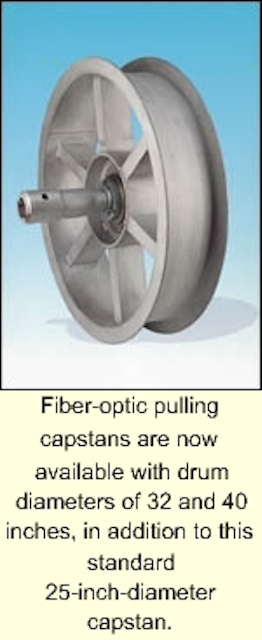 Fiber-optic pulling capstans are now available with drum diameters of 32 and 40 inches, in addition to this standard 25-inch-diameter capstan.
Click here to enlarge image
Whether fiber-optic cable is being installed for a public or a privately owned network, you face the same challenge: installing the cable undamaged and without the expense of dedicated equipment. Many customer-owned environments require extensive fiber installations to connect multiple facilities, in a large campus within a telecommunications and data network. Regardless of the environment, there remains a demand for a cost-effective installation method that presents no risk of damage.

The so-called accessory approach can meet this demand. It does not require the use of costly dedicated equipment, yet protects fiber-optic cable and provides a relatively safe and easy means of installation. This method lets you use fiber-optic pulling capstans powered by existing pulling equipment, such as winches and capstan drivers. It requires neither special modification nor expensive dedicated pulling equipment.
The fiber-optic pulling capstan offers a large working diameter for an efficient pulling speed, and may employ rope, tape, or the fiber-optic cable itself. It also may be used as an end-pulling or as a mid-assist booster puller.
Fiber-optic pulling capstan test models are available that meet most pulling requirements. All are constructed of aluminum and mount on a 27/16-inch-diameter drive shaft with either a bayonet or crosspin-type connection. Three of the models are 25 inches in diameter, four are 32-inch-diameter models, and three are 40 inches in diameter.
Different sizes and capabilities
One 25-inch capstan is mounted directly to the drive shaft's inner hub and drive spindle. It has an outside flange diameter of 271/2 inches, a 5-inch working surface, and no torque-limiting capability. With this unit, you must use a breakaway swivel to limit tension, or limit the hydraulic system's pressure to achieve a maximum allowable torque. The unit comes with a steel shaft that helps ensure no-slip applications, and its maximum rated load is 1,500 pounds-force.
Another 25-inch capstan is equipped with an integral torque limiter between the driving spindle and the inner hub. As its name indicates, the torque limiter limits the pulling tension to a calibrated, factory-set 600 pounds-force. Another capstan of the same diameter has a factory-set limit of 1,000 pounds-force.
A 32-inch-diameter capstan, mounted directly to the inner hub and drive spindle, and having a 343/4-inch outside-flange diameter, has a 71/2-inch working surface and no torque-limiting capability. Like its 25-inch counterpart, this capstan requires the use of a breakaway swivel or manual limitation of hydraulic system pressure to achieve the 1,500-pounds-force maximum allowable torque. It also offers a steel shaft for no-slip applications.
Other 32-inch versions have torque-limiting capabilities that regulate to 600, 750, and 1,000 pounds-force.
The 40-inch capstan without torque-limiting capability has an outside-flange diameter of 43 inches and a 71/2-inch working surface. Operators must use breakaway swivels or manually limit pulling tension to the maximum 1,500 pounds-force torque. Forty-inch capstans with 600- and 1,000-pounds-force torque limiters are also available.
Setup for pulling
The first step is to mount the capstan to the 27/16-inch drive shaft. Because the combined weight of the drive section and the capstan drum assembled is approximately 80 to 100 pounds, manufacturers recommend that two people mount the assembled unit.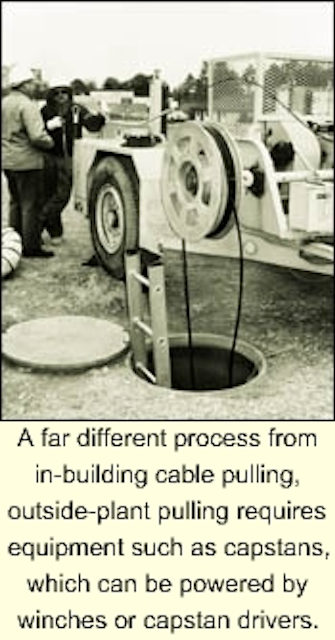 A far different process from in-building cable pulling, outside-plant pulling requires equipment such as capstans, which can be powered by winches or capstan drivers.
Click here to enlarge image
To mount the capstan, push the drive spindle onto the drive shaft and rotate it counterclockwise one-quarter turn until the bayonet pin locks. Then pull the unit toward you, away from the drive shaft, to lock the bayonet pin into place.

The next step is to wrap the pulling rope or tape around the capstan's working surface at least four turns in an overwind direction, which dissipates the tension of the pulling line across the capstan's surface area. When everyone is ready to begin the pull, slowly start the driving shaft, rotating the capstan clockwise and gradually increasing the shaft's speed as desired.
It is important to pay attention to the lay of the pulling line on the capstan surface, because binding may occur as the tape or rope enters and leaves the capstan. If binding occurs, you must peel off the line exiting the capstan. You can minimize binding by changing the pulling line's angle of approach.
In most cases, it is ideal for the pulling line to approach the capstan close to the inboard flange. As the capstan rotates, the tape will run outward along the working surface and exit the capstan. If the pulling line slips on the capstan surface due to excessive lubrication, make additional wraps until slippage stops.
Important precautions
Before placing cable, you should be thoroughly familiar with the vehicle's control and operation, as well as the power take-off, winch or capstan drive controls, and all other pulling equipment. Never leave your position at the controls, either while the pulling line is under load, or while the winch's power take-off is engaged. All crewmembers along the entire length of the intended pull should always be in voice communication, or at least in visual communication by hand signals, with one another.
For the protection of the crew and the public, ensure that the work area is posted with appropriate signage, flaggers, and advance warning devices-in accordance with company practices as well as federal, state, and municipal regulations. Also, ensure that all vehicles and trailers are secured with wheel chocks.
If crew members are pulling from a drum shaft extension on a bed winch, de-clutch so that the drum is in "free spool," wind all the wire rope onto the drum, and secure it using a winch-line holder. Taking this step will prevent the wire rope from spooling off the drum and becoming entangled.
Never stand inside of angles that are formed by the pulling line or cable. Avoid standing where there is the danger of being struck by the pulling line if it should snag or fail. Do not place your hands on a moving pulling line. And finally, do not wear loose-fitting clothing when working around the winch, capstan, sheaves, and pulling line.
Taking these precautions should go a long way toward preventing serious injury that can result from becoming entangled in moving parts.
Doug Clemens is vice president of sales and marketing with General Machine Products Co. (Trevose, PA).