AMP/Tyco announces new lines at ComNet
Tyco Electronics used this year's ComNet conference and trade show as a platform on which to announce three new AMP Netconnect product lines. Included are Category 6 cabling system
Apr 1st, 2001
Tyco Electronics used this year's ComNet conference and trade show as a platform on which to announce three new AMP Netconnect product lines. Included are Category 6 cabling system, a set of fiber-optic cable assemblies intended for data centers and storage area networks (SANs), and a series of MT-RJ fiber-optic connectors aimed at secure networks.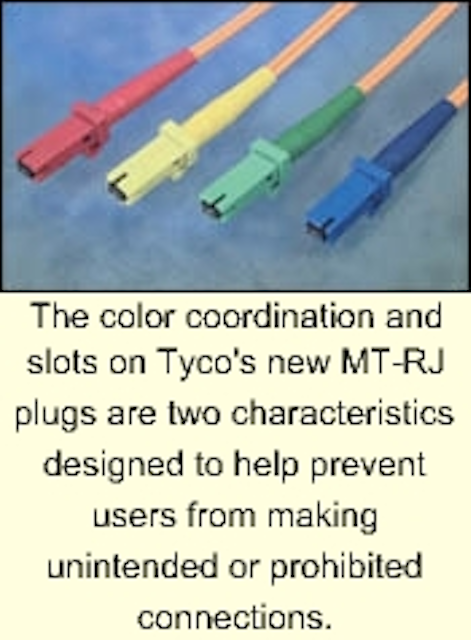 The color coordination and slots on Tyco's new MT-RJ plugs are two characteristics designed to help prevent users from making unintended or prohibited connections.
Click here to enlarge image
The Category 6 system exceeds the currently proposed specifications, for system and component performance, in both the Telecommunications Industry Association/Electronic Industries Alliance (TIA/EIA-Arlington, VA) and the International Organization for Standardization/International Electro-technical Commission (ISO/IEC-Geneva) versions of Category 6.

In addition to providing the standard-specified Category 6 useable bandwidth of 200 MHz, the AMP Netconnect system has some distinctive characteristics, including the use of the SL series Category 6 jack. Derived from the term "slim line," the SL jack series, when combined with SL series outlets, provide greater port density. The new jack is also designed to support 180° and 90° cable termination, which, according to the maker, offers added flexibility and can improve installer efficiency.
Each jack ships with a bend-limiting stuffer cap that eases installation, the company says. The SL jack series is also incorporated into the company's new Category 6 patch panels.
Tools for data centers, SANs
The fiber-optic assemblies aimed at data centers and SANs are really targeted directly to operators of these facilities. In announcing the product, Tyco said it can "streamline the process of connecting, deploying, and adding capital equipment in data centers and rapidly growing SANs." Essentially, that means that data center and SAN managers can use these products to get equipment online without having to schedule a service call with a fiber-optic cabling installer.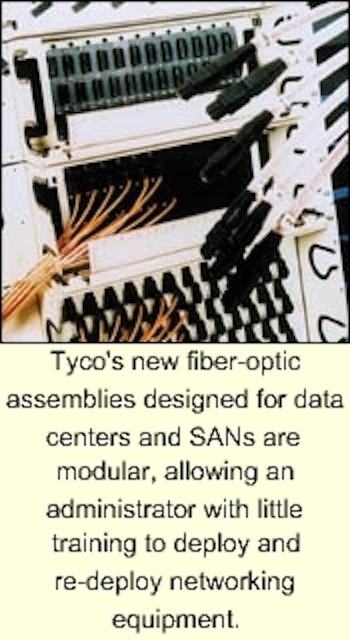 Tyco's new fiber-optic assemblies designed for data centers and SANs are modular, allowing an administrator with little training to deploy and re-deploy networking equipment.
Click here to enlarge image
Tyco terminates and tests the assemblies at the factory, letting network administrators install or re-deploy such devices as routers, servers, and disk drives. The assemblies include fiber-optic trunk cables that come terminated in 12-fiber MPO connectors that plug into preconfigured cassettes. Each cassette separates the 12 fibers of the inner MPO connector into 12 SC or ST connectors. In the case of MT-RJ connector cassettes, two MPO connectors are split out to 12 MT-RJ connectors. The cassettes snap into enclosures and can accept patch-cord connections.

Tyco emphasizes that the assemblies require virtually no training or specialized personnel. "As any network administrator knows, it is very time-consuming and disruptive to add new equipment to data centers and storage area networks," comments Herb Congdon, Tyco's director of systems marketing. "Take the addition of a new rack or bank of disk drives, for example. Terminating the cable and determining the pathways to support the connections is like finding your way out of a maze."
The assemblies substantially eliminate that complexity, he continues. He also points out that because the products are modular, any site can keep additional supplies on location.
Slotted for security
The third ComNet introduction may be of specific interest to many of the Washington, D.C. trade show's attendees- military and government users. Tyco's MT-RJ optical-fiber cabling system for secure networks was developed in response to demand for additional measures of security, particularly among military, government, and financial institutions, Tyco says.
The company says its new connector style features molded slots on the plug, and molded keys on the latching jack to reduce the user's chance of accessing the wrong network when plugging and unplugging fiber-optic cords. The plugs and jacks are keyed in four different color-coded versions, also to help system administrators in identifying appropriate plugs and jacks. When mating the plug and jack, the colors must match. Otherwise, the keying will prevent them from coupling.
"We're enabling those organizations with heightened security requirements to easily and cost-effectively segregate their networks by physically preventing inadvertent interconnections," Congdon says. With the new plugs and jacks, he adds, "it's possible to separate limited-access networks from unclassified networks."
The new offerings have the same features as the MT-RJ connector system.
-Patrick McLaughlin