New Products
Assisted by 3-D computer-aided design (CAD) software, Americor's line of electromagnetic interference/radio frequency interference (EMI/RFI) suppression components for systems makes designs ready to be incorporated into customer products and drawings.
Apr 1st, 2001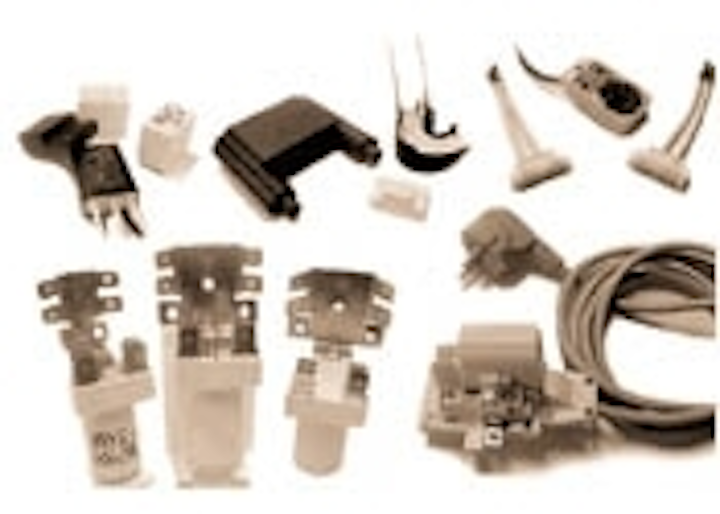 Compiled by Ryan Cliche
Use our online center to request free product information www.onlinecenter.to/cim or fill out the reader service card.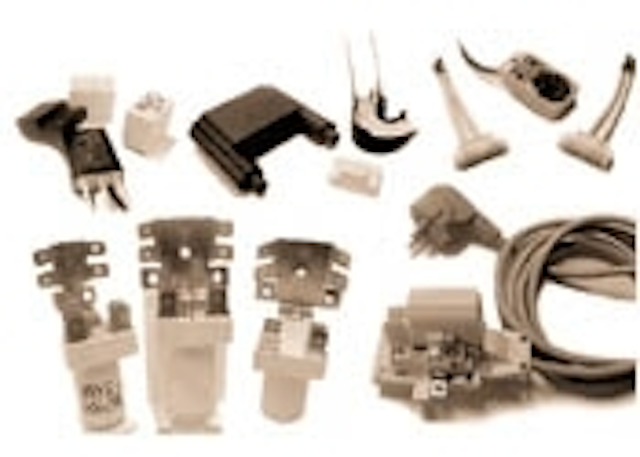 Click here to enlarge image
Suppression components/ systems line
Assisted by 3-D computer-aided design (CAD) software, Americor's line of electromagnetic interference/radio frequency interference (EMI/RFI) suppression components for systems makes designs ready to be incorporated into customer products and drawings. The system combines RFI components with other components such as switches, terminal blocks, relays, and power cords into one unit to maximize the design and minimize installation labor. Packaged in custom-designed and compact housings, the suppression systems arrive ready for installation. Custom-designed components with snap-in mounting eliminate the need for lead-wires.
AMERICOR ELECTRONICS LTD.
CHICAGO, IL
Click here to enlarge image
Power meter, laser and LED source
The Model 510 optical power meter by Cercis is offered with a choice of three different detectors-3 mm germanium for 750 to 1,500 nm; 2 mm indium gallium arsenide (InGaAs) for 850 to 1,650 nm; and 3.5 mm silicon for 400 to 1,100 nm. Available in single- or dual-source versions, the Model 520 laser light source operates at -10 dBm, and its features are accessed via three keys. These three keys provide the functions for the Model 530 light-emitting diode (LED) source, and red or green LEDs illuminate at power on, source on, and modulation. All instruments are powered with either an internal 9-V battery or optional alternating current (AC) adaptor.
CERCIS INC.
HOPEWELL, NJ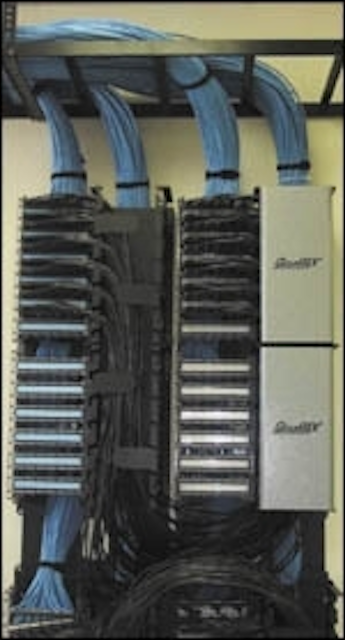 Click here to enlarge image
Crossconnect system
NORDX/CDT's GigaBIX data transmission crossconnect system has a channel bandwidth of up to 300 MHz, and offers a data rate of 4.8 Gbits/sec, according to company claims. The system's termination kits contain components required to terminate 4-pair or 25-pair cables in a crossconnect system; a base and mount designed to accommodate 4800LX cables; 12 clear graphite 6-port connectors; black designation strips and wire guards; white labels; wood screws; Velcro ties; and a detailed installation guide. A cable management module, patch cord organizer, horizontal channel plates, and a management ring assist in vertical and horizontal management. Available in various lengths for design flexibility, the system's plug-and-go patch cords claim to offer performance up to 300 MHz in the IBDN System 4800LX. Wires contain fluorinated ethylene propylene (FEP) for improved transmission and fire rating compliance, and pairs have been stranded for cable stability.
NORDX/CDT INC.
POINTE CLAIRE, P.Q., CANADA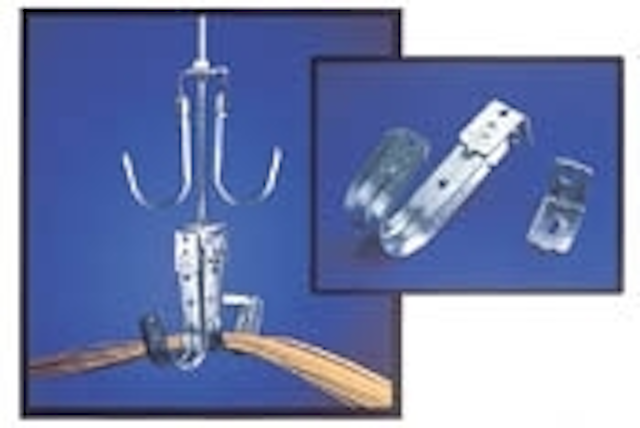 Click here to enlarge image
Angle bracket
Tabs on Erico's durable Caddy AFAB Series angle brackets expedite assembly and stabilize the J-hooks-eliminating any movement of the hook after installation. Designed for modular installations, two brackets can be linked together with two J-hooks and installed on a threaded rod to create a tree assembly for multiple runs of high-performance cable. These brackets are available with different mounting hole sizes including: the standard quarter-inch; 3/16-inch for powder-actuated tools; and one that can accommodate 3/8-inch and 10-mm threaded rod or bolt. Two brackets may be assembled in a 90° angle to guide cable around a corner and still maintain the necessary bend radius, the company says.
ERICO INC.
SOLON, OH
Click here to enlarge image
Cable management rod
The quarter-inch-diameter Push-Pull Rods by CMD are made of non-magnetic fiberglass and are polypropylene-coated to avoid shattering. These rods are used for running and retrieving cable, and you can use them to push or pull cable inside or outside conduit. Each rod is five feet long with threaded attachments at each end, and is flexible enough to go around corners and up and down walls. You may connect as few or as many rods together to create your desired length.
CABLE MANAGEMENT DIV.
PALOS VERDES, CA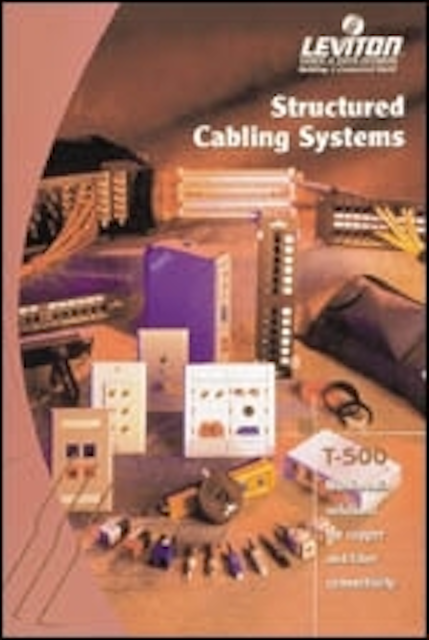 Click here to enlarge image
Product catalog
Offered both online and in printed form, Leviton Voice & Data Division's T-500 product catalog features structured cabling systems, accessories, and new products. Featured products listed in the catalog include: Extreme 6 Category-rated connectors, Spectro-link MT-RJ-style connectors, GigaMax 5e panels, QuickPort Decora multimedia inserts, and Fiber-optic tool kits. The catalog also features information on the Tech/Ed Center and Design Tools Online, two resources that can only be accessed on the company's Web site.
LEVITON
VOICE & DATA DIV.
BOTHELL, WA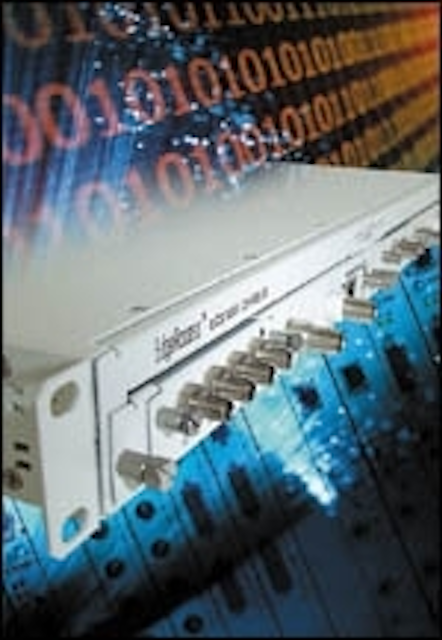 Click here to enlarge image
Chassis system
Flexible and scalable, Canoga Perkins' UCS 1001 accommodates optical transponders and repeaters, wavelength-division multiplexing (WDM), 10/100/1,000 Ethernet, and E1/T1 and E3/T3 modems into one system. Modules inserted into this two-slot chassis are replaceable, and they will not interrupt another module's operation. The chassis backplane is the communication conduit between the modules, and in full-redundancy, the troubled module is replaceable without interrupting the others' operation. The backup or redundant link/module is monitored for operational status by the active module.
CANOGA PERKINS
CHATSWORTH, CA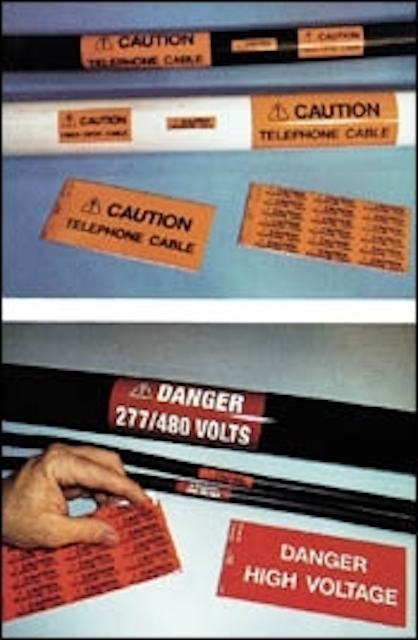 Click here to enlarge image
Cable and conduit labels
VIP Division's line of self-adhesive labels for wires, cable, and conduit are screen-printed on plastic and supplied with an adhesive for residential, commercial, and industrial applications. The labels are available in three sizes: .5x2, 1.75x3, and 3x6 inches. Caution labels are printed black-on-orange with legends. Danger labels are printed white-on-red, with legends that read "danger" or combination voltages. Labels may be custom-manufactured in your choice of size, color, and legends.
VIP DIVISION
HOUSTON, TX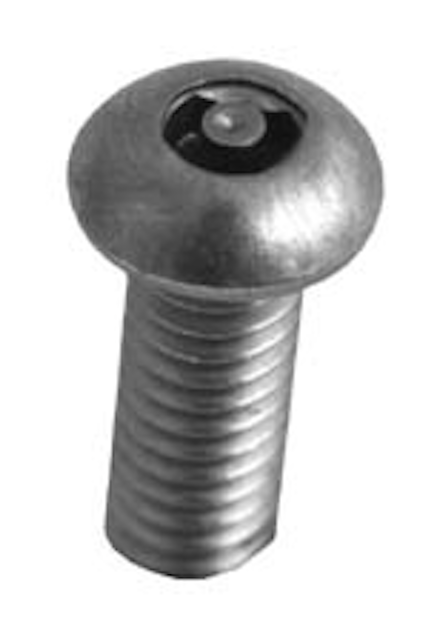 Click here to enlarge image
Security fastener
Designed to provide PBS systems, computer racks, and other equipment with protection from theft and vandalism, Bryce Fastener's Uniqz provides the benefits of a combination lock in the head of a screw. It features a three-sided, recessed head design that is custom-fabricated and licensed to individual users. Each side of the head has the potential for 20 different degrees of angle and depths of recess. With a specialized screwdriver bit, fasteners can have a 12-digit combination code. To use this feature, insert the key into the head of the screw and twist it until the combination matches and falls into place.
BRYCE FASTENER INC.
GILBERT, AZ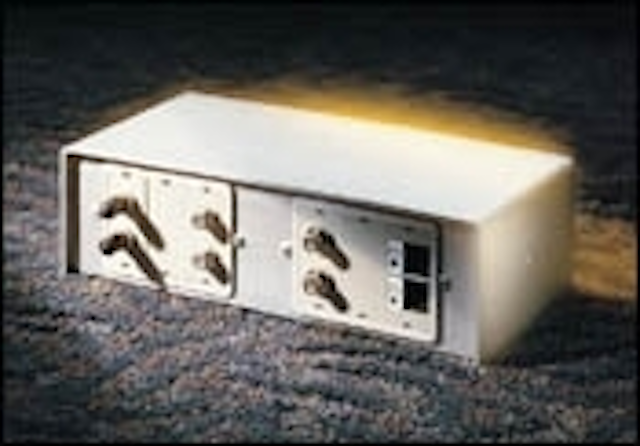 Click here to enlarge image
Poke-thru
The Walker RC91GHB and RC92GHB Multi-service Poke-thru Series by Wiremold provide multiple high-capacity power and communication services. It is designed for new and retrofit construction applications, and combines a redesigned insert stem and single- and double-width, pedestal-style service head with faceplates that support multiple configurations. Installation does not require additional fasteners or a second installer.
WIREMOLD CO.
WEST HARTFORD, CT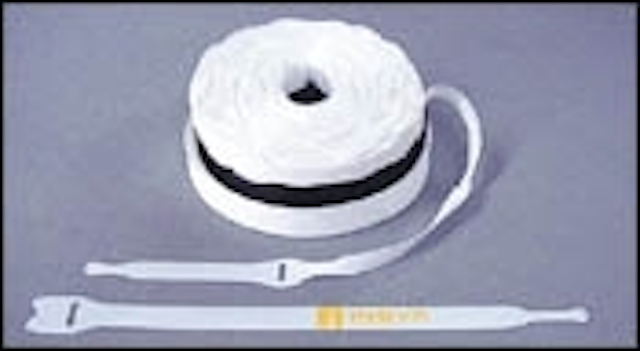 Click here to enlarge image
Cable ties
FASTENation's One-Wrap Brand Qwik Ties are self-gripping (hook laminated to loop), flexible, and available in black or white. The company can custom-print your company logo onto the ties in a range of colors. These ties are available as pre-cut perforated straps, or as tape on 25-yard rolls.
FASTENATION INC.
PASSAIC, NJ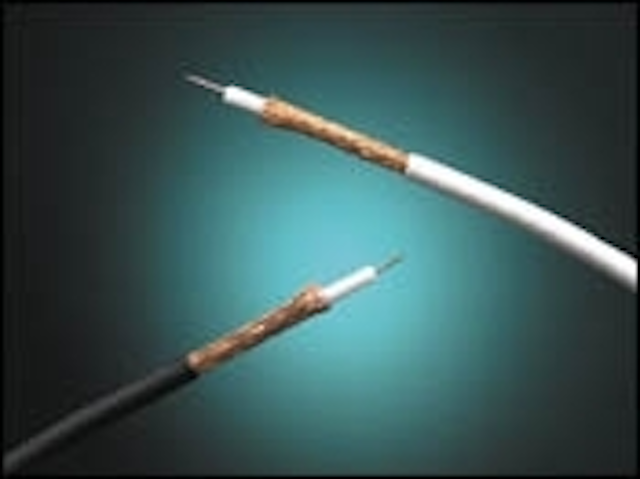 Click here to enlarge image
Coaxial cable
Designed for high-density camera use, Genesis Cable Systems' mini 75-ohm coaxial cable is an option for camera runs up to 375 feet. It lets you reduce the space needed for coaxial runs and rack systems associated with high-surveillance areas such as casinos, retail stores, schools, and banking institutions. The cable has a foamed dielectric core over a solid-copper center conductor with bare-copper braid, including two twisted, genelene-insulated, stranded conductors attached to it. Standard jacket colors are black, blue, green, red, yellow, or white.
GENESIS CABLE SYSTEMS LLC.
PLEASANT PRAIRIE, WI
Click here to enlarge image
Gigabit Ethernet switch
Configured to serve as a backbone switch for small- to medium-sized businesses or education environments, Allied Telesyn's AT-9006T offers a flexible port density and media configuration options. With six fixed 1000Base-T ports, the switch also has two expansion slots for flexibility. Each port supports half- or full-duplex operation and is Gigabit Ethernet over Category 5 copper cabling (IEEE 802.3ab) auto-negotiating-compliant at speeds of 100 Mbits/sec and 1,000 Mbits/sec. The modular switch features Web-based management, standards-based Priority Queuing, and virtual local area network (VLAN) Tagging for installation, integration, and management.
ALLIED TELESYN INTERNATIONAL
BOTHELL, WA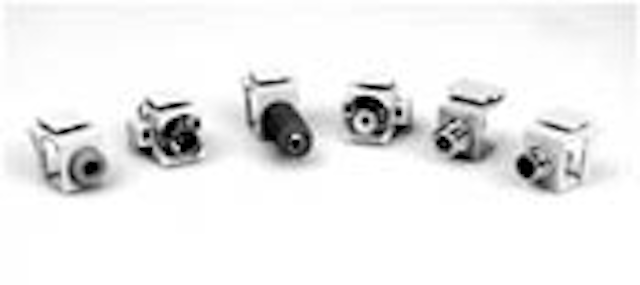 Click here to enlarge image
Connector line and raceway
ICC gold-plated modular connectors are designed to provide improved conductivity, and are part of the Multi-Port Solutions family of products. The feedthrough BNC female-to-female module is designed to improve performance in coaxial cable networks. Suited for audio and video applications, RCA modules come in two configurations-a female-to-female feedthrough coupler and a solder tail module. For video connectivity needs, the F-type feedthrough module also features female-to-female connectivity. The speaker modules for audio needs come in two configurations-a binding post design and a standard banana jack module. Each connector features a snap-in design.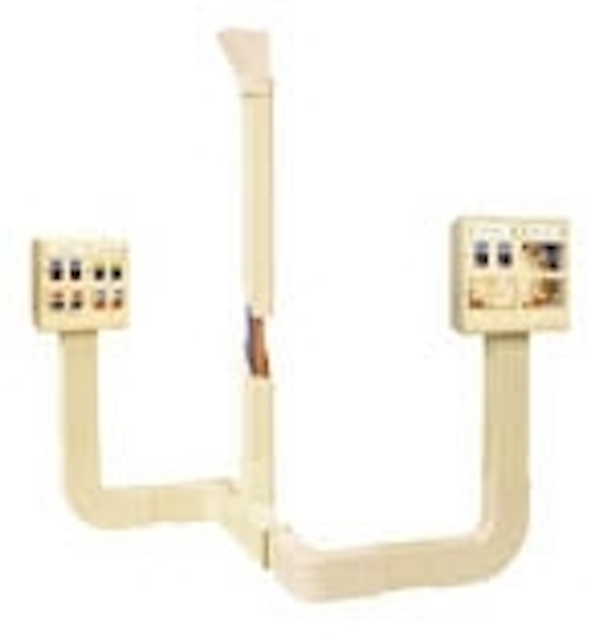 Click here to enlarge image
The company's raceway solutions provide the components needed to route low-voltage communication cable along walls where internal cable routing cannot be accomplished. This 94V-0 vinyl raceway offers eight-foot lengths in addition to the existing six-foot channels. Available in 3/4-, 11/4-, and 13/4-inch widths, the raceway is suitable for unshielded twisted-pair (UTP), shielded twisted-pair (STP), screened twisted-pair (ScTP), coaxial, audio, video, and fiber-optic cables. It incorporates an adhesive back and is designed to maintain minimum bend radii, even when filled to capacity. A flexible integrated hinge with a self-locking latch snaps closed to keep the cables secure.
ICC
CERRITOS, CA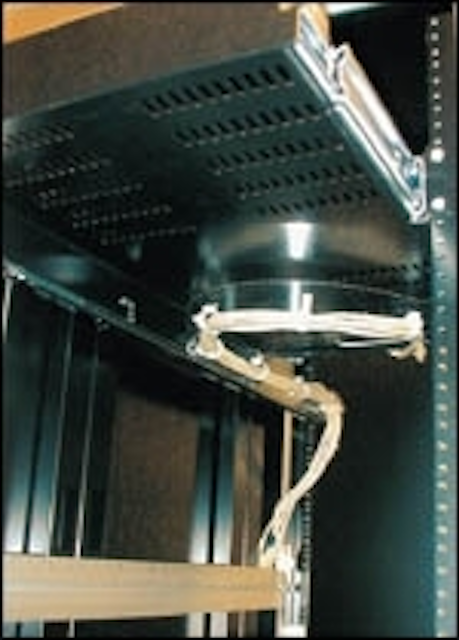 Click here to enlarge image
Cabinet shelf
CPI's 32-inch-deep MegaFrame Sliding Shelf weighs 25 pounds, can support up to 160 pounds, and takes up less than 2 RMU (1 RMU=1.75 inches) of space. The shelf's movement is facilitated by an undercarriage belt, composed of an Underwriters Laboratories Inc. (UL-Chicago) 94V-2-rated polycarbonate material, and accommodates cable bundles up to one-inch in diameter. This shelf extends to 32 inches and locks in the closed or fully extended position using front-lock levers. Each shelf is offered with a 52-inch L-cable management belt that lets you add cables using molded clips.
CHATSWORTH PRODUCTS INC.
WESTLAKE VILLAGE, CA
Surge protectors
Underwriters Laboratories Inc. (UL-Chicago) 497-listed, ITW Linx's Cat5-Lan 4-pair surge protectors provide solid-state protection with 110-connectors in a 4-pair module for local area network (LAN) circuits. According to company claims, a response time of 2 to 5 ns prevents transient voltage from damaging electronic equipment by diverting the voltage to the ground via the grounding screw on the side of the module. Each protector includes: 110-connectors, a PC board with punch-down color-code, a shield grounding clip for 4-pair OSP cable, a grounding screw, and mounting hardware. An Isolated Loop Protector provides further protection in hostile industrial environments and for unshielded twisted-pair (UTP) cables within buildings per UL 497B.
Also Underwriters Laboratories Inc. (UL-Chicago) 497-listed and featuring an Isolated Loop Protector, the ML25-Cat5-Lan 25-pair surge protector fits the footprint of a 66 Block. It snap-fits to standard 89D brackets. With single-pair protection, the 25-pair surge protector scales the protection to the system size, protecting only the lines requiring protection. Solid-state protection resets without user intervention.
ITW LINX
HARWOOD HEIGHTS, IL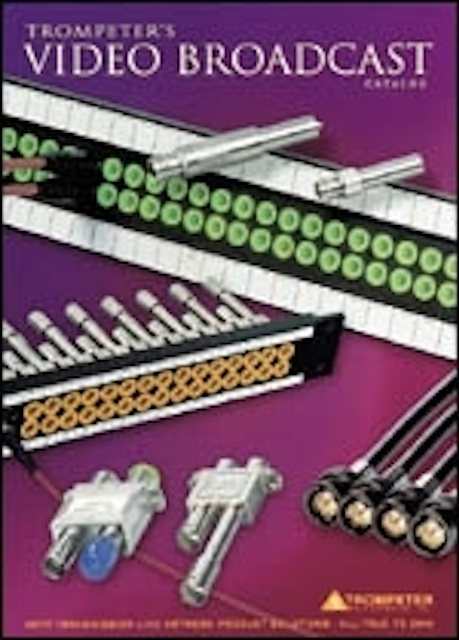 Click here to enlarge image
HDTV catalog
Trompeter's 32-page guide of high-definition television (HDTV) transmission line network products and solutions contains video patching products, coaxial cable connects, tools, and accessories. The catalog includes application dialog boxes, drawings, photos, and performance data. A complimentary copy can be ordered on the company Website.
TROMPETER ELECTRONICS
WESTLAKE VILLAGE, CA
Power system brochure
Controlled Power Co. introduces a "MD Series" uninterruptible power supply (UPS) brochure that includes features and benefits, proven field solutions, and a model selection guide for choosing the appropriate "MD" for your application. The power system is designed for use with linear or non-linear load applications, including local area network/wide area network (LAN/WAN) and telecommunications. It replaces fluctuating electrical power with computer-grade power.
CONTROLLED POWER CO.
TROY, MI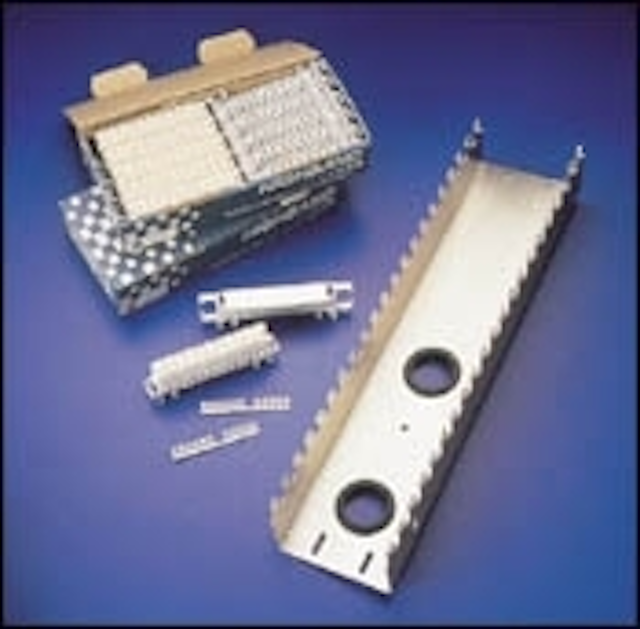 Click here to enlarge image
Field-terminated kits
Krone's field-terminated kits feature the HighBand 10 wire termination block, which provides Category 5E compliance, a 45° angle silver-plated contact, and a center port for testing and patching. The center port provides a testing point to pinpoint problems to either the service provider or customer side. Blocks save time and labor when connecting, discontinuing, or re-assigning service without disconnecting wires. Available in 200- or 300-pair kits, the assemblies include wire termination blocks, mounting hardware, labeling modules, and numbered inserts to identify pairs.
KRONE INC.
ENGLEWOOD, CO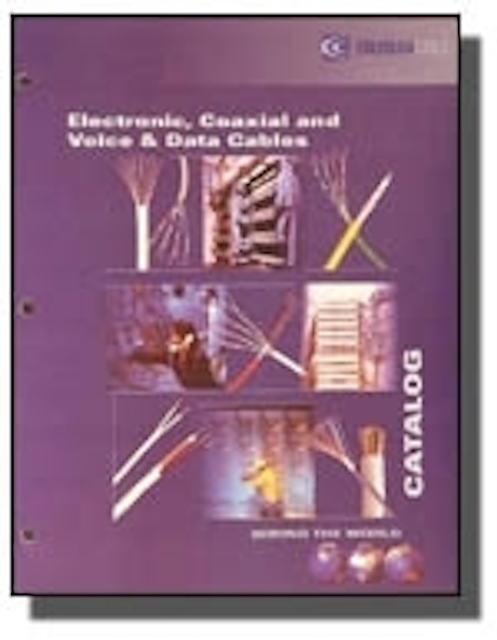 Click here to enlarge image
Wiring the world
Coleman Cable's free 36-page catalog entitled Electronic, Coaxial, and Voice & Data Cables contains features, benefits, part numbers, and industry approvals. Line drawings illustrate each product. An index of industry definitions is included in the back of the catalog. The information presented in this industry-specific catalog can also be found in the company's full-line catalog.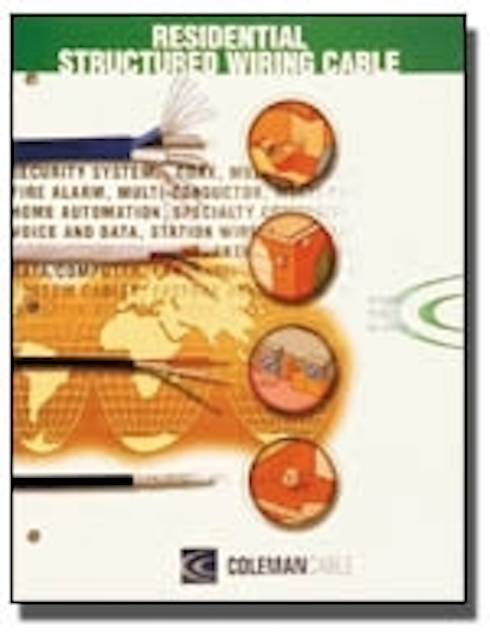 Click here to enlarge image
For Coleman Cable's line of wire and cable products used in residential settings, the Residential Structured Wiring flyer covers the company's line of home automation wire and cable products, including: voice/data, coaxial, security/fire alarm, sound/systems, HVAC, and irrigation. This free six-page flyer contains an overview of the products offered and presents a full-color illustration showing where these products may be used in the home.
COLEMAN CABLE
WAUKEGAN, IL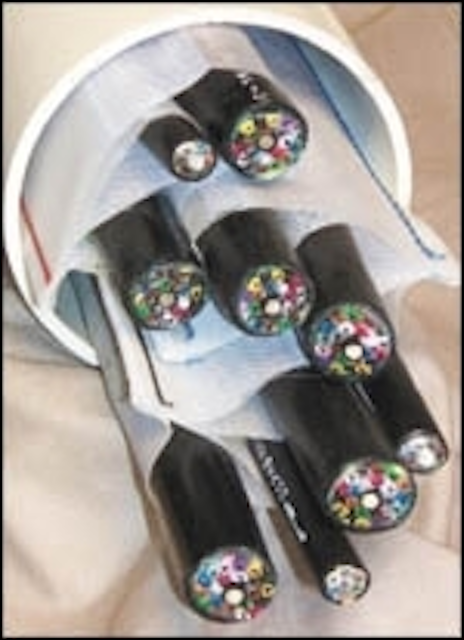 Click here to enlarge image
Fabric conduit
MaxCell, a flexible fabric conduit engineered by TVC Communications, lets you install three cables in a two-inch conduit or nine cables in a four-inch conduit. The engineered fabric has a low co-efficient of friction and does not spiral like conventional innerduct, resulting in low cable pulling tension. This fabric does not rip or tear during entry and re-entry, letting you add to occupied conduits with existing cable. Also, the fabric is chemical-resistant to ground chemicals and petroleum products, as well as water-repellant. Color-coding by printing and stitching identifies each cell.
TVC COMMUNICATIONS
ANNVILLE, PA
By the Book
Textbooks introduce basic engineering systems
Artech House Publishers (Boston, MA) has produced a new Introduction to Infrared and Electro-Optical Systems, by Ronald G. Driggers, Paul Cox, and Timothy Edwards. With a 1999 copyright, the 407-page illustrated hardcover is a volume in the Artech House Optoelectronics Library, aimed at engineering professionals and students. Following introductory chapters on the mathematics of the subject, the book covers diffraction, sources of radiation, atmospherics, optics, resolution, detectors and scanners, electronics, and displays. The final section, on systems, covers both infrared and electro-optical systems, with a final chapter on considerations for sensor design.
The Wiley Series in Telecommunications and Signal Processing, from technical and engineering publisher John Wiley and Sons (New York, NY), includes the Second Edition of Optical Communications (copyright 1995), by Robert M. Gagliardi and Serman Karp. The 347-page hardcover volume is, again, heavily mathematical and is oriented toward engineers. Topics covered include the optical communication system, optical field reception, photodetection, and both noncoherent (or direct) and coherent (or heterodyne) detection. Later chapters deal with optical digital communications, fiber-optic communications, fiber networks, the atmospheric optical channel, and issues in outer-space optics.

-Arlyn Powell, Jr.
If your company has recently introduced a product that deals with fiber-optic or copper media, please fax the product information to Ryan Cliche at (603) 891-0587 or e-mail: ryanc@pennwell.com.