Avoiding obstacles when fishing a wall
When fishing cable through an insulated wall, installers often have difficulty with the cable becoming snagged in the insulation
Apr 1st, 2001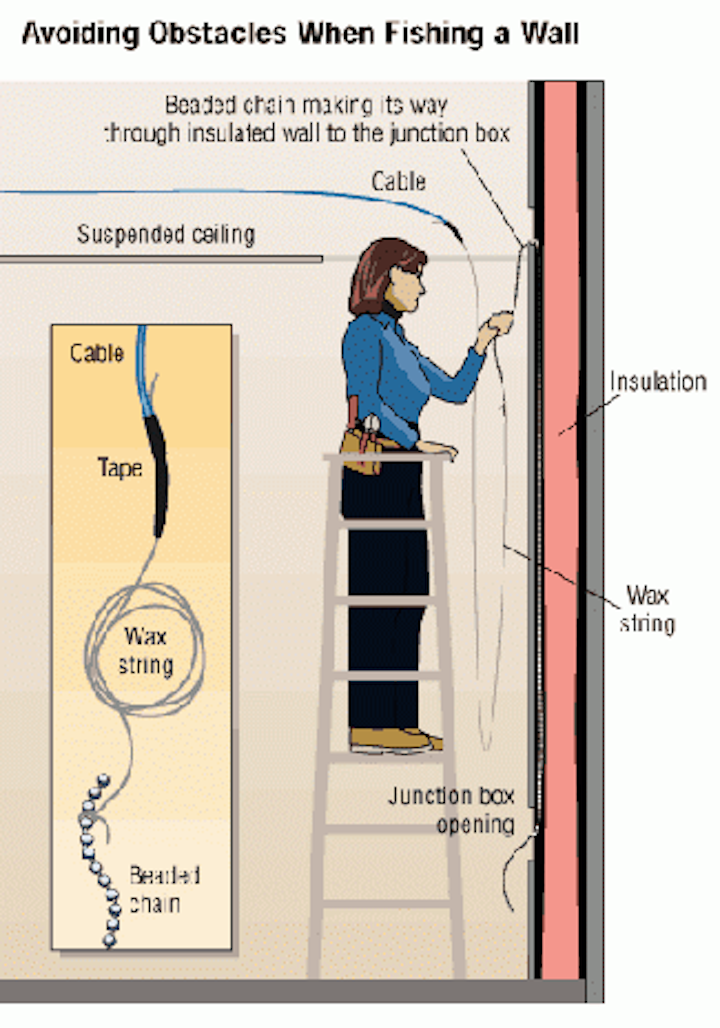 problem
When fishing cable through an insulated wall, installers often have difficulty with the cable becoming snagged in the insulation. Traditional fishing tools such as fish tape, and even creative tools such as string with an attached weight, frequently fall victim to getting tangled on an obstacle.
solution
Use a beaded chain with wax string attached to it. Using a beaded chain as your fishing tool will reduce the frequency with which the cable snags against the insulation. The chain does not knot and will roll off obstacles more easily than is the case with other methods. The chain is also easier to catch at the junction box or access hole that is the cable's destination. Wax string, behind the chain, is strong, compact, occupies little surface area, and glides over other wires and obstacles.
procedure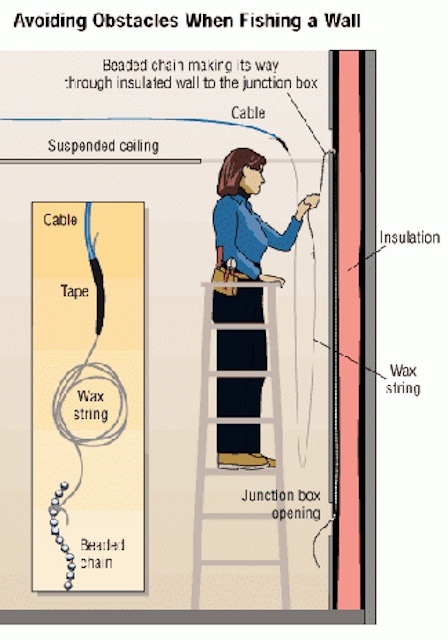 Click here to enlarge image
Bore a hole through the wall top plate at the desired drop location.
Drop a sufficient length of #6 beaded chain down the hole to the bottom of the wall, but make sure you secure the top of the chain to prevent it from falling down inside the wall. A flashlight can help guide the drop.
Attach your end of the beaded chain to the wax string, and then attach the cable to be pulled down the wall to complete the pull/fish. Use electrical tape to attach the beaded chain to the wax string and the wax string to the cable.
Cut a hole in the desired destination location in the wall, and create a hook with a small piece of a coat hanger to fish out the chain.
Pull the chain from the opening at the bottom of the wall, routing the cables that are attached to the pull string to their destination.
An example of the beaded chain used in this application can be seen at www.chain-cable.com/beaded.htm and may be obtained through hardware suppliers and catalogs.
Because gravity plays a major role in this procedure, this beaded-chain cable-pulling method can only be used when routing cables from the top of a wall to the bottom.
Dan Kiomento is a registered communications distribution designer (RCDD) at Telamon (Carmel, IN), a large equipment integration/installation service and supplier. Telamon installs electronics in telecommunications central offices and data centers; assembles electronics into large controlled environment vaults (CEV's), modular buildings, and cabinets; and operates a call center for select customers.