Multiple Cat 5E network replaces integrated design
How do you design a highly functional network for a large, international, rapidly growing high-tech manufacturing company? That was the challenge facing Mark Murphy, IS manager, and Alan Bliss, engineering manager, of Procom Technologies
Mar 1st, 2001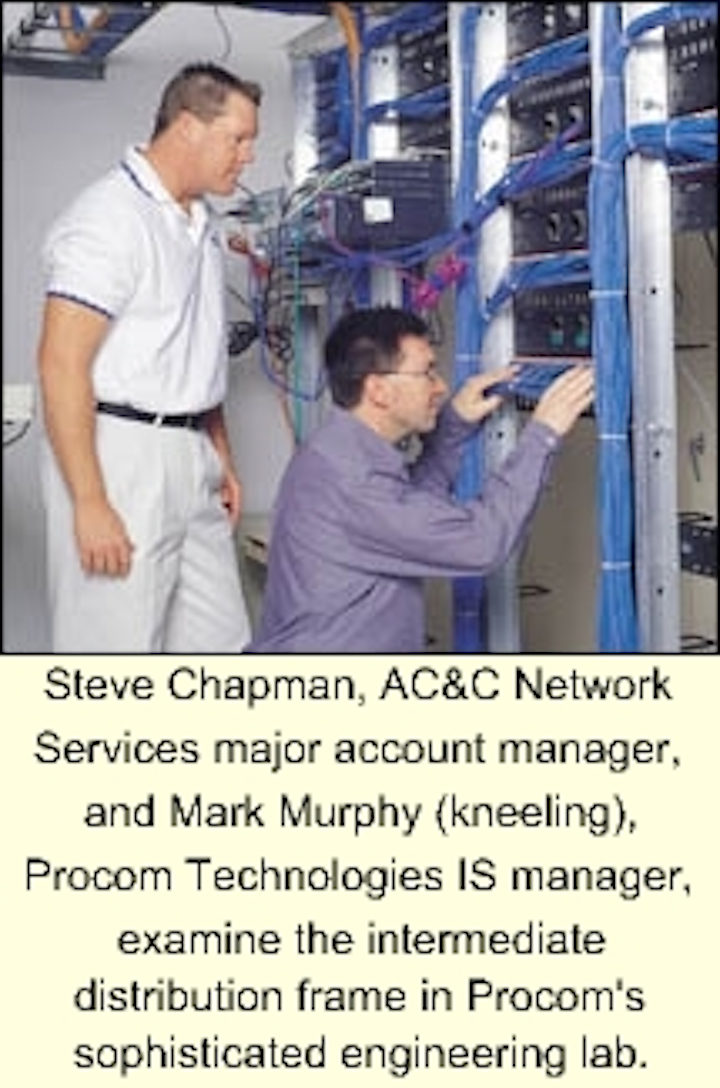 Four independent gigabit networks in one result in bandwidth boost.
David Webb/ICC
How do you design a highly functional network for a large, international, rapidly growing high-tech manufacturing company? That was the challenge facing Mark Murphy, IS manager, and Alan Bliss, engineering manager, of Procom Technologies, Inc. (Irvine, CA)-a leading world-class manufacturer of server appliances, and a pioneer in the development of Network Attached Storage technologies.
Forming a team with other key management personnel, Murphy and Bliss needed to come up with a basic design that would not only meet Procom's immediate needs, but would allow this global company to expand the network to accommodate anticipated growth. The network would also have to be integrated into Procom's new 127,000-square-foot facility being planned in Irvine-and those plans would be changing almost daily.
This is where AC&C Network Services (Orange, CA) entered the picture. Steve Chapman, AC&C's major account manager, and project manager Tim Kirkland carefully reviewed the proposed plans submitted by the Procom planning team, and immediately found ways to improve on the network's overall design and functionality.
In the past, Procom operated with one, large integrated network that linked the general "public" network with the company's engineering lab, manufacturing, shipping and receiving, and technical support departments. The problems were obvious. Often, bandwidth would be significantly reduced, and collisions were commonplace-especially when engineering ran equipment tests that would create a network traffic jam.
Avoiding traps of the past
"We knew what we were looking for in a subcontractor," said Procom's Mark Murphy, "because we went through this process once before. In the past, we went with the lowest bid, and then I would have to spend months trying to fix the problems. We were most comfortable with AC&C. When we first showed them around, they were very quick to come up with ideas."
The first idea AC&C proposed was to provide Procom with four independent Category 5E gigabit networks within the company's main Cat 5E public network. "What you really find in that building are multiple networks," explains AC&C president Jim Clark. "There's the company's backbone and prime public network, and then there are isolated sub-networks. We were able to develop strategies where they could connect those sub-networks together when they needed to, and separate them when they didn't."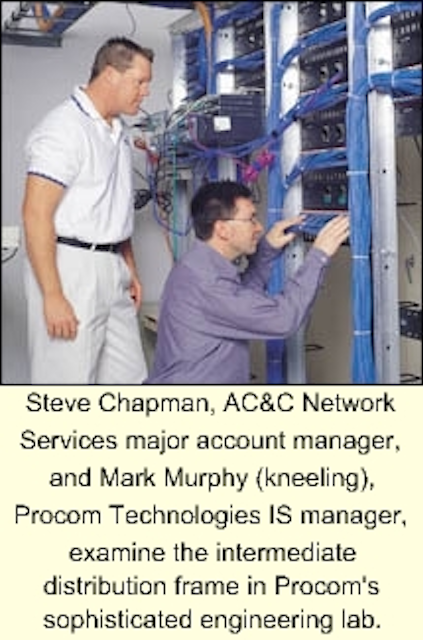 Steve Chapman, AC&C Network Services major account manager, and Mark Murphy (kneeling), Procom Technologies IS manager, examine the intermediate distribution frame in Procom's sophisticated engineering lab.
Click here to enlarge image
This plan gave Procom's engineering lab, manufacturing, shipping and receiving, and technical support their own separate networks. "The intention was to keep the sub-networks separate and operating with their own servers," explains AC&C's Kirkland. "This would prevent traffic on one network from interfering with traffic on another. In this sense, each sub- network is standalone."
Each independent network would feed from one of four strategically located Intermediate Demarcation Facilities (IDFs) that would, in turn, be linked back to the main network servers in Procom's computer room by a six-strand, multimode fiber backbone. To eliminate confusion, each of the four sub-networks would also have their own unique color-coded connectors and patch cords that would differ in color from the connectors to the main network.
Connecting sub-networks
Another solution offered by AC&C came in the unique design of the engineering lab's network. "In the past," Clark explains, "they had a problem with how to connect one engineer with another engineer who might be sitting next to them, or even across the room, and who might be working on the same problem. We devised a plan where they could connect several small sub-networks together in the lab with the lab's larger network, and not impact the company's general or public network facility."
The plan called for installing 15 wall-mount racks around the lab, and two 4-foot, floor-mounted racks where rows of workbenches would eventually be placed. Patch panels on these racks would be linked to identical patch panels in the eight main distribution racks that make up the heart of the engineering lab's network. This would allow a hardware or software engineer to easily patch together a small sub-network within engineering to test and troubleshoot different Network Attached Storage products and related software for compatibility with other components in a variety of office network configurations. "The network was designed to be extremely flexible and extremely connectable," added Clark.
Since a network is only as good as its weakest link, AC&C was determined to eliminate weak links by specifying active components, connectivity, and cable management solutions that would provide the best quality for the most affordable price.
Active components would include 3Com 3000 SuperStack II switches as a key ingredient in Procom's 1000Base-T gigabit copper network. These would connect to a 3Com duplex 1000Base-SX SuperStack II 9000 multifiber interface. Other components would include AMP ST, SC and MT-RJ fiber connectors, Chatsworth ladder racks, Erico Caddy J-Hooks, more than 240,000 feet of Comtran Category 5E copper cable, and another 2,000 feet of six-strand multimode fiber cable (used for backbone connectivity linking the MDF with the various IDFs through the facility).
But the bulk of the network would be made up of connectivity and cable management solutions offered by ICC (Cerritos, CA). ICC wall-mount and floor-mount racks, patch panels, cable management solutions were used throughout the 1,425-drop installation, along with ICC Category 5E connectors, fiber-adapter panels, faceplates and modular furniture boxes with inserts. Some of the drops were to the same location, but in all, there were 2,850 individual terminated jacks in the building.
Fiber to the rescue
Regardless of how well a network is planned, there will always be modifications. The Procom installation was certainly no exception. "There were a lot of changes to the specifications of the network as AC&C got closer to doing the actual installation," explained Murphy. "They could instantly see we would not be able to run all our cables to one location because of distance, and they were the ones that came up with the solution of using fiber."
According to Murphy, AC&C Network Services also recommended equipment that would let administrators effectively monitor the network and allocate additional bandwidth as needed. The ability to manage the network was achieved in an umber of ways. From the cabling perspective, the design allows for additional backbone fiber or cables to locations that are experiencing higher usage. From the equipment perspective, the 3Com products chosen are fully manageable through a browser and proprietary software. For example, the customer can enable or disable individual ports, reduce or increase speeds to individual ports, and add trunking capabilities if necessary.
Fault-tolerance features for mission-critical environments include resilient links, spanning tree support, and improved performance under heavy load conditions-even with demanding applications such as video multicasts and real-time data feeds.
Now that the network has been completed, does it meet Procom's expectations? Murphy responds, "I think the performance objectives were actually exceeded. With the design AC&C provided us, it more than meets any of the requirements we had initially. We would be hard-pressed to find another company our size with a better network."
David Webb is marketing communications coordinator for ICC, Ceritos, CA.