New Products
Cable tape
The FTS-100GR and FTS-200GR Cable Snake Steel Fish Tapes offer 20% more tape for pulling longer runs or cutting away damaged tape. Made of impact-resistant modified polypropylene resin, the handle will not detach from the housing in tough job site conditions
Mar 1st, 2001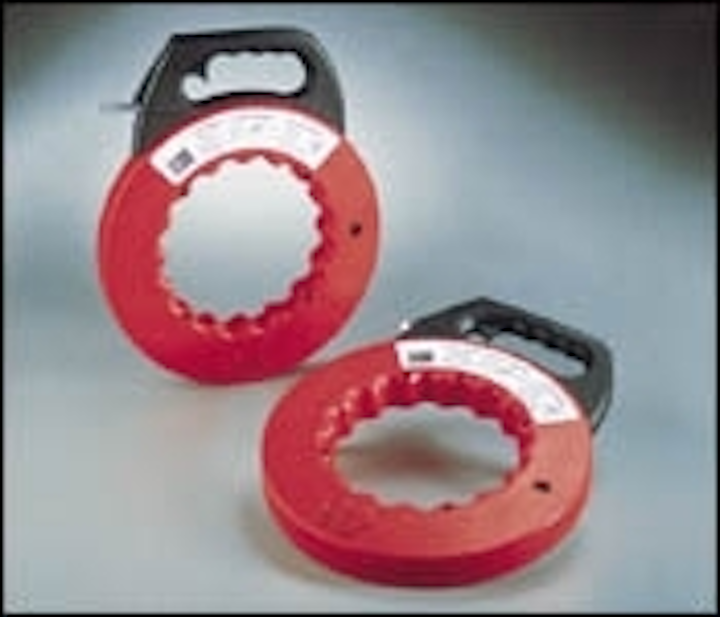 Compiled by Ryan Cliche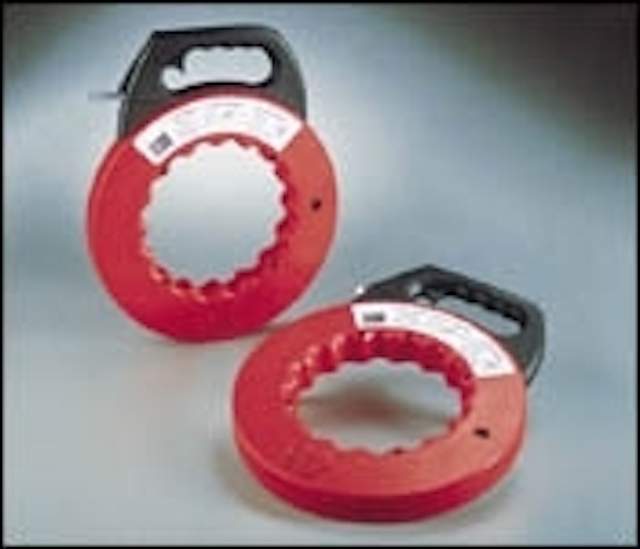 Click here to enlarge image
Cable tape
The FTS-100GR and FTS-200GR Cable Snake Steel Fish Tapes offer 20% more tape for pulling longer runs or cutting away damaged tape. Made of impact-resistant modified polypropylene resin, the handle will not detach from the housing in tough job site conditions. A .125x.0625-inch rust-protected durable steel wire will prevent rust, and keep oil and grit off the user. A trigger design recessed in the ergonomic handle keeps the wire tight and also helps keep the unit clean.
GARDNER BENDER
MILWAUKEE, WI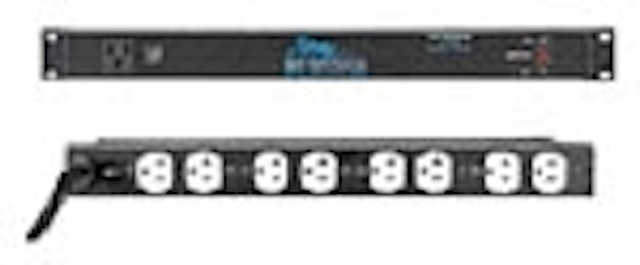 Click here to enlarge image
Power strip
Underwriters Laboratories Inc.-listed, the PD-920R-NS rackmount 115-V, 20-A power distribution units provide current for higher drawing products such as servers. Features include eight rear circuit breaker-protected National Electrical Manufacturers Association (NEMA 5-20R) outlets, one 15-A front outlet (NEMA 5-15R), a nine-inch depth for access to the yoke-mounted rear outlets, and a nine-foot AC cable. The power strip also includes an illuminated power switch on the front panel and a 20-A circuit breaker in the rear.
DATATEL
RIVERDALE, NJ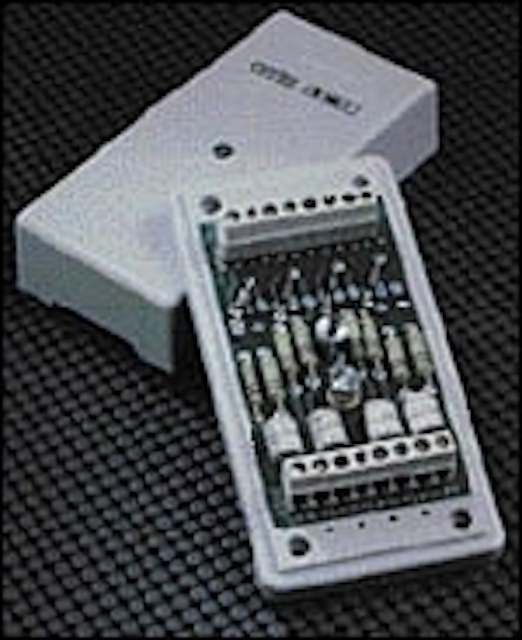 Click here to enlarge image
Surge protector
The B480 telephone and data line surge protector is designed to protect communication cables going from building to building in a campus environment. It comes in various voltages, and input and output connections are made with screw terminals. Multistage circuitry lets you isolate your cables from lightning surges and electrical storms. Underwriters Laboratories Inc.-approved, the B480 automatically resets after every strike.
CITEL INC.
MIAMI, FL
Click here to enlarge image
Cable length meter
The OneStop Cable Length Meter lets you measure cable length whether installed or on a spool. Designed to keep track of current wire inventory before or after de-spooling, the unit uses a single conductor wire for fault location and solving inventory problems. Regardless if the cable is in the ground, on a spool, or in a box, the meter can check all common pairs-including coaxial, two-wire shielded, twisted multi-pair, and AC wire pairs. In addition, the unit analyzes bridge gaps, load coils, and waterlogged lines so that only major fault cable is reported to the user. According to company claims, the unit is accurate up to 2,500 feet with an error rate of ±3%.
JOVIAL TEST EQUIPMENT INC.
OAKLAND, CA
Click here to enlarge image
Cable locator
The RD400 Series provides an instrument to locate buried pipes and cables. Current direction recognition indicates the direction of the transmitter signal on the line, giving a positive indication in congested areas. A current measurement feature displays the transmitter current applied to the line, which aids the identification of cables in congested areas or monitors damage to pipeline caused by corrosion. Other features include: a multi-frequency digital signal processing (DSP) format for all applications, a large LCD, push-button depth, and indication response.
RADIODETECTION CORP.
MAHWAH, NJ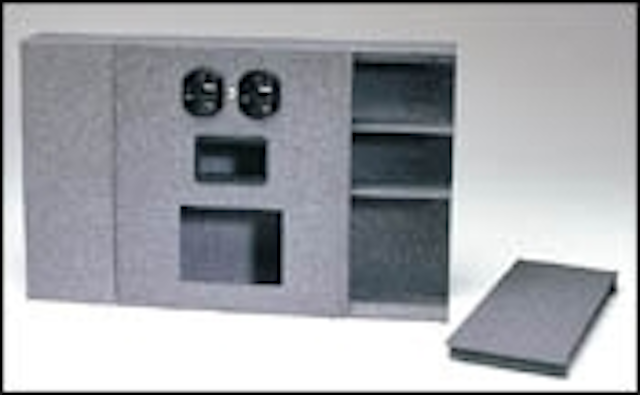 Click here to enlarge image
Versatile raceway
Designed for applications in schools, libraries, dormitories, and public office buildings, the tamper-resistant AnySize Raceway ranges in width from 21/2 inches to 10 inches and in depth from one inch to five inches. Up to four compartments can be created with dividers placed to specification, and a dual-cover option provides access to electrical and data communications compartments. The raceway can be manufactured from painted steel, stainless steel, anodized aluminum, or painted aluminum. The powder-coat finish is offered in a range of colors, including weathered iron and weathered bronze.
WIREMOLD CO.
W. HARTFORD, CT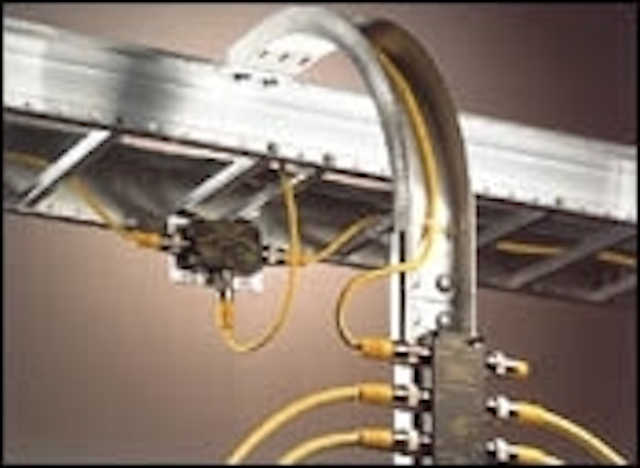 Click here to enlarge image
Fieldbus system
The Junction, Tee, and Cable System offers system-wide "plug-and-play" convenience for an efficient changeover to a connectorized network. System components, junctions and cabling (standard and armored), and IP67 tees feature standardized connectors that streamline changeover and maintenance procedures. Junctions and cabling connect field devices to planar lightwave circuits (PLCs) via a cable tray, and the tees provide a National Electrical Code-compliant way in and out of the cable tray. Junction housing is constructed of powder-coated die-cast aluminum, with stainless steel receptacles.
INTERLINKBT LLC.
MINNEAPOLIS, MN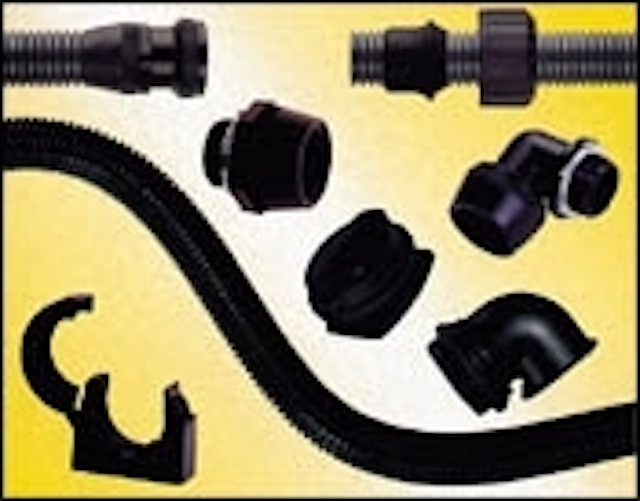 Click here to enlarge image
Conduit system
The Corrlok nylon corrugated conduit system features self-extinguishing, halogen-free nylon with an Underwriters Laboratories Inc. 94V-0 rating. It also provides resistance to abrasion, sunlight, temperature extremes, and many common chemicals. Working temperatures can be as broad as -40° to +105° C. All Corrlok systems come with straight, angled, flanged, or T-shaped Kopex connectors that may be assembled without tools. Accessories include mounting brackets, splitters, and adapters.
ELECTRI-FLEX CO.
ROSELLE, IL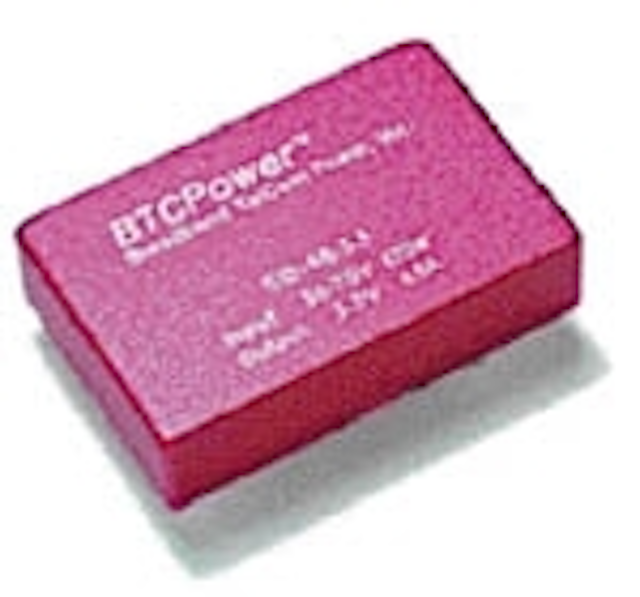 Click here to enlarge image
Power converters
The 15-W S15 Series DC/DC converters reduce the amount of power loss, which keeps the converter's temperature rise low. A six-sided metal shielding case eliminates the need for airflow or heat sink to operate at full load. All models feature input pi filters, input under voltage lockout, output current limiting, and short-circuit protection. It has a density up to 28.5 W/inch3, a mean time between failures (MTBF) of 850,000 hours (+50° C), and weighs 28 grams.
The S25 Series of 25-W converters provides a solution for Internet and network hardware requiring miniaturized power supplies and no airflow. These converters feature a six-sided aluminum shielding case that achieves heat transfer and 100% electromagnetic interference screening, according to company claims. They are designed to operate with no de-rating in ambient temperatures between -40° and +60° C with no airflow, and -40° to +100° C with airflow. High-power density is up to 30 W/inch3.
BROADBAND TELCOM POWER INC.
SANTA ANA, CA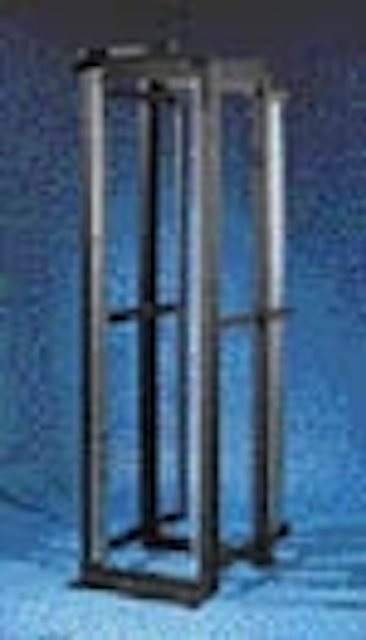 Click here to enlarge image
Cable management rack
Measuring 23.75x86x33.125 inches, the Mighty Mo 4Mation cable management rack is constructed of a black powder-coated aluminum frame with plated steel rails. Equipment-mounting rails can be adjusted independently of the frame so that they are from six to 32 inches at any time. Bottom-mounting flanges are reversible and can be mounted outwards for a wider stance if the rack is to be free-standing, or turned inwards to give a footprint within a 24x24-inch square. By keeping the footprint within this two-foot square, raised floor panels in front and behind a row of equipment racks can be removed, even when the rack is adjusted to hold 32-inch-deep equipment.
ORTRONICS INC.
NEW LONDON, CT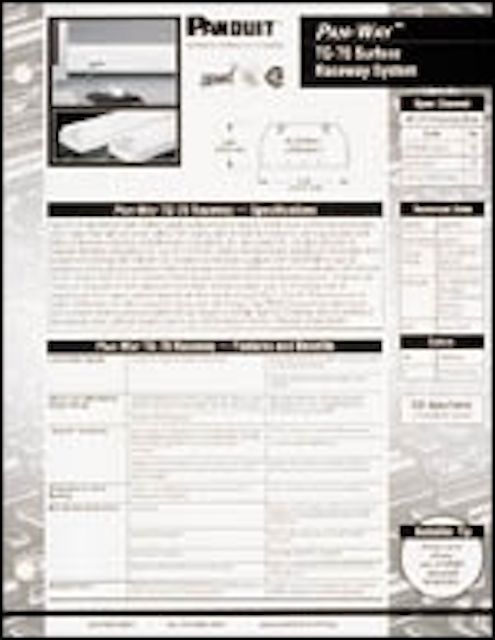 Click here to enlarge image
Application/spec guide and bulletin
The free two-page TG-70 Surface Raceway System Application/Spec Guide featuring the TG-70 non-metallic, multi-channel raceway is designed for use in construction project binders and includes detailed raceway specifications, features and benefits, fill capacity, technical data, illustrations, and color availability. This guide also highlights the raceway's features, including its capacity for cabling additions and upgrades. Other features focus on the raceway's non-metallic construction, designer profile, channel opening, and fittings for the raceway base. A components section features product descriptions, illustrations, and part numbers.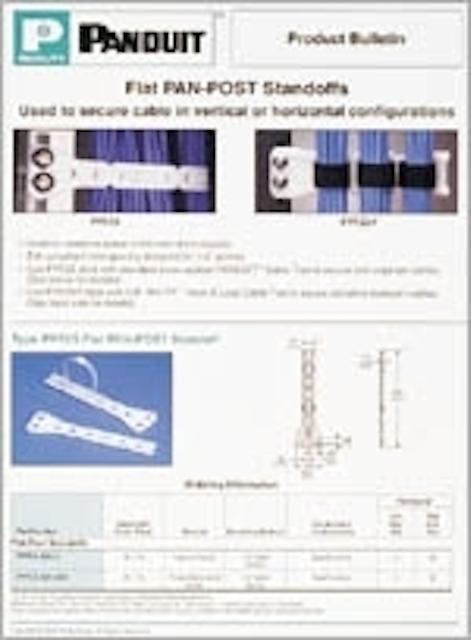 Click here to enlarge image
Also, a free two-page bulletin features full-color photographs of the Flat Pan-Post Standoffs, including application photographs that illustrate the product's ability to conserve space at the rear of communication cabinets or wiring enclosures. Application and ordering information is provided as well, with detailed dimensional diagrams and comprehensive tables indicating part numbers, compatible cable ties, and packaging quantities. The bulletin also contains brief discussions of other cable management solutions. Warranty information, addresses, and phone numbers are included.
PANDUIT CORP.
TINLEY PARK, IL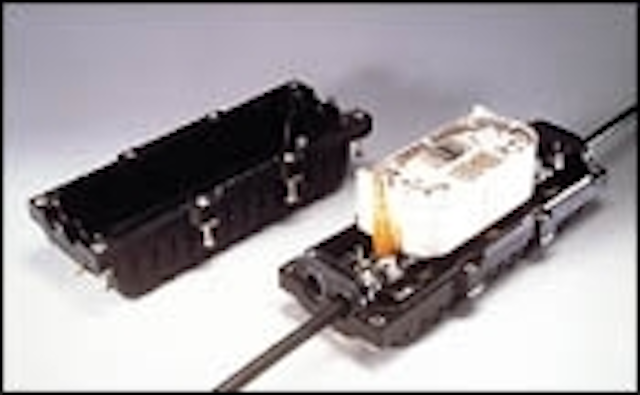 Click here to enlarge image
Closure system
Network Cable closures accommodate fusion, ribbon, mechanical, or any combination of splices, as well as offer solutions in aerial, underground, or buried applications. Each closure comes standard with butt and in-line capability, universal access port for all common trunk and feeder cable sizes, multiple ground points, and pressurization valve for flash testing. In addition, each closure contains a gasket seal that allows for repeated closure entries.
CHASE OPTICS INC.
FLANDERS, NJ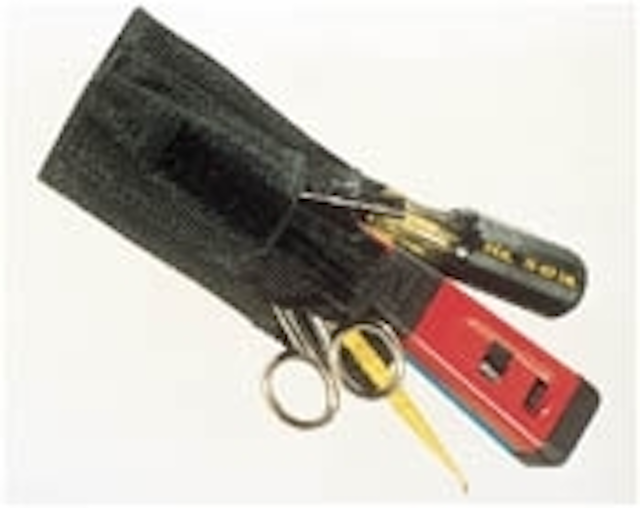 Click here to enlarge image
Technician's kit
The Technician's Service Kit includes the company's punchdown tool, complete with 110 blade or an optional 66 blade. This punchdown tool features an impact-absorbing grip to reduce operator stress for easy insertion and cutting of cable terminations. In addition, the kit contains an electrician's cabinet tip screwdriver; professional-grade electrician's scissors with a notch for stripping 19- and 23-gauge wire; a UTP/ STP cable stripper with adjustable blades; and a probe pick and spudger. The kit's nylon pouch clips onto your belt.
IDEAL INDUSTRIES INC.
SYCAMORE, IL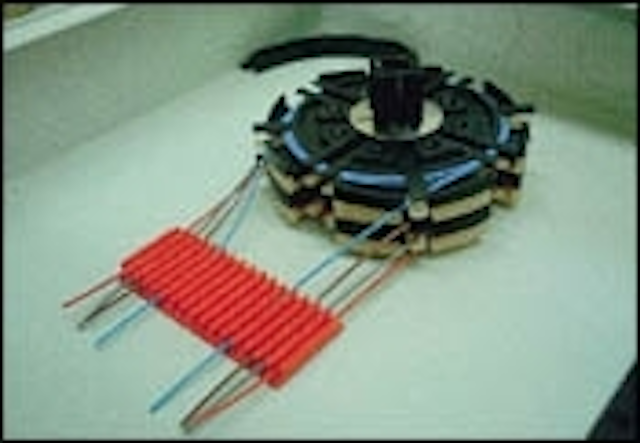 Click here to enlarge image
Fiber management clips, reels
Europlus board-level fiber management clips and reels components include 4.5- and 5.5-mm filter/isolator clips, various size coupler clips, corner guides and straight edge guides, reel stackers, ribbon cable reels, and 900-micron cable panel strain relief boots. All clips and guides can be mounted with rivets or with adhesive pads. The isolator/filter clips also can snap into the standard organizer tray.
OPTIMARK FIBER OPTICS
CHESTNUT HILL, MA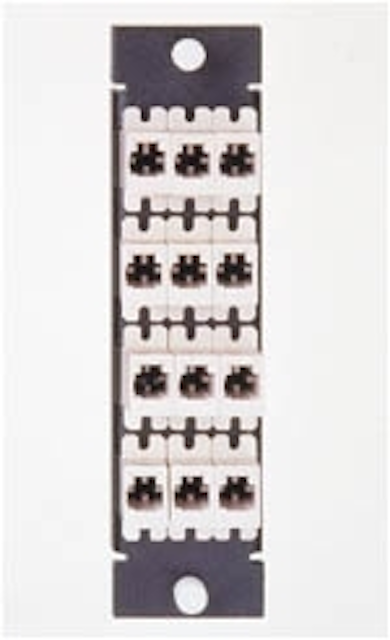 Click here to enlarge image
Fiber-optic mounting plates
Designed for use in applications where equipment room real estate is limited, MT-RJ 12-pack accommodates 12 MT-RJ dual-polarity adapters. This mounting plate fits onto the company's line of fiber wall- and rack-mount patch panels, including the company's panel with six mounting plates. The mounting plates support a variety of adapters, including ST, SC, and MT-RJ. The company's fiber mounting plates and patch panels carry a lifetime warranty on certified installations.
LEVITON VOICE & DATA DIV.
BOTHELL, WA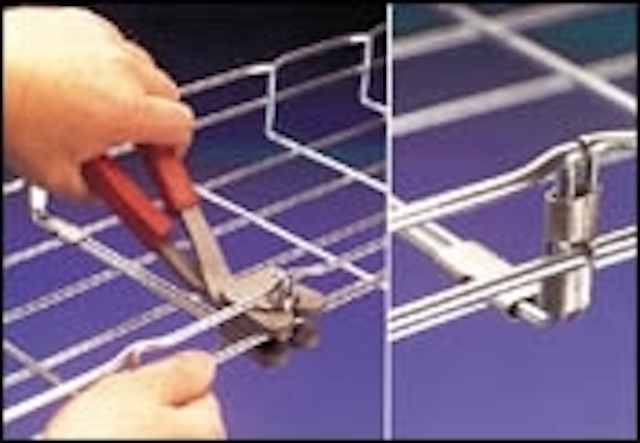 Click here to enlarge image
Connection system
The Flexmate System consists of crimp connectors and a connecting tool. Its crimp connector is placed over the sections to be joined, then clamped into place using the connecting tool. There are no bolts, nuts, or parts to shake loose. This operation serves as a method for connecting straight sections, as well as configuring radius curves. In addition, the connecting tool can be used to splice the company's cable management systems.
GS METALS CORP.
PICKNEYVILLE, IL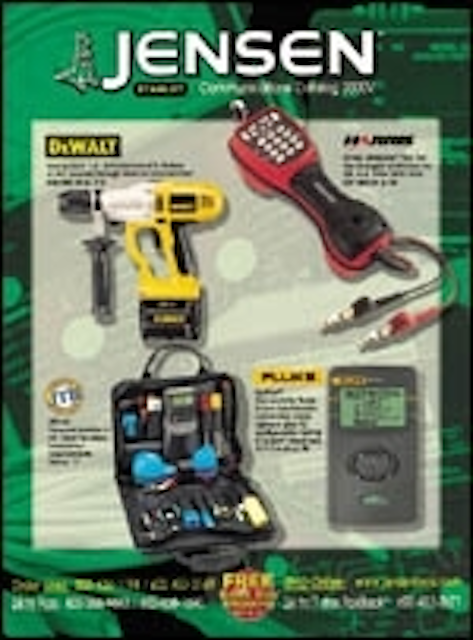 Click here to enlarge image
Communications catalog
An updated and expanded 132-page Communications Catalog offers 16 additional pages of products, many of them new to the industry. The company stocks a range of tool kits, hand and specialty tools, cable, telephone and electrical test equipment, and other products from leading manufacturers.
JENSEN TOOLS INC.
PHOENIX, AZ
By the Book
In-the-trenches networking textbooks
If your company has recently introduced a product that deals with fiber-optic or copper media, please fax the product information to Patrick McLaughlin at (603) 891-0587 or e-mail: patrick@pennwell.com.